Star Walk 2 brings virtual stargazing to Windows 10 PC and Mobile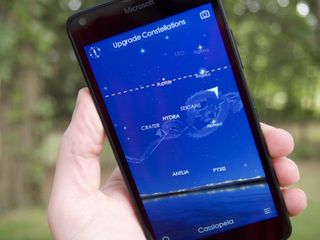 The popular Star Walk 2 is now available for Windows 10 users to enjoy. Even better, the app works across both PC and Mobile, so you'll be able to get a glimpse at the stars from your desktop or on the go.
If you're unfamiliar with Star Walk 2, the app allows you to see a virtual version of the stars in the sky that changes with the orientation of your phone. While that in and of itself is cool, Star Walk 2 also highlights different constellations, planets and stars around you, allowing you to zoom in on each for a brief overview, 3D models and much more.
If you've never had a chance to check out Star Walk 2 or its predecessor, it's definitely worth a look. You can currently grab it for $2.99 for Windows 10 PC and Mobile at the Windows Store.
Buy Star Walk 2 at the Windows Store ($2.99) (opens in new tab)
Windows Central Newsletter
Get the best of Windows Central in your inbox, every day!
Dan Thorp-Lancaster is the former Editor-in-Chief of Windows Central. He began working with Windows Central, Android Central, and iMore as a news writer in 2014 and is obsessed with tech of all sorts. You can follow Dan on Twitter @DthorpL and Instagram @heyitsdtl.
This is a great app and really happening. Well worth buying if you have kids or like this kind of thing.

All the belly-aching about the cost. It is less than a trip to Starbucks for all the content and it seems like an amazing app. Just started playing with it.

Nice app, should be fun for the summer. Works well on tablets.

Dan, Can we have the swipe navigation to go to comments section in the WC app?

If I remember correctly, this is a platform limitation related to the WebView control. Short answer is: Not for now.

Swiping to the comments was added in the last or next-to-last version of the WC app. At least on mobile you can swipe to the comments.

Oh yeah, hadn't actually noticed since you have to do it from the edge. Very good. Thx for the answer even though it wasn't for me, and thx WC for makin' it happen :p

Dan can you review 123d app fdrom autodesk too, its a image to 3d model app and i cant believe there is just 7 user ratings for such a good app, no wonder devs abandon ship for WM10 when good apps dont get visibility! if you cna do a review would be wonderful for one , i would like to see that app supported ! http://www.123dapp.com/

Winter is the best time to watch the sky if you are in the northern hemisphere...............Just went to buy it and it's onsale at 79p in the UK for six more days. I have already downloaded it on desktop, SP3 and 950XL

App would serve as a good reference tool.

Am I the only one who misses the "Download App" links that used to be present after WPCentral articles? Unrelated to this specifically, but why did those go away? Would be handy here!

The work on the Windows 10 app.

Also, the Mobile version isn't showing up in the store for me right now :'(

Doesn't for me either but the download button in the Windows Central W10 app takes you right to it.

Adjust your ad blocker to not block Microsoft affiliated links.

The links are still there, always have been. You're using an ad blocker that is hiding them.

360MB, woah! I am looking for a really good star gazing app, guess I should try with free ones first.

Get SkyMap. This app they are promoting is over priced. $2.99 USD and then $3.99 USD and if you want planets and other sky objects, it all additional costs for each object. SkyMap is one cost. Although not universal.

I just bought it. Has the planets in the base version. There is a planet pack but not sure what extra that brings.

Skymap has horrible graphics I wish stellarium would release a w10m app they have a beautiful desktop l/android/ios/symbian app yes the support Symbian3 ! And they're a non profit so yeah... Free

They have the app for mobile

Stellarium is available, but at $1.99. SkyMap Free is free.

Wow I thought that was a ripoff because I got the app for free on Symbian sorry for the wrong info still the app is great

Was just about to download then noticed the additional "in app purchases." The way it looks in the store it seems more than $2.99. Is that correct?

Yep, It's a wallet hog. Get SkyMap. This app they are promoting is over priced. $2.99 USD and then $3.99 USD and if you want planets and other sky objects, it all additional costs for each object. SkyMap is one cost. Although not universal.

Do you mean if I developed SkyMap? No. I wrote the comment.

Is this allot better than the Stars 3D app that's been in the store for a few years now? Wondering if it's a good upgrade. EDIT: I just bought it, AND all the upgrades! Holy cow, this thing is SICK! So awesome!!!

That is what I thought too.

Bought the product and trying to but the All Content bundle via in app purchase, but it gives me an error saying it's no longer available. Weird.

I have the first one an love it. This one is x2 as beautiful. Awesome.

Ok app but apparently a pretty sleazy developer. You have to more than double the price through an in-app purchase to get it up to snuff. And really classy of them to leave the old version up for sale up until the new one is released - without any notice or warning. Let's all support them!

Love this. Best money I ever spent on an app...

What's the difference between this and the older version? I purchased the older version and liked it very much... definitely, will buy this with all additional content as well... I also use SkySafari 4 Pro on Note 5 with Bluetooth telescope controller...that's all different experience... Requires time, location, setup and all other plannings... I am happy that I can do even more with Windows phone now!

I've been wanting an app like this for a while. I will definitely buy this.

Stunning software. Very much worth getting. 950XL

I use SkyMap Free which is fantastic and, well, free.

C'moon!! Stupid Developers to just push the app for 2,99€ and NOT to have trial version first. There are A LOT OF inferior and ugly apps that needs to be paid 1st without Trial/demo version... sick! SHAME! Develop Trial version also!!! I am the one that really purchases apps if I like it, the price does not matter that much, but "blind" purchases --- NOPE!

I have and paid for star walk? Isn't it the same? I know this is windows 10 version but why isn't it a free update!!!!

These kind of apps should come with VR mode, since we can buy likes of cardborad VR for $2-$5 in market, apps which supports them are needed. Windows 10 has very few VR apps.

This is not the App you are looking for. Get Star Chart. I use it all the time to set up my telescope and select objects to image. No In App purchases for each category. It has the same functionality but for one very reasonable price. It isn't a Universal App, but who takes their Laptop out to stargaze?

I use Stellarium Sky Map, does pretty much the same. Someone should make a comparison.

On sale for $0.99 during the next week. One of my favorite fun apps. Happy to see it.

So happy to see one of my all-time favorite apps from Android available on W10M. It was on sale when I grabbed it yesterday. Went ahead and and purchased the all-in-one bundle. Worth every penny.