Star Wars Battlefront's Bespin DLC trailer shows battles in the cloud city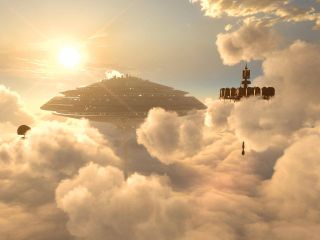 Electronic Arts has released the launch trailer for the next Star Wars Battlefront DLC pack which adds new maps based on The Empire Strike Back's cloud city of Bespin. The expansion is coming for the PC, Xbox One and PlayStation 4 versions of the multiplayer shooter.
The trailer shows off some of the five news map locations that will be included in the Bespin DLC, along with its two new heroes: the bounty hunter Dengar, and Bespin's slick and cool administrator (some might say scoundrel) Lando Calrissian. Players can also take control of the new Cloud Car vehicle and two new blaster weapons. There will also be a new gameplay mode called Sabotage.
The Bespin DLC pack will be released on June 21 for Star Wars: Battlefront players who bought the game's Season Pass. It will be available for all other players on July 5. The Microsoft Store is currently selling the Xbox One version of the game for $29.99 (opens in new tab) or $10 off its normal price.
See at Microsoft Store (opens in new tab)
Looks good they should add space map too and a campaign for free lol

"We would be honored if you join us" Posted via the Windows Central App for Android (V10 or 5x)

This looks so amazing, glad I did fork out for that pass... May not entirely agree with paid DLC, but this looks worth paying for. Let's hope it plays the same.

Will they ever discount the season pass? I don't usually play multiplayer, so buying a season pass is new to me... but $50 seems like a lot for what you get. (on Xbox One btw)

Still loving Battlefront, my kids and I play this all the time. Actually bought 2 copies of it, one for each XBone, so we could team up and/or play against each other. Should have bought the season pass, but given the hours we spend on it, more than happy to shell out for the individual DLCs. Great fun!

You should just buy digital. Designate each console as the others home Xbox and you only need 1 copy.

Hey Joshua, not sure I follow you. We're using one XBox Live account (family), two consoles. Currently means I have to log into both consoles and start Battlefront, and then switch to the kids accounts. EA doesn't appear to respect the whole "family" account thing, since when the kids log in first, it tells them they need to have an XBox Live account to play online. Only for Battefront ... other games are fine. Already jumped through countless hoops to fool EA into leting their accounts play at all, since they're 8 years old (but the world's biggest Star Wars fans). How do I go about designating "each console as the others home Xbox"?

Still one of my favs and can't wait for 21st of June
Windows Central Newsletter
Get the best of Windows Central in in your inbox, every day!
Thank you for signing up to Windows Central. You will receive a verification email shortly.
There was a problem. Please refresh the page and try again.