Star Wars: Commander is being retired on Windows devices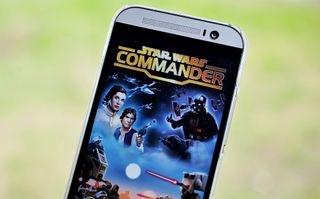 If you still like to jump into Star Wars: Commander (opens in new tab) on your Windows phone or PC, your time with the game is coming to an end. Disney is alerting its Windows users via an in-app message that the game will no longer be available on the Windows Store after May 31, and it will be completely unplayable after June 30.
The message reads:
It's a disappointing move, but one that isn't entirely unsurprising. The strategy game remains a Windows 8.1 app and has never been moved to the Universal Windows Platform. Star Wars: Commander continues to be available on other platforms, however, so those with an Android or iOS device on hand will be able to continue playing.
Thanks to Shane and Tom for the tips!
Windows Central Newsletter
Get the best of Windows Central in in your inbox, every day!
Dan Thorp-Lancaster is the former Editor-in-Chief of Windows Central. He began working with Windows Central, Android Central, and iMore as a news writer in 2014 and is obsessed with tech of all sorts. You can follow Dan on Twitter @DthorpL and Instagram @heyitsdtl.
Another one bites the dust

Without looking it up, Who sing that song?

Not you, Mr trivia pants.. Delete that.

I'm not going to play it on my other device. Because they disrespect us and i don't want to play games on small screens. Only lap top and bigger. Bye Star Wars.

They don't care...stop kidding yourself.

They do if enough people are doing it. They likely want as many as possible and there are still millions of us all around the world. But if the game would have been played by all of us, it would never have been shut down.

... Lol they don't care about our small numbers

Everyone will not play it. Despite the number of Windows 10 and Mobile users combined, this game only has 1,807 reviews, compared to 918,982 reviews on Android. Now, Android has 10 million downloads for this game. With the low review numbers in the Window store, our download numbers are unlikely to break 9,000 downloads. My point is, the 10 million downloads, whether or not people actually play the game, is about 3x more than our user base on Window 10 Mobile. Despite Window 10 being installed on around 500 million, the idea of downloading an app from the store is still unnatural for many. They don't even consider looking in the store for apps, and when they do, it may not even be there. So, they either use the browser or install apps the traditional way. I guess time will tell if Windows 10 s will make a difference in this mindset for consumers and developers. We need developers to develop but, without users actually looking to download and use apps from the Windows Store, developers will not maintain their apps over time and without apps being developed and maintained users will not even look. It's a vicious cycle that MS has to find a way to break out of.

are you stupid or something dont you see its say Facebook Gameroom which is x86 app

I have a maxed out base & my Squad is in the Top 200 in the game. If u make an acct in the Facebook Gameroom, they'll transfer ur Windows game to the FB Gameroom if u email them with screenshots of ur Player ID

I don't think Disney will lose any sleep over that.

Why not provide the appx file for download so anyone can continue enjoying the game instead of cutting everyone off? Makes no sense

This is Disney were talking about. Many of their beloved characters and stories were taken from public domain but have shutdown that policy now they have the rights. They couldn't give two shites about doing what is right.

I think the issue is that it's an online game that requires an active connection to save your progress and in-game currency. It's been a few years since I played the game, but my understanding is that the software will be inaccessible if they shut down the server, which I assume is what will happen on the June 30 cutoff date.

What, not even a "get it before it's locked in the vault forever"?

Wait a little. I would not be too surprised to see it as an uwp, considering windows 10s in future. Time will tell.

Have any retired apps come back as a UWP?

Yes, I got the new health vault app, they told everyone about the retire but the new app has never debut!

Yes... More than one so it is not a given... Minecraft being one of the most popular games as an example.

Coming soon ™ wait a little means 3 years as Microsoft talk

Really? Still singing that song? It NEVER happens. Nutella decimated Windows Phone and any chance it had is gone.

Uppercase does not make your comment true. Just first get your facts right... Minecraft, spotify and more came back to the store... It is at max 1 out of 5 but that is not never...

Spotify DOESNT WORK & Microsoft owns Minecraft....NEXT.

Hurry retrenchment! Microsoft should have gone for the slow steady growth. Which was exactly what they were doing. It's not like they don't have the resources to keep Windows mobile going AND work on the next big thing. I really don't understand why these big companies are so inflexible. They don't seem to know how to take advantage of their bigness. Elon Musk is one of the few who does know this.

I don't really play mobile games like this, but do they usually stay popular for more than a year? Seems like there's always a new clone coming out from a different franchise like the CoD game, Fallout Shelter. All the same kind of thing.

Little off topic: I can't download Lumia apps anymore on a L950 (i.e. Lumia Selfie)
Are they biting the dust, too?

I think that bit the dust a long time ago.

Sigh... what I worthless platform....Thanks Microsoft for screwing up a great phone

Devs just dunno what to bring to the market of the Windows Phone. I dont see the platform terrible and degrading like everyone is saying. They just don't know how to attract us the fans or bring what we want. They just look at the other platforms and then give it a shot here. There will always be Windows fans....😍

It's still available on PC, you'll just have to download it from Facebook Gameroom. This is war against the Windows Store.

A war to see who has the best crap

Widows has 500k apps in June of 2014.. You guys say "eh, no biggie" evertime we lose one.. By August 2018 we have 5 apps left. Number 5 is repeatedly being canceled.. You guys still say "no biggie". SMDH.

I think the number is at 650.000 now.

Yep.. According to MBN there's 669K apps. I wonder what's the split between HL, WP, DT, and XB.

Actually there were more than 500k apps in the windows store... About 669k if i am not wrong. But that got down 2016 when microsoft got rid of many which did not want to give an age rating. But do not get that wrong: If you do the same with other platforms, it will be many apps going down there too. I do not think that numbers are telling anything about a platform.

Oh no, the dreaded app gap. Seriously? Most of the numbers on all the systems are trash and duplicates anyway (just reported one on Windows this morning). What it comes down to is whether the apps people use are there. If you go by Statista all of the top ten apps are there or comparable (maps are maps at this point, fanboys aside). The only missing app is Google+ from that list and it is perfectly functional on Edge. You can extend that to other list or look at the most popular apps in the respective app stores and see near parity. Yes there are some obvious holdouts (Snapchat), but that is more the exception than the rule. I have yet to run into an app gap on my 950. Maybe because I don't game on my phone (I think Vita or 3DS are much better for that) or give a crap about Snapchat. I do use my phone day to day in my professional life for pretty much every aspect and have yet to be hit by an insurmountable app gap.

Another wicket is down....!!!!!😭

Windows Mobile is a now placeholder for a possible future endeavor, not a platform.

Grass is fine here. While the OS may not be evolving as it transitions to W10ARM, UWP are here to stay and they work on all my W10 devices, present and future.

Come over to android. The grass really is greener over here!

No, it is not. Read your privacy policy and remember what happened a few years ago. Leave android while you can.

Better, but iphones are much more expensive and force you into the apple ecosystem even more.

There really no different between iOS Apple ecosystem and Microsoft Windows 10 mobile. Both are closed with restricted user access to their file system, app installation and configuration changes. In contrast Windows desktop and Android that give user C:\ file access. However, that may soon change if Windows 10 S gain traction. The only different is iOS is popular and well supported while the other is not.

Yeah. Windows get more frequent updates and has some more models of phones to choose from. But if apps is important iphones is A LOT better than Android... In every possible way except they are not cheap.

This will finally force me to android. Daily player for 3 years

U can still download Facebook Gameroom to ur PC & have ur base ported over to it

My squads been doing it. They won't port the bases,just giving us crystals to help restart quickly

Angry! All my hard work and money! Gone!!

If tapping on a small screen is hard work, I'd hate to see you at a gym.

What about the time he wasted ? 😁

Request a refund or credit

Disney apparently isn't going to issue refunds according to the article.

I was looking for Kayak app today. Couldn't find it in store, so I Googled (don't use Bing), and first article I see is from this site, "Kayak drops support for its WP... app". Now I see one more app is leaving

Why do you think google has that article as their first hit?

I highly doubt its like that.....lol

because I searched for "Kayak for Windows Phone" and that article is "Kayak drops support for its Windows Phone which is most relevant ...?

This is just sad news. Well, I don't even know what to say anymore.

Disney's also retiring Windows support for Disney Crossy Road if support emails from people asking when the new update was coming to Windows are to be believed. That means no more updates for it and a possible future delisting. Seems Disney's mobile app division is planning a full scale withdrawal from the Windows Store.

Considering all current WP7/8 apps won't be usable with MS's new mobile OS they're working on, this isn't surprising at all and there will be a lot more apps to drop soon enough.

If that's true, it's too bad because there are a lot of decent, if kinda ugly, WP7 and 8 apps that I still use.

Remove from mobile, I get it, but why PC when they have half a billion potential users? It doesn't make sense. It seems like a personal vendetta against MS.

cause the game is acessable from Facebook Gameroom which is a x86 app

But you can't transfer your account. You must start all over again...

yes you can by contacting them

No you can't. They'll give a stack of crystals to help restart but won't transfer the base

Don't worry. The next great version of mobile is coming within the next two years or so. Of course, there will be no users, apps or developers left by then

Meh, I installed this, but never played it...

i used to play this game but its out of proportions not everthing is good in it so obviously is left the game thing is that this game should be removed its not up to the mark only it has star wars and disney name on it which drives people to play

So sad, this is a good game to be played.

Sorry for the kids, it seems that there are lots of them here... Many kids and teens refused to take Windows phones in the past due the absence of...¡games! I never wanted a phone with the ridiculous idea of playing games...

You are so grown up, so mature. I'm so impressed. May I respectfully touch your Avatar?

You should change the name to Dead central, and you can report about failed phones and OS.

What has an retiring app to do with Windows central? Comments get more dumber by the day, you Stefan aleksic again show why... What a fail.

This is ABSOLUTE BS, they don't think of us as valued players. I am not going to purchase any more Disney products of anykind and I am going to spread the word to others to not buy and do everything in my power to hurt Disney. I have been playing this game for a year now and spent money and time on it and for them to care so little and say you have 30 days and then that is the end is the absolute worst thing I have EVER seen any comapny do to their customers EVER!!! Iinexcusable! It is very unfortunate that Disney bought Star Wars its a shame a reputable company didn't get Star Wars!

What a waste of energy. Did you burn as many calories when Disney stopped producing VHS tapes or did you just go ahead and buy a DVD player?
Windows Central Newsletter
Thank you for signing up to Windows Central. You will receive a verification email shortly.
There was a problem. Please refresh the page and try again.