Star Wars: Commander gets rare update, now supports 512 MB phones, new features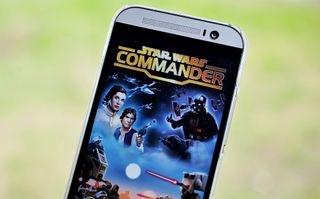 Back in September of last year, we saw the release of Star Wars: Commander, one of the many game franchises trying to cash in on the Clash of Clans phenomenon. Since then, we have seen much in the way of updates, unlike Age of Empires: Castle Siege.
However, today a nice update has gone out. Besides adding new features, those with 512 MB phones can now get in on the action too as the game has been optimized for low memory devices.
Star Wars: Commander 2.5.1.1
Now Available: Traps! Defend your base with Traps that trigger Starship Strikes when enemies approach! Choose from X-Wings and Y-Wings for the Rebel Alliance, and TIE Fighters and TIE Bombers for the Empire.
Consort with the criminal underbelly of Tatooine by safeguarding and trading Contraband with Jabba and his associates. They will repay the favor in the future.
Guard your Contraband and your base with the new Droideka Sentinel, which targets attackers ruthlessly both in defensive and offensive battles!
Fend off attacks from Er'Kit commandos with your favorite Senator, Johhar Kessen, in the next Campaign!
Overall, it looks like a long overdue but substantial update. The game is a universal app, letting you play across your Surface, phone, or desktop PC. As such, the Windows 8.1 version also has the same update and features.
Thanks, Sahil R., Sarthak D., and others for the tip!
Windows Central Newsletter
Get the best of Windows Central in in your inbox, every day!
Daniel Rubino is the Editor-in-chief of Windows Central, head reviewer, podcast co-host, and analyst. He has been covering Microsoft since 2007 when this site was called WMExperts (and later Windows Phone Central). His interests include Windows, laptops, next-gen computing, and for some reason, watches. Before all this tech stuff, he worked on a Ph.D. in linguistics, watched people sleep (for medical purposes!), and ran the projectors at movie theaters because it was fun.
Looks like a game worth checking out. Good to see the 512 MB devices support.

it is. This is one of the better CoC clones. Their support is also top notch. What I prefer about this to CoC, is that whilst you are building your base you can engage in batte and actually play a "game" :)
CoC feels like endless and lengthy (waiting for day) grind.
Of all the CoC clones i have tried, I like these the best. Pirate Plunder. Star Wars Commander and Second Earth. (2 of those are iOS only I think.) I like Age of Empires, but its a bit like CoC - at some point you just sort of stop and plateau and struggle to progress. I'm sure its me, but it doesnt lead you on what to do - so I just end up not playing it. Star Wars Command is excellent though.

Try cloud raiders. It's my personal favorite.

My friends play Clash of Clans, and ask me why I don't. Well..

Just get bluestacks, create a fake gmail account and your good to go.

Because you don't like predatory data stealing games?

Because its a ***** money sink?

How is it a money sink at all? I've been playing for 6 months and haven't spent a cent. Only chumps spend money on overpriced in-game items

Because you don't like coc

Would have kept playing but the pricks deleted my entire level 6 plot that took me a month to build becuase of absurd build times. NO compensation, no reason why, no fixes or solutions offered, NO REPLY from the company. GARBAGE. Be aware that ALL YOUR assets can and likely will be deleted WITHOUT WARNING.

The problem with cloud only games.

You support experience is completely at odds with mine. I bought some gems, and they didnt show up in game. I sent them my game number, and they gave me them straight away. They even send me a cute message saying "if you feel any further tremors in the force, do contact us again". They were great to deal with. Corruption does happen, I have had it in Total Conquest. But support should solve these issues. Disney did sort out my Star Wars issue.

Same thing with my base, everything lost. No compesation. Their forums were gettting blown up with complaints. It's very clear that the developer they have on their team don't know how to code the game for Windows.

I am playing Family guy game :P I don't expect anything from it, and I won;t die if something happens. all I know it's when windows 10 RTM I will not play it anyone because I know I have to start over.

Like many, they reset my entire game and base. I paid real money and it was all list. I really enjoyed the game, but WAY too buggy and when they didn't make me whole, I uninstalled and reported as fraud...too bad.

Seems like a problem with Azure for me.... or it is just very rare.... my lv6 Android base is still intact at least. Edit: reading other comments here and seeing no hint of this issue in the Google Play reviews.... I am pretty sure this is a problem with whatever cloud they are using for Windows.

I want CCSS so badly here... :)

WARNING!!!!!!!!!!!!!!!!!!!!!
DO NOT DOWNLOAD THIS GAME. Every update deletes all your progress, but after all that time getting to level 7 twice, the third time they deleted all my progress I had to delete this POS. Game is actually great if they would stop deleting all your progress.

er.. no updates do not delete your progress. I am playing this on iOS and Windows (separate accounts / game statuses) neither game loses progress on updates. So your either out and out lying or you've had an unusual issue.

I even saw in the in-store reviews people have said this.

Early on you'd have to play through the tutorial in order to get back the screen to sign into facebook. It was annoying. Installed on three devices and had to go through that a bunch if times. But this has been fixed. My daughter has been playing without fb sync and has been fine for quite a few months too. No doubt was a problem, but maybe not so much now.

The comment of a wally.
You have had a positive experience, yes (though admit some of your paid for items didn't show up until you contacted support).
However, at least 2 people so far on this thread have had ongoing issues regarding things being deleted from their games.
So rather than accuse people of lying, just accept that your positive experience may actually be the exception!

Actually, further to my previous comment, you only have to look at the game reviews to see how many people are suffering from data losses!

My progress was also deleted from my phone and despite multiple attempts to recover it would never allow me to sign in to my account. Still able to play on my PC but as I ended up deleting the game from my phone I don't think I've played in three months.

Did you engage with support to resolve the issue? They were great with me. I get it, issues happen, and often people vent their spleen on the Internet typing in capitals rather thatn go through the aggro of contacting support. I did accuse the OP of lying when perhaps his circumstances were real, poor choice of words on my part - but rubbishing a whole game and company I am playign with and dealt with on multiple devices show there is a posetive experience and probably what the majority of people are having? Even if there might be an unnacceptible high number of issues. Hard to tell without hard data. I'd be curious to know if you engaged support and they didn't handle the fact you put any real money into the game. Even on the WindowsPhone reviews, people said if they lost their progress they were at least refunded their money (70 quid in 1 case) so although thats lost effort, the money comes back.

Thanks for calling me a liar. And what I say happened three times. Look above others have had the same issues. Go read the comments on the Windows Store.

Pleasure. I've no doubt people get issues, but your capital letters and FACT that _EVERY_ update deletes your progress isn't true all the time for all people. You have an issue. If they are bad at support, thats one thing, but its not fact that all updates always delete. They were prompt and great to deal with - with my issue. It was a very simple exchange of emails, effortless.

"... have seen much in the way of updates ... However, a nice update ..."?

Cloud Raiders is better even better than CoC

Can you direct your troops when attacking like AoE?

Does the win8.1 version support kb&mouse?

Started playing for 10 minutes and it's crashed twice ... 1520?

Stay in Age of Empires: Castle Siege...

Are you still actively playing? What's ur alliance and gamer tag? I'm struggling to find active player, my castle hasn't even been raided since last month..

That just means people are avoiding attacking it because it looks impenetrable :)

There seems to be a lot more activity after the update to Age 9

Yeah..I m so exited about this kind of PvP game more than CoC..
My Alliance is "Kaskus" the largest Indonesian Community..

Can you direct your attacking troops in CoC like in AoE?

When I last played, I could not. It was very frustrating. And one of the many reasons I like AoE better. Hopefully they will update that. You end up losing so many troops not being able to control them.

And my GamerTag is "riyanfiter"

I was attacked this morning...but the damage was just 26%, so I won I think....

The Empire side has been fragged, the At-at now wanders around all the map and the way it fires at shields has changed, garbage! The dynamics have been ruined on this last update.

The juggernaut is no good and does the same thing as well now. Same both sides..

They have ruined the gameplay now, nearly impossible to get 100% now. They really need to sort this out.

Seems like "rare update" is a pretty common term for WP :D but I'm still in love with my Lumia/Microsoft phone.

Ehhhh... Not good game as age of empire.. Copy same

I love this game. Graphics are nice! Optimized too.

Oh and Castle Siege has had great updates. The last update added awesome features such as sending troops to alliance memebers

Long awaited. Now installed and went through the tutorial but there is no option to connect to Facebook. Lumia 520

How many updates is it behind its Android and iOS counterparts now?

As far as I know only one update behind.

Daniel, is the article supposed to say, "hasn't seen many updates unlike AoE9?

This is update is a few months behind the droid/iOS update. That same build introduced nerfed at-ats and tanks. Two weeks ago droid/iOS received a second update to address these issues. But the windows team at Disney decided to bring the old broken update to the market anyways! Replays are better but no where near the memory as Droid/iOS. Windows version takes another back seat.

I know this is a bit late in this thread, but do any of you have to deal with your phone crashing constantly when it hits hq4? Lumia 530
Windows Central Newsletter
Thank you for signing up to Windows Central. You will receive a verification email shortly.
There was a problem. Please refresh the page and try again.