Star Wars: Tiny Death Star updated, lets you save the game across devices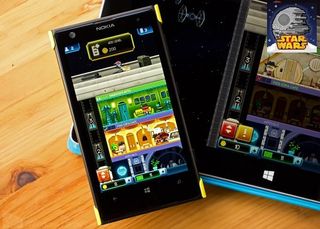 It may not be the best game out there on Windows Phone Store, but Star Wars: Tiny Death Star is annoyingly addictive and one of the guilty pleasures of several amongst the Windows Phone Central crew.
Available for both Windows Phone 8 and Windows 8 devices, the game combines Star Wars with time management gameplay. Your mission is to build up the Death Star and make the Emperor happy. The retro graphics add to the game's unique charm.
The Windows Phone version just got updated to version 1.4.0.2 that brings Facebook integration and allows you to save games across devices. You'll also be able to see which of your other friends are also playing Star Wars: Tiny Death Star. The update brings new Salvage Droids that you can send on missions deep into galaxy to collect valuable resources for your Death Star.
You can collect exclusive floors, characters, and other rewards that you can't obtain anywhere else.
Along with the Windows Phone update, the Windows 8 version also got bumped over the last weekend to bring in the Facebook integration that saves your progress across devices.
You can download Star Wars: Tiny Death Star for free for Windows Phone 8 devices from the Windows Phone Store or for Windows 8 devices from the Windows Store (opens in new tab). The addictive gameplay will keep you hooked, and now with the ability to sync games across devices, you'd only move forward and upward!
Thanks, shmsnh, for the tip!
Windows Central Newsletter
Get the best of Windows Central in in your inbox, every day!
What we need is the lego star wars saga like they have on ios...

Guilty pleasure. This is the only game I play regularly, you can pick up where you left off and building more levels and filling them is so addictive.

It truely is strangely addictive. I keep going not wanting to disappoint the Emperor... :-D Recommended!

Yes, it's truly addictive. I really stick this game.

Great. I was hoping I tipped WPC on time. Guess I'll have to be faster next time. I'm pleased they added the 'save game across devices' feature. I hope this means we can reset the phone without losing progress.

You did tip us and Abby forgot to add it. It's fixed now, sorry. Abby's been yelled at.

Yes, you did. Sorry, mate! :-)

I am so glad they added this feature, I had to hard reset my phone last January, and had to start from scratch. It is one of the most slow paced game and addictive.

I have to say, I still don't get this 'game'...

I don't either. Of all things My Talking Tom seemed like much less of a grind. Still, good to see game save across devices.

This is great, though unfortunately the last update for the windows 8 version broke it and it will no longer load.

Double check your updates, because I had that and now this latest update means the game will launch again

Mine broke a few days ago, which coincides with the update. It was fine before that. No updates pending and it's set to auto-update

True, the game is totally broken on Windows.

There was an update that broke it last week but this update should have fixed it. My wife lets me know when it breaks, she's addicted to the game and I received a text last night stating "It's working again!!". Seriously though, this is the second time it broke on W8, in January it stopped working for about a month.

Maybe the update hasn't been pushed to all market, yet.

As of this morning the game is working again, and I was able to link it with facebook and open the same save on my phone. This makes me happy.

I have it working, and connected to fbook, but it doesn't load the save I made on my phone. How did you manage it?
My phone did ask if I wanted to keep the one in the phone or the one in fbook, so w8 is connected. Just oesn't load the fbook save made with my phone

Connecting to fb doesn't work

Seemed to really help performance!

Finally! I'm waiting for this feature for a long time. Now, I can move my progress from Lumia 920 to Lumia 1520. :-D

I uninstalled before this update. Too bad...

Have they fixed the scaling issues on w8 yet? Tried playing on dell venue 8 but it gets cut off

Dang I wish this had happened back in January. Had 46 levels and was enjoying it before my device needed warranty service. So all progress was gone, and I haven't taken it back up since. Just can't do all of that initial stuff again.

If I reinstall will I get back all I had? Cus I was at floor 30 but had to delete it due to lack of space. I use the aerial cleaner tool

Of course this happens after I upgraded to the Icon from my 822 and started all over! Is anyone else having trouble getting the update to happen? I get the update button in the store but when I click it I'm sent to the download page and SW:TDS is nowhere to be seen!

This happened to me. I restarted my 928 and the update worked with no issues.

So, when you sync to Facebook, is it going to announce it on your wall or does it do it without spamming? Asking for a friend.

When I connected my Facebook account it said it would never post without my permission. That's the closest thing I have to an answer for you right now.

Would have been nice back when their updated didnt work multiple times, I uninstalled/reinstalled and found no progress was saved.

Why Facebook? I was sorta excited about the cross device saves, until I saw Facebook account. Does Facebook allow cross-device with iOS and Android as well? Otherwise, why couldn't they just use OneDrive?

Does anything on Windows Phone utilize Xbox Cloud save functionality? I thought they just used OneDrive.

I have no idea. Your idea is solid!

Nice, and finally, but the syncing feature could be a little more streamlined. I get that the first time it's enabled on a device, you need to be conscious of whether to select local or online as the source to sync from, but then you only sometimes get the prompt to sync when you start up the game afterwards. So you may miss some progress if you don't somehow force a sync on your last device at the end of your session. Hopefully, there will be some automated logic introduced to the syncing feature, like automatically sync from whichever source has the higher credits and/or bux...
Windows Central Newsletter
Thank you for signing up to Windows Central. You will receive a verification email shortly.
There was a problem. Please refresh the page and try again.