Star Wars: Trials on Tatooine trailer is the best endorsement yet for the HTC Vive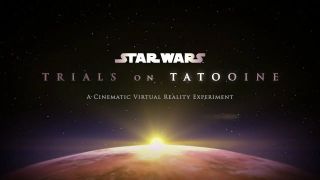 Industrial Light and Magic — the special effects studio behind the Star Wars franchise — is working on a tie-in an experience for the HTC Vive that puts you in the center of the Star Wars universe. Dubbed a "cinematic virtual reality experiment," Star Wars: Trials on Tatooine features R2-D2, the Millennium Falcon, and lots of lightsaber battles with Stormtroopers.
From the trailer, it looks like the experience will include both story-driven and gaming aspects, with players able to control lightsabers during the battle sequences using Vive's position-tracking controllers. There's no further information as to when the experience will be available, but it is likely that it will debut as a launch title for the Vive.
Pre-orders for the Vive are now live, and the headset will be available commercially starting next month with a retail price of $799.
See at HTC (opens in new tab)
MORE: First look at HTC Vive consumer version
Source: Road to VR
Very interesting. I am curious to see how VR plans on changing the gaming platform. You are mobile and can't really move around as freely. Unless you have a massive empty room and the headsets are wireless.

TO EDITOR: "working on a tie-in an experience" Get rid of "an".

*EDIT* Nvm. Misread the post.

VR experiences need to be different from what we've been experiencing as 1st person games these last 20 years. It's important that developers untderstand this, otherwise there's a risk that they provide inadequate, unfulfilling experiences.For now, these kind of "I'm static in a different place" environments will have to do.

Agreed, just giving us the same thing closer to our faces isn't enough.

Also, basically, you can't make first person games be as much as run and jump games as they are now. More about the environment and the perspective.

The best use for VR headsets I've seen so far are for looking around in games where you are driving or flying some vehicle. Being able to look around the cockpit windows of a mech to fire lasers independent of your main weapon is amazing. The need to use controls to move feels natural since you control vehicle movement, not your own.

Pass on HTC, pass on VR, pass on Star Wars.

You're just an all around sad Trombone, aren't you?

WTF has happened to this site, smh.
Windows phone central RIP

Windows phone is dead. Windows may follow soon.

Umm..., it is called Windows Central now. All things Windows related? And that happens to include gaming on pc and Xbox. Posted via my HTC One M7

This is getting to be a stretch, that's all.
This site wants to be the verge more and more. Unfortunate

But will it be better than Kinect Star Wars?

Kinect Star Wars set the bar pretty low...

Shame they didn't put the development into limbo

This is great nad I'm sure the experience will be extraordinary but is HTC Vive going to be the one VR . too many options.

And today PlayStation VR will be announced. Sony's coherent focused console strategy will make market leader even more successful while NadellaBox stagnates to irrelevance.

Seriously, f off already! So sick of your crap

You mean after their failed launch of the Sony Smarteyeglass?

I have a feeling that Vive is going to be THE VR device for the next couple of years. - Posted from a Still beta Windows 10 Mobile!

PSVR is the only affordably plug & play option for mass market. Others will be in niche category.

Yeah and no. PSVR isn't exactly as affordable. A ps4 + psvr + ps+every year + more expensive games, isn't really a bargain
Windows Central Newsletter
Get the best of Windows Central in in your inbox, every day!
Thank you for signing up to Windows Central. You will receive a verification email shortly.
There was a problem. Please refresh the page and try again.