Starbucks Locator 2.0 shows you're never too far from coffee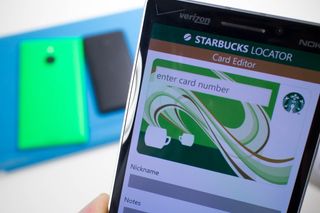 Grande mocha, please. That's what I usually order from Starbucks. I already know where to find the Starbucks stores near my house, but I need help when I'm somewhere else. While I can use HERE maps to find the nearest Starbucks for my caffeine fixation, a dedicated app can be a faster solution. If you are a frequent Starbucks customer, then the Starbucks Locator for Windows Phone should be installed on your phone. It has just undergone a version 2.0 update. See it in action in our hands-on video.
Starbucks Locator finds the nearest Starbucks. It also connects you with HERE Drive, Maps, or Transit when you need to navigate. The recent 2.0 update has also added support for the Starbucks card. Here's the change log:
Added Starbucks card support
More modern, lighter UI design
New Parallax UI for Store details
Bug fixes and some performance improvements
When opening the app, the main screen lists the nearest Starbucks branches. Fifteen stores are shown by default, but you can change this in the settings. You can see the distance, address, and services available under each store. You can get more information by tapping on one of the listings.
The store page shows a map on top, with the address and available services at the bottom. You can call the store, or navigate via transit, walk, or drive using the buttons at the bottom.
If you use a Starbucks card, you can enter the account number in the app. This is helpful for those who actually carry the physical cards, but I wish the app lets me login to my Starbucks account instead.
Starbucks Locator is a free download from the Windows Phone Store, but it is ad supported. You can remove the ads for 99 cents. Go check it out and let us know what you think.
Windows Central Newsletter
Get the best of Windows Central in in your inbox, every day!
Oral fixation (for coffee). ^.^

'Starbucks' and 'coffee' should be not be used in one sentence.
Their business is struggling in any country where real coffee is served and appreciated.
That's most of Europe, Australia, NZ, ....

@ia_win:
Granted. They definitely sell a substance that's closer to overpriced, flavored, hot water than coffee; but since I did not put these two words in one sentence, I have the impression you abused my comment to give yours more exposition.

Doesn't SBux Card do all of this and more... I can log into my account on SBux...

Buckstar is awesome as you can add your card to the wallet and have it notify you when a Starbucks is nearby.

2nd that! Buckstar is great!

SBux is no longer on the Store, so, no ;)

There's just one problem. SBux Card, AFAIK, didn't support any other currency than Dollars.

Sbux no longer shows in the store, noticed today, and if you've changed anything with your Starbucks credential, like I did, even if you have the app installed it'll no longer connect. Also, b4 the app was removed, I noticed that most of the recent reviews were from folks complaining that it had stopped updating rewards for them. I've used Sbux for over a year and loved it, so such a shame that it no longer works, and is no longer even shown in the store.

I messaged the guy. He says he was told to stop with his app by Starbucks. Since he was doing login, he might have been using private APIs to get it done and they might not have liked that.

Good to know you were able to get in touch with dev and that he didn't just drop support of the app. The app really was a great piece of work for by the dev. Hard for me, as a Starbucks and Microsoft customer, to sympathize with SB's position--both declining to create a WinPhone app (not enough SB customers) and preventing independent devs from creating/maintaining one. Much harder for me to understand is MSFT's apparent impotence in the face of SB and most major US banks and auto insurance companies either refusing to create a WinPhone app or at first creating one then quickly dropping the platform. For ef sake, both MSFT and SB are HQ in Seattle. I find it hard to believe that Bill gates, Michael Allen, or Steve Ballmer doesn't own huge SB stocks and doesn't have any influence at SB, or that they don't drink SB coffee fairly regularly and aren't bothered by the lack of an app. There goes one of the biggest puzzles with Windows Phone—as an observer, it almost seem that MSFT execs doesn't use the damn device. For years there was no quiet time settings on the platform. During all those years, it never bothered MSFT execs that their WinPhone didn't automatically silence during their meetings and other scheduled events? And if it did bother them, why did it take so long for the platform to get the feature? Could they not have influenced a faster implementation? It's almost as if MSFT is not only impotent in the face of industry wide hostility against Windows Phone, but that even the most senior execs fail to appropriately evangelize for the platform. Yes, if I was in Nadella's position I would be calling up Schultz, CEO of SB, and having a chat about Windows Phone app over a cup of SB coffee.

I've pinned the website to home because I test my phone before I checked if the app was still in the store. It's ridiculous that they allow Band to work but can't be bothered to make an application. I really hate how no one gives WP a chance simply because it doesn't have this huge market share. Percentage is nothing, they're are millions of users in the US alone and Starbucks should be trying to reach each and every one of them. I got a gift card over the holidays and joined the reward program and go back because it's easy to keep track of my Stars and balance using SBUX, now I log into the mobile site because its my only option, but they can essentially advertise to people just by having the app available. I'm going back to my local mom & pop coffeehouse when the card runs out because of their lack of support. How do they even know how many WP users there are if they don't even give us a chance to use an app to gauge the usage?

Try the Buckstar app. It's pretty good and the dev keeps it up to date.

Yeah,I tried Buckstar earlier today, nice design and color scheme. Only problem is the tiny ass barcode that Buckstar uses. Trying to line the barcode up with the scanner is reminiscent of trying to get the boom of a stratotanker into the hole of an aircraft during mid-air refueling. seriously, I feel like its a huge accomplishment once the barcode eventually scans. At least Sbux had a huge landscape barcode that rarely missed.

There still isnt one in my Town. Nearest one is 56miles from here -.-

Whereas there's probably close to 56 within 1 mile of me ;)

Lol yea I can see that happening

Like everybody on my Town is craving for Starbucks

Hope this app is better then their coffee

That wouldn't be hard, nasty brown tax dodging sludge.

Is there more to this question?

@Daniel Rubino:
Do you need more?

Very nice app, love the design! Unfortunately, I don't like coffee, so I have no use for this app.

Maybe they should bring an app out that shows how far Starbucks are from the tax office.

Never tried this app but can this app be added to wallet?

Wallet and DataCompression feature are already completed, ill be pushing it out next week.

Why would I need this when I can say "Cortana, find me the nearest Starbucks"? You don't need an ASP for this.

I think the allure is that it's more streamlined and integrated in addition to Starbucks Card support. If this doesn't add any extra value for you, thats fine. But options usually don't hurt anybody, and I feel there are some out there who'd appreciate this.

More integrated than Cortana? Hardly. That said, options don't hurt. But excessive apps hogging up space and CPU time do. :P

I agree excess apps aren't ideal. As such, if you don't have a use for it, don't install it. Simple. Again, I'm sure at least a few people will find it useful.

Exactly bing/Cortana is enough here is overkill

To me was the best one. Even paid for it to remove ads. Then legal issues, then it was gone. Dev said it would be back. But its been a long while now. So sad.

What happened to the actual app Starbucks keep saying they're making lol. Taking their sweet time.

This is news to me. When did Starbucks say they were working on an app?

An app that lets you log into your account will get pulled quickly by Starbucks. I'm working on a way for the next update that won't violate the terms of service. Regarding using Cortana/Bing/Google, nothing is more accurate than this app as it gets even the specialty stores not listed as Starbucks but are still owned by Starbucks.

How about support for Starbucks outside the USA? I would really love if the reviews would indicate whether certain features are USA only or can work worldwide as well.​ ​ ​

All features are global. There isn't anything in the app that is region locked. If you're not getting results, increase the radius in Settings. The only restriction is that the app is currently only in English. The Latin languages will be the first language pack.

Is that because logging in requires using private APIs?

Correct. Starbucks doesn't have a public OAuth (or other login mechanism) that third party devs can get a token and use. So essentialy, they need to do a "Rudy" and use another app's token or have a webbrowser and use fancy javascript to intercept the token from the browser's network traffic.

I assume you're the dev. If corect, please add option for an enlarged version of barcode to make successful scanning easier. Other app I used provided an enlarged landscape view of the card and barcode when you double-tap. The smaller sized barcode currently in your app generally result in a lot of failed scans. Thanks for all the work you put in so far. I like the app, color scheme and UI are great.

Consider it done. Yesterday I added password protection, 2 new validation algorithms, context menu for card list and small tweaks. Update should be available by Tuesday.

Make instant coffee in my kitchen now

You had me at Card Support. Thanks.

Want to blow the app up? Search from downtown Seattle.....

Yep. My old building had a store on the ground floor (no pun intended), a store on the 40th floor and two across the street.

Very good app and GLOBAL. Life exist outside the U.S. Miss Cortana .

Buckstar is what I used...there was this other great third party app that went unpublished...paid 99 cents and now its gone. Forgot the name but anyone know what ever happened to that one? EDIT: I think it was called MyStarBucks or something.

Starbucks is diligent about third party apps a that authenticate. This is for good reason, there is no OAuth, so you are actually giving the developer access to your password. The app then uses the password to authenticate you. This a big no-no.

The app was called MyBucks, writen by Elliott Forde, who started writing WP apps when he was 12. He's 16 now. MyBucks was the best Starbucks app; Starbucks should have paid royalties to use his code - it was that good. It had just about everything a corporate Starbucks app should have, save for Card Reload. I had heard that Elliott got a cease and desist order from Starbucks. This app does what I need it to do, and Lancelot was very fast and complete in communicating with me about his app. I don't want to know my card status if that feature will cause Starbucks to go after him. I can always go to the starbucks website to get that info.

Damn didn't know it was taken down. Guess I shouldn't uninstall it then. I use it very often. Wonder why his was taken down but not sbux

Don't really know. Too complete? Couldn't get Sbux nor Buckstar to take my card and connect with Starbucks' servers. Glad Starbucks Locator doesn't need to.

I downloaded Buckstar from your post since I didn't know it existed.

But I want to be as far as possible from that coffee...

I now use Mybucks, that's a great one. Sbux is good too

Or you can just keep driving another mile and find one yourself!

I hope Windows 10 doesn't become like ios and andriod with useless stupid apps, cause all you have to do is open the damn map and type "star bucks"

We have these coffee shops in Canada... Its where the App$e customers go... Lol

Since when did Starbucks start serving coffee?

Starbucks tastes like shit and is overpriced, why do you guys buy that rubbish?

Although I do not care for Starbucks, I guess I should mention they are like, the top coffee company in the world. So I think it's weird to debate taste in a liquid.

It is a very well made app. Looks good. I want it to have a passcode though. Maybe the dev could update for that. Also, its looks better without the ads.

Horrible coffee.Prefer Barista/Lavazza over it any given day

If you live in Melbourne (Australia), this app is a complete waste of time.
Starbucks came to town, we booted then out saying, that's not good coffee.
End result, no Starbucks in Melbourne (OK, maybe one for the tourists), and Melbourne voted best coffee in the world.
Use this app instead- http://www.windowsphone.com/s?appid=a0aefd62-7ce8-df11-9264-00237de2db9e

Gotta love those Starbucks Lovers

Hot chocolate and a happy ending of the missus! Sleep like a baby!!

Let me guess.. AVAILABLE ONLY IN U.S

Can I have some plain coffee, please?
Don't hear that much these days.

Related joke for the Desi guys in the house...
There is a coffee joint in Karachi called "Sittar Buksh".

So... Wen in India??? :-P Not the app... :-D

Download the app and put the live in the very bottom of your tiles screen :-P No need to thank me for brilliant and genius ideas ;-)

The app is published in all available Windows Phone Store countries. Including India.

The app is published to all Windows Phone Store countries and works globally. If you're not seeing results on the intial load, then widen the radius (Appbar > Settings > Radius). Edit: For some reason, my replies to other posts are appending to the bottom of the comments list instead of the intended comment. This message is for scyllafirefox. The previous comment is for spazinvader.

This app is encountering lots of errors on my 1520 and I'm not sure why. I added a card and when I went into its settings, boom, its wants to send email about something that broke. I hope it gets fixed because its hella convenient having a Starbucks coffee app on my phone.


We need more developers like this one. He actually answers email! Resolves issues quickly and I am one proud owner. Thanks dev.
Windows Central Newsletter
Thank you for signing up to Windows Central. You will receive a verification email shortly.
There was a problem. Please refresh the page and try again.