The SteelSeries Rival 100 is a great gaming mouse that you can actually afford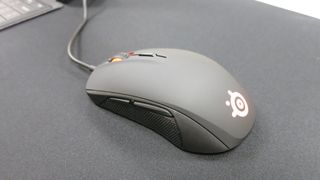 The SteelSeries Rival 100 is Danish manufacturer SteelSeries' most affordable gaming mouse. Clocking in at $40, the Rival 100 has some fairly impressive features: an ambidextrous form factor, RGB lighting, on-the-fly sensitivity switching, and textured grips. If you're looking for a quality mouse for gaming and/or work, this one might fit the bill. Read our full review with video for more details!
Built for either hand
SteelSeries touts the Rival 100 as having a "universal design," which I like to think of as an ambidextrous form factor. The basic shape of the mouse does not favor left- or right-handed users, which is a plus for lefties or the ambidextrous people who secretly plot to overthrow us all someday.
That said, the Rival 100 has one strike against left-handed use. The Back and Forward buttons are found only on the left side of the mouse, with no buttons on the right side. So while a lefty can use this mouse without hand fatigue, he or she won't have easy left-hand access to two important buttons.
The Forward and Back buttons on the left side of the mouse have a 2mm or so space between them, which seems to make finding the correct button a little easier. Below that, you'll find a textured plastic grip. The right side of the mouse has the same type of grip, although it goes up to where the two side buttons would be.
The grips certainly feel better to hold than bare plastic. They'll keep the mouse from sliding out of your hand during heated gaming or Windows Central reading sessions. That said, they're not nearly as comfortable as the rubber grips on the Razer Mamba TE or Diamondback mice. But those mice cost a lot more than the Rival 100. And I find the Rival 100 more comfortable to hold overall than the Diamondback.
The Rival 100's USB cable is a plain black rubber cable, but it does feature a nice SteelSeries logo on the male end.
Topside
Whereas the sides of the Rival 100 are made of plastic, the entire top portion of the unit is coated in a thin layer or rubber. It feels good to the touch but shows hand grease more than matte plastic would.
The top of the mouse naturally features left and right mouse buttons. Between them lie the mouse wheel, which can be clicked-in as a button. The wheel is covered in tire tread-like ridges. The ridges might not perfectly match the minimum increments of the wheel's movement, but they come close enough.
Below the wheel sits a single button for toggling sensitivity settings.
Performance and Settings
The Rival 100 is a 4,000 DPI mouse. SteelSeries refers to that measurement as "4,000 CPI," which stands for Characters Per Inch. I don't know about all this CPI business; I'm a DPI man.
Anyway, 4,000 DPI might not seem like a lot compared to Razer's 16,000 DPI mice. But most users will never want their mice to move any faster than the Rival 100's max setting. 4K is way too fast for me.
The Rival 100's sensitivity button toggles between two user-selectable sensitivity settings. You'll adjust these settings in the SteelSeries Engine 3 software. The sensitivity stages can only be changed in increments of 250 DPI, but that should still allow most of us to find a comfortable setting.
Steel Engine 3 also allows users to reassign the actions of each mouse button and wheel direction, record macros and adjust lighting.
Lighting
The Rival 100 has two lighting areas: the mouse wheel and the SteelSeries logo on the palmwrest. Both areas share the same lighting setting, so you can't configure them independently, unfortunately.
In addition to turning off the lights entirely, the Rival 100 offers three lighting settings to choose from:
Steady : Pick any color from the RGB spectrum to display as a solid color.
Breathe : The single color of your choice will pulse steadily at one of three selectable speeds.
Colorshift : The lights will cycle between a variety of colors. Steel Engine offers four selectable palettes for Colorshift mode.
The Rival 100's lighting options might not be as expansive as those offered by Razer and Corsair, but they still offer a nice bit of flash (and choice) for a mouse at this price point.
Settings chosen in the Steel Engine software are saved directly to the mouse, so they will carry over when using the mouse on different machines.
Overall Impression
The Rival 100 is the low-cost alternative to the $60 Rival 300 mouse. The Rival 300 features a more impressive sensor, right-handed design, better buttons, and nicer grips – a fair lineup of improvements for twenty more bucks.
Still, the Rival 100 brings a lot of value with its low price. You get a decent array of buttons (including sensitivity toggle, comfortable grips, and basic but attractive lighting. It's not the fanciest mouse out there, but budget-minded gamers will enjoy it. Plus it comes in a variety of attractive colors, not just black.
Featured mouse surface: SteelSeries QcK XXL
Paul Acevedo is the Games Editor at Windows Central. A lifelong gamer, he has written about videogames for over 15 years and reviewed over 350 games for our site. Follow him on Twitter @PaulRAcevedo. Don't hate. Appreciate!
I'd still rather go with a nice Logitech gaming mouse. More features for the same money. I do like that this is significantly cheaper than the Razor units review previously though.

Also, lasts (supposedly) longer than the OMRON switches in Razer mice. I use a SteelSeries Rival (original) and it's served me well and doesn't look like it's anywhere near done. Been over 6 months now.

My 2009 Razer Orochi is still going strong, although the cord is well frayed due to the nature of a travel-oriented mouse.

That's why I hate braided cables. All of mine frayed, which ruins the sleeve underneath and, eventually, the wiring. Had two Logitech mice go bad specifically because of this.

Wow, I've always found them to be more durable. With the Orochi 2009 wire, the fraying is a result of folding it up to fit in the case and then taking it out almost daily for multiple years. You usually wouldn't do that with your home computer's mouse.

Yeah, luckily Logitech is the best company ever for warranty support. Took almost no effort to get replacements either time.

We have a couple of Roccat mice reviews coming up in the next month or so. :)

I was using Logitech for years but after managing to break the left button of two G9X I decided to try SteelSeries and got a Rival. Works great for now and fits my hand amazingly (haven't had a mous fit better). Of course fitting into hand is a personal thing. My girlfriend likes the logitech more since she has smaller hands.

Logitech is definitely the default, boring brand of quality PC gaming accessories. SteelSeries and others are more exotic, which I love. If your girlfriend likes small mice, she should check out our (currently upcoming) review of the Razer Orochi. It's an awesome small mouse.

The G9X which she currently uses (and unlike me haven't managed to break it yet) is shiny with customizeable colors and a lot of buttons. I don't feel like it's boring. My impression of Razer products is that they are overpriced and their features are on the shiny side (lights and so on). I also have experience and friends who experienced simply breaking Razer products. She uses the Razer Marauder keyboard and I have SteelSeries 7g. My keyboard looks like the most boring keyboard in the world but the feature lists for a gamer beats the shiny Marauder hands down. The Marauder integrates with StarCraft and can change the color of light based on APM. As if anyone cares. The 7g has mechanical keys, anti-ghosting, uses PS2 for maximum responsiveness and less CPU load to avoid polling the USB (not that it matters in practice but a nice touch), the keys react halfway through on a press for faster reactions and you can literally kill a man with it without breaking it. This is what I call a gaming keyboard and the comparison between the two keyboards was what made me go for SteelSeries instead of Razer when Logitech failed me.

Don't say you can literally kill a man without proof.

If you hold it in your hand you will know. It is all metal inside. I don't need a proof to know you can kill a man with a metal bar :)

Corpse or it can't happen.

I don't see any real advantage of PS/2 over USB in the modern age, but I certainly didn't mean to imply that Logitech doesn't make solid products. I just find the other brands more exciting and unique. I don't know much about the Marauder, but all of the accessory makers have products at different price points and varying levels of features, so I'm sure there is a nicer one out there. We have reviews coming up for a keyboard from Razer, SteelSeries, and Roccat.

Yay! Finally a SteelSeries device review! :D

Paul you are starting to have too many mouse, I'm willing to accept donation =P Edit: Joke aside It's a nice looking mouse love the color.

Only problem with these 1 piece button top layer mice are the quality of the switches underneath & is it supported enough to take rapid repetitive click abuse(a friend had a razer turney that the left click broke off)

If SteelSeries keyboards represent all of their product durability is definitely their strong side. I have been using rival for an year now and I can't confirm the same is true for mice but I hope so that's why I got it (after breaking 2 logitechs)

You can get good gaming mice on Amazon for around $10.

There's a difference in quality between cheap mice and nicer ones.

You're mostly just paying for the name brand with these ones.

You're right...if you take out the word "good."

No need to. They're good. But you probably wouldn't know that if you haven't tried them.

And yet here you are, just using pronouns without the nouns that offer any proof for your argument. And such, I will continue to spend the extra money for a mouse with the features I want from a company that did a wonderful job of assisting me when their products had a fault (sending me a free repalcement, and then a free upgrade to a $90 mouse when my $60 one failed).

Haha, so you're mouse failed and you paid $60 for it. That's great.

Yes, I am mouse. Your grammar is as good as your argument. My $60 mouse was replaced FOR FREE with another. When that one failed, I got a $90 one for free. Meanwhile, your sorry self is capable of nothing but lies and trolling because after 11 hours, you're still either too stupid, too lazy, or too much of a trolling bum to name a SINGLE mouse that fits your B.S. criteria.

Wow, so you had two of them fail. That's quality. Glad you paid $60 for something that failed twice.

Alright, you both need to drop it.

Hey, I'm just trying to get the guy to defend his point, rather than be an egregious troll.

My word processing device only needs 2 buttons

Sucks that no one else does the Logitech wheel lock, because this mouse looks great. I ended up getting a G700s from Amazon while it was half-off ($50). It's wireless, but can operate quite via microUSB (think Xbox One Play & Charge).
I also grabbed a Steelseries Apex keyboard from there, was $60 (normally $100). This mouse would have looked great with it. Paul, you need to do some keyboard reviews and ask whoever at SS sent you the mouse how the Apex 350 differs from the Apex I just got. They look the same to me.

We have a SteelSeries Apex M800 review coming up... I'm sitting on a pile of hardware and trying to work my way through it all. :) Good price on the keyboard! I would have a tough time getting that particular question answered, but maybe the info is out there online.

I can send you my address if you need help with that pile, haha. The M800 looks nice, but mechanical keyboards seem to tall for my comfort level. And I was pretty pleased with the price on my new Apex, since my dad had just spent $100 in it not too long ago. Only negative is that it and my mouse are Christmas presents, so I have to wait a few weeks to use them.

That reminds me - I think I remember that you like to use your mouse on the bed. You should consider an aluminum mouse mat like the one we reviewed yesterday. Seems like it'd be perfect.

I've gotten better about that. I mostly use my phone with Unified Remote from my bed now. If I ever have a proper desk or table setup I like, I kind of want that Qck XXL. That Apex keyboard is pretty wide, so I might need a new surface for it anyway. Maybe I'll pair it with a new mousepad. My CM Storm one is getting rather dirty.

how would a mouse like that compare to a microsoft mouse with blue track technology? looks like a nice moust though.

Blue Track seems to be good for using the mouse without a traditional mouse mat, but IMO that's not a good gaming scenario in the first place. Microsoft mice are designed to look cool and for general purpose use, but they're not designed from an ergonomic gaming perspective.
Windows Central Newsletter