SteelSeries QcK XXL Gaming Mousepad review: It's really big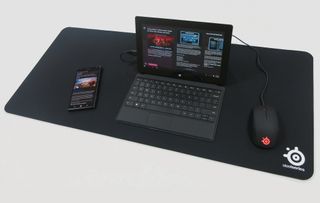 High-end PC gaming involves a variety of peripherals, including a mechanical keyboard, gaming mouse, and hopefully a controller. That's in addition to your fancy computer or tablet that probably cost a million jillion dollars (or maybe less). If you have any money left over after all that, you should probably get a quality gaming mousepad too. We've already reviewed the Razer Firefly, a mousepad that lights up.
Danish accessory manufacturer SteelSeries has a popular line of mousepads dubbed "QcK." I think that's pronounced "Quick." Towering above this line is the QcK XXL Gaming Mousepad. The QcK XXL measures nearly three feet in width, making it large enough to hold a mouse, keyboard, and whatever else you might want to put on it.
What's it like to use a gigantic mousepad like the QcK XXL? Read our review with video to find out!
Look out, the QcK XXL is attacking!
The SteelSeries QcK XXL comes in a very tall rectangular box. Inside you'll find the mousepad curled up tightly, as well as a sheet with three SteelSeries stickers. My sticker sheet unfortunately came a bit bent up, damaging the stickers.
Unwrap the QcK XXL and you'll notice a strong "new rubber" smell. This scent is common to all extra-large mousepads (as I understand it), presumably due to the sheer volume of rubber coating applied to their undersides. It fades after a day or so of use.
The QcK XXL measures 900mm x 400mm x 4mm – that's 35.4 x 15.7 x 0.16 inches. It is truly huge. Compared to Razer's Goliathus Extended mouse mats, the SteelSeries comes up ever so slightly smaller in width (35.5 versus 36.2 inches) but a fair bit greater in length (15.7 versus 11.6 inches). Absolutely huge any way you slice it.
Construction
Gaming mousepads are intended to enhance the experience of using a mouse, and the QcK XXL certainly comes prepared for the job. The top surface is made of a super-soft cloth material with a mild texture to it. The surface lends itself to precision over speed, but I'd call the level of speed it provides just right.
The downside to the QcK XXL's cloth surface is its tendency to attract hairs and particles. All cloth mousepads attract such things, really – and they can be annoyingly hard to clean. But the QcK XXL is even more of a hair magnet due to its sheer size. Not a huge deal, but something you'd want to be prepared for.
The underside of the QcK XXL features a textured rubber coating adorned with SteelSeries logos. Your Brobdingnagian mousepad certainly won't be slipping around anywhere, especially with a mouse and keyboard on top.
Reason for living
Make no mistake, the QcK XXL is intended to hold your full-sized keyboard or gaming laptop on its surface, in addition to a mouse. Mine comfortably fits my 17-inch notebook (not pictured) and SteelSeries Rival 100 mouse (pictured, review coming soon) with plenty of room to spare. You could put a controller on there, your phone, and probably more stuff too.
I have to admit that the purpose of a planet-sized mousepad was not immediately apparent to me. The SteelSeries website and product descriptions don't bother to justify the extreme size either. They seem to assume that everyone knows why you'd need a mousepad that stretches as far as the eye can see.
After using the QcK XXL for a while though, I actually do see some benefits to it. First, some users might want their keyboards and mice to be at the same height instead of a different one. Normally a mousepad raises the mouse up a few millimeters while the keyboard remains situated on the desk. The QcK XXL covers your desk so that your keyboard and mouse sit at the same level, as if you weren't even using a mousepad.
The other plus to using a mousepad that spans the horizon and beyond is that it actually feels good to have so much soft padded surface area on the desk. When you're not typing, you can rest your arm on the QcK XXL and it'll actually feel comfier than plopping it down on a bare desk or table. Heck, you could probably lay your head down on it without bumping into the mouse or keyboard. Maybe even curl right up and take a nap, why not.
A mousepad fit for the Beastie Boys
Make no mistake, the SteelSeries QcK XXL essentially transcends traditional definitions of space, existing almost as a parallel reality to our own. Smaller desks might not even be able to accommodate the thing, to say nothing of its effects on planetary rotation and oceanic tides.
Still, this intergalactic thing provides a great mouse surface for both work and gaming. It feels great to touch, and can actually make your desk more comfortable to boot. I wouldn't have guessed at such strengths from a mousepad that allows no light or matter to escape from its orbit, but here you go. The QcK XXL might be impractical for some people, but it's a truly fine mousepad.
If the pan-dimensional volume of the QcK XXL is too large for you, consider the SteelSeries QcK+. It measures half the width at 450 x 400 x 2mm and costs a fair bit less, to boot.
Get the Windows Central Newsletter
All the latest news, reviews, and guides for Windows and Xbox diehards.
Paul Acevedo is the Games Editor at Windows Central. A lifelong gamer, he has written about videogames for over 15 years and reviewed over 350 games for our site. Follow him on Twitter @PaulRAcevedo. Don't hate. Appreciate!