Razer Diamondback Ambidextrous Gaming Mouse review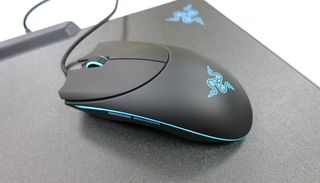 Most computer mice come in right-handed designs that can be difficult for lefties to hold. Left-handed mice do exist, of course, but they're more of a niche product. Ambidextrous designs are a nice compromise because they can be used by people who favor either hand. Of course, even lefty or ambidextrous PC gamers don't just want a mouse they can hold; it needs to be good for gaming too.
Enter the Razer Diamondback. The Diamondback was one of Razer's first gaming mice all the way back in 2004. Razer has since updated its design a few times over the few years, with the 2015 edition launching only weeks ago. The new Razer Diamondback sports Chroma full-spectrum lighting, an amazing 16,000 DPI sensor, and of course, an ambidextrous design. Read on for our detailed review with video!
Getting in shape
The Diamondback measures 125 mm / 4.92 in (Length) x 60 mm / 2.64 in (Width) x 30 mm / 1.18 in (Height). The top and portions of the sides feature a mildly textured matte plastic surface that provides just the right amount of grip.
Both the left and right sides of the mouse have a recessed area just below the side buttons. You hold the mouse by putting your thumb and pinkie or ring finger into these grooves – sort of a claw grip. The grooves also happen to be covered in a very comfortable textured rubber coating. It feels great to the touch and prevents slippage.
Razer has made the Diamondback as comfortable to hold as possible, but there's only so much you can do with an ambidextrous design. Right- and left-handed mice are naturally more ergonomic, but an ambidextrous mouse requires a different grip. If you've never had this style of mouse, you'll have to adjust for a while. But it sure beats using a mouse with your off hand.
The Diamondback connects to your PC via a seven-foot braided USB cable. The male end of the cable has a Razer logo on one side.
Even the buttons are symmetrical
On the top of the Diamondback, you'll find two gigantic primary buttons. Unlike the Razer Mamba and Mamba TE, the buttons are completely separate from the top shell of the mouse. They have a bit more of a groove to them as well, seemingly to complement the style of grip required with this design.
Between the main buttons lies the mouse wheel. The wheel has a rubber texture that makes it easy to grip and scroll in small increments. Pushing it in acts as a mouse button, though the wheel can't be clicked left or right. Not many programs support left and right clicks, but it would still be nice to have the option with a mouse at this price point.
Both the left and right sides of the mouse have two buttons, just above the recessed grip area. The left side buttons act as Forward and Back in web browsers by default. The right side buttons raise and lower DPI (Dots Per Inch), drawing on user-selectable sensitivity settings from the Razer Synapse application. Naturally users can swap these functions if desired.
The ambidextrous side buttons make sense, but the pinky-side buttons are difficult to press while holding the mouse. I have to move my hand to hit them. Most people don't toggle sensitivity that frequently, so it shouldn't be a big deal.
The world's fanciest mouse sensor
The new Diamondback features the same 16,000 DPI mouse sensor as Razer's Mamba mice. Pioneer manufactures the sensor. Razer has a timed exclusivity contract on it, so you really won't find a comparable mouse sensor for the next year or two.
16,000 DPI is incredibly fast – way faster than any normal user wants or needs. People with 4K displays and extra-large mouse mats could probably make use of that 16K setting for some high-speed gaming scenarios.
But hey, you don't need to max out the Diamondback's DPI to benefit from its top-notch sensor. The DPI can be adjusted by increments of one, a feature that no other brand offers. You can literally make this mouse as fast or slow as you want. Users can save five distinct sensitivity stages through the Razer Synapse software and then toggle between them at will using the side DPI buttons.
Razer Synapse
Like other Razer PC products, Razer Synapse is required to get the most out of the Diamondback. The mouse does not store profiles and settings internally. Instead, all settings are saved through the cloud and accessed via Synapse. I understand that exporting settings to a USB stick is an option, but internal storage would obviously be better.
Still, the Synapse software is actually quite good. Setting up your sensitivity and lighting preferences is a snap. Players can create macros and even enable statistic and heatmap tracking for their mouse use, though those features are a bit much for me. A certain contingent of PC gamers reject Synapse out of principle, but I find it unobtrusive overall.
Chroma lighting
Impressive performance aside, one of my favorite aspects of the Diamondback is its Chroma lighting support. Chroma is Razer's name for its 16.8 million color spectrum lighting technology.
The Diamondback has three basic lighting areas: The Razer logo on the palm surface, the sides of the mouse wheel, and a long strip that wraps all the way around the sides and back of the mouse. Additionally, the lighting for the strip can be adjusted in tiny increments.
Besides turning the lighting off, users can select from six lighting presets:
Custom: Use the custom Chroma profile you create.
Breathing: All of the mouse lights pulse up and down in intensity. You can't have one light pulse a different color than the others, but you can set the lights to alternate between two different colors.
Reactive: When enabled, any keypress or mouse click from the Diamondback or compatible device will cause all Chroma devices set to 'Reactive' to light up. Use this feature to make your mouse and other equipment flash when firing in a game or just whenever.
Spectrum Cycling: The mouse cycles between various colors.
Static: The mouse remains lit up with a single color of the user's choosing.
Wave: A series of colors flow down across the mouse lights.
Why go ambidextrous?
As mentioned before, the Diamondback won't feel quite as comfortable in your primary hand as a mouse designed for that hand would. But that doesn't mean an ambidextrous mouse like this wouldn't be the best option for some users.
For starters, some people can actually use both hands equally well. These overachievers will enjoy being able to play games and perform other computer tasks from whichever hand they like. The Diamondback would also be a great fit for a multiple user scenario such as the family or office computer. And of course, lefties will find a lot to like with this mouse. Razer doesn't make a left-handed mouse with their 16,000 DPI sensor yet, so the Diamondback should serve that need in the meantime.
The Razer Diamondback has just about everything you could want in an ambidextrous mouse. It features comfy rubber grips, a symmetrical design with plenty of buttons, sexy Chroma lighting, and that kick-a sensor. The price is a bit high as gaming mice go, but the Diamondback won't let you down in features or performance.
Featured mouse surface: Razer Firefly Light-up Mouse Mat.
Paul Acevedo is the Games Editor at Windows Central. A lifelong gamer, he has written about videogames for over 15 years and reviewed over 350 games for our site. Follow him on Twitter @PaulRAcevedo. Don't hate. Appreciate!
She's a bute. Should show my odd mom and sister. Both lefty's.

Looks great. I currently have the older ambidextrous mouse. Works like a charm.

Are you using the Copperhead as your current mouse? Or another ambidextrous Razer mouse?

I have the second version from 2009. Still works perferctly, just the material is used up so it does not look good any more (but i think that's ok for 6 year heavy duty). I'll wait for thenew Diamondback to arrive in Europe and then hit for it.

I like this mouse but I still prefer my Logitech gaming mouse. I've been using them for nearly 15 years now and I don't see myself stopping anytime soon. Great review though.

I'll never understand the need for cable wraps. They add stiffness and weight. I've never seen or heard of a mouse or controller cable getting cut. My 6 year old DB is still kicking.

What I never understood is the need for a left handed mouse. Who actually teaches someone to use the left hand for a mouse? I'm a lefty myself but learned the correct way. I never saw a computer setup with the mouse to the left.

Lol ive seen ambidextrous trackballs but cant say they feel as natural

Braided cables are sturdier than normal ones. They generally last longer than standard cables, which can break.

Go ambidextrouse because left handed mice usually suck, if you can even find one.

Most of general populous is right handed, left handers are mutants! Joking aside, ambidextrous is the way to go imo. Helps make multitasking in the office much more efficient. I use the mouse left handed for work, right handed at home.

I'm right handed and prefer ambidextrous mice. Don't quite know why but they feel nicer in hand to me. Posted via the Windows Central App for Android

Lol ever used a trackball like that?

Ohh I remember I had one of the first diamond back limited editions. It was see-through. It rained headshots with it in enemy territory. :D i prefer these smaller mice's because im a high sensitivity player and only move the mouse with my fingers.

I still use my old Razor Diamondback 3D, but i must admit that it starts to get quite worn out nowadays, on the outside that is. Probably the best mouse I've ever owned. Nice feeling, excellent precision and no switch bounce. Just marvelous. Maybe it's time to buy a new one. :) I think I bought the old one in 2007.

Same for me ... time to upgrade the the new one and hope quality has not dropped.

7 foot cord.... Forget a wireless mouse, just get this lol!

I like wired mice better than wireless, since I don't need to replace batteries. Posted from my Moto X Pure Edition via the Windows Central App for Android

Nice to see the PC peripheral reviews Paul. Any plans for anything not Razor though? Roccat always seem to provide more value for the price imo.

I have a Roccat mouse. Posted from my Moto X Pure Edition via the Windows Central App for Android

Glad you enjoy this type of coverage! We've been doing a lot of Razer stuff because we have an established relationship with them. I do have more Corsair and SteelSeries peripheral reviews coming up eventually though. I'll reach out to Roccat sometime soon and maybe we'll get to cover them as well. :)

I want the mouse! because you have it :P

The mouse isn't ambidextrous. Computer mice can't be ambidextrous. Perhaps the word you are looking for is symmetrical.

Amazon product title: "Razer Diamondback - Chroma Ambidextrous Gaming Mouse." Good enough for me. I did use the word symmetrical somewhere in the review though.

am·bi·dex·trous [ˌambiˈdekst(ə)rəs]


ADJECTIVE (of a person) able to use the right and left hands equally well:
"few of us are naturally ambidextrous" (of an implement) designed to be used by left-handed and right-handed people with equal ease. ORIGIN mid 17th cent.: from late Latin ambidexter (from Latin ambi- 'on both sides' + dexter 'right-handed') + -ous. Translate ambidextrous to
Choose languageArabicBulgarianCatalanChinese SimplifiedChinese TraditionalCzechDanishDutchEnglishEstonianFinnishFrenchGermanGreekHebrewHindiHungarianIndonesianItalianJapaneseKoreanLatvianLithuanianMalayMalteseNorwegianPersianPolishPortugueseRomanianRussianSlovakSlovenianSpanishSwedishThaiTurkishUkrainianUrduVietnameseWelsh No translation found. Powered by Oxford Dictionaries

Yeah, it's almost like words can be used in new ways as time goes on. Almost.

Laser Mice suck for gaming, give me optical any day. I also don't get why people buy into DPI, it's all marketing and people try to convince themselves it's real by saying stuff like "you turn DPI up and reduce sensitivity for amazing accuracy"... like no. All you'll do is create more noise because you just know the sensor is making some sacrifices to get to 16000, so you end up with a worse experience, besides how accurate does it need to be? Turns out, not very and laser mice are worse because the laser sends too much information to the sensor, where an led doesn't, you only want to read a flat surface, anything more than that gives you inaccuracy. It's funny because in games like CS:GO I switch between 400-1200DPI, I use 1600 on my Desktop with triple 1080p monitors. The only reason you're going to need a crazy high DPI mouse like this is if you have 3 8K monitors or something :\
Windows Central Newsletter
Get the best of Windows Central in in your inbox, every day!
Thank you for signing up to Windows Central. You will receive a verification email shortly.
There was a problem. Please refresh the page and try again.