SteelSeries Rival 700 is hands down one of the best gaming mice
The Rival 700 from SteelSeries is not only a gorgeous looking mouse, it's comfortable to wield and performs excellently.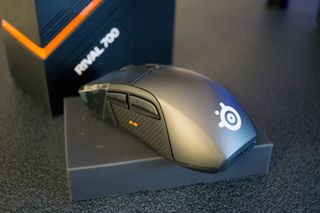 When looking at mice that cost around $100, there's going to be an expectation that they last for an eternity and even make a good cup of tea (or coffee). Unfortunately, manufacturers aren't producing such hardware for PCs (yet) so you'll have to make do with mice that are highly accurate, perform well, and are comfortable to use for long periods.
That doesn't sound so bad, and it's exactly what SteelSeries is offering with the Rival 700. Straight off the bat, we should comment on the price tag. At $70 (opens in new tab), it's not cheap but there are some handy features that combined with the excellent performance make the price well worth the investment.
See at Amazon (opens in new tab)
Hey good lookin'
I like the design of the Rival 700. SteelSeries (as always) has done a stellar job with the looks, build quality, and accompanying features. It's a heavy thing, coming in at around 135 g (0.3 lbs), and there aren't any means to customize the weight at all, but this wasn't an issue through the hundred or so hours I spent using the unit. That's due to just how comfortable it is to hold.
The plastic outer shell, which can be removed, is littered with small triangle shapes, and it features an illuminated SteelSeries logo with RGB lighting effects, which are also present underneath the scroll wheel. The entire shell can be swapped out with a replacement, which is handy to prevent the mouse from looking a number of years old if everything else works within.
For buttons, there is a total of seven, which include the usual left and right click, scroll wheel clicker, DPI switcher on top, two side buttons on the left, and another button below them. All of them feel good, though I found myself accidentally hitting the DPI switcher when using the wheel. However, I put that down to simply getting accustomed to the unique layout.
The mouse not only has buttons for input, but there's also an OLED display towards the front. This little screen can show some information when in-game like kill or death ratios and other statistics. It's actually fairly customizable with the option to display your gamer tag, a team logo, display sensitivity settings and button mapping. That all said, I never found much use for it and found it to be rather pointless largely due to lack of support in the games I play.
Lastly, the cable is removable. More manufacturers should include this feature. The ability to detach the USB cable from the mouse unit aids in transportation and longevity of the product should the cable itself fail.
A solid performer
Where the Rival 700 really shines and makes the investment well worth it is performance. The PixArt PMW3360 sensor is an excellent choice for such a pointer and makes movement and input an absolute breeze when matched with the one-millisecond polling rate and 50g of acceleration. The DPI settings can be configured to hit ridiculous levels (16,000), though I personally barely ventured beyond 3,000. It all depends on personal preference and play style.
As an added bonus, even the sensor module can be extracted with ease. This is handy should you not be a fan of laser sensors and prefer optical, though you will need to pay for a replacement module to be installed, because only one is bundled with the mouse. Titles I used to test the mouse included GTA V, H1Z1: King of the Kill, Stellaris, and Cities:Skylines. Regardless as to which game I was currently in, the Rival 700 performed well.
The Rival 700 not only sports a kick-ass sensor, but also a vibration motor for physical feedback. I found this to be a nice addition, and it didn't hamper performance. Seriously, if you're looking for a mouse that will match your incredible skill in heated and tense firefights, you'll be hard-pressed to find anything better on the market. It's that good.
The engine
If you've never used a SteelSeries product, you will have missed out on the company's fantastic software solution. SteelSeries Engine 3 blows the competition out of the water, and it is a joy to use. Not only is it well-designed but highly customizable. Plugging in the Rival 700 brings up a whole heap of options to play around with to perfect the pointer experience.
RGB lighting effects can be adjusted and configured, buttons can be remapped, profiles switched, and feedback options toggled. And these profiles can be saved, loaded and tied to specific titles.
Should you buy it?
If you happen to have $70 or so to spare and are on the hunt for a great mouse, I recommend picking up the SteelSeries Rival 700, especially if you value performance above price. For anyone looking to save some money and who doesn't particularly mind which sensor a mouse uses, I'd give the Rival 700 a pass. It's a lot of money to invest in one peripheral and unless you're planning to take advantage of the available performance, I'd skip it.
See at Amazon (opens in new tab)
Pros:
Excellent sensor.
Looks stunning.
Strong customization.
Cons:
Pricey.
OLED screen is rather useless.
Rich Edmonds is Senior Editor of PC hardware at Windows Central, covering everything related to PC components and NAS. He's been involved in technology for more than a decade and knows a thing or two about the magic inside a PC chassis. You can follow him over on Twitter at @RichEdmonds.
Got this mouse last year as a gift from a supplier as recompense for messing up an order. Super mouse really like the gamertag on the side. Not sure I would of paid the price as the Logitech g series mouse I had was no slouch.

Vertical buttons for Back/Forward on the left side. I miss those from my Sidewinder X8, worked far better and I wonder why no one does that.

I like SteelSeries products. I have and use Sensei & Ikari mouse, Apex M800 kb, QCK Prism mouse pad, and other cloth/polymer pads. However as for mice the reigning king in my book, albeit the hefty price tag, is Logitech's G900 Chaos Spectrum. Now that's a mighty fine wireless/corded hybrid gaming mouse.

Dang, when you said "scroll wheel clicker," I thought you meant the clickable button that lets the wheel scroll freely, like many Logitech mice have. That is literally the ONLY reason I would never buy a mouse from another company. I think the display is stupid, and people have complained about burn-in being very common, so I'd rather they take it out and knock off $10. The detachable cord is nice, but they didn't quite get to the level of Logitech, who lets you remove the cable and use it as a wireless mouse. You can do wired or wireless, which is nice. I'd rather have wireless for everday use, and then go to wired when gaming or something. I try to minimize the presence of wires on my desk, as they make organization tougher. If my G700s (best mouse I've ever seen) fails, I might consider this because the sensor is probably a better one than the occasoinally touchy optical sensor the G700s uses (it doesn't work with my mousepad and desk, but works without the pad). I just don't think I could drop $70 to lose the functionality of that wheel lock, which makes large files much more manageable.
Windows Central Newsletter
Thank you for signing up to Windows Central. You will receive a verification email shortly.
There was a problem. Please refresh the page and try again.