Stream UK TV shows on Windows Phone with TVCatchup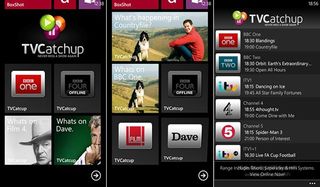 TVCatchup (www.tvcatchup.com) has released an app for Windows Phone 8. We previously looked at the app a few days ago and AAWP stated that it would only be a matter of days until consumers would be able to download and enjoy streaming television on Windows Phone - sure enough, it's now available for download.
To quickly recap on what TVCatchup is all about, it's not a catch up service despite the name. The app only offers streaming of television shows that are currently on air. As well as actually viewing shows, users are also able to check out what's coming up on Freeview channels with the interactive guide.
Live Tiles can be pinned to the start screen for individual channels, with support for multiple sizes. It's a nice complementary app, which will help waste time on those long journeys. There's also an app available for Windows 8 / RT as well as the web client on the official website.
You can download TVCatchup for free from the Windows Phone Store (region restricted). Thanks, Steve, for the tip!
Get the Windows Central Newsletter
All the latest news, reviews, and guides for Windows and Xbox diehards.
Rich Edmonds was formerly a Senior Editor of PC hardware at Windows Central, covering everything related to PC components and NAS. He's been involved in technology for more than a decade and knows a thing or two about the magic inside a PC chassis. You can follow him on Twitter at @RichEdmonds.
I'm afraid to use this App to watch tv only to see old people talk about Blackberry.

Finally. I have been looking for to this for a while.

Doesn't even load for me.

When I click on the app I get the TvCatcup logo and then it just closes itself down.

I have a Lumia 820 if this makes any difference.
I'm not sure if it's not just working on this phone only.

Yes. Odd I have Lumia 820 also without Portico update (not received yet)

Restarting my phone solved this for me

That's a negative. What device do you have? I have tried restarts, repin, reinstall - none work on the Unbranded Lumia 820 in UK for me.

I have a Lumia 920 from Clove

Doesn't work for me also on an unbranded L820 without portico


Me too! I got a 820 unbranded, tried restarting, still does not work!

Does this work for people outside of the UK? Or will they only allow streamed content from within it's borders? I'm in Canada, anyone try it?

Its UK only as its still subject to program licensing rules, unless your access point uses a proxy to bypass things.

When it first launches it checks your mobile network to see if your in the UK

I took a screenshot of it checking my provider before allowing me to use the app (but cant post it on here). Its working fine for me. Nice app. (htc 8X)

I see they still don't seem to know whether they are called TVCatchup or TVCatcup...

They're definitely called TVCatchup.

Works fine for me on my 820. Locked to orange if that helps any. No reboot required. Straight in, tested on C5, saw Jeremy Kyle, spat in disgust and closed the app. Come in handy for MOTD though.

Awesome app, works great for me. Oh ive got Lumia 920 on Orange UK with Portico update installed.

Works well on HTC 8X and the quality when set to High Quality is great and works well on 3G, put the medium setting on and that is not medium at all, is extremely low and unwatchable.

So the moral of the story is use Wifi High Quality even when on Data Connection :)

Well done devs :)
Very impressed

Hi guys, not 100% sure yet, but a tad concerned about this portico update where it seems that it is working for people with this update and maybe not for people without the update.
If anyone has any issues then please contact us stating as much info as you can to business@tvcatchup.com
Much appreciated TVCatchup.com

I have a Lumia 920 without the Portico update and it works just fine.

I have portico update on lumia 820 and it wont open, tried restarting phone, still doesn't work, hope that helps

This seems to be a Lumia 820 issue. I download app, run it, get the start screen and then it closes. I have tried restarts, re-installs everything. I am a UK citizen, using Orange UK network, with UK unbranded phone...it's an interesting fault. I hope you guys can solve it.

Maybe read the post guys, they're asking to respond to their website.. I would applaud an appdevelper to come in here and even post this so show a bit of courtasy and post to their site..

I'm away from home at the moment I will be sending email to devs asap :)


920 unlocked here without Portico, works fine.

really good app, been using it on my windows 8 PC and our Surface RT tablet and now using it on my 920

Works fine for me on unlocked 820 in UK....great app.

Could you tell us if you have Portico update evoga? Just trying to work out commonalities on the app not opening on L820 devices. Cheers

Great program. Works fine on my Nokia 920.

Cannot download in zireland

Can anyone tell me what the streaming would cost me from my 1gb allowance?

No use for me if live in USA.

Will this be made available for wp7.8 devices? Its an app I've been waiting for some time and id hate to thinks, we've been outdated so soon =(

I Love it on Windows 8 and I'm very happy to know that It coming to Windows Phone 8 :D

We have had some great feedback from a guy called Andrew W. which maybe the answer to why it is not working for a few of you and we are cautiously optimistic at the moment :)
"As an over sight on my behalf I noticed yesterday one of the dependencies for the app was 'speech', which did not come pre-installed with my phone as I'd assumed. After installing and updating the English speech language pack and re-installing TVCatchup, the app works as advertised."
If any guys are having issues then please try installing and updating the English speech language pack and if it works then we will see if we can put some pre-install message (or other method) there to advise people of the issue.
http://www.wpcentral.com/voice-controlled-guide-using-speech-windows-phone-8
Let us know either way here business@tvcatchup.com and thanks for all your feedback


Added the uk speech pack on my lumia 820 and yey app now works! Thank you. Lumia 820 users go to settings then speech. If the language says English UK, flip it to English US and back again to kick start the installation of the UK language pack which was not installed despite appearances to the contrary. App looks great.