Street Fighter 5 will never be released for the Xbox One, says Capcom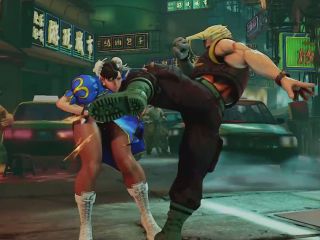 In December 2014, Capcom officially announced Street Fighter 5, the latest entry in its extremely popular fighting game franchise. At the time, the game was announced for Sony's PlayStation 4 console as well as the PC. Now a Capcom rep has announced that the game is never going to be released for Microsoft's Xbox One console.
Some people might have assumed that the PlayStation 4 launch was a timed exclusive and that an Xbox One version of Street Fighter 5 might be released sometime after its launch for Sony's console, perhaps in a "Super" version with extra content. That apparently is not going to be the case, according to what an unnamed Capcom rep told Gamespot:
In other words, if a new game in the series shows up on the Xbox One at some point, it will be Street Fighter 6. In December, just after the reveal of Street Fighter 5, Microsoft's Xbox head Phil Spencer commented on the PlayStation 4 exclusivity deal via Twitter, saying, "I'd love it if XBOX fans could play all the games, but business just makes some deals happen. It's all part of competition."
Source: Gamespot
Yea well competition. I'd like if companies cared more about the consumers.

Perfectly fine with me. SFIV and SFxT made it very clear that Capcom's gone off the deep end. As long as we get that BlazBlue and a season 3 of Killer Instinct(with Tusk!) nothing of importance was lost.

SFIV was a decent game and SFxT, your conveniently forgetting the Tekken devs + publisher were involved as well.

Fine with me too. I wouldn't play it anyway with Mortal Kombat X already on Xbox. Although, I'd rather see Injustice come to XB1.

Microsoft should make a deal for a Soul Caliber exclusive

Wow that's super lame. You'd think they wanted s much business as possible! They signed an agreement that allows them to kiss millions of potential customers goodbye? What were they thinking?

sony paid for it, developement wise

Didn't the competitive scene switch to Xbox version of sf4 because the PS version sucked and was glitched?.

They were thinking that Sony gave them a dumptruck full of money, enough to offset potential lost business. See also Titanfall, which Microsoft did the same thing with EA to keep it from hitting ps4. The console manufacturers are going to keep doing this to try and force consumers to buy console X for exclusive game Y if they think game Y will be a make or break for someone to get their console. When it comes down to any discussion of "do I get a xbox one or ps4" it always 'well, these are the exclusives/first party games for..."since it doesn't matter if they're both getting call of battlefield 6: Dogfort edition, since you can play it either way.

Yeah but TitanFall was new IP. This is a established franchise that most of us played on our Nintendos or arcade. To my knowledge SF hasn't ever been an exclusive. I'm totally ok with timed exclusives but actual exclusives aren't cool imo

This. I was thinking that this franchise should be able to stand on its own. Bad move on their part.

Maybe that the PS4 is still outselling the ONE, so they're not worried about the smaller pond of potential customers?

Ps4 has sold 20 million, Xbox One has sold 10 million.... They would be giving up an extra 50% of potential revenue. So no, any CEO that did that on your proposed justification would no longer be a CEO or even fit to flip hamburgers.

I'm disappointed but not as much as I expected I'd be. I'd like to play it but I don't feel like I'll really miss it.

Nature of the beast. They get some, we get some. I am happy. :D

So Street Fighter is going the Megaman and Resident Evil treatment (failure). Well played CAPCOM well played. Looking forward to Mighty Nr. 9.

Who cares? Because it will be released on Windows 10 and xbox one will have Windows 10 later

It will only work if it is a Universal app.

Exactly! It's still coming to PC. You can stream it to Xbox from there.

Wrong. Streaming works the other way

I thought it was you could stream from Xbox one to pc, i did not know it was also possible the other way around...if so that will be amazing

At this point it is just going to be Xbox One to PC, but Phil has stated they are looking into PC to Xbox One so it will most likely come eventually.

If they're smart they'll go all in on the Xbox for Windows 10 thing and announce the streaming of Xbox for Windows 10 games to Xbox One as well.

Then what did MS demo using a Steam title?

Most here will probably play it on their Surfaces instead, with an Xbox One controller...

I am going to get the pirated version for PC since I can't buy one for Xbox One.

Killer Instinct is the best 2D fighting game around, so Xbox One owners have the better exclusive. That said, what is vexing is the biased gaming media and fanboys online who rebuke Microsoft every time they snag an exclusive, even if it's only a timed one, but then either praise or give a free pass to Sony every time they do the same. Such double standards.

It's the same when talking about Apple/Google and Microsoft.

Or possibly just different people commenting. If it's not the same person saying both, it's not a double standard. That said, I don't like exclusives either way... but it's pretty hard otherwise to differentiate consoles, since their capabilities are close enough to be a draw to most users.

Sorry dude. All those other fighting games are fillers. Street Fighter is the standard for fighting game. Its the most balance and iconic fighting game in history. A game like Street fighter should be available on all major platforms.

That may be. But not SF5. SF5 is full of issues: Balance issues, graphics issues, control issues. It was really a half assed release. It's no loss to Xbox to sit this one out.

Killer Instinct is a better game than an unreleased game you've never played?

That's right. There is almost zero probability that Street Fighter 5 changes its core gameplay mechanics. We already essentially know what the game is going to be like: Street Fighter. Street Fighter is a fantastic fighting game franchise, but it is trapped by its own history. As great as its system is, it cannot match the brilliant, dynamic interplay that is the combo linker vs. combo breaker vs. counter breaker, peppered with autos vs. manuals, that is KI. It's like a chess match on 17 shots of espresso.

no great loss, we've got killer instinct.

Yea but this looks phenomenal, and I've always liked the control scheme of SF best ​

Xb1 doesn't meet the required processing power.

What a load of crap, the Xbox one is more than capable of handling street fighter

Some people just gotta say something, anything!

YOU THINK JUST BECAUSE THE X-ONE DOESN'T GET STREET FIGHTER, THEN IT'S WEAK? YOU MAD?

Mortal Kombat X is enough!!

Xbox fans buy mortal kombat x is way better! Who cares about street fighter

Both of them pale in comparison to Killer Instinct.

Don't forget that Resident Evil 4 and the Remake were GameCube exclusives according to Capcom. I'll take this with a pinch of salt. Expect to see a Super Turbo Hyper version on Xbox One in future.

Some may be annoyed, but I don't see it as a loss. I haven't played a Street Fighter game since gutting my SFII:CE arcade cabinet. Business is business, they're going to do whatever they think is going to make the greatest pile of cash and the consumer just gets screwed. It's not right, but it's the way it is.

That really bites, this game looks wicked so far. I'm going to be getting a ps4 when it comes out. It will be the reason I buy ps4.

If you buy a PS4 for this game, then you're the reason why things like this happen.

I'd suggest you send that money to a charity

I like the way Spencer replies to folks. It's a to-the-point and non-corporate. And here he basically said "Shit happens."

Yep. It's interesting when you realize you're not so upset when people are straight with you, I definitely like his style!

Who need it having Killer Instinct and Mortal Combat

You guys are looking at it all wrong. SF5 will never be released for X1 but Ultra SF 4+1 Arcade Edition probably will be to get around the "5" issue.

Not even that dude, ill just wait for Capcom to release an Ultra or Super version of SF5, job done

seems you haven't read that part about the super sf5 version properly

Lol, ma bad but we have to wait and see. Wasn't the same said about ME1 being exclusive to xbox yet we have the complete package on ps..

@cannon#WP, Maybe or maybe not.

Cool. Was never going to play at anyhow.

Soul Calibur wipes it's ass with Street Fighter. Still, one wonders from a business standpoint, how this benefits Capcom financially. There are a ton of Xbox owners that might want to play the game. I personally have both, but couldn't give two shits about Street Fighter.

Can't believe CAPCOM would do this to us and emphasize on the word never!! I have never owned a PlayStation and don't plan on getting no time soon but I've never stopped playing street fighter,for me its always been mortal combat or street fighter CAPCOM c'mon man!!!!

Oh well. Never played Street Fighter since SNES. Won't miss it.

This you're of thing is no different than the cell phone exclusive deals we all hate, so why aren't people up in send about it complaining to the game makes like they do with cell carries?

Wow. Just.....wow. I have no idea how to reply to this

Seems like he used a translator

So when Microsoft gets an exclusive everyone cries foul.
But when Sony does the same exclusive...slience.

Sad isn't it. Internet is ripe with hypocrisy. Cant wait for E3 though, going to be megaton after megaton announcement.

@HighDefEdition, it's not a complete Sony exclusive as it's coming out on the PC as well.... Sooo your point is moot :P.

I don't play Play PC games. Was simply referring to the Console Games.

well it is still not exclusive if it is on PS4 and PC . No matter, Street Fighter stopped being good more then 10 years ago Anyways in my opinion, prefer DOA any day. (I felt Mortal Kombat was a waste of money as well, played for 2 hours, was utterly disappointed in the slow fighting ,and basic 2d motion and haven't touched it again,(to bad I Pre-ordered the most expensive version , by i never learn :) ) and seems Street Fighter might be the same thing, but worse graphics .. )

Oh no! A shitty game that I can't play on my awesome console! What ever will I do?!

Nothing new here. I'm in the fighting community so this wasn't news to me. Personally I feel capcom is shooting themselves in the foot doing this. I first got SF4 on PC in 2009. I then switch over to XBL. I've bought every update and skins for that game. Turning their backs on people like myself is going to cost them. currently XBL street fighter community is way bigger then PSN network. I've never been on PSN but from what I've heard its not as good as XBL. I also play SF4 on steam and its no where close to XBL community and netcode. SF4 was finally released to PS4 and it has been a total deserter. EVO which is the largest fighting game tournament each year was going to use the PS4 version of SF4 for the tournament cancelled that and is going back to the 360. This might be a prelude to what might happen to SF5 on PS4. Having powerful hardware is no guarantee that it will be a success. I personally will not buy any extra street fighter 5 related content on PC outside of updates. Skinz, stages are all free to download.

Actually MS wanted to give preference to "some studios" so they narked Capcom. Capcom went to them first as majority of their players are on the 360, plus Capcom needed funding. Then of course Sony seized the opportunity, that's what I heard through the grapevine. Not sure if its true, but info from this particular "vine" has always been spot on.

Xbox can't even get a real MLB game, who's surprised by this?

Next Mortal Kombat game should Xbox and PC..... Screw Playstation.

Good. Make sure Tomb Raider doesn't make it to PS4 either.

Ah well I'll play this via the W10 store :)

It's ok we understand, they will just come out hyper ultra sf5 arcade edition 2016. Saved us from being milked, thank you!

Agreed, was mighty pissed when I bought sf4 on launch day just to see all the other addons come out.

Capcom is no different then any other publisher / developers who release add-ons and dlc....

......... Business.... yeah right. Sorry Phil you missed the boat on this one. Along with the potential number of x1 units you could have shipped and sold.

SF isn't exactly a system seller these days since the old 16 bit era.

MS decided to back their own exclusive IP in the form of Killer Instinct. It probably made no sense to drop a bundle of cash on Capcom when they were already committed to funding an entire studio to develop a competing product. Now the real test will be if MS can develop and foster a community around its franchise of choice.

MS should introduce a wimpy character called "Super Turbo Kenny" in Killer Instinct and make him the butt of jokes. That'll teach them ;)

Oh grow up... That is not even funny...

You need to chill out dude. http://mugen.wikia.com/wiki/Dan_Hibiki

Developers/Publishers that do these BS deals that screw large portion of their fanbase go automaticaly on my blacklist, and I never buy a game from them again unless its at least 75% off.

Yet you support Microsoft who does exactly that?

Meh, I'm looking forward to Mirror's Edge 2

Oh well. Street fighter just hasn't been nearly great since 2 anyways.

No, but Street Fighter V Turbo: Hyper Fighting could ;)

Just wait for pc to Xbox one streaming capability..

This seems stupid. I own all three current consoles and people should at least have a choice.

A lot of comments here from butt hurt Xbox fans. Hey hypocrites, Microsoft&Xbox (TitanFall) does the same thing, it's called BUSINESS.

Most comments seem to be along the lines of either 'Meh' or 'well that sucks but I'll live'. Best not to judge a bunch people based on the comments of a shouty antagonistic few.

It's called bad business!!! Titan fall is new with no established fan base!!!!

I prefer to get Dead Rising then street fighter 5 as a capcom exclusive...the exclusive on xbox are better than PS4, forza and halo to name just those... and Xbox is listening to customer and make more update than PS4 with more feature... I can't wait to see directX 12 on Xbox... and I can't wait to play rise of tomb raiders... another exclusive

Street fighter sucks now anyway,

Couldn't care less, killer instinct is the best anyway

I just wait and get sf5 for free on my pc lol

Were still getting Tekken VS Street Fighter so we'll be fine. The concept of street fighter is severely simplistic anyways. Sweep, uppercut then hadoken.

Lies! They said Street Fighter IV was never coming to PC, and it did.

It's on the better gaming system either way, PC! ;)

LOL I love how stated numbered... They could easily come out with it next month calling it street fighter X lol... I love mind games...

I assume the numbered comments