Subway Surfers heads to Cairo in the game's latest update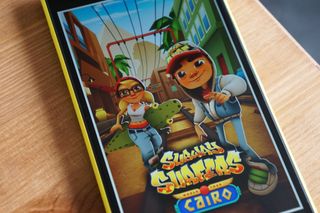 The popular endless runner game Subway Surfers has received yet another content update, and this time the gang are heading to the ancient land of Egypt and specifically the city of Cairo.
Here's the change log for the new 1.29.0 update:
The Subway Surfers World Tour continues in Egypt
Explore Cairo with Jasmine, the adventurous princess
Use extra Headstarts to begin your run at higher speed
Complete more missions in one run to earn cool Awards
Boost your collection with new powerful Board Upgrades
Will you be getting this new Subway Surfers update? Thanks to Muhd for the tip!
Windows Central Newsletter
Get the best of Windows Central in your inbox, every day!
Ohhhh that's why today's daily challenge was Cairo!!!!

Its like that in every update. The daily challenge at the end of every 3rd week is the next City/location.

Lost my previous scores and upgrades with this new update

Lags a lot on my Lumia 520

Lags so I uninstalled it.

Lags much on my Lumia 520

Subway surfer. Nice to have different location once 2 months ( not entirely sure.. Lol).. It makes the game fresh. ;)

Nope. Check the Weekly challenges I.e. the artifact collection challenge, they end 3rd week. Only once it has been more then 3 weeks and that was when other phones received Mumbai. Been following closely. ;)

After the weekly challenges are over , a new update comes out ...

These endless runner games have become extremely boring..

these devs were really overated . they still update the theme and their compatible for 512 MB sucks. their end is near.

Nah, 512 MB support is just fine. Your PROCESSOR sucks (Snapdragon S4). Get a new phone with a quadcore 1.2GHz with better GPU and enjoy life. I already talked about how a Lumia 530 loads the game 15-30 seconds faster than the 520. There's a reason for that.

And there's a reason he, me and most windows phone users have the 520. You know Daniel that times we are living are tough, not anyone Is Daniel Rubino with the ability to buy any phone he wants. And moreover, some people may not even have money to pay rent or buy food. We all know the talk about get a better phone but that doesn't go with every occasion, remember that! ;)

I don't need to be reminded of it. I know it and it is why we talk about low-cost phones so much here (that is not by accident). It still does not change the fact that this game is optimized for 512 MB but now the problem is the S4 chipset and old GPU. I don't really expect people to go and run to buy another smartphone due to financial reasons, but in reality , this is the only thing that "solves" the problem here. Getting all 'doom and gloom' on the company because it doesn't run well on old hardware is also not constructive. Remember, developers need to pay rent or buy food too ;)

Old GPU ? The s400 in 630 and the s4 in the 520 have the same GPU, adreno 305. Actually, the GPU in the 530 (s200) is adreno 302 so it's even worse than the one found in the 520. Also, I don't think the s4 sucks, at least on paper. The s4 of the 520 holds duel krait cores while the 530 has quad core A5 and the 630 has quad core A7. In single core processing, the krait cores are much better ofc, though don't know about duel krait cores vs quad A5 or A7 cores. In other words, the s4 can still hold some ground when comparing to the s200 and s400 in running a simple game like subway surfers if not in launching apps, games or OS optimizations (probably MS has done their homework with the 530 & 630). Just to be clear, all of this is theoretical, real life scenarios could be totally different, still facts are facts.

It's a poor android- and iOS-Port. Period. Even on my Lumia 930 it start's lagging after some time due to thermal throttling. By the way, Subway surfers is a game running pretty good on a 4 years old Galaxy S1.

I believe even if it's not the chip to blame, since as said earlier 520 can do as well as other phones, devs have failed to make this game run smoothly on our 520. They do have to eat and pay rent, but they will take that money mostly from us, and if they don't support us and not optimize or whatever they can do that makes the game not lag, then it's obvious we won't support them too. And its not like its the first runner on Windows phones, so that's acceptable. No, not at all. Others have succeeded where this seems to be having problem and it needs to be fixed.

even after 5 years they will make the theme changes that's it. such games are only for a period of time.

There's Awards, Global Score Ranking.

Disappointing once again.. No fixes or further optimization for 512devices.

I'll restate above: Your RAM is not the issue, it is your old CPU and GPU. Newer quadcore phones like the Lumia 530 are significantly faster when loading and playing games like Subway Surfers. If you think this is all "RAM optimization", whatever that means, then you are looking at the wrong problem.

Daniel some people just don't get it, i tried explaining this to some of my friends and people on forum and sure is alot of work

Daniel, can you please make a comparison between the Lumia 920 and the Lumia 830 when this last becomes available?? I am curious about the performance differences between the two. I want to change mine for the newest one, but I don't like the Lumia 930.

I still get frequent pauses in my 1520, mainly when I get a powerup, like a jetpack. And sometimes it won't register a swipe. 98% smooth otherwise. I get no such problems with the latest Spidey runner, so I suppose not every game update is perfect.

Update The app for 512 ram devices pls

Where are you living??? Its updated and already optimized before 2-3 months.

Actually the problem is with the game itself....games like temple run 2 and asphalt 8 works just fine but the lag is in this game only....it lags even in my Moto g having quad core processor and 1 gb of ram while games heavier than this works flawlessly in both my Lumia 520 and Moto g.

Welcome to my city. Just a comment to developers, in Cairo games don't lag that much guys

I dont know why? I cant download games and apps more than 20 mb using mobile network from store....

try to restart you phone. it works for me some times ago.

me too have this problem. Even after several restarts -_-"

Is this a new destination, and not a city they've used before?

Played this game so much on a KFHD... But just can't get into it on my Lumia520... And not because of the random crashes every now and then... Grateful for the update still.

I had played this game with Cairo update for a while and I feel that this new update is better than the previous updates. It does not lags so much now as it was lagging on previous versions. And still this is a nice game to play.

After CHINA UPDATE , it asks me to Login for FACEBOOK each & everytime , when I open this Game..
& It's continued in CAIRO UPDATE too...
Through this I Can't Earn Coins from Friends Multiple Run..
&
It gets stuck a lot..
In L 520... Pls solve this BUGS in future update.. Rather than this.. Its a nice & must have game in Windows Phone..

The worst part with this game on the 512mb devices it's that its not optimized for such devices. Just played it to 10 million score and the damn game quit abruptly. Going back to cracked xaps. If asphalt 8 airbone is optimized well the best raving game I have and it doesn't even quit itself abruptly why this game. Got pissed. Please fix it and after an update let us remain with our keys and coins then increase the multiplier to x60 and harden the missions. Stop only changing the theme. I'll make my own subway sufers and just make it better.

It sucks. The game lags many time in 512mb ram windowsphone.

I'm using an android emulator called andy to run this game on my pc which is pretty cool
http://www.andyroid.net/bundledapps/download-subway-surfers-pc-windows-87xp-mac

I'm using an android emulator called andy to run this game on my pc which is pretty cool
http://www.andyroid.net/bundledapps/download-subway-surfers-pc-windows-87xp-mac

http://www.softwaresdownload.in/2014/12/subway-surfers-download-for-karb...