Subway Surfers gets new Mumbai update, but Windows Phone will have to wait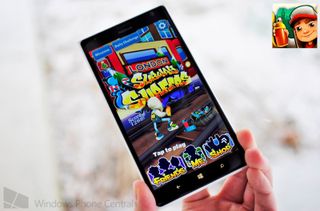 We're still playing Subway Surfers every day, as the endless runner has raced to the top of our games list. But that doesn't mean all is well with the game yet on Windows Phone.
For one, it doesn't have 512 MB RAM support, which is becoming a bigger deal as low-cost Windows Phones become more and more frequent. The other issue is general updates. Today, Kiloo Games has released a new version of Subway Surfers entitled 'Mumbai' for iOS and Android. But Windows Phone won't get it for some time.
In a tweet responding to Windows Phone Central reader Guilherme, Kiloo games noted that "The Mumbai update will not be out for WP8. However, when the next update is out it will be available for all platforms!"
That means we have to play the waiting game, and it's not at all clear when that update will occur, though we're not expecting it today, that's for sure.
It's also not clear if this is because the Windows Phone version is just a cycle behind due to it's recent platform launching, or if this will be a regular issue for the popular runner. Hopefully 512 MB support and the new themed Mumbai won't be too far off.
For now, you can find Subway Surfers here in the Store. Need more endless runners? Check out our best-of list.
Source: Kiloo (Twitter 1, 2); via WPCentral Forums (Himanshu)
Daniel Rubino is the Executive Editor of Windows Central, head reviewer, podcast co-host, and analyst. He has been covering Microsoft here since 2007, back when this site was called WMExperts (and later Windows Phone Central). His interests include Windows, Microsoft Surface, laptops, next-gen computing, and arguing with people on the internet.
Never ends. . . . sent from my moto x

Sent from a Apple IPhone 5s

You're embarrassing yourself. 'Sent from a $700 glorified piece of 2011 hardware, now with fingerprint scanner!'

@shimoner01 hahahaha that's true!

At least it has all the apps and frequent updates....

@Rick Smits and you live for updates or for phone performances?

Wats the use of having a badass six inch with quad core if u don't hav a shit to do

@rajhulrambhat give an example here the conversation is about updates not apps

Tats wat ur totally out of date:(

@rahulrambhat not all updates are good :)

I specially wanted this one cuz it has my country in it :'(

I understand you, but 2014 seems to be a great year to WP's

Its only 2days and lots off stuff eh?

Lets see how far these comments can get tabbed over!

I feel like I'm getting squeezed

I can't breathe...stop it!

You are choking the air out of me!

Tell my wife & kids...I love them!

Shut up and die already!!!!

Gasp!...I..just...have...one...last...thing....to say........................rosebud....ugh...

The design of comment posts is just crap.... WP should redesign it.

Ha ha ha..that was funny!!!

one more.........................

one more.........................

i can touch the blue border

here we go.....................................................................................................................................

Who doesn't, really? Don't you wanna update to GDR3 Black too when it is official available for your phone? Regardless if the updates are for better or worse, you will not know until you tried. But frankly speaking, the point is not about do we update or not. Is why Windows Phone platform always to be the last to have updates, for apps and games? Don't you see how developers don't give a crap about this platform?

Hey rick I totally agree that updates are frequent on iOS. All game developers are apple fan boys. They want the iOS to be perfect b4 WP. Think they consider low end WP devices meant more business purposes than making it more for gaming. IPhone is just a piece of shit. Its only MS in the world who has ability to think about new things meant for WORK purposes. Go and play some good sport rather than sitting with those kiddish updates of games

I hav seen this guy whining somewhere but i don't remember where exactly

And a beautiful "my little pony meets hello kitty" SO.

That glorified $700 piece of 2011 hardware is supported by the world's biggest mobile ecosystem.

... Aaaaaand leads in no other respect, which was the point of my comment. Poor battery life, small screen, 64-bit chip which couldn't be harnessed without 4x the 1GB of RAM. Merely pointing of the software aspect, which is good, does nothing more than regurgitate what was already pointed in the initial comment for this thread. If software is all its about for you, then you'd still be better off buying a cheaper, yet more powerful flagship Android - their ecosystem is nearly as big such that any difference would be negligible.

The ol' waiting game.. What's new? Lol

Nothing new to it, you said it yourself, it's old.

When I saw the headline I expected WP8 support right off the bat because of the massive WP community in India. Sad.

Now 1gb ram users can also know whats the feeling of waiting for something.....

lol, I'm an adult so waiting for free games on my phone is not exactly a life priority or concern ;)

Its not u guys lol,its those overacting l920 users who r above their heads and don't care wp community

Daniel's sarcasm and witty replies are still fun to read in 2014! Ha

Dan, you need to get your priorities in order!

Now?! What do you mean NOW?! I'm always waiting for some crAPP or for some game that's been in ios or android for ages. Besides, you wanted to buy a hundred dollars phone and have the same experience as someone who spent six hundred dollars on a phone, and at the exact same time?!

Get used to it when you use a windows phone,but I just love to see windows phone growing up

Doesn't that just mean that we'll never be getting Mumbai, but that we will be getting any future ones in parity with other platforms? That actually sounds pretty good to me. Besides, we literally just got London.

I have a feeling it'll be something like this indeed ;)

Still wait for 512 MB for 3-4 months

How 3-4 months. I think their new update will be in mid Feb. Till that time all Lumia devcies will get the update. Kiloo updates their games every month. Apart from SS im really upset with imangi studios. No tr2 for 512 MB WP and temple run 1 still not updated.

I think the problem is with Unity Engine...

The problem is not with unity engine its with the max ram limitation which is at 180mb on 512mb ram devices.those apps need around 200mb to work.so graphics has to be reduced etc and vram has to be increased aka gpu

I have no sure for that but one developer told me that their game, ported using Unity, consumes much more memory on WP8 than on iOS and Android...

If they work on mumbai update then 512 MB update will be delayed

Play space heads. Kickass graphics made with the unity engine, and compatible with 512 mb ram phones. It's just a matter of optimization.

Mumbai update will arrive late for Windows phone or it will not come to windows phone? I didn't understand.please clarify.

Good grief, Kiloo and too bad.

Hate my l620.I understand if MC4 or NOVA 3 need 1gb ram but tm2 and subway surfers no.This is why i will change to moto g ,xperia l or some other android device.I like wp8 but in app and game support it's a nightmare.

Games are that important?

I think the problem is with the Unity engine, that TR2 and SS, and others games, use..

Have a nice trip, and don't forget to buys low end android also. Then you can go to android central and do the exact same idiotic comment you made here.
Mind the door on your way out.

Wow, I am surprise that one of mine tweets are there!! :P I think is because we get the Christmas pack later than other platforms. If you, like me, are playing all the Missions inside the game you will can see that the Weekly Hunt challenge is only in the beginning of the week 4 and still missing another two weeks. So we are about 3 weeks late.
So if I not wrong every pack is for 1 month and a half. We can expect a new pack in the last half of February and by that time we will already have finished the London Weekly Hunt and received the new pack... Maybe a Brazilian Carnival pack? :)

1st let 512 MB ram get the game then other levels

Exactly. I had completed all the missions to find the Christmas tree on my ipad and now today I got this new update that belongs to my country lol. Where as when compared to windows phone we are on 2nd weekly hunt ,we are far behind .may be after all these hunts are completed we will get the next update may be for your county Brazil.

1 app or game should fairly release. That's the problem of the developers.. We know it's hard to be a developer rather than me as a user. I hope in the future for the new developer for app and game please release together to all platforms regardless of the market share of each platform. How I wish I'm a good developer for applications i will be releasing at the same time to all platforms at all cost.

Read my comment above. I am pretty sure that is the reason...

Not at all it works fine on 512devices,tested

How you tested this? Side loading? I think when you side load a app/game the amount of memory that a app/game can consume doesn't exist and that is the reason everyone are saying that the game runs smooth on 512mb...

The deployment itself is Ms official.an app is tested.there is no variation

It's really not that serious.

Gud i am waiting for it please fast fast fast......

It's 2nd Jan today and still Santa is running behind me.

When Subway Surfers will available for Nokia Lumia 620 or other 512 RAM devices??

If you ask me this game is WAY Over-rated. Downloaded it, gave it a try, and then another try, and uninstalled it. IMO there are better endless runners, but each to their own...

It clearly says that mumbai update wont come to wp8 ... That means they are talking about the next location update not the version update,, ie. Mubai wont be on wp8.. Get away kiloo... Hate kiloo now !!

Read my comment above and maybe you will understand why...

i dont care about subway surfers i dont like it anyways.......but i want tr2....

Hope it works on 512 RAM soon

Okay no new games on wp8. You guys really didn't think about it before buying wps? Plus its MS so dont expect to get those games out first on wp. Go buy an android if you want to play games. I bought wp just for the os and convenience and nothing else.

I would actually be kind of mad if we got the update already, because we still have 2 weeks left in the holiday hunt, and i am looking forward to the holiday suprise(a surf board called jingles and looks like a sled). Hopefully we get it within a month.

All you people complaining about 512mb, if you don't pay for high-end(9xx+) or mid-end(7xx-8xx) phones then don;t complain about not getting the best games, the phones are cheap for a reason.

Lumia 720 also has 512mb...

I have try the other endless game, but subway surf is realy something

At least they mentioned about wp8 :D

Subway surfers updates every month I think. Unfortunately they have to update the OS that makes them the most money and right now its ios and android. Until more people play the game and more importantly buy the in app stuff WP users will have to wait for updates. I just got a 1020 and I like playing on it. But I guess if I want to check the new updates I'll have to get my nexus 5 out of the drawer to see what I'm missing.

Mumbai won't come to wp8,it says clearly

IPhones best just for gaming ,,, can't do more things..compare to Android

Is Mumbai update and 512 Mb will launched together or what's please clarify it ??

why any best game update come last in windows phone.I am check store daily for this game update but no always come after ios & android why? People can't understand.because Microsoft & nokia is leader of software and hardware so why not advance
Windows Central Newsletter
Get the best of Windows Central in in your inbox, every day!
Thank you for signing up to Windows Central. You will receive a verification email shortly.
There was a problem. Please refresh the page and try again.