Should Microsoft make a portable Xbox to compete with Nintendo Switch? (poll)
The Switch is an excellent handheld console, but should Microsoft look to compete?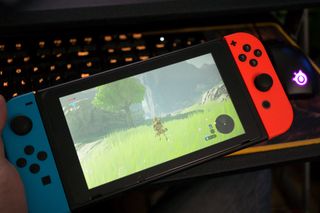 The year 2017 was all about the Nintendo Switch (opens in new tab) and 2018 is shaping up to be yet another headliner. Even if you're not a fan of the console, it's hard to avoid the sales figures and the excellent array of titles released, both first- and third-party games. With the Japanese giant making such a statement in today's world of gaming, should Microsoft be looking at a portable console to complement the Xbox?
As a PC gamer first and foremost, the Switch fits perfectly in my life, allowing me to play some hit titles when not at my desk. Yes, the Omen 15 laptop with its GTX 1060 GPU comes in handy at LAN events and when I have a flat surface available and an outlet to boot, but for those times where only a few minutes are available the Switch makes so much sense.
See Switch at Amazon (opens in new tab)
How the Switch fits in my PC gaming life
An attractive prospect
So shouldn't Microsoft be looking at the portable market? Sony had the PlayStation Portable, which saw an unfortunate demise, but a portable Xbox device of some sort with titles like Halo (opens in new tab) and Forza (opens in new tab) would be quite the compelling experience. The Switch has shown that you don't need fancy graphics to have a well-rounded platform and developers are more than willing to scale down games to get them working on NVIDIA's Tegra GPU.
Nintendo has positioned the Switch as a social console, and it truly is a blissful experience to share with others. The company has made it so easy to get everyone involved. From the get-go, the Switch has two controllers at hand for immediate co-op or competitive play. Add a bunch more controllers and an HDMI cable to a larger screen, and you now have a home (or airport) tournament. The full social suite isn't quite there yet, but that is something Microsoft has nailed with Xbox Live.
Redmond's online service is largely considered to be the best of the bunch, and I don't really see that changing when Nintendo launches its own service later this year, unless it has some real tricks up the sleeve. Achievements, established support for indie developers (ID@Xbox), a massive ecosystem with Windows 10, party features and more make the Xbox brand capable of being housed on a tablet-like gaming device.
And just look at Microsoft's Play Anywhere feature. Not only would you be able to play on PC and Xbox, but on the go, too. Windows 10 is more versatile than ever before, and Intel, AMD, and NVIDIA are releasing components that use less power all while having a smaller impact on performance. And since the Switch only lasts for around thrtee to six hours in handheld mode, it's not too far out of reach for a mini-PC-like device.
Stick to Xbox?
A portable Xbox sounds pretty good on paper and it would be interesting to see how Microsoft would approach such a project, but there's a part of me that doesn't want the company to do so. Nintendo is killing it in the handheld market because the company lives and breathes mobile gaming, with Gameboy, 3DS and now the Switch. That's a compelling portfolio.
Nintendo made some success with the Wii, NES, and SNES consoles but the recent attempt with the Wii U was a total flop. The Switch is not just a follow-up release for the company to draw back customers, it's a move that shows how much the company has learned from mistakes with the ill-fated console. The Switch not only offers portable play but can be enjoyed just like a PlayStation 4 or Xbox One.
Microsoft has shown it can struggle in markets that are already dominated by established competitors — R.I.P Windows phone — and a portable Xbox could be just another drawn-out strategy to acquire any sort of holding ground. And the portable gaming market is rather different the console and PC space. Still, it makes me wonder just what Microsoft could come up with and how that could integrate into the company's Play Anywhere platform.
But what say you? Do you believe Microsoft should consider a portable Xbox or continue looking to improve on the big screen console? I'm interested in hearing what you think about the idea so vote in the poll and sound off in the comments.
Windows Central Newsletter
Get the best of Windows Central in your inbox, every day!
Rich Edmonds was formerly a Senior Editor of PC hardware at Windows Central, covering everything related to PC components and NAS. He's been involved in technology for more than a decade and knows a thing or two about the magic inside a PC chassis. You can follow him on Twitter at @RichEdmonds.
Yes! They should make it as fast as Xbox App!

I have been dreaming about Xbox Portable since I bought an Xbox and love it. It would be great if it supports some current AAA Xbox titles, Xbox 360 backwards compatibility titles(and even Xbox original ones...) and UWP Apps with LTE. That would be a game changer in the portable console space. Maybe even the Surface Phone when launched can have mod support for Nintendo Switch like controllers.

Hahaha the Xbox Live! app since Windows Phone 7.0 was supposed to be their Trojan horse into the handheld market ...and with Windows Phone 8.x they even had demos of games which functioned from Windows Phones to TV screens ..so in short, the concept was actually there and it was great but they already failed at it because it seems Microsoft has difficulties committing to anything mobile related, despite the great potential they have; rip Zune, Kin and Windows Phone/Mobile. Here's hoping they pull it off with Surface Mobile ...which I have faith in only becauae Panos Panay is leading that product

I'd just stick with Win10 on ARM. A small size device is ought to happen whether by MS or OEM's hand. Dock it on your gamepad and runs the same XPA we run on the PC (just need to recompile an ARM64 build). No need to code & QA separately for WP.

Xbox Portable and Windows Mixed Reality 2.0/HoloLens 2.0 with VR for Xbox

Im against MS making any kinda of device with a non current O/S that requires developers other than themselves to produce software for. The only 2 exceptions to this rule is xbox and PC.

They should have released an XPhone or XPad 8-10 years ago. XBox would have been a much better brand than Windows for such things.

An xPhone could've been a great idea. Heck they could just call the new Surface Phone :Cortana Phone and integrate A.I to it in a way that still hasn't been done.

Exactly. If Microsoft still going to release phone ( or notphone) then they should call it " Xphone " with with small humped XBOX logo like old Sony Ericsson phones instead of using Microsoft brand and logo.

Just recompile to ARM64 and run your XPA on those ARM devices.
It's ARM cpu, a small size device is ought to happen whether by MS or OEM's hand.

If that would have been enough to shut you up, that would have been worth it by itself, even if it was a billion dollar investment with 3 sales.

I would buy a portable Xbox in a heartbeat, possibly even two

That should give them around 20% of their overall sales.

From what I can tell, the Xbox One X is portable enough. I just don't see the point. Frankly, until they add FULL keyboard/mouse support on the Xbox I'll never game on it. I have WMR on my PC for playing Elite Dangerous, so there's nothing really to draw me to game on the Xbox--stationary or portable.

You need a tv and electricity to use the Xbox one, the contrary of the common definition of Portable Console

Xbox games and Nintendo games are completely different animals. Microsoft could make a small, portable console that had nothing to do with the Xbox, but haven't they got their hands full trying to stay competitive in a slew of other areas without picking a fight with Nintendo on their turf...?

I'd think that if Microsoft got more OEMs to add integrated Xbox Wireless to their tablets/2-in-ones, and marketed the crap out of these devices, that that would be a good substitute to a proper portable Xbox. Microsoft would also need to the games section of the store in a much better shape and optimize these games for lower-end hardware that comes at that $300-$500 price point.

I'd like to see them release one.

Better than a dedicated Xbox portable: allow streaming with Xbox App and sell a small adapter to attach Xbox Controller to the phone, using Bluetooth for controls. Much lower risk, good proposition value and an easy way to test "waters" with fans first.

This would be a better idea.

This /\ ... no need to try to do what everyone else is doing. Allow me to stream my xbox through my phone/tablet, (much like they do with laptops using the xbox app) and you're on to something special.

What's even more lower risk is to let devs recompile their XPA game with ARM64 and let you XPA gaming on those ARM devices.
In the end, it's an AMR cpu. A small size device is ought to happen. If MS's not doing it (they are doing the dual screen version tho) OEM will, eventually. How hard would it be?

Microsoft really kinda screwed themselves over with me. I'll never have any incentive to buy an Xbox console, now that they've made their exclusives cross-platform compatible with Windows 10. Having a portable handheld makes no difference for me because I have a gaming laptop which I can take anywhere. And I'll never need an Xbox One X because I built my own system that's about the size of a set-top box.

Microsoft doesn't care if you game on xbox or PC either one is a win for them.

@sscroggin
Well, I think they care. I think they care a lot. MS wants engagement. Meaning people playing on their platform and staying there. Whether it's to play their few console exclusives or the third party games. So yes, MS might get some money from sales of the few games on win10 but they may lose a lot more when it comes to console sales, live subscription (along with other subscription), hardware sales and actively playing 3rd party games...

And... are you the majority? That being said, I gave up building my own cause it's troublesome. I'd just buy Alienware (good service) or 1st party HW+SW e.g. Surface. I'm not wasting time on troubleshooting those minor issues.
The more freedom (different HW, driver, os version, user-installed-background-services, tampered system, more rubbish in the system/reg, etc combinition) means more potential problem for consumers. It also means more troublesome for programmers and QAs.
I won't game mainly on PC.

@Hirox
Why ask the question about being in the majority? He was giving his opinion. If you want an answer to the question, I would say yes. There are way more active monthly users on steam than estimated XB1 owners.

You are right, console & pc market don't mix, he's not in the same camp from the start.

LOL I never said that.
Also I'm not sure what you talking about. Who is not in the same camp?

What they should do is create a platform to be able to stream from your xbox onto your phone anywhere. Then make a controller like that switch to attach to your phone. Or instead of from your xbox because that maybe more complicated create a service since they know what games you have and stream from Azure.

You mean like remote play on PS vita?

Like the Moto Z with game controller

Stick to the core competencies and vision of the brand: Mobile First (not necessarily mobility of the hardware or software, but mobility of the experience e.g., Office 365), and Cloud First. Even if they get the execution just right, no one outside of the fanboy arena is clamoring for first-party mobile gaming hardware from Microsoft. Mobile games belong first and foremost to (unfortunately) cell phones, followed by Nintendo 3DS/Switch. Notably, they deliver different experiences. Funny how that works; the experience drives the delivery mechanism, not the other way around. In that context, if Microsoft wanted to step up their mobile gaming, they should shore up Xbox Live games on mobile by partnering with 3rd parties. If you can get the things that distinguish it as an Xbox experience such as party functionality and achievements then the delivery mechanism of that experience is irrelevant, be it Android, iOS, Windows 10 on ARM, or whatever.

A handheld xbox with a continuum dock for scaling up to 4k when at home. Throw in a model with lte data and calling support and it would be a hit.

They should make a portable system based off of the 360. That can play those games newer indie titles

Agree, Instead of Xbox One, a 360/OG portable is prob a better choice.
1. Nostalgia.
2. You can continue your game session @ home on the xbox one through BC.

I think they should have made a portable or stick version of Xbox a long time ago. I would love to see what they come up with, but MS has had a history of letdowns over the last few years so we'd have to see.

Absolutely not!!!! but..... With AMD's recent advancements in their Ryzen 5 2400G and Ryzen 3 integrated GPUs, I think Microsoft would be wise to have a curated PC gaming section on the Windows Store that features games from multiple online stores. (GOG, Amazon, Origin, Steam, etc). And let that be the minimum going forward; as in nothing that couldn't run on a R5 or R3 would be listed on the store. I would love to buy a "gaming" laptop or tablet with one easily accessible store where I know everything purchased from that store will run on my device. I'm not sure what to call that device category, or how to market it, but it would bring "PC mobile gaming" to the mainstream.

A portable Xbox? You mean the Windows Phone 10? Or better yet, a Windows device on ARM? Don't they practically have a portable Xbox already? Why would they reinvent the wheel? Improve what is already available. :-/

Why bother? Under Nutella everything is bound to fail. Even if they are at the cusp of success, they will find a way, if not invent a way to fail.

What do you define as fail?

It will be grateful if they do not fire xbox boss and kill xbox because it is not cloud.

I'm thinking they should nail down their streaming service, or just have Xbox to phone streaming and have a special controller that would be the "preferred phone controller" of Xbox to phone streaming. Why make a handheld when we have the technology to just make the Xbox "portable" now?

I'd buy one but I think they're more likely to make it full Windows with an Xbox-like interface. Right now, the Switch is a nice idea but a complete downgrade in features from every other available device unless you really like Nintendo games. It just isn't worth the money and I don't see a reason to buy one when I have both a 3DS and a Vita (which is one of the best handhelds I've used yet).

Only if the commitment to execution and follow thru is there. Play Anywhere makes this seem like the next logical step. The competition doesn't have the broad reach this could cover, the whole move would be a gamble and fortune favors the bold but stockholders don't.. Imagine Surfaces with the ability to play and pick up where you left off on your Xbox. Consoles are meant for big screen TVs, Surfaces can cover for on the go and Desktops can cover Monitor lovers. That covers all Gamers with the same ecosystem. Which only happens if the commitment is there.. Also Xbox should allow a Steam client.. Tell me that wouldn't complete the gaming dream..

If the games on Game Pass would work on it, then it could be one amazing game playing machine, more games than the current switch at launch.

They should have, when Windows Phone 8 was around. This portable Xbox should have run Windows Mobile, but with a slightly custom GUI tailored to a gaming console. It should have been marketed as a gaming console, and ONLY a gaming console first. They should have ported their most popular franchise to it, Halo, Forza, etc..
Now let us assume it was successful, and it sold 10 million units or so, well that is 10 million users of their mobile operating system. 10 million more reason for app developers to maybe support the ecosystem more. If it runs on the phone, it will run on the console.
Come time for version 2, the could have moved to Windows 10 and UWP. Now the same game runs on the portable, phone, PC and Xbox. Sure something like Far Cry probably would not work, but games like Ori, Inside, Super Meat Boy, absolutely would. The could have then released a flagship phone that maybe had controller additions that could play the portable Xbox games. If you want the console, just get the console, if you want the uber phone, we offer that as well. They could have used their well know, well respected Xbox brand to enrich the phone ecosystem.
These days, I just do not trust MS to follow through on anything. It is like they release something, run one ad for it, it fails to sell, and they just give up and say: "Oh well, we tried…" and pull out of the space.

Microsoft should just buy Nintendo! *mic drop*

We already have that, it's called the GDP Win

Only if it can perform at 720p and run all the Xbox games from day one.

The same people that made windows phone? Sony fails at handhelds and has greater 1st party support and Japanese developer support. Nintendo succeeds because they're Nintendo. If MS released a portable console that would be an even worse idea than the courier that never saw the light of day because Bill Gates was a good CEO.

Courier was scrapped under Ballmer.

Yes! And they should enable phone capabilities and call it windows mobile!

I'd say, just let devs recompile their XPA games to a ARM64 build then we can run it and sync our progress between a xb1 and the ARM device. MS's doing a smaller dual screen ARM device. And in the end, it's a ARM cpu we are talking about, some smaller devices from OEM is ought to happen. How hard could it be? If MS's serious about building one...
A 360/OG Portable would prob be a more viable option than a xb1 compatible one.
1. Nostalgia factor.
2. Runs better.
3. log in and you can access all your 360/OG collection.
4. You can continue your game session @ home on the xbox one through BC.

Absolutely NO. Nintendo Switch is selling well just because of 3 franchises: mario, zelda and pokemon. Remove them and Nintendo will fall into the void.
The rest of the mobile market share is eaten by smartphones. There's no room for another ecosystem in mobile gaming.
If Windows Phone had succeeded, it would have been another story. Microsoft has no longer a name (for now) in mobile devices.

I'm not talking about WP, WP's not win10PC (also not part of AR/MR, IOT, S-mode, WoA, xbox). You code & QA separately. WP came in late, started with 0 user base. * We can run XPA games on our Alienware & Surface NBs already. It'd be a disaster future for devs even if WP succeed. Why code & QA for 4 OSes instead of 3?

A device for 360 Games (native!) and xbox App(streaming!) ??? GREAT!!!

It's clear streaming doesn't create enough interest and then why buy a portable for old 360 games?

Well since there isnt an option for "No, XBox Play Anywhere means any Win10 device could be a portable console" ill just not vote

For me, it is not a matter of whether Microsoft can do a good job at it or not. but on of Microsoft putting proper focus on where it needs to be. 1st/2nd Party for Xbox needs 4-6 titles a year, imho. That doesn't include timed exclusives, but instead deep and enriching titles that last on the conscience of gamers. I

I bought a W10P expecting that I'd be able to stream my consol to my phone. Sony did it. Why not MS?

No. They clearly don't have what it takes to do mobile well, and they lack the will to keep building something that doesn't become an immediate success. That will left with Ballmer. Nadella is spineless.

Nope. I rather see them invest in games. Build studios. Makes a whole bunch of games. New IPs, diversity in games, revive really old franchises... I don't think they should try these things right now. The priority should be MAKING NEW GAMES for the people who invested on your platform and for potential future customers.

I said this back when Windows Phone was dying. Convert the platform to a portable Xbox and revive mobile again by focusing on games. But instead they killed mobile completely, nice going!

No! Firstly you should look at the Microsoft's business vision before dreaming of Microsoft building a portable Xbox. Microsoft has strategies, so should not be competing in all fronts - if not it will look focus and be chasing every dick and harry.

No. They should just focus on what they know, the last time they tried to follow in Nintendo's footsteps they completely botched the execution and ended up scrapping it, I have no doubts the same would happen for this. I much prefer people's idea of allowing their streaming service to carry into the wild, like Sony's offering.

What's the point? Nintendo jumped on it and it fit their wheelhouse because they haven't based their machines on pure power. They also have a pretty good portable track record.
For MS it just doesn't make any sense, are they going to create an over powered machine with 2 hours of battery life and games that stink on a mobile platform? Yeah, no thanks, stick to the home, it's effective

No, as I said when this question came up in Vita forums, Big N isn't winning because of hardware. The Vita had very similar specs to the Switch, and could have pulled off docked play (probably at 720p), but that wasn't why Sony pulled the plug, while Nintendo succeeded, it is IP. Nintendo has a DEEP catalog of IP that work well on the Switch and can get fans fired up with the mere mention of possible games (look at the hype for Metroid Prime 4). Plus Nintendo has history, successful use of many of these IP since the 80s. Add in dedicated 2nd party developers (Intelligent Systems) and pulling off new crossovers that shouldn't work but do (Rabbits) and you see it is all about the games and IP... MS and Sony just don't have the broad appeal IP catalog to pull it off.

Microsoft would get it so wrong, at the moment they are loosing the console race badly. The majority of handhelds are bought in Japan and Europe, where the Xbox is struggling and the main reason the Switch is doing so well is Nintendo's first party games which Microsoft only have around 5 and apart from Forza the last iterations have flopped. Unless it's on par with the Xbox One 3rd parties won't develop for it. So on that note it's dead in the water.

Your forgetting the portable fact to the device nobody wants a portable 360

That's what windows phone SHOULD have been. Ship has (unfortunately) sailed on Microsoft mobile ambitions until people forget about winpho

1. It needs to be in mobile device(phone,surface,hololens) not as separate hw.
2. Running Mostly not offline but streaming running game from online hw.
3. To be esim/5G capable with AR support And with more accurate world map.
Actually I would put maps accuracy as most important, I would go even as far as to collect data from used devices, visuals, height, stores,...

The switch is awesome for multiplayer, albeit the tiny controllers can give you hand cramps when playing games like Mario kart. But Nintendo solved that with auto accelerate, steering assist along with the option to move the controller instead of the joystick for driving. I would love a xbox portable, they could have made phones into portable outlets. But the xbox certification was far too strict for indie devs. However ID@Xbox has helped somewhat in that regard. I am sure if people at Microsoft wanted to make an amazing portable xbox xperience they could and tie that in with ar/vr transitional phases as means of getting Hololens into the hands of more people. But my main concern is .... will it be given enough time to succeed?
The most likely scenario is that it would be isolated to the US with no chance for people to buy it elsewhere - other than making a flight to the US just to buy the xbox portable. Thus an engineered scenario for it to fail. Also lets not forget the GP WIn series, which is really a mini computer with console / joystick buttons.

The smartest thing for Microsoft to do (since they're largely going that way anyway) is to create games with their own IP on Switch since they already have a pre-existing relationship with Nintendo (ala Minecraft with cross-play for Switch, Banjo-Kazooie: Grunty's Revenge on Game Boy Advance, Zoo Tycoon on Nintendo DS, etc.). No, I'm not talking about Halo on Switch (MS needs their own exclusives if they want their own platform), but Xbox is non-existent in Japan. Imagine having Banjo-Kazooie on the Nintendo Switch (the developers of that game recently made Yooka-Laylee for Switch) or having some of their other properties. That would be HUGE for Microsoft in Japan, but would also allow them to sell more software in other markets while still allowing them to have their own hardware.

Microsoft should just buy Nintendo and be done with it. The IP alone is worth it, however, Nadella would never do it. Too much money, and he doesn't want to support hardware sales now, more or less handhelds and games. If it doesn't directly tie into Azure and Cloud Sales, Nadella doesn't want to hear about it, and with the money they are raking in on Azure, I don't blame him.

Feels like Nokia all over again. They'd somehow manage to bungle it. MS don't have the correct mindset to make purely mobile devices right now. They still have a way to go, attitude wise.

Frankly, the Nintendo Switch does continuum style transitioning better than any Microsoft product.
If they can get Andromeda to the same level of quality (i.e. being able to slip it in/out of a dock with no mode change on the user's part) then they could think about branching into gaming. The beautiful wonder of the Switch isn't that it's a good portable. It's that it's your homeconsole that you can slip out of the dock and play immediately. If you buy digitally, your entire console and came collection can fit into your pocket. Then you can get home and slap it up onto your glorious 4K TV (even if the Switch doesn't support 4K) and pick up your pro controller and carry on where you left off. No cloud to worry about , it's ready as soon as you drop it in the dock. MS need to emulate the EXPERIENCE, not the concept.

No. I think MSFT should double down on improving the console exclusives situation on its otherwise fantastic XB1X (and by extension, XB1 /XB1S). I mean, I love MSFT, but I don't see it having an angle that would really have a real chance in that space against the Switch - which I love even more! :-)

No. They'll just abandon it imo.