Support ends for QuizUp on Windows Phone as developer Plain Vanilla Games shuts down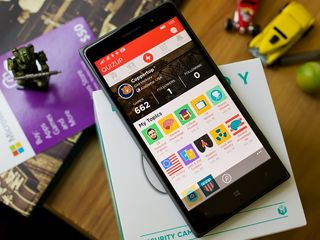 Windows Central has learned that support for QuizUp on Windows Phone will end. This comes as the popular trivial game's developer Plain Vanilla Games has announced plans to shut down its Iceland offices.
QuizUp launched for Windows Phone, after becoming a big success on iOS and Android, in June 2015. Since then. Plain Vanilla Games has released a number of updates for the app. It has also announced plans to work with the NBC TV network in the US on a QuizUp television show that would have debuted in March 2017.
However, The Iceland Review is now reporting that the NBC show deal fell through and as a result Plain Vanilla Games has decided to shut down. It received a statement from the company's CEO Þorsteinn B. Friðriksson:
The article adds that the QuizUp game itself will continue, but it's unknown how its future development will continue and at least for now, there is no more support for Windows Phone according to our sources.
Thanks to Daniel Gary for creating this app for Windows Users. We will always love ❤ your apps.

Seriously, our own Daniel Gary created it?

Gateway Apps are the Dev company that created Quizup on Windows Phone for Vanilla.
Gateway Apps also make Slack for Windows Phone.
Not sure if the Windows central app is also created by them?


Aw that's so sad. That was a fun game.

Has support ended on all platforms? I'm not entirely sure after reading the article.

There will be no future developments on all platforms.

Recently they ruined the App by selling ads(Android & iOS). But funnily as the app wasn't updated for WP the app on WP was great. I was Top in Windows Phone topic in my Country.

Way to go Nadella!
Just saying because I blame him for everything else. :)

Read the article first bro

I'm pretty sure he did. Sounds like it's similar to the "Thanks Obama" comments.

Not sure why the app is double posting, sorry.

Yea, it was an attempt at sarcasm, but it never works when you have explain it. Although I can see where this one might be Obama's fault. :)

+1 for sarcasm:) but you should know us Windows phone users are an angry bunch. No jokes in the comments section

We're pretty fun at parties aren't we..

Aww man. I like that game a lot.

Just looks like Windows phone support will stop

No future developments on all platforms

The dev is closing shop according to the article. Maybe someone will buy the app and continue, but it seems like it will not be from Plain Vanilla Games. "All 36 employees of Plain Vanilla in Iceland have been laid off, as confirmed by the gaming company's CEO Þorsteinn B. Friðriksson." Maybe I am misunderstanding though....

The article is poorly written, but support for ALL platforms and will end (I think)

Agreed...another misleading headline that looks like only support for Windows Phone/Mobile is ending when that isn't the case.

All platforms. The developer is closing down and laying off It's employees.

Development may stop, but it says right in the article the app will still be supported on Android and iOS.

Ok....geez...sorry...miss read the article

"QuizUp will continue to exist. However, it's unclear who will continue the game's future development. Þorsteinn said he will not be involved with QuizUp from now on." From the linked article. This Windows Central article is claiming to have extra information that they are shutting down the Windows app. No where does it state that they are shutting any apps down in the original article. They say the opposite actually, as I copied above. It sounds to me like they will keep the app going with as minimal resources as possible. It says they still have many users and are still growing. They have monitized their Android and iOS apps, so they may bring in enough money to keep it going, but not develop further or support a whole team.

Read it again. The company is finished.

I just installed QuizUp on the suggestion from someone in the Trivia Crack no longer being supported news the other day. -_-

No need to uninstall. I will use the app until the app stops working.

Read it again. To me windows phone Support is closing now whilst the other two OS supports continue till further notice really..

Read the article linked. Vanilla Games has shut down completely and all employees have been laid off. "All 36 employees of Plain Vanilla in Iceland have been laid off, as confirmed by the gaming company's CEO Þorsteinn B. Friðriksson. Plain Vanilla will be closed, although bankruptcy will be tried to be avoided, mainly to guarantee that all employees will have their term of notice paid in full."

It would be so nice to hear any sort of plan on Mobile from Microsoft. "Were not focusing at this time" ain't much of a plan, and "give it time" only works when developers are actually taking the time.

Window Phone will end support until 2017, we call it "RIP". no more upgrade to Window Mobile, just waiting legendary Nokia create their phones.

People like you should be banned

Smartphones shouldn't even exist in the first place

It's ok to be a little stupid but you never go full retoird. Never go full retoird.

If the world was filled with genius and witty people...it would be chaos. We need fools too, to balance stupidity factor! Hahahahaha

Bugger.. It's one of the fee games I actually use. Lol

No no no no no no plizzzzzzzzzzzzzzzzz

The Android and Apple trolls must not know how to read: THERE WILL BE NO MORE APPS ON ANY PLATFORM. Very disappointing, indeed, for the trolls that's it's not just Windows that support will end. Back to the basement they go to scan over more WC articles in the hope to return soon to troll again.

I think the rest of the trolls should take lessons as well. They also need classes in attention span, rather than attention seeking. Most of the articles on here appear to be clickbait, to lure the trolls in first. Maybe, just maybe, if people actually READ what is written, and comprehend it, a greater understanding would abound. This article is just one of hundreds the same. As for the Windows phone support ending in 2017 comment,, I say GOOD!! That is one millstone that no company wants around its neck. What a farce. More devices than users, the Nokia farce, trying to compete with the big two OS's was an epic fail. W10M will survive a while longer. They way it works in an enterprise environment is pretty good. I use 14 phones, a surface book, Surface 3 and a couple of desktops. Everything connects and just works! On top of that, even my orangutan drivers find it easy to use!!

Can't blame Microsoft for this one. It even came preinstalled on my 950XL.

Is it worth it, you think for me to make an app like it and Trivia Crack for Windows and Windows Phone??? How many here would be willing to beta test it and give feedback to make it the kind of Trivia App you guys want?

You could try. See if it is worth it.

This app is really fun, played it every now and then.
Windows Central Newsletter
Thank you for signing up to Windows Central. You will receive a verification email shortly.
There was a problem. Please refresh the page and try again.