QuizUp for Windows Phone is out of beta and ready for lots of trivia challenges [Update: Windows 8.1 version launched]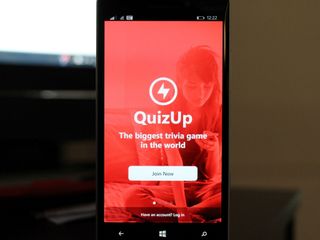 Update: The Windows 8.1 version of the app is now live.
In May, the makers of the popular mobile trivia game QuizUp begin testing a Windows Phone version with select users. The testing was apparently successful as QuizUp has now gone live for all Windows Phone users.
Here's what players can expect from the game, which was made for Windows Phone by Gateway Apps under supervision of QuizUp's original developer Plain Vanilla Games:
Discover people - Discovering like-minded people is easy and fun! You can find people based on their age, location and interest. When you find someone you think is interesting, break the ice by starting a conversation or challenging them in a topic you are both passionate about.
The Game - Challenge friends in any topic for a quick, real-time match or randomly play other people from around the world. Climb the ranks and claim your titles.
Topic Communities - Participate in vibrant communities around topics you are passionate about and easily discover new topics that match your interests. Each topic has a unique community where you can play, post and interact with other people.
Let us know what you think about QuizUp in the comments. Thanks to everyone for the tips!
Download QuizUp for Windows Phone (Free)
Download QuizUp for Windows 8.1 (opens in new tab) (Free)
I guess we'll still be the ones to get frequent updates.

Yeah.. Just got one today..
The beta version is a bit ahead of the public release..
I just do not like the beta app's name..

It was intentionally changed. The link was leaked as you must be knowing. I think the developer named in his native language..

Hark! Is that a universal app icon I see? This pleases me, surprised King didn't do the same with candy crush.

The cake is a lie. Nothing in the regular store, and only a link to the phone store on their site.

link to the windows store http://apps.microsoft.com/webpdp/app/0b2cc407-8118-44b9-96cb-6e2b5129bb81

Appears to be a problem with the W10 store beta, the link wouldn't open on the redirect but I found it fine in the original. And now I'm getting a different install error. FML.

Works great, has the windows phone theme as well

Aaaand already having issues, 635 W10 slow ring. Crashing on the redirect back into the app after confirming the Facebook login in IE.

Stupid question! Is it freemium or at any point will become freemium as we continue to play?

Error loading page when trying to download.

Yeah.. Finally we can find a girlfriend who shares similar interest :D

Crashing.. Needs some bug fixes

Out of curiousity, what OS/phone are you using?

And is not available here in Brazil.. :/

Omg, these universal apps are awesome!

Its the first time for me to use this app , what's its purpose ?

It has quizzes on millions of topics, you can even compete with friends! Also has rankings on all the topics and you can discuss the topics in the communities. You can even search for people who have the same interests as you and have a competition against each other! Hope I helped :)

Thanks my friend :D really helped

Is this a cross-platform game that I can play against people on Android or IOS too?

Yea cross platform supported

Saw it on wmpoweruser an hour back

Bad for the people who just follow windows central

How is it bad? It's only an hour late. We're getting all the important news anyway.

It is still unstable... Crashes while searching peoples!!
Update: I got the latest update early morning in India. Now after update it isn't starting!!

No Google Login possibility :( Hope this will come soon, I want to play with my existing account! :)

it has login via email. so enter your gmail id in that,

Unfortunately, that results in a new account :/

It doesnr install for me... :(

Ohhhhhhhhh. Downloading now

Surprisingly good for a new app, just slightly rough. A few updates will make it perfect. It has slight scaling and screen size issues on 520. It seems faster than the Android version!

I'm not seeing it on the Windows 10 Store (Beta) :(

i cant search for topics im looking for ._. it always searches for people instead ._. can somebody help me?

Polishing needed. The in game music is not working.. And UI is modern! Cool!

Go in to setting and turn your music on.

I did! Still it's quiet until I start playing..

Is this the one developed by Daniel Gary with Plain Vanilla?

Yes, indeed. The very same one.
Sometimes, after a game, before your name loads, Daniel_Gary can be seen where your name would be :P

Omg yessssss!! Finally, I've waited so long :D

The app isn't flawless.. But I have to admit it works buttery smooth on Lumia 1520.. I don't think ios and android versions are as smooth as this one..

Its very smooth. But phone hanged up after a while. Hopefully there'll be bug fixes and version updates continuously :-)

It does run very well, even on my ancient 520.

Love it! Awesome game! Lost 3 times, won twice!

Yes indeed. You can play with people who are on Android and iOS.

"This item isn't available for the store in your region" is this country limited?

I aint able to download it.. I downloaded it on my laptop and then saved on my SD card and installed. Still it shows pending..-_-

Im addicted to this game now.

After one hour of continuous playing , this thing is PURE AWESOMENESS !

Crashes frequently on Lumia 630 Dual SIM.

Can't install on my 928. Maybe it needed another week in Beta? Maybe it is only meant to work for people with WP 10 or the Preview, but they didn't restrict the permissions correctly if that is the case.

I can seem to join a game if I've been summoned outside of the app. Doing my head in. .
Windows Central Newsletter
Thank you for signing up to Windows Central. You will receive a verification email shortly.
There was a problem. Please refresh the page and try again.