Surface 2 contributed to 60 percent increase in Microsoft tablet market share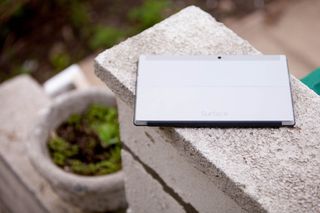 New fourth quarter 2014 tablet market share data suggests that Microsoft may have increased its market share with the Surface tablets by as much as 60 percent year-over-year compared to the same time last year. While Microsoft had a 1 percent market share last year, it is now up to 1.6 percent. This is still small compared to Apple, which is leading the charge at 79.9 percent, but it shows that Microsoft is gaining market share while some of its competitors are dropping.
This was how Chitika Insights got their market share numbers:
The interesting thing is that Microsoft's numbers is based purely on the Windows RT ecosystem, which means the Surface RT and the Surface 2. Chitika did not account for the laptop-like Surface Pro model and the data definitely does not include the Surface Pro 3, which is selling well for Microsoft. It would be interesting to see how much different Microsoft's numbers would look if the Surface Pro, Surface Pro 2, and Surface Pro 3 figures were accounted for.
Apple dropped from 81 percent compared to last year. The only tablet manufacturers to gain market share in the same period are Samsung, Google, Nextbook, and Verizon with its new Ellipsis brand of Android slates.
What do you make of the data from Chitika?
Windows Central Newsletter
Get the best of Windows Central in your inbox, every day!
Chuong's passion for gadgets began with the humble PDA. Since then, he has covered a range of consumer and enterprise devices, raning from smartphones to tablets, laptops to desktops and everything in between for publications like Pocketnow, Digital Trends, Wareable, Paste Magazine, and TechRadar in the past before joining the awesome team at Windows Central. Based in the San Francisco Bay Area, when not working, he likes exploring the diverse and eclectic food scene, taking short jaunts to wine country, soaking in the sun along California's coast, consuming news, and finding new hiking trails.
I Love my Surface 2. Use it every day, privat and for business. Best hardware ever.

Agree completely. I use it every day for personal and business needs and it gets the job done perfectly. Best computing device I have ever purchased.

The surface pro 3 stand bends very easy...im afraid to break it if aplied to much force.

You're thinking of the iPhone 6.

Even so, these numbers are abysmal. The Surface RTs have been out for several years now and are still below 2%. That's tragic. I think Microsoft is going to kill off Surface RT. Seriously, what's the point if you can have a tablet with an fanless Intel chip instead?

If you look at the product spread picture they showed at the Windows 10 reveal they had two types of tablets: the surface style with a desktop Windows 10 UI, and smaller vertical mini tablets that had a Windows Phone style UI. Looks like they're going to finish combining RT with WP and using that UI for phones and mini tablets.

You are wrong, take a look at the Lenovo pad, Asus, Acer, and Dell...all mini tablets with full Windows 8.1!

Price. have you checked the cost of a core M processor. It will make the surface much more expensive than an ipad. You can stick an atom processor in there, but then the desktop won't be much use either as many apps will run very sluggishly on that chip.

Two years is not what most people would consider "several". It's not iPad level sales, but it's probably on it's way past Google into the #4 spot. Amazon and Samsung are within reach as well. I agree about the decreased need for ARM hardware in tablets though.

Seems to sell on par with nexus tablets.

I don't know, my Surface RT battery lasts for like an entire day with pretty heavy usage. It's pretty awesome. I say they should release a Surface 3.

I don't think they should because of the app market for the phones and tablets sould be equel. if they kill off the RT and Surface 2 than developers would be writing for just the phone and not the tablet unless its the intel base. they need ARM Developement.

Several years!!!! it was only release in October 2012, to gain nearly the same market share as google has with it Nexus line which is half the price is quite impressive!

Same can be said for both Google & Samsung

It is very impressive that they are in the top 4 with only 2 devices (Surface RT and Surface 2). This also means that the Surface RT tablets have outsold any other competing tablet safe the iPad. Thats a huge success!

While I agree that these numbers aren't huge, since when is two years several? Not to mention surface rt (a first gen device) wasn't really received very well by the wide consumer base; it wasn't until surface 2 came out that things began to improve, as people got a little more used to the concept of windows 8, which also brought the price of the rt down and contributed to some sales increases. I would also say that MS increased availability via stores and partnerships around this time (the effects of which are yet to be seen I think. Not to mention Android and IOS tablets don't have pro models (chrome (I guess) and OSX, respectively) in the tablet segment, whereas win 8 tabs are very widely available by many OEMs around the world, as opposed to the limited availability of MS's arm OS (RT). Success doesn't happen overnight my friend, companies like MS have been in the business long enough to understand that. Also, it as already been stated that rt and WP will be combined with win 10. What remains to be seen is how.

Best hardware ever!! Proud owner, too =)

Now WHY JUST WHY can't they get Windows Phones to start selling like the Surface lineup finally is? Put the Surface CMO in charge of WP's marketing c'mon Nadella.

Windows phone sells more units than the Surface... Sales numbers aren't necessarily the problem.

Only if you're counting low end phones in foreign countries. Here in the US market WP isn't doing much of anything.

Hey, that's how android got to the top, so why not use what works? Also devs look at market share of the OS; low, mid, and high end all contribute to this number to bring devs on board. So what's the problem?

Had a Surface 2 and it was great but then I got a Surface Pro 3. Girlfriend has the Surface 2 now and she loves it. She does steal my Type Cover occasionally though :D

Haha, more than understandable, because god the track pad SUCKED on the first two generations of covers. But the 3rd?I actually enjoy using its glass bead trackpad, so smooth and responsive! I almost never bother to plug in a mouse anymore.

still hate it lol, I plug a mouse where possible. Miss the thinkpad nub

I agree with you, Surface 2 is actually amazing, I also use i for everything together with my 1520 and 930 phones. In the future more and more peole will do the same. MS just need to make them available evrywhere, very difficult to cach in Europe and around the wold, and therefore the sale is poor. But they realized it and start slowly to change it, I could read few weeks ago.

I wonder if they can do an alternate chart that takes into account the Pro line.

Along with all the other x86 Windows tablets.

I will like to know the tablet market share by OS....

It does seem pretty pointless to have a chart that doesn't include pro tablets, as id expect that to be a rather large chunk of the windows tablet market.

This is unfair, x86 tablets (Dell Venue 8 Pro, anyone?) are pretty popular in the Windows ecosystem and not counting those contributes to an apparent decline in comparison to real market share of Windows powered tablets

I agree. All tablets should be included in these studies.

Seconded. Windows tablets should be all Windows tablets.

I agree that it would change the graph quite a bit. However, these stats are based on web site hits which identifies the OS only. It is not possible to determine if the hit is from a Windows desktop, laptop, or tablet with that data.

I think ill upgrade my surface rt to a surface 2 now

Because they may like the surface rt but want a bit powerful hardware.

Honestly, I have a Surface 2 and there is literally no reason I would want to spend twice as much for a pro. The only thing I would use x86 for is Steam, and that's more of a distraction than anything. Plus, never been happy with gaming on a mobile device. All my needs are met by the Windows Store apps, Office, a fully featured file browser with network file sharing, and internet explorer. Most of what I do has to do with Excel, Word, and some light video editing with a Windows Store app. And I'd rather not have the x86 legacy rot. My surface 2 is as fast as it was on day one a year later.

Sorry,what legacy rot do you mean? The only "rot" comes from shitty HDDs and installing junk onto your computer. Avoid those, and it will continue running perfectly. There's absolutely nothing about an ISA that makes a computer slow over time...

I would like to add to this that the surface rt devices are much better in the tablet side of features that x86 devices. Even the surface pro 3 suffers when it comes to true connected stand by. It will hibernate after 5 hours and turn off notifications. Compare this to a Rt device which has true ARM connected stand by as you would expect on a phone. The battery drains much faster for pro also.

I upgraded from RT to 2 and it was worth every penny. The RT was pretty slow, and the screen was mediocre. The Surface 2 is a huge step up!

November 6 of 2014, still waiting for at least a new rumor of the Surface mini

The market is flooded with 8" Win8.1 tablets so there's no need for Surface mini.

maybe there's a need Imagine a Surface Pro 3's stand and stylus in a smaller package :D.. Portability and ease of note taking without much weight.

1.6 market share isn't much to brag about. Even more telling is the overall profit percentage of the OS, which doesn't even amount to a half percentage point :-(

this is just for the surface 2, i would imagine if all windows tablets were actually included in these stats the % would be quite a bit higher.

Ok, maybe it'd reach 2.5 % or 3%? Still it's too low compared to 80% of apple

Speaking of which, I thought Androiw tablets were selling better than iPads at this point?

These are US numbers. The worldwide numbers would show android ahead.

Really? Do you have a link to back that up? Regardless of what devices-sold are, Apple is the clear leader in profit participaiton -- not even close to being a debate p;-)

Let me bring some evidence. According to StatsCounter, http://gs.statcounter.com/#os-US-monthly-201411-201411-bar Windows 8.x usage is about 1.6 times higher than iPad (15.24% vs. 9.56%) among all OSes except smartphone in the US. Of course, not all Windows 8.x devices are Surface. But we know Microsoft accounts for 14.75% for all Windows 8 devices (http://winsupersite.com/mobile-devices/windows-8-device-stats-september-..., this is a worldwide figure, but let's just use it for US). This means Surface accounts for 15.24*14.75=2.25% of all OS usage except smartphone, vs. iPad at 9.56%. Now we know that iPad usage is only about 4 times higher than Microsoft's Surface. Of course, it is fair to say that if you count all Windows tablets like Asus Transformerbook T100 than it is likely Windows tablets are close if not more than iPad.

If you're using the author of this blog posting's math system, it might be 'quite a bit higher', but if you're comparing it to overall mobile market share and/or profit participation -- it's negligible, not worth counting :-( Thanks though for stopping by...

If the Surface Pro 3 is counted, most likely Microsoft sold more tablets than the Nexus line.

Dude the Surface Pro 3 (which isn't included),is almost a billion dollar business. Even just with the RTs,this is actually better than you might think. The RT was only available in limited markets and available from only the Microsoft store and The MS Store online. Very limited. Even after they opened it up it was to Best Buy,then slowly to a few others. People don't take that into account when they talk about Surface numbers. Even with the (2) it was still limited,it's still limited with the whole line up in general today,although it's getting far better with the Pro 3,more MS stores opening,and availability with more partners and countries. So I'd say that they are doing pretty well. Of course the iPad will have better numbers. It's been around longer and doesn't have the rest of those things to deal with. Plus they are given away almost every time there's a contest. Doesn't mean that people just want them like that. It shows in their declining numbers.

Exactly. The Surface tablets should be growing by 60%... EVERY MONTH... to be relevant. Not 60% per year when they're only at 1% market share. I love my Surface tablet, but, come on, we're not doing Microsoft any favors by making excuses for them. Surface RT is dead. It's all about Surface Pro now. If RT has any life left, it will be as a mini... and that's about it.

And that's exactly what they are doing. They just haven't released the Mini yet.

I hope they never release the Mini as there's already plenty of 8" Win8.1 tablets on the market.

I've been debating whether to get a Surface 2 now that the price has dropped but wonder if an improved Surface 3 is coming soon. Can't afford or need the SP3 so I'm keeping an eye on sales for the Surface 2 over the holiday shopping season.

I want a surface 3 too, don't want an Intel, but the market has spoken so I think we are SOL ​

Surface 3 will likely launch alongside Windows 10. Thus far, all RT based Surface devices have launched alongside major iterations of Windows. The 3 likely won't be any difference. Expect April 2015-ish to be when we hear more details, somewhere around BUILD 2015.

I sure hope that you are right, but I seem to recall an interview with Joe Belfiore saying Win10 for ARM not coming until end of 2015... My RT will be long gone by then

Really? I don't recall. I remember him saying the preview for ARM devices won't be ready until early 2015, but I think everything will be released Spring 2015. After all, with Windows 10: Windows RT and Windows Phone will be the same thing, and I don't think Microsoft is delaying Windows 10 for phones that late.

this is the article I was thinking of, not sure what it means:http://m.windowscentral.com/windows-10-preview-phones-arm-not-due-until-2015 ​

Ahhh, I getcha. Well if you read that same article, you see that supposedly Mary Jo Foley is reporting a January or February release of Windows 10 preview for ARM devices, and Foley is usually pretty spot on. So Jan or Feb for the preview, final official public build will ship at the same time or very close to the ship date for Windows 10 x86.

Hmm, not convinced that'll deliver me an ARM Win10 before next fall, and I don't want to run the preview on my old RT! We'll see what happens...i give it 50:50 I buy something else waiting for ARM Win10....

Maybe I will just suffer the win RT and buy an Xbox One :)

That's what I've been thinking. My rt is a little slow but does the job. Xbox is affordable and would be interesting.

Xbox One have finally been launched in Argentina today! And prices are competitive (although not being fair, but anyway...): 8999 pesos without Kinect and one game and 10999 pesos with Kinect and 2 games vs. 10999 of all PS4 combos...

Glad apple are not selling so many ipads as the support after you take them home ,schools where I live bought iPad 3,s only now to see their ipads crash , freeze and lockup , leaving the teachers in trouble , ios8 has screwed up iPad 2/3 also iphone 4s and the iphone 5 all struggle to work my apple products are all slow with my what I though sluggish being 2x faster than the apple products by the end of this month I will be isheep free as I sell the over priced crap from apple.

I love the Surface line, and everything about the tablet. Sadly I have a first gen Surface and when my phone can outperform the thing, it's time for an upgrade. Considering my Windows phone can do most of what RT can, I think the only logical upgrade would be a pro model. A high end Lumia paired with a high end Surface, i can't think of a better combination.

SP3 & Lumia 1520 here ;) great combo.

I'm looking into a 1520 to wield alongside my SP3. I love having such a nice and large tablet screen, I want the same for my phone. And while I love my 1020, it is becoming a little long in the tooth. I've sampled the 1520 in store, and I LOVE IT! However, my only concern is: I find I can use it one handed pretty decently (its mildly awkward, and some Apple-like Reachability features would appreciated, but otherwise perfectly fine), but my concern how frequently I let my phone slip, or I bump into something and drop it. It's fine on my 1020 since I've got the camera lanyard always there to save my device, but the 1520 doesn't have that luxury. I could get a case, but I hate most cases, because they just make the device so uglier and add senseless bulk. Currently, I'm only a fan of things like the Dot View case for the HTC One, or the Touch/Type Covers for the Surface series. Stylish, and add extra functionality. :D So the 1520 is a great device, I'd buy it in a heartbeat, but my clumsiness has me deeply concerned it wouldn't survive for long under my care.

As to the Q of the hinge sturdiness of SP3: I use it as a handle and walk around with it like that. The hinge is a miracle of modern engineering and is NOT a weak link in any way. It's as tight as ever when you have it set. It really well done. Just fyi.

Suck it, all you anti-RT clowns.

RT is so underrated! Its to me the best arm based OS out there, even better than WP in my opinion, but only suited for tablet sized devices. Still enjoying my original surface RT

RT still sucks. Only thing it had over competitors was office and that advantage has gone out the window. And with the same app problem as before its hard to imagine why anyone would buy it.

There are advantages other than office. The USB port, HDMI port, type covers, and the version of Office is way more capable (it's the real thing) than the watered down version available on other tablets. I do think that MS might be better off dropping RT/ARM tablets and just adding a "locked down/simple mode" for normal Windows/Intel tablets.

Kickstand, keyboard cover, best touch browser (the only officially supporting Flash and ad blocker), superior touch UI, good stereo sound, 16x9 aspect ratio best for watching YouTube, *full* version of Office ... The list goes on

But according to this study both Surface RT devices are the single most successful tablets after the iPad. Apprently people appreciate what they get with their RTs.

I realy like my surface 2... I just hope that MS won't wait for windows 10 to be ready before releasing the surface 3....

Dream on... (wish I was wrong)

And people were crying from the top of their lungs for MS to can the surface line a short while ago. LOL shortsighted people make me laugh

Doesn't include any number of smaller Atom tablets either, definitely underrepresented the market share.

the most unrepresented/unloved tablet in the world is the lumia 2520. its a great tablet, with amazing camera, battery life, screen, and price point. i should have waited, since they're now only 299 off contract, and are able to access LTE and provide a mobile hotspot for your friends who have ipads. sorry, surface 2, but the kickstand just doesnt keep up with that.

I want the Surface Pro 3!!!!

More people are stupid than smart. This explains the numbers. Posted via Windows Phone Central App

What share? It only shows chitika ads baked into web browsers by interested web user using tablets. Not all people randomly selected I think

I want a surface 3 to replace my one.

I am about a week into my Surface Pro 3 and it amazing. The portability of an Ipad and the power of a laptop. For once I am only carrying one device.

I am happy with my surface rt too. It has served me well lol. As an educator it has many advantages over the iPad. For one when we do programs that need flash player for the students to do the iPad becomes useless in the classroom. I will most likely be getting the Yoga 2 tablet 10 for only 369 at best buy with the keyboard. The only drawback I noticed with the yoga 2 is it so pirates the magnet on the neighbors is not that strong.

Hmm, well even if they were counting my SP2/SP3, it wouldn't matter, as I never see adds thanks to Tracking Protection lists on IE11. No ads = less companies stalking me = faster web browsing = happier me. Anyways, I love my SP3, and other people seem to love it too. They always gag at the price, but then they see how pretty it is, and then they really want it. ;)

I'm about to buy a Surface2 after playing with a Lumia 2520 for the past month on eval :)

That 2520 remains really cool/beautiful, but the kickstand on surface more practical....

Yeah the 2520 is killer thin and light and with the 4G is pretty sweet. The kick stand and the full sized USB port are the main things why I'm thinking the Surface 2 will be a better option though.

I love my surface 2. My favorite tech purchase in the last 5 years.

I will like to know the tablet market share by OS.... This would be interesting for developers who would be looking for incentive the develop apps for the windows platform.

Let's just hope that the RT line of Surface will be able to upgrade to a full version of Windows 10 for ARM in touch mode instead of a blown up phone OS.

Microsoft is the best!!! I own a sp1 which I love!!!

i hope they keep the RT line, there are people out there that wont ever see a single benefit with x86 tablets, if i need a real OS i will use my desktop pc, a laptop just feels like overlapping for me

Same problem im having too. Im gonna build a PC and I also want to get a SP3 but it seems kinda overkill to have a desktop and laptop.

i also like the pro 3, but being an intel machine kills it for me, i would've bought it if it was ARM, it could last twice as much with no heat and noisy fans(even if it is barely noticeable, a fanless tablet is better) and being thinner to boot, without crap from a 30yo OS

I hate the Surface 2... I got it on the 26th of August and am already in my third one. The first two had manufacturing defects and had to be sent back to MS. Poor hardware and the tech support process was as mind numbingly bad.

Needless to say i love my surface...and the 2 more then 3pro!

Also it looks like thise Verizon Elipsis tablets are selling pretty well.

So how are those Android tablets selling these days Asus and Acer? HAH

If they only had pen support... People love the pro line, students especially for pen support but that price... If they could put that pen support in back to school sales would never be the same.

I guess microsft still want to release surface 3 but with win 10 and office touch. That's why they're holding off all surface tablet lineup.

Proud to be part of this number

Unified windows 10 can't come here soon enough

I love my Surface 2, we have an ipad and now that been resigned to the being left uncharged in the drawer. i'm not looking at making the leap to a surface pro 3

what about the Lumia 2520? It is available in many more countries than the Surface 2

Probably not a huge share. Plus these are US only numbers.

surface mini will kill iPad mini

Better price, light and functional. Microsoft could learn from the Surface 2 if they want a real place in the market, why would any...ANY android or ios user jump ship for an equally or greater priced device with roughly the same capabilities? Most users cannot even appreciate the Surface's advantages, keep the prices lower Microsoft.

Last August I gave my RT to my college age daughter and bought a Surface 2. She wanted a laptop but after a week of lugging it around she asked if she could have my Surface. During these past 2~3 months she has loved it. Upon losing my RT I bought a Surface 2. Bestbuy had sold 23 of them on the day I bought mine. I picked up their second to last one in stock that night and the dude behind picked up the last one. College students seem to love them. Even though the RT eco system is a mess I hope Microsoft releases a Surface 3. RT has the apps that I use and I fully apprecriate it's added security. My daughter was a malware magnet in high school. So much so that I installed Linux on her laptop. She greatly prefers RT over desktop linux and it's secure enough to keep her RT clean.

When you say last August, is that 2013 or 2014? Because the Surface 2 came out last October.

Lets bot forget the Lumia 2520. I just got one for 300 from the Microsoft store and it is amazing! Best battery life I've ever had on ANYTHING.

I absolutely love my Surface 2. Use it everyday. There are times when I wish they would get a move on and release a Surface 3, but overall my gripes are small. Just some apps that take a little longer to load than I would like and with a little lag while its actually running. While I think the pro series is great, I want more battery and lower cost. Unfortunately that lends itself to ARM processors. Would love a Surface 3 with basically the same specs but with a bump up of processor and maybe RAM. Screen is already beautiful. If they can manage a bigger battery with the same chassis that would be great too.

Tbh I don't care that much about the Surface anymore, more interested in how Windows tablets overall are performing. And MS would be smart to make a Core M Surface.