Watch our Surface 3 unboxing and first impressions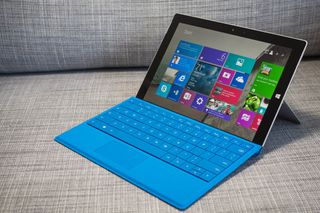 The Surface 3 went on sale this week in Australia, Canada, Hong Kong, Korea, Malaysia, New Zealand, Singapore, Taiwan, Thailand and the United States! It's the thinnest and lightest Surface Microsoft has ever shipped. It has a 10.8-inch screen, runs full Windows, and starts at $499.
You're probably interested to see what comes with the sales packaging, so we've shot an unboxing video for you. Check it out.
Surface 3 specifications
| Category | Features |
| --- | --- |
| Size | 10.52 x 7.36 x 0.34 in (267 x 187 x 8.7 mm) |
| Weight | 1.37 lbs (622 g) |
| Display | 10.8-inch ClearType Full HD Plus Display, 1920 x 1280 resolution, 3:2 aspect ratio, Surface Pen support |
| Battery Life | Up to 10 hours |
| Storage/RAM | 64GB storage with 2GB RAM or 128GB storage with 4GB RAM |
| Processor | Quad-core Intel Atom x7-Z8700 processor (2MB Cache, 1.6GHz with Intel Burst technology up to 2.4GHz). |
| Network (Wireless and Cellular) | Wi-Fi (802.11 a/b/g/n/ac), Bluetooth 4.0 |
| Ports | Full-size USB 3.0, Mini DisplayPort, microSD card reader, Micro USB charging port, Headset jack, Cover port |
| Software | Windows 8.1, 1-year of Office 365 Personal |
| Cameras | 3.5 megapixel front-facing camera, 8.0 megapixel rear-facing camera with autofocus |
| Sensors | Ambient light sensor, Proximity sensor, Accelerometer, Gyroscope, Magnetometer |
Sales packaging
Surface 3
Power Supply
Quick Start Guide
Safety and Warranty documents
The Surface 3 Type Cover ($130) and Surface Pen ($50) are sold separately, so keep that in mind when making the purchase.
The Surface 3 is pretty much a slimmed down version of the Surface Pro 3. You get the same design, same 3:2 form factor, even support similar accessories. One noticeable difference is the kickstand on the Surface 3 is a little more limited with just three different positions compared to the variable positions on the Surface Pro 3.
Overall, we're very happy with the Surface 3. It's a very fun device to use. It's not as powerful as the Surface Pro 3, but it's not meant to be. The Surface 3 has a lower starting price than the Surface Pro 3, so that makes it very appealing. We'll have a full review very soon. Are you looking to buy the Surface 3? Let us know in the comments!
Mark Guim is Video Editor at Windows Central. He switched to Windows because the MacBook Pro isn't Pro enough. You can follow him on Twitter at @markguim.
sticking with my SP2 for a bit longer, but liking the look of th colored stylus.... also wish double tapping the sp2 stylus "eraser" would bring up one note :(

I wish they'd bring back the dark Magnesium color.

@cybersaurusrex, you like the magnesium color more than the titanium?? The whole time I had an SP2, I was wishing they made it in the color of the Surface RT or Surface 2 and I'm really happy that they switched them all over to that Titanium color. I also really want one, but not for me. I have the 256GB i5 SP3, and my 4.5 year-old Daughter uses my old SP2 for all her games, so I really want one for my Wife. I know she would love it because she already really likes the SP2 (when our Daughter lets her use it, haha), and LOVES my SP3. I'm a little disappointed that the Stylus isn't included in the price, but I guess that's just another of the perks of getting the Pro model as opposed to this. Still, a great product. Microsoft has finally hit their stride with devices and it's time to knock the stupid iPad off its perch, and this is going to be the device to start that. I like it so much that, as soon as I can afford it, my Wife is getting one. Home run, Microsoft!!!!!!

I think only the first-gen Surfaces were the dark Magnesium color. But, yes, that's the one I like.

Don't delay too long. They have a $150 back deal going on now and once that is over, its gone. That happened to me from the original to 2. One note, the keyboard is much better than the original surface. Much snapier, more responsive. - Roger

Hey Roger! There is a back deal? Only in US or Europe, too? Would love to change my rt (wich is damn slow after 2 years now) to a S3 :)

I'm loving this device. Though I will get a SP3 once I finish my bloody exams :)

Mine is coming tomorrow in Switzerland. But unfortunately only the tablet without cover and pen.

How can you get it out of US?

EBay, international merchants

Well its on sale in the UK tomorrow for starters

mine too in Switzerland, and with the type keyboard! :)

Everywhere but India! :( Don't wanna ask that question, but lot of Indians want and would want to have a Surface :(

Everyone OUTSIDE USA want to have USA things... Cortana, Bing Rewards, Surface...

A generic product like Surface, which stands as a symbolic representation of Windows products is not a USA thing! Neither is Cortana! Cortana was only available for US but is now present for a lot of regions. Bing Rewards, as someone mentioned has to do with feasibility with partners. Something that is targeted for the US would not be demanded by everyone. But anything that would be useful and can be sold in other places would definitely be demanded for. Learn to accept that there is a world beyond the US! :P

Nice joke .!!! -.- even we ppl would love to have surface tablets .!! They got cool colors and the tablet and laptop combination makes it good to look and use to.!! And we got space in our pockets to buy 1

Lol. So Microsoft is only after US dollars? Not other currencies?

All of the programs are still young and Cortland is still in beta. I'm sure when w/wp10 is out they will expand to other country. The problem with bing rewards is that they need sponsors for gift cards and etc for each county.

The nearest country to buy Surface 3 just Malaysia, i hate that -,-

When in India? When in India? When in India? When in India? When in India? When in India?

Can you make the eraser end of the pen function as an eraser?

No .... it is a button. When you push it, One Note opens up. One of the two buttons near the writing tip activates an electronic eraser.

WINDOWS CENTRAL PODCASTS?????????

I noticed that you weren't wearing the Microsoft Band in the video. Have you abandoned it or are you just taking a break?

He was wearing his Apple watch until the camera guy pointed it out.

And I'm stuck here with an iPad air 2 :(

IPad has better display. But that's about it.

Well did a quick search and the iPad seems faster in benchmarks so far.

Considering that the iPad uses ARM and the Surface uses x86, I am not sure how the performance can be compared directly.

One word: Benchmarks. It really says very little about real-world performance, especially since a lot of those benchmarks used with iPad/Android tablets are optimised for tablets and phones. Surface 3 will kick iPad's ass IRL, don't you worry about it.

It's hard to compare a tablet running a mobile OS to one that runs a full desktop OS. I'm sure the Surafce 3 would be insanely fast with Windwos RT if MS still supported it.

The device itself is impressive, and some notes should be taken in terms of software. Though I would've prefered some of the functionalty offered by windows.


ipad air 2 is WAY faster than Surface3 (Although not for gaming if i remember right) Surface would be a great device with an intel core m processor. With that atom is too expensive to worth buying.

No, it isn't. Not even the GPU. Surface 3 wins ;)

Intel core M is WAYYY faster than Surface 3 Atom. You can check any benchmark out there. The GPU is another area and there the Surface 3 is better but thats just for games. Apps and Windows would run a lot better in core m

You realize that the iPad Air 2 doesn't use Intel Core M right? I"m having a hard time seeing what Core M has to do with this since you started out by saying the iPad Air 2 is faster.

Of course i know iPad Air does not use Core M, but you do realize thats just a name, right? Apple uses its own processor, we dont have that in our Windows tablets but we do have a processor that is close to its performance, which has the name of Intel Core M, right? It is really not that hard to realize Surface 3 is too expensive compared to what we have in the market right now. I love Microsoft but one of the reasons i do not like Apple is their price policy. Surface 3 cost more than ASUS Transformer Book T300 (with same spec) which uses Intel Core M. Surface 3 SSD is a lot slower than Surface pro and i bet ASUS too, in reviews we are already seeing people noticing some lag when multitasking with Surface 3. If you want to buy it thats fine, im just saying it wont be a hit because most of the people will wealize its not worth the price.

you cant compare the A8X to the Atom x7 the atom is much newer and it is built for higher performance (ex: running full windows and its desktop programs) also depends the benchmark people are using, I believe in single core benchmarks the Air 2 blows the Atom x7 out of the water, but in full throttle high performance the Atom x7 is just ahead. 3DMark Ice Storm is a good benchmark that shows you the difference. The Link is above http://www.gamespot.com/forums/mobile-discussion-1000005/intel-atom-x7-b...

Of course we can compare both processors. I could compare it to a 1st gen intel core i... it would still be possible! :D Atom x7 looses any benchmark against intel core M unless its a gpu benchmark. But then again, gpu will only make your games run faster, any App or Windows itself will be behing intel core m (and not by a small margin)

I got a surface 3 because its compact and it makes a great tablet. And it has great pc funcionality. Why would i get an m processor thats faster and would bump up the price. The atom it great for the purposes that the suface aims to do. If you want raw power wait for the SP4 soon to come out

Im sorry, but you got Surface either because its a surface or because you desperately need a tablet with a pen. There is already way better options in the market than the surface 3 and with a decent processor in the same price range. Dell Venue 11 Pro comes with more memory, core i5, more hd, same screen size for the same price Lenovo Miix 2, Acer Iconia, all with Core i5, same price, better specs. Core M has less power than Core i5, its not about power its about charging Apple prices for something that it´s not worth it. Right now i would buy the ASUS Transformer Book T300, it is Core M, 4 gig, 128 ssd, cost US700 but comes with the keyboard already so it is actually cheaper than the Surface 3, 4 gig with a type cover, BUT it has a way faster processor. In the end, Surface 3 could have the exactly same price but using a Core M. (If ASUS can, im pretty sure Microsoft can also)

Ugh, my hands cannot resist to type even though it's an old post. All devices you've said are capacitative screens. It's digitizer technology that bumps up the price of Surface. Just like Samsung Note to Samsung Tab. It's sad that they divorce the screen's spouse from the pricing. If one isn't going to buy the pen, he's better to stick with your recommendation. The digitizer technology is what the visual artists have been hunting all around. And a good plus for a note-taker.

Yeah i realized that after a post from Daniel talking about the digitizer. I guess it would make the price fair for what it offers. still a bad choice for someone like me just wanting a tablet to work when out of the office. Microsoft should make a surface not so focused on the pen though...

Performance compared to Surface 2?

It is a lot smoother ans faster than my Surface 2. I've had mine for a day and I'm much happier.

I'd probably buy one if I had the cash

To make a bigger trackpad MS needs to integrate it with the spacebar, and delete the space bar. Since the trackpad clicks they could do different clickable regions for clicks (bottom half) and for spaces (top half).

I use the touchscreen to do my scrolling. I only use the trackpad if the website wasn't designed with mobile devices in mind or just poorly coded. Using the touchscreen removes the ned to move my finger across the trackpad, lift it, move it back to the opposite side, and repeat just so I can click something in a corner. sounds like such a small thing, but I'd use a touchscreen on my work desktop machine too.

I did the horrible mistake of installing windows 10 on it hehe. I have it on my desktop and works flawlessly, so I thought.....but no. I understand is not ready yet hehe. Going back to 8.1... Overall I do like the experience im having with the tablet (besides w10). Waiting for the full review.

Can you please let me know whether this can run multimedia software like XBMC/Kodi, and can (optionally) act as a DLNA server for my Xbox One? If that can be done then I'm dying to buy this!

It would be a hell of a lot cheaper to just get a Western Digital NAS for a DLNA server. The software is built in, you'll have a shit ton more space, and XB1 will see it just fine.

No, actually as I mentioned, the DLNA server is an optional requirement and I don't always use it. I just wanted to know if this can run something heavy like XBMC without heating too much (I like it XMC, Kodi sucks!) I enjoy my media with organised collections :P that's it....thanks for the insight though, will take a look at WD too! :)

Yeah, I made the same mistake. I only had it for less than an hour before installing Windows 10. I assumed they must have done some internal testing and that Windows 10 would run well on it already, but I guess they haven't gotten around to it yet. It seems like the display drivers aren't very good for it yet. I'm getting quite a bit of lag. Oh well, back to 8.1 for a bit longer. :) I'll try again with the next preview build.

Yeah, I tried it too as soon as possible. The programs ran fine it was just the moving around and launching stuff had some real lag to it. I helped my friend set up his i5 256GB SP3 and it had the same issue. So may not be optimized for something that these devices are running.

First impressions? Didn't you guys already have a review device, and/or otherwise played with the Surface 3 already? That word "first"...I don't think you know what that word means...

"Didn't you guys already have a review device, and/or otherwise played with the Surface 3 already?"

Look it up and find that article then. You won't find it because it does not exist. So yeah, this is accurate.

Daniel, if you're going to be doing the review, could you by chance test how well Steam Streaming and possibly some of the Adobe suite runs on it? I would love to know how well these do as it's my main reason for wanting a Surface.

Oh, my mistake. I thought since Neowin and Verge got test devices, you would too.

Does the S3 run flash player like the SP3? I know the RT's don't and there basicly just a big phone. This is why I haven't gotten a Surface yet. I really want one though.

the S3 is on full windows, not RT, so yes, yes it does.

Thank you, for the respones. I will have to used my hole paycheck to pick one of these up now.

Surface 3 runs full Windows, so yes. Posted via my HTC One (M7)

Thank you, for the respones.

Technically the RT's had it's own version of Flash,it was intergrated with IE. It just didn't get Java.

"It just didn't get Java" And SILVERLIGHT! Remember, the MS equivalent of Adobe Flash? People tend to generously forget that MS abandoned its own crap as well from RT. Means a lot of silverlight-based websites and plugins became dead under a night.

Okay, so does the S3 have Java? I dont want something I can already do on my phone. I want it to do everything I can do on my pc

Like all Microsoft Signature computers they don't come with Bloatware, so just like if you got a new laptop from the MSFT store, you would have to install it manually. So technically it doesn't, you just need to install it. Power of the x86. Also, for me the only site that still uses Silverlight is Netflix. Other than that, for me it wasn't that important. With my S2, if it couldn't do it natively, I could stream it or use it as a remote. So for me it was a great device.

okay, so I will just have to install java? I want to sell my computer for the S3. I don't want to regret it because I can't watch serant videos on the net like on my phone.

This... Internet Explorer 10 and 11 have had Flash built in since Windows 8 and 8.1 respectively, including the RT versions.

Is it better/faster than the i3 Pro?

No. It's more mainstream-focused version of the SP3. Cheaper, with lower specs and mostly the same design and functionalities. Besides, never compare an Atom processor with a ix processor i3,5,7 are far more efficient than Atom.

Ok thanks. It's just there isn't much price difference.

No. even tho this is using a Intel atom7core, the i7 are still better. Not sur how it will match up to the i3/i5 tho.

Is the processor 32 or 64bit?

Does it have 64bit windows? My dvp8 says 32 bit windows on 64 bit chip. It's rather annoying.

Yes, it has Windows x86-64

My S3 is running 64-bit OS on a 64-bit CPU

Sadly Real Madrid lost. Sigh!!

ahh cool! was waiting for someone to mention the game.

The loss was deserved. They lacked passion yesterday.

Don't worry mate! We'll make them suffer next week in the bernabeu and will make it to the final! As long as we play like tuesday tho lol Posted via the Windows Central App for Android

I am a bit out of the loop :( Would somebody mind explaining the difference between the Surface Pro and the normal Surface?

Pro 3 is bigger, better internal specs, and more expensive. Posted via my HTC One (M7)

Surface Pro line = expensive Surface line = cheap

How good is the sound in this device, I had a horrible speakers in Surface RT, with side speaker grills. With surface 3 I see the speakers are now in front along with the display. How good it is compared to Surface RT ? could some one tell me?

It's in the video. Front of the device, like Surface Pro 3.

I think the guy is asking about the general quality of sound compared to that of the Surface RT and not the placement of the speakers. He already mentioned he saw the speakers are in front. *poker face* and I guess are you gonna say, wait for the review? Wow I'm predicting things, I'm Cortana :D

He actually edited his post to mention the front-speakers part.

Oops sorry, I found it when I watched the video keenly for the second time, and updated the comment. I wish they have the picture password in windows phone as well in the login or unlock screen like surface. This is one of the features I liked very much like photos display when locked.

The speakers on my S3 are great. I noticed Royal Revolt 2's background music is very low, but that's most likely an app issue. I like them more than my S2 in terms of quality and being on the front of the device instead of the sides.

Ordered the bundle from Costco yesterday, can't wait. Seems like a great upgrade from my original RT.

I just picked up my 4GB/128GB bundle I pre-ordered at Best Buy. They matched the Costco bundle price at $699. But I got to choose the keyboard color (dark blue) and silver pen. Also I received a small credit with my Reward Zone card. All in all, it seems to be a good deal.

Bummer. I am still waiting on my Costco Order to move from order recieved to shipped. Maybe I should cancel order and go to Best Buy tomorrow.

Today is May 8th. Ordered from Costco on April 29th. Still waiting for order to be shipped. Does this mean that Surface 3 is selling much better than projected by Microsoft? Or does this mean that Microsoft cant manage an effective distribution system? Who knows, there maybe 1000's of Surface 3 sitting in a warehouse lost in logisitcal process.

Yeah got an email from Costco that said because of high demand for this product it should arrive the week of May 15th... sucks but hopefully its a sign of good sales, not supply problems.

Got the same email as well. I did stop by Best Buy. They said they would not match the price of costco, because it was a membership organization, which I understand. He did say that they only had 6 in stock, and recieved another shipment today. I think that means this store sold over 10 units since the 5th. I did look at the inventory levels of the Band. The district (Atlanta Ga metro area) had 72 medium in stock and 47 large in stock. I then looked at the average weekly sales volume. Basically each store was selling 1 a month except for the Georgia Mall location which was selling 1.5 per week. So what does that mean for Band and Surface and Microsoft in general? I think it means something very simple. As Intel introduces more power efficeint Atom and Core processors combined with a unified ecosystem that is able to move data across the cloud to a user accessing the data from any device, the x86 ecosystem grows. Lets be very clear, Intel dropped the ball but with the introduced the x7 Atom, x86 tablets stopped being toys toy. Now you can run a decent tablet/2 in 1 with an atom chip and enjoy the experience. So, x86 will push deeper into mobile form factors with the x7 Atom. The band? When Intel release a good wearable processor, we will see competitive x86 product. When will Band 2.0 arrive? Holloween? Thanksgiving? Xmas? The salesman at Bestbuy did say someting interesting. Customers walk into to Bestbuy and know they want a Fitbit or a Jawbone. They are not shopping for a wearable fitness tracker. They know what they want and walk in a buy it. Microsoft has work to do on the Band marketing.

Yeah I don't think they've done any marketing at all for the band. But I'm guessing they're doing that on purpose. The whole thing seems like more of a test for the wearables market waters.

I agree. The Band is just a test market device. Maybe they will make some money. Email from costco today May 12. My S3 is supposed to arrive tomorrow. Ordered on April 29th. S3 went on sale at Best Buy and Microsoft store on 4th or 5th. My preorder arrives on 13th. What will be interesting to learn, but we will never learn, is the efficeincy of Microsoft's manufacturing and distribution system. Clearly the demand was higher than they planned. But does that mean they sold all available supply and spent the last 2 weeks moving inventory through its distribution system? Are they increasing manufacturing rate to replenish inventory or are they currently seeing a reduction in demand after the initial purchase wave? Is May a good time to introduce a new device? At least they will be ready for the back to school crowd. Iw ould expect schools are currently evaluating their next school year requirements. Does Microsoft remain conservative and simply maintain a lean inventory or do they become more confident and build a more robust inventory?

Forgot Best Buy had price match. That's an awesome deal, especially being able to choose your keyboard color.

Today (may 8th 3:30 pm atlanta, GA time) Best buy would not match Costco. He said that is $100 less than our price. He said if you bought an SD Card, we will knock off $30. Maybe the sales are storng and they said heck, we get enough sales without having to match Costco. But Costco is a membership organization and they have a competitive advantage over Best Buy. So I get Best Buy not matching Costco.

I just traded my three Surface RTs and a Surface 2 for $450 in credit toward four new Surface 3s (you can do it online or for those who are fans of instant gratifcation, right in the store - it was easy peasy). I look at it as future proofing myself by ditching the original ARM tablets. Sad the Store vision wasn't adequately realized and that Windows 10 won't be coming to the old hardware but glad for a much improved Type cover (compared to the awful touchpad on the Type 2).

you were able to exchange your RTs toward a credit directly at the store ???

Yes, it was a promotion that was advertised on this site also. I got the 150 trade in with a fully working S2 with a type cover 2. 10% student discount also helped making it cheaper.

Yes, WC wrote an article about it yesterday.

Also on sale here in the UK as of tomorrow (7th), with John Lewis listing it in stock today.

Can I play Civilization 5 on Surface 3 (4 GB model, low settings)? I hope it will give at least 25 fps. If not, then I'm not going to buy it...

I would say no. The cpu isn't fast enough nor are the graphics powerful enough. RAM wise maybe.

You MIGHT be able to with steam streaming. I'm waiting for some more reviews on how well that works. I think it is possible though.

This isn't meant as a gaming device, but I'm sure you could run it at least on low settings since the game is 5 years old.

Considering that the minimum system requirement is an Intel Core 2 Duo processor, I don't see why it wouldn't.

Nice but going to wait till Surface 4 pro & Surface 4 with Windows 10 launch party.

There was 1.5 years between Surface 2 and Surface 3. I highly doubt MS will turn around in a few months with a Surface 4. Definitely a Pro 4. They would've held off until the Win10 launch like they are with Windows phones.

Correct. Pro 4, but no Surface 4 for awhile.

I guess the Surface 2 is the mini now

So is the Touch Cover officiall dead? If so, that's disappointing. They never really did anything with the 'blade' keyboards either.

MS still didnt put a f***ng 50c GPS-receiver into this crap... smh... why oh why does it hurt MS business interest, oh why?

Well, actually I know why: MS didnt have the balls to fight with navigation companies and car vendors. Who the heck would spend 1000-1500$ for a damn 4-5" crappy outdated satnav, that usually locks you in to that particular car vendor, and have to pay individually for each map update 100$. Rather you COULD HAVE bought this 10" S3, and have proper offline map support using HERE drive, for a very long time. But no, lets spare the f***ing 50c GPS chip from the motherboard, so it cannot be used as satnav device. Bravo MS, bravo.

I use my Nokia 928 for my SatNav. Works great.

The GPS is on the the LTE version. You wouldn't need GPS anyway, your location can be found with just your WiFi, how do you think google maps knows your location on pcs without a gps

You refer to the LTE version, which will be sold initially only inside USA for the most of its valuable lifetime length, and locked to only a handful of mobile providers outside of USA? Sounds nice for the rest of the planet. Additionally if you compare wifi/internet-based location tracking to GPS regarding navigation, you really need to try navigating with that wifi in some random rural place. I seriously hope you were just trying to joke with this :)

What he's saying is most people don't use a WiFi only tablet (or convertible PC) as a nav device, instead they use thier phone or an LTE tablet. So including GPS function would have driven the sp3 above the price point ms was targeting. Especially since it wouldn't be a feature used by the vast majority of users with this device. If you need satnav, there are plenty of alternatives to meet that need.

Just to put this conversation into perspective: we are talking about a HALF DOLLAR cheap Chinese mass-produced IC. Not a 100$ futuristic electronics circuitry.

I always enjoy watching the unboxing videos. Great job, keep it up.

I'm considering it, but I think I'll probably end up with a Pro. My main uses for it are going to be Adobe Illustrator/Photoshop, Steam streaming, Kodi, and media consumption. Something tells me the first two won't run too well on this. I'd love to hear if anyone else has tried them though.

I can't say about the other two, but if you are talking about steam's in-house streaming, it worked well with my set up as the reciever. I was able to play Bioshock Infinity, at 60FPS. I also am hardwared with my desktop and use the 5ghz Bandwidth on my router.

Well that is beyond awesome to know. If it runs illustrator and PhotoShop decently, I'm sold. I wonder if I can demo it some where. I'm sure I can find a review in a couple days.

Rule of thumb: if you can run it on an old laptop with Intel Core 2 Duo, you can also run it on the Surface 3.

This thing should have no problems with steams in home streaming (or the Xbox streaming when that eventually launches). I have been using my Dell Venue 8 Pro for in home streaming for quite some time now (granted its at 720p because of the V8P's 1280x800 resolution screen) but in home streaming isn't much more intensive then streaming a youtube video. So pair that with the upgraded CPU/GPU in the Surface 3 and I imagine it will work wonderfully. But I'm with you. I am waiting for a review that covers some semi serious photoshop work. I want to see an HD scene, with like 10+ layers.

I kind of figured steam streaming would work, I've done it with some PCs before with success, but before I make a 500-600 commitment I wanna know for sure. As for adobe, I cam guess I'm probably going to do well. I only do mobile game art so I doubt I'm looking at anything beyond the capabilities, but I just wanna be sure.

Want to trade in my iPad, but don't know where

Your closest Microsoft Store =) you can wait and check the promotions.

Hey, look! Windows Central's new Editor-in-Chief is Kim Jong-Un! He made quite a diet. Good for him! XD
Jokes aside, if Microsoft wasn't selling this for over $600 bare-bones in Europe, I could see it become popular with University students. I don't need one as I already have the SP3, but thank God you bought that blue pen 'cause I was planning on buying one but wanted to confirm first that it's the same dark blue as the SP3's dark blue cover.

I think Im in love... What a device!

Surface 3, keyboard and pen costs £573.90. Surface Pro 3 (i3 model with pen included) and keyboard costs £748.99

You're just invoicing it? MobileTechReview already have it a full review

Yeah, well some of us were at Build last week 2,500 miles from home delivering amazing coverage of Microsoft's developer conference. My apologies we do not work 24/7 and our video review is now completely useless to you, lol. Anything else you want to crap on us for? Geezus, comments like yours make me want to go back to the medical field. At least there was some gratitude there.

I highly respect your work and read the sight daily and have watched you on twit. But, as a professional, don't let the trolls get to you. Remain above it. The internet is always going to have trolls and douchebags, but Replying to those ignorant comments both gives them attention and signifies thier statements. As a professional, you can ignore them because the common reader knows both your hard work, and how unclassy that commentor is.

Please don't go to medical field... Let people give some chance to live...

Dicks are everywhere, the difference is that they can hide behind their computers here. Keep up the good work!

i want one but can't afford it.;(

I want it, but I can't have one by now. I am living in Chile :/

By the way.... I want Daniel's T-Shirt :v

4GB RAM. Enough? What about the GPU?

2GB RAM is enough. All depends on what you are planning to run.

We will appreciate the opportunity to buy surface 3tablets here in South Africa.

I will be adding one of these to my gadget collection if nothing more than to keep in the car for emergency work use. I don't tote my laptops around just everywhere while running errands because of expense/ risk.

Where can I get these the third part Surface pen holder mentioned in the video? The MS loop isn't worth $5. The ones I found on Amazon look a bit small.

In my surface bundle the pen loop was in the pen packaging, which was nice. So far its pretty and booted up fast, but I haven't had time to mess with it

Same here. The S3 has been great and worth the cost. However, I bought the cyan type cover and a black pen, so the loop is black. I'd like to have a loop that is closer to the color of my cover, but $5 is a lot to charge for a loop of elastic material with a sticky side.

I actually love that Surface 3. I bet it could do the work just fine, meaby not heavy duty work (because is not mean to do that), but meaby some light to medium work and some other things, and the pen and stuff!!!
Do want, really really want! I have my hopes this one came to Mexico meaby for the hollydays!

Love the reviews and camera work on the videos (thinking of the Spectre360 also). Good job and another lovly review.

Thank Mark Guim (mostly) for that. Making us all look terrible at video by doing such a great job!

they'll probably combine the space bar with the touchpad, which is what google plans to do: http://www.neowin.net/news/google-patent-reveals-intentions-to-replace-s...

I hope not. Clickable regions drive me nuts. The Surface has a touchscreen, and I use that more than the trackpad on my type cover. I can understand people are used to trackpads from the geenerations of laptops, but I think it's time to move on. I only use the trackpad when a site wasn't designed with mobile in mind.

Ok, has anyone tried to install either Windows 10 Tech Preview - will it work? What about Office 2016 beta? I'm hoping that will work because I really want to try Touch Office.

Office 2016 preview isn't touch office. Touch office is within the new store on the Windows 10 preview.

I read a comment that said Win10 isn't quite ready for the S3

Can anyone explain why the Windows Central site works so poorly on a Windows Phone browser? ​

OK, looks good but here's the thing. Every time I try to access info on the UK Microsoft Store my IE11 browser on WP8.1.1 phone - Lumia 620, CV, UK, Denim - just crashes! If MS cannot even make their own browser work with their own website why would anyone trust another of their devices to work properly? Must do better.

Idk why but I don't think the surface type cover should be priced so high. It has a cheap feel to it when you type. Really annoying for one priced at 130€ which doesn't even come with surfaces. Even the sound it makes. It could be better built also. Wish it could have a backlit keyboard but they should fix first these issues. Does someone agree with me?

Maybe you should tell us what you're basing these claims on. The S3 cover does have backlighting, so wtf is it that you think is the surface type cover?

funny to see u watching champions leauge in the background

Great unboxing and first look at the Surface 3 Daniel. I may spring for this one this summer.

very nice... I'm going to get one soon I'm just afraid of one thing, I really like the surface 2 16:9 screen, cause when you listen to TV show, they are full screen like on a TV but when you listen to a 16:9 TV show on a 3:2 screen,is there black line at the top and bottom of the video?

On the Pro 3 with the 3:2 ratio there are black bars, but I'm willing to sacrifice that for more comfortable, less awkward portrait mode.

Great review, the Surface 3 does look rather good and would be fantastic for you ave person who just uses mail and web but would like to do a little more.

I will Run quickbooks on the machine plus office. Should provide me with great mobility.

I hope the quality of the metal casing is better than Surface 2. Mine is gone through the coating and you see the cobber colored metal underneath. I would much prefered plastic like Lumia 2520.

If I may ask where's the SD card reader located? Also, I know full office desktop can be installed on this but is office already included?

Reader is behind the kickstand and since this is a full PC of course it can run full office desktop. I have Office 2016 Preview installed on it right now.

It comes with a promotional offer of O365 personal.

I need Surface Pro 3 here in India... :(

Now we are patiently waiting for a raffle of your surface 3 Daniel :)

You don't really need the trackpad on the surfac pro type cover. You have the pen and touch for that. I have two surface pro first gen devices and have the trackpad turned off by default. Not missing it one bit.

I like what you've done with your website. Like the visuals, typography, content. Very professional.

Today is May 8th. I preordered my Surface 3 bundle from Costco on April 29. My Surface 3 order has not yet shipped. Is this because Costco sold all the Surface 3 in their online inventory control system? Is this because the Fulfillment Centered used by Costco ran out of stock? Is this because Microsoft still has aproblem operating a distribution system? Is this because the Nokia acquisition is still a work in progress and Microsoft cannot align production with sales? Or is this because the Surface 3 is more popular than Microsoft expected? I am still waiting. headed to Best Buy to see if they have anything in stock. Maybe they will match Coctco's Bundle. But Costco has a pretty good return policy and waranty (I think 2 years). But i dont expect anyproblems with the Surface 3. No one i have seem on comment boards have talked about build quality of a Surface 3.

What's the startup time of the Surface 3? I'm interested to see how fast (or slow) it compares to the SP3, considering its eMMC storage.

Thank you Daniel, for this great intro!

I'm interested in using the Surface 3 for sketching and some illustration. Has anyone tried using Manga Studio 5 or Sketchbook Pro with the Surface 3?
Windows Central Newsletter
Get the best of Windows Central in in your inbox, every day!
Thank you for signing up to Windows Central. You will receive a verification email shortly.
There was a problem. Please refresh the page and try again.