Surface advertisements also spotted at Grand Central station, New York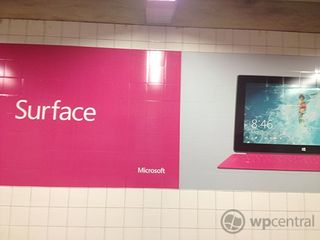 Microsoft's Surface advertising campaign appears to be in more public locations than first believed, thanks to a batch of photos sent in by Windows Phone Central reader Micah. The Windows 8 tablets that are being developed at Redmond have already been spotted in a subway in Washington DC, and a handful of photos were thrown up earlier today.
Now we can confirm similar adverts (with a pink coloured Surface tablet) are featured at Grand Central station, New York. As mentioned in our earlier coverage, the promotion material is unique, straight to the point, and effectively shows off the design of the Surface. Check out a few more photos after the break.
Thanks, Micah, for sending in the photos!
Windows Central Newsletter
Get the best of Windows Central in in your inbox, every day!
Rich Edmonds was formerly a Senior Editor of PC hardware at Windows Central, covering everything related to PC components and NAS. He's been involved in technology for more than a decade and knows a thing or two about the magic inside a PC chassis. You can follow him on Twitter at @RichEdmonds.
About time, less then a month left

Tablet- Surface Tab,
Phone- Nokia Lumia 920,
Notebook- MacBook Air.

Probably exactly what I'll end up with, but will use the tablet more than my MacBook or laptop equivalent). Full Windows 8 on a tablet is just awesome.

Two out of three ain't bad I guess.

Change Notebook to "Lenovo Yoga Flip" and that covers what I'm drooling for this fall.

Get it Right!!!
Tablet = Surface
Phone = Nokia Lumia 920
Ultrabook = HP Envy Spectre

I have the HP Envy 17... It has a SSD which makes it fast as hell...

Phone = Lumia 920
Tablet = Asus Transformer Book
Notebook = Asus Transformer Book

Why buy 3 devices when 2 is all you need?

For me it's this:
Tablet = Surface or ATIV Tab
Phone = Lumia 920 or ATIV S. Decisions, decisions... ;-)

I already have the MBA, the 920 will be my next phone but I'll probably wait for the Surface Pro.

Not knowing the prices is driving me insane

Same with me. I'm getting the Pro. Also, I hate waiting for Nokia to announce the pricing, availability, and carriers for the 920 in the US...

Surface Pro won't be released until December-February

"a pink colored surface tablet".

I'm pretty sure the surface tablet isn't pink...

The surface is not, but the keyboard covers vary in color

In my spare time I do paid surveys and yesterday I had one for Microsoft Surface. Got to see 3 commercials they were having people review. They were real cool. One was about 20 people all using at same time, same screen, diiferent color keyboards, etc. I figured they are fixing to launch the highest rated ones.

8:46? 6/18? Those numbers have to mean something.
06 18 08:46
08:46 06 18
20:46 06 18
06 18 20:46

6/18 was a monday this year, so
2012 06 18 08:46
08:46 18 06 2012
20:46 18 06 2012
2012 06 18 20:46


why would MS be promoting that movie?

my thoughts:

8=Win 8
wikipedia says,
46=number of human chromosomes
46=ascii code for period.
46=japanese "slang" for "my best regards" a greeting

June 18, 2012 is the day that Blue Gene/Q was named the world's fastest computer

MS, you keep on advertising your products (lumia phones, surface tablet) but you fall short in releasing them... While you just keep on talking about your products, Apple is increasing its sale of iphone 5 on a day to day basis, (take note that you announced first the lumia phones, before iphone 5). Now, rumor is that, apple will launch the ipad mini on oct. 17 and immediately release said product a week or two. While, all you keepnon doing is advertise... Why not WALK the talk, MS?

Don't forget first one is only rt.
. Pro by January...


Now, we need a price tag....
IO think this going to be a very nice Christmas for Microsoft whit all their products lunch... but I can't believe that we still don't know the price a few week from the lunch...
when i'm planing on baying somthing I like to know in advence how mutch i'm going to pay...

Laptop / Tablet = Surface
Phone = Lumia 920
Desktop = HP Spectre
Gaming = XBOX 360 with fall update
Music = $99.00 per year and I can listen to it from all devices for one price No Apple = Priceless

I didn't get a chance to take the pic Daniel, but I noticed a Surface ad on a bus stop in downtown Philly. I would've taken one, but if you've ever driven downtown Philly in the mid morning, you'd understand, lol.
Windows Central Newsletter
Thank you for signing up to Windows Central. You will receive a verification email shortly.
There was a problem. Please refresh the page and try again.