Microsoft Surface advertising spotted in Washington, DC subway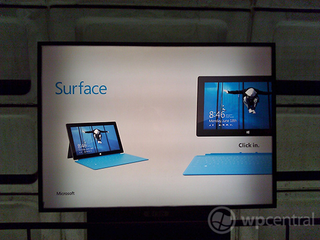 Microsoft Surface advertising material has been spotted in Washington, DC and thanks to Windows Phone Central reader Conan we've got some photos to show everyone. The advertising shows off the tablet's connectivity between the device itself and the smart covers with the "Click in." caption to highlight the user friendliness.
The advertisements show off light blue and pink coloured Surface tablets and the look of both designs is appealing. We're still yet to see Microsoft unveil its Windows 8 tablet family to the world, but the official launch can't be too far off with the company prepping temporary holiday stores across the US. So how aggressively will Microsoft push Surface?
Microsoft's Windows 8 Surface tablet
We'd imagine the company will be promoting its range of Windows 8 tablets fairly hard in markets where the devices are to be made available to consumers. Billed as "true Windows 8 tablets", the Surface family of devices from Microsoft will be unique with differentiation from partner products. We previously looked at rumours of an October 26th launch, which is looking more likely as the date approaches.
Charlie Kindel, former Windows Phone General Manager, explained at an event at ThinkSpace in Redmond back in August that the Surface tablet is the "North Star" for the rest of the industry. Microsoft is essentially creating the Surface tablets to show OEMs and the competition what can be achieved through innovation and attractive design.
Microsoft has also been rolling out web design upgrades to a number of its web properties, not to mention launching the new Outlook.com service to replace Hotmail / Live. Windows 8, Windows Phone 8, Office, an update to the Xbox 360, Halo 4, and Surface tablets are expected to be unveiled by the software giant later this month. How successful this brand refresh and multiple product launch will prove to be is uncertain, but Microsoft is pulling out all the stops.
Check out more photos below.
Thanks, Conan, for the sending the photos in!
Windows Central Newsletter
Get the best of Windows Central in in your inbox, every day!
Rich Edmonds was formerly a Senior Editor of PC hardware at Windows Central, covering everything related to PC components and NAS. He's been involved in technology for more than a decade and knows a thing or two about the magic inside a PC chassis. You can follow him on Twitter at @RichEdmonds.
Right on, MS. Those ads raise eyebrows. A+.

Don't you ever sleep?? ;-)

Surprisingly, I'm sleeping more now than in the last 2.5 years. No complaints ;)

Working nights, sleep is an uncommon thing.

I agree. Nice ads. Looking forward to owning a Surface in a few weeks.

Good on Microsoft to ensure the Surface's kickstand is displayed on the ads.

They should have added a Microsoft tag to the adds so people could scan it and get directed to the Surface website.

Wow, Daniel you're the first one to comment, and those Surface tablet ads looks great.

I'm psyched for Surface. Been using Win 8 RTM for the last week...I'm in love, can't wait for the masses to get a taste of Metro RT.

You just know Metro AG is going to sue our ass for having "Metro" published in our comments :-P

Hmm... its f9, with Microsoft's beautiful design i'm soon turning Metro-sexual ;)

Ha! A good one :D Metro-sexual :P I'm sorta looking at all my devices running the Metro UI (despite its not called that anymore afaik?), PC, tablet (surface) and a WP8 phone.
I can't wait for Surface. I'm just afraid that I can't get one from Finland for whatever reason and I'd hate to order one outside the borders due to warranty and support reasons.

"Metro Metro Metro" Mr Jay Bennett says, whilst holding up his Windows Phone device.

Metro in the Washington Metro! :-)

The Metro AG lawsuit seems to a ridicuolus rumour. Are you aware that Microsoft teamed up with the newspaper brand Metro to provide content for the MSN portal in lesser countries? As in MetroMSN.pl for example, which has been the default IE start page for our locale for a while now. As Microsoft stated "an important European partner advised us.." That partnership is much more likely to be the reason for dropping the metro UI codename than a lawsuit from a retail store operator.

"pulling out all the stocks"
I think you mean pulling out all the stops.

Agreed. On a side note, this may be a case of linguistic "sluicing", or the combination of two idiomatic expressions. Side note: I did a lot of research on formulaic language in a previous life.

Oh yeahhhh the Surface ball is starting to roll!! Excited as hell! Too bad I have to wait longer (probably January?) for the Surface Pro...

hoping the rumour they are released in Australia on the 26th comes true. got my money up to the value of $600 ready to go! If it's more i'll just have to fork out more....

I am ready to order one in Australia as soon as they are available. Also found out today the Lumia 920 is coming to Thailand in November.

Damn it...i really want a surface...am gonna have to wait till January for a pro...y can't they just release them both now?

Great job Rich! I love WP Central and I am hyped for the new WP8 phone and Surface Tablet.

there might be codes encrypted on that ads, does the 8:46 mean price of surface pro? or does it simply say to "eat before s_x"?

Conan, which station is this? I work for this system.

Gallery Place - Chinatown

Shut up and take my money!

8:46 is a movie and the description is like this: A glimpse into the lives of an ensemble of characters leading up to the moment the world changed forever http://www.imdb.com/title/tt2048688/

i:e; the world gonna change forever.

In that movie, the moment that changes the world forever is 9/11. I can't imagine that particular comparison is MS's intent.

Interesting how the adds don't show the live tiles.

Oh thank goodness they are also advertising the pink one. I hate it when companies put out a bunch of colors then a few months later put out the "girl" color coughnokiacough. It's like, you do realize women will buy stuff if it's well advertised to them right? In Microsoft's shoes I would find a way to link the pink surface to the fact that October is breast cancer awareness month. I know plenty of women who would shell out cash for that reason alone. Myself, l'm in love with blue.

That looks so much cooler than the Ipad. Microsoft, you are doing it right, just go on and replicate it everywhere else

Oh shit I thought that was a bird lol

I like how the screens match the keyboards! Smart! Lol

Hey Rich,
i would really like to get more informations about pricing and avaibility of the Surface Tablet (f.e. in Germany)
Thanks,
Malte

The background accent is also automatically changed to matching color when you attach the keyboard

What do you guys think the price of the tablets will be?

I was recently pretty disappointed to hear that Microsoft is only currently planning to release Surface in very few countries beyond the US (if any), so the best we Middle-Europeans can count on is ordering from amazon.co.uk or maybe the MS UK online store. It's a shame they are pulling a Zune on us once again.

Oh... I can't wait for The Surface....

good to see that they are advertising. im also from dc but havent been there in awhile. i used to frequent gallery place-chinatown quite a lot though

I'm liking how they're rolling out the advertising finally...hopefully it'll get the buzz going again.

Plus, TIL I'm not the only Conan reading here...unless i'm heading to DC in my sleep at night.
Windows Central Newsletter
Thank you for signing up to Windows Central. You will receive a verification email shortly.
There was a problem. Please refresh the page and try again.