Surface Book and Surface Pro 4 grab UEFI update and more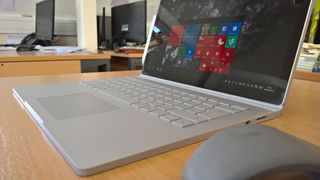 Microsoft is pushing out some new firmware and driver updates for the Surface Book and Surface Pro 4. We have confirmed the updates on Release Preview and Restone builds, but it is unclear if it is available for Production. Both Surfaces are getting overlapping drivers but not quite the same ones, at least from our checking.
Surface Book
Microsoft driver update for Surface Base Firmware Update
Microsoft driver update for Surface UEFI
Microsoft driver update for Surface Integration
Surface Pro 4
Microsoft driver update for Surface UEFI
Microsoft driver update for Surface Integration
For those curious, UEFI stands for Unified Extensible Firmware Interface and it replaces the standard BIOS on Surface devices. It is not a new feature as it was originally introduced with the Surface Pro 3. However, Microsoft is evidently making some changes to UEFI or improving some things for it with this update. UEFI also allows access to Secure Boot Control and Trusted Platform Module (TPM) features as well. To access the UEFI do the following:
Shut down your Surface.
Press and hold the volume-up button on your Surface, and, at the same time, press and release the power button.
When you see the Surface logo, release the volume-up button. The UEFI menu will appear within a few seconds.
Just be warned that any changes you make could have serious consequences for system stability.
As to the other updates Microsoft has not yet refreshed the Update History page for either device and there is no mention yet in the Community forums. We'll update this article once more information comes in.
To check for the updates just head into Settings > Update & security > Windows Updates > Check for updates. Your Surface will need at least a 40 percent charged battery and a restart will be required at some point.
Daniel Rubino is the Executive Editor of Windows Central, head reviewer, podcast co-host, and analyst. He has been covering Microsoft here since 2007, back when this site was called WMExperts (and later Windows Phone Central). His interests include Windows, Microsoft Surface, laptops, next-gen computing, and arguing with people on the internet.
Will update my SB tonight then before I go on holiday... Hoping for some further battery enhances

More so than battery life I hope it brings stablity to my SP4 which I would not have bought if I hadn't got the demo pricing on it. Its horribly every day...

Exchange it through warranty. I had to do 6 (!!!) exchanges before I received a fully functional Surface Book, but I finally got a model that works without an issue. (If anyone's wondering, the reasons I had exchanged the previous models through warranty: Constant GPU crashes and glitches; once-a-day+ BSOD; faulty clipboard release mechanism; yellow spots on the screen (the glue was melting?); another one with GPU problems; significant hissing/noise coming from the headphone jack)

You should get a replace. Mine is rock solid since day one. Best device ever. Bought it at launch.

Surface Pro 2 had UEFI too...

UEFI, MEFI, WEFI for everyone.

On Slow Ring "Surface Integration" was instead "Surface Touch" which failed to install and nothing I could do would get the touch screen working again. Create a restore point before installing if you're on an insider ring!

How did you get touch working again? I rolled back to my restore point, but it didn't fix touch.

Nothing showing here (Surface Book), but I'm not in the insider program, either.

Nothing showing here either (Surface Pro 4) and no insider program.

I believe this is just for Redstone? I don't see updates coming on TH2 and you have a RS screen shot. You should clarify your subject line.

No, I tested it on a non-Redstone device for Surface Pro 4 and had those two updates as well. We tested on Release Preview and Restone builds with the same results. There could be an exception for Production. We can only test so much/have so many Surface configurations.

Looks like the rollout isn't in full swing yet, since there's no announcements on the MS forums, either. Hopefully by later today we'll all start to see it. I hope the below info from an MS store employee is true about this addressing the sleep of death or sleep shutdown issue, which has got to be the most annoying bug left on my Surface Book.

I was told at my local Microsoft Store yesterday that this should help with the Sleep of Death bug (or in my case, death = reboot to UEFI). Here's hoping...... Posted via the Windows Central App for Android

Here's hoping! Most annoying thing about the Surface Book by far.

So far it seems to have fixed that for me on the Surface Pro 4. As I've run it through the normal events that caused the problem for me.

!! WARNING !! These update will break your touch screen and pen input on Surface Book if you are running Windiws Insider Slow Ring Build 14342.
!! Do Not Install !! Posted via the Windows Central App for Android

The same for Pro4 too. No touch anymore. :/

Same here... Anyone know how to fix?

I tried numerous potential fixes including "disabling and re-enablingc the device and "reinstalling latest driver", none of them worked. Eventually, i rolled back to production build 1511 ( i am still within the 30 day roll-back period), which fixed the touch issue, then installed fast ring 14366, the touch screen and pen still works. IMO, since we are getting closer to Redstone official release, the lastest fast ring builds are probably more stable and with less bugs than slow ring 14342. Posted via the Windows Central App for Android

yep, same issue here. i had already gotten the new firmware on production ring, i had set my machine to slow ring last week and was waiting for it to take effect. did finally did overnight and now no touch...

Well so far, still nothing here on my Surface Book. Pulled down the usual Windows updates for a patch Tuesday, but none of these. Starting to think these are not yet available for production builds.

GUYS CAN'T STRESS ENOUGH HOW THIS UPDATE IN SOME CASES WILL SLOW YOUR PC AND CAUSE YOUR TOUCH SCREEN TO NO WORK IF YOU ARE ON THE INSIDER SLOW RING. PLEASE THINK CAREFULLY BEFORE UPDATE

Confirmed this issue on my SP4 on the Insider Slow ring with build 14342.

Not to make light of these issues, but since these updates seem to only be availble to those running preview builds and insider builds, I find this absolutely hilarious. This is why I don't run insider builds -- I need my stuff to work ;).

Anybody had an issue on the fast ring ?? I go on holiday today and have still not updated my SB just in case, but itching to let it update, I don't want to kill it as am travelling with 2 MacBook geeks... I'd never live it down :D

It is in production. Now I hope that Office 2016 (Outlook!) will run without crashes on my Surface Pro4. (Surface Integration?)
Windows Central Newsletter
Get the best of Windows Central in in your inbox, every day!
Thank you for signing up to Windows Central. You will receive a verification email shortly.
There was a problem. Please refresh the page and try again.