Surface Book with Performance Base specs
Want to know what's in Microsoft's souped-up Surface Book? Here it is.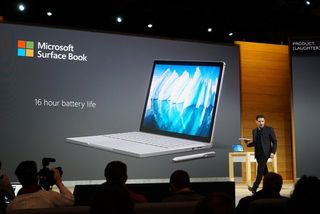 Microsoft announced a refresh to its top-end Surface Book at its event in New York City, with boosted battery life and twice the graphics power. If you want to know everything that's inside it, check out the full specs list below.
Swipe to scroll horizontally
Category
Specification
Display
13.5-inch Pixel Sense display
Display Resolution
3000 x 2000 at 267ppi
Aspect Ratio: 3:2
Software
Windows 10 Pro
Processor
6th Gen Intel Core i7
Storage
256GB, 512GB or 1TB Solid State Drive (SSD)
Memory
8GB or 16GB RAM
Graphics
NVIDIA GTX 965M 2GB
Rear Camera
8MP with autofocus, 1080P recording
Front Camera
5MP
Full HD (1920 x 1080)
Windows Hello face-authentication
Ports
Two full-size USB 3.0, Full-size SD card reader, Surface Connect, Headset jack, Mini DisplayPort
Sensors
Sensors, Ambient light sensor, Accelerometer, Gyroscope, Magnetometer
Security
TPM chip for enterprise security
Battery Life
16 hours of use
Pen
Surface Pen
1,024 levels of pressure sensitivity
Magnetic storage
Weight
3.63lbs (inc keyboard)
Dimensions
12.30" x 9.14" x 0.51 - 0.90" (312.3mm x 232.1mm x 13.0 - 22.8mm)
If you're interested the refreshed high-end Surface Book is up for pre-order right now at the Microsoft Store if you're in the U.S.
See at Microsoft (opens in new tab)
Richard Devine is an Editor at Windows Central. A former Project Manager and long-term tech addict, he joined Mobile Nations in 2011 and has been found on Android Central and iMore as well as Windows Central. Currently you'll find him covering all manner of PC hardware and gaming, and you can follow him on Twitter and Instagram.
It's too bad it doesn't have a 10-series graphics card.

Well even the studio have the 980m

Everything in this device is last gen. I would skip this and wait for something current gen to come next year.

you mean something like a lame touch control next to a laptops keyboard like windows laptops used to have 10 years ago?

I was about to say, that would have been very nice as the 10-series bring some big improvments and really gives a new name to mobile chipsets for GPU's.

Agreed! They missed a major opportunity to put at least a 1060 in it. I mean look at what Razor did with their new Pro. Same form factor as a MacBook Pro and it has a 1080 in it!! Not to mention Quad Core I7 and 32GB RAM....Granted it's like $3700 but still....

Let's wait untill the Razer units actually ship and see how they do with thermals.

To be fair, a 965m in something this thin and light is pretty cool and a big jump from a 940m. But...with the recent announcement of the GTX 1050, I would think the power consumption/heat dissipation requirements would be about on par between the two graphics chips. I think the 1060 requires about the same power/heat dissipation as the 970m so that is probably not feasible in this form factor. It's understandable that Microsoft wants something to sell now before the holidays, but it's really tough to put down that kind of money on tech that is so close to being eclipsed by newer hardware. When is that not the case with tech though?

thanks for a reasonable comment

I would say, that it was design and testing time vs. putting the latest and greatest specs was probably the deciding factor. Given the thought that went into this design, there had to be a cut off point that may have come before the newest chipsets/processors were finished being tested. In the end, it just has to work. In this case, it is more about what it can do vs. specs.

No Kaby Lake, no Thunderbolt 3. Wow, that's bad. Will continue waiting until next year for a real current generation device.

its a refresh. not a Surface Book 2.

No quad core Kaby Lake parts yet

Wish it was, but the current gen Surface Book isn't quad core.

This Surface Book is like the perfect commercial for the new MacBook Pro tomorrow. Pretty sad.

Except the macbook pro will still be slower then this apple never uses new hardware they wait ten years to do that just look how long it took them to add intel into there products

Is that you, Jony? Saw the 20% decrease in Mac sales again this year. You guys finally done making them?

And Android phone sales trump Iphones. What's your point?

And this thread is about the Surface Book. How about PC sales compared to Macs? Or do you just want to use whatever numbers work in your favor?

There's only about a 2-3% performance improvement between skylake and kaby lake

The biggest thing is native Thunderbolt 3 and USB 3.1 Gen 2, graphics improvements and HEVC video decoding. It's always the features that matter more than raw performance improvement.

Now I'm wondering if the keyboard section will be sold as a standalone and work with the original surface book?

This is what I want to know. Just want the battery and graphics bump.

It would be cool if you could buy the profomance base separate and use it with the original surface book. I Have one with just the "Dumb" base with the battery only.

Nice refresh for those want one now but don't want to buy last year's device, but meh on the 965M graphics and only available in i7 models. This just screams that they didn't want to put much into an in-between major models upgrade. I'd pass. I'll wait for the next gen Pro 5 and then I swear I'm ditching the nightmare that is my Surface Book. If any of the OEMs finally release a truly worthy Surface Pro competitor (with pen and real CPU--not this core m junk), I might be in to try someone else's device. Until then, just waiting for next year's devices.

Yup, what is crazy is that there isn't a single Kaby Lake detachable 2-in-1 ok the market, nor is there one in the pipeline from any OEM. The Asus Transformer 3 Pro would have been nice if it had change generation parts, but sadly it didn't. Looks like nothing worth buying this year, and who knows how long into next year.

I've been using a Core-M SP4 for the last few months and it's not bad. I get good battery life and pretty good performance in a totally fanless device. If you're expecting i5/i7 performance out of it than that's your own fault.

How can it be that a high perfomance core i7 and more battery can yield a net more batterylife of op to 30% or 16 hours. Very bold claims. Curious to know if the upgraded i7 will be as bugfree as the first gen. Fingers crossed. I think I'll wait six months, just to be sure. Microsoft should ramp up investment in their QA!

They added additional battery cells and the updated video card is probably more efficient.

GTX 965M up from 940M ??? Last year even 1GB of that could have done wonders. Makes less tempting this year as NVIDIA GTX 10x series pack some serious power. Same complain I have with the Surface Studio. Why 980M? Why not a 1060? Its much less expensive and more powerful.

I'd guess it's due to engineering/design. They are packing everything into a small base for both the surface studio and surface book. It could also be the timing of when they started making/designing this device and when the nvidia gtx 10xx series were being released.

3:2 screen aspect? No thanks, 16:9 or nothing for me

Are there any 2-1's out there with 16:9 ratios?

Probably not, but they are all useless for watching Netflix on

I guess the extra battery life doesn't apply to the clipboard part. Nice refresh, but pricey. Might keep my i7/512GB until next year, and get the i7 Studio first.

Yeah I'm curious about the clipboard battery life as well. I'll keep my ThinkPad Yoga 12 for a bit longer, hoping that the next clipboard will add a USB-C port for docking and increased battery life. And maybe even a kickstand.. please? :)

I might get it. I need more space on mine (currenly have I7 256gb). I was kind of hoping for 3 USB C connections, and maybe a SD card slot that fits a full SD card slid in all the way.

Are they serious with those Nvidia old generation cards?

It's up for preorder and they just announced it. So I guess they're dead serious.

No USB-C or Thunderbolt 3? That's odd.

Agreed, if they went out of their way to add an extra fan, something like adding a port doesn't seem out of reach. Oh well, more savings for me as I wait for the next iteration! :)

There could be other factors at hand. Maybe the motherboard does not support?

This is mainly a refresh not the surface book 2

They should have put the latest NVidia cards

I know this Surface Book is impressive, but the problem is when will MS start selling it outside US?
Windows Central Newsletter
Thank you for signing up to Windows Central. You will receive a verification email shortly.
There was a problem. Please refresh the page and try again.