Surface Duo fidgets, flips, and folds in new ad from Microsoft
The Surface Duo is almost here, and the latest ad from Microsoft shows off its unique form factor.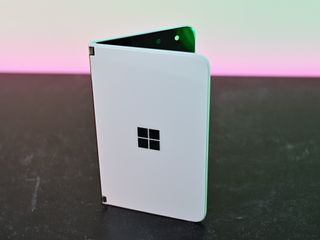 (Image credit: Daniel Rubino / Windows Central)
What you need to know
Microsoft's latest Surface Duo ad shows off the unique form factor of the device.
In the ad, people flip, fold, and pocket the Surface Duo.
The Surface Duo launches on September 10, starting at $1,400.
Microsoft's Surface Duo launches tomorrow, September 10, 2020. With the long wait almost over, Microsoft decided to share one last ad before the device launches. The ad shows off the unique form factor of the Surface Duo, emphasizing all of the different positions that people can use it in.
In the ad, people flip the Surface Duo around, toss it in the air, and rotate it around in their hands. There's even a magician who makes the Surface Duo disappear at one point and then take the device out of his jacket pocket to answer a call.
Does Surface Duo fit in a pants pocket? Let's find out.
The Surface Duo is Microsoft's first mobile device to ship in years, and the company seems anxious to show off all of its hard work. We'll cover the Surface Duo's launch this week and make sure to break down everything we learn about the device, so stay tuned throughout the week.
Preorders Live
(opens in new tab)
Two screens are better than one.

Microsoft delves into the future of foldables with an ambitious dual-screen device, featuring two ultra-thin 5.6-inch AMOLED displays bound by a 360-degree hinge. This pocketable inking-enabled Android smartphone marks the latest in the Surface lineup, geared for mobile productivity.
Main
Windows Central Newsletter
Get the best of Windows Central in in your inbox, every day!
News Writer and apps editor
Sean Endicott brings nearly a decade of experience covering Microsoft and Windows news to Windows Central. He joined our team in 2017 as an app reviewer and now heads up our day-to-day news coverage. If you have a news tip or an app to review, hit him up at sean.endicott@futurenet.com (opens in new tab).
I don't think I've been more excited about a piece of tech. I'm such a nerd.

I'm right there with you! Waiting impatiently for the alert saying mine has shipped

The longest wait ever!! Mine says preparing to ship...

nice ad but are we actually going to play this on TV unlike when Windows mobile / phone came out because I don't recall really seeing any advertisements when the phones were actually out

Considering the Surface is the official laptop/sideline device of the NFL, I'm assuming we'll see ads during games. Week 1 starts tomorrow night and I'll be surprised if there isn't a Duo ad within the first couple of commercial breaks.

I remember the ads nonstop here in the States when WP7 launched.

Before WP7 launched you're right i did see them but after......i saw nothing

After WP7 flopped, I don't think more advertising was the solution and it seemed Microsoft agreed. I wonder why they even continued to try.

I like the idea of this device. I see potential. It is great to see this category of device evolving. However, I always come away from the key notes / presentations thinking how will this actually change or make what I do more efficient. Again this is my use case so obviously this device may be amazing for someone else. But I still fail to see how this changes anything. I have a laptop / surface for my portable needs. It connects to a docking station for screen expansion plus desk work. When travelling its a laptop. It has the power to do CAD / 3D reviews, Excel and the MS suite of programs. I rarely use my phone for anything else outside of calling, messages and the odd app. When at home I am no longer working and don't require the "multi tasking" of a dual screen device. Anyway just my two cents.

I'm going to do Instagram and Youtube at the same time. Or Youtube and TikTok. Or maybe play a game on one screen and discord/teams on the other screen.

Awesome device. The build quality appears to be very good, with terrific fit and finish. It's beautifully crafted. It would be nice if they slid some black, red, grey, and other colors underneath that glass. The hinge is the most fascinating thing about the design, and after playing with it several times over the past couple weeks I'm still wondering how it works and stays so stiff (I know. That's what she..)... If they can decrease the bezels just a bit for version 2, and make the screen bigger, that would be awesome. Duo is just fun to touch, hold, and look at. The software experience is at minimum the same as most high end Android phones, with a few extra tricks, so that puts Duo up there with the best. Duo has a lot of things that make it a very pleasurable device to use.

The build quality is great, but are dual screens even worth it? The reviews will be interesting tomorrow.

Yes, they are very nice.. I have a device right around the corner from my house I've been playing with for 2 weeks and it's way cooler than my Note9. These reviews will just tell me a bunch of what I already know, and then some. It has more capabilities than my Note9, it's definitely higher quality, more fun, and looks better. It's as much Android as the phone I currently have, so this is all win for me.... You couldn't tell me any different at this point. So, even if 2 screens didn't provide a huge difference in capabilities, as long as they fit in my pocket the same as my Note9 they definitely don't hurt.. So, what does it matter? You make it sound like the second screen is a hindrance in some way.. That's stupid logic. The best advice for someone likd you that thinks a single screen is better is to buy a Note20... Who gives a rats ass what you want or think, though. And, who cares about what I even want, for that matter? 🤔 What's your point, really? 🤔 🤔 🤔

For some people yes, but probably not the majority and that's ok.

They're begging people to make this ridiculous thing a success.

*Sigh*
Such a sad, ignorant, and arrogant comment. But to be expected, that's the way it goes with new tech. Anyway, it's fine if you don't think it's a fit for you. Buy a Samsung whatever or iPhone or whatever floats your boat. However, many people see potential benefits and most open-minded folks are reserving judgment until, you know, they actually use it.

Have you spent any time with Surface Duo these past two weeks?

Did they hurt you that badly in your life to be so negative?

Who's begging people? Last checked, people make their own decisions. You must not make your own by your comment. Microsoft hasn't had anyone visit, call, or mail/email me any literature about this device. I've search the web and research all on my own... Oh, they're that make my own decision thing I type about above 😳.

Are you in our Surface Duo fans group yet?

How much time have you spent using this device?... I've spent a lot of time the past two weeks working with beta software and it's been a really different, fun, interesting, and overall good experience.... You couldn't say that about your current phone.. So, it would have to take RTM software worse than the Demo software I've been playing with to make this phone bad, because right now it's looking good. Are you saying the finalized software is going to be the worst version so far? Lol... What exactly do you know from experience? 🤔 🤔 🤔

What's ridiculous about it?

my CC got billed on September 4 so I can't wait! should be here soon!

Yea, I'm not going to be doing any of that with mine.

It's a dual screen android tablet built for productivity and it has telephony is you need it.
I neeeeeeed it!

/opinion That is such an "Apple" type of commercial. Flipping a phone in your hand does not make me want to plop down $1500. Hoping Microsoft does TV commercials instead of internet videos for marketing.

We know it fidgets, folds, and flips. But will it be a flop?

From pre-order, at least anecdotally, it seems like the device is already doing very well. There are apparently a lot of folks out there who wanted Google and Microsoft to have a baby. My guess is this will likely be a big success for Microsoft. And an even bigger success for Google! Expect more Surface branded Android devices in the future. This is likely only the beginning, as Microsoft continues to transform itself into a services and subscriptions company.

What a goofy ad. Looking forward to the reviews though. Version 2 may well be my next phone.

The ad showed the SD being used as a phone! And yes, it looks as big as a waffle when held up to your ear and I don't care.

I honestly don't care if anyone else gets one...I want one. Sadly all the other windows/Microsoft related phones I have preordered including the 950xl and the Elite X3 all had tracking numbers and where shipped so that I would receive it the same day as it was scheduled to be released. In this case that is the 10th, however I have heard nothing as of the 9th at 3:50pm and now it appears I will be able to go get it at a store tomorrow before it will have even been shipped to me?????

Just got my tracking number, says expected delivery tomorrow.

Yes, same here, got fedex overnight tracking number from Fort Worth TX at 6:50pm tonight, planned delivery on the 10th by 4:30pm! Looks like history repeats itself!

Yep, while the actual online store didn't send me an email until this afternoon saying it had shipped, when I checked my FedEx acct, it told me a label had been created and was due to be received tomorrow before 8p EST.

Mine was Indianapolis today. Can't wait until tomorrow! On an another note, why would someone be doing acrobatics and magic with a $1400 device? Weird marketing... Guess they kept the WP m marketing team 🤔

It's somewhat reminiscent of Microsoft's original TV ads for the first Surface devices.
Cool stuff, this Duo! I want one!

Music : Keep yourself alive by Queen. An oldie! https://www.youtube.com/watch?v=JofwEB9g1zg
Windows Central Newsletter
Thank you for signing up to Windows Central. You will receive a verification email shortly.
There was a problem. Please refresh the page and try again.