Surface Duo's May 2021 Android update is now available (Update: Also for AT&T)
The Surface Duo is getting its latest firmware and security fixes.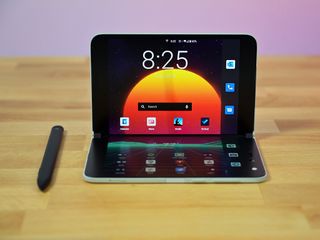 (Image credit: Daniel Rubino / Windows Central)
What you need to know
Microsoft's Surface Duo is receiving its May 2021 update.
The update is 197 MB and brings the build number to 2021.419.70.
The Surface Duo changelog has now been posted (updated).
AT&T released the update for carrier-locked Surface Duos on June 9th.
Updated for June 9th: The firmware for AT&T-locked Surface Duos is also now available.
Keeping to its promise of monthly updates, Microsoft is rolling out its May update for unlocked Surface Duo owners. The update brings a combo of the monthly Google security updates for Android (May 5th) and expected OS fixes and optimizations for Surface Duo by Microsoft.
This patch brings the build number from 2021.314.91 to 2021.419.70 (US) / 2021.419.72 (Europe) / 2021.419.71 (AT&T) and it brings the following fixes (opens in new tab) and improvements:
Addresses scenarios outlined in the Android Security Bulletin - May 2020.
Improves device stability and UI stability.
Improves scenario when one screen would turn black while using Surface Duo in book mode.
Fixes scenario when a "Double-tap to switch screens" message was appearing when in book mode.
Fixes the scenario when using the TalkBack with 3-button navigation where the list of recent apps was showing on the left screen when invoked from the right screen.
The May update is 197 MB, down from April's 338 MB one. However, that April update also brought with it seemingly more bugs and issues as we later reported. Presumably, this update not only addresses those new problems but existing ones as well.
To grab the update yourself, use these steps:
Connect to a Wi-Fi network.
Select Settings on your Surface Duo's home screen.
Select System.
Select System Update.
Select Check for update.
Select Restart now.
This update also doesn't contain Android 11, although our latest information suggests it is still planned for sometime later this summer with no firm ETA. Likewise, later towards the 2021 holiday season (e.g., November), we do expect Surface Duo v2 with much-improved hardware like 5G, better cameras, and NFC.
As usual, those with AT&T-branded Surface Duos will likely have to wait a week for carrier approval.
Double the Android
(opens in new tab)
Two screens are better than one.

Microsoft delves into the future of foldables with an ambitious dual-screen device featuring two ultra-thin 5.6-inch AMOLED displays bound by a 360-degree hinge. This pocketable inking-enabled Android smartphone marks the latest in the Surface lineup, geared for mobile productivity.
Windows Central Newsletter
Get the best of Windows Central in in your inbox, every day!
Daniel Rubino is the Editor-in-chief of Windows Central, head reviewer, podcast co-host, and analyst. He has been covering Microsoft since 2007 when this site was called WMExperts (and later Windows Phone Central). His interests include Windows, laptops, next-gen computing, and for some reason, watches. Before all this tech stuff, he worked on a Ph.D. in linguistics, watched people sleep (for medical purposes!), and ran the projectors at movie theaters because it was fun.
Installed this update earlier this evening. After a few hours, THANKFULLY, it seems to right the wrongs of the April update. Time will tell if there's any further improvements or if it's just back on par with the March update.

If they just made that a single screen phone, and four inches I would buy it. I'm kind of looking forward to what Microsoft could do with Android.

Agreed. I want a Surface Chromebook. Fully embrace all platforms Microsoft. Single screen and dual and foldable screens smartphones. Bring it on!

There are literally thousands of single screen phones to choose from. Why would there be a need for another one? Have you even played with the Duo at all? Because I've owned one for months and I can tell you firsthand how much more productive I've been. Seriously if you want Microsoft with a single screen phone, there are plenty of Samsung Galaxy phones out there that have Microsoft software built in. The Duo is built for productivity, not to be an also-ran in a nearly endless sea of single screen devices.

I'd generally agree. The Surface line is for innovative form factors.
But then the rather pointless Surface Laptop exists. There was literally no need for it. Surface Book existed and OEMs were making great clamshell Windows laptops anyway - especially Dell XPS.

Surface Laptop is something of a complementary product in the Surface line. It came at the fifth generation of the Surface Pro. Really a footnote in the Surface story and made for those that just wanted a clamshell by the Surface team.
It's the Surface Pro that made Surface as we know it today, and what arguably heralded the modern 2-in-1 PC form factor. I don't even consider any ordinary clamshell laptop in my personal purchases any more. Either a Surface Pro, or I'm on my proper desktop. There's nothing in between imho.
The Surface Pro also had a rough start (Surface RT didn't help too). And all the talk about 'lapability', or 'refrigerator and toaster' etc. Now even the detractors are copying. The Surface Pro is here to stay. It's interesting how after 7 generations, the fundamental design has remained the same. So many alternatives have tried, but it appears the Surface Pro design is simply the best after all. Looking forward to Pro 8.
I am confident that Surface will perfect the Duo at the third generation. I expect the Duo 2 to be a significant improvement over the Duo, and the Duo 3 to add the final polish.

Also, the Surface Laptop was a way for Microsoft to debut Windows 10 S (now known as S Mode).

The Surface Book hasn't really been innovative, so much as clunky and buggy. It had a lot of potential, but the form factor fights basic "ease of use" logic, and they've done nothing to move the form factor forward in 5 years. Surface USED to be innovative, but it's been lazily iterative for a long time now. That aligns perfectly with the release of the Surface Laptop, the least-Surface product of all. Heck, now they're gone all-in with "also-ran, basic offerings" with the headphones and earphones neither of which offers a meaningful form factor change or new features or better quality than the market has offered at better prices for years. The Duo is the first time MS has tried to be innovative in a LONG time, and they've delivered an overpriced, unreliable experience with it. Its bug brother, the Neo, has been left to die, so that seems unlikely to ever come.

Iteration is good. Actually, iteration is real engineering. There can not be a version 2 without a version 1. Any attempt to skip the learning from experience is only an illusion.
I'd take the buggy, unreliable attempt at Duo 1 any day. It's a start, and it can and will only get better from here. The things they have learned from throwing Duo 1 out into the world could never be discovered in the lab. People that have built and sold real products know this very well.
The Surface Pro itself is a demonstration of that fact. Pro 1 was a heavy, clunky, noisy tablet with a tiny screen. Now see Pro 7/7+/Pro X after 9 years of iteration.
The thing is, there could not be Pro 7 without Pro 1, although everyone mocked Pro 1. Same with the Duo.
So, I welcome iteration. Duo 2 is eagerly awaited.

I agree with you. I have had a lot of cell phones over the years, my first Feb-1988 from R. Stack, the fact is all Smart phone needed releases for bug fixes. Yet, the bottom line all iterations required updates for known bugs and for those bugs derived from releases and fixes. I and my wife have a Surface Duo; however, my on-call phone is a slab phone and with it I also need a tablet.

My SB2 has been the best professional investment I have made. It is perfect as a laptop and as a tablet. That 15" real estate as a tablet is pure gold. I have no idea what you mean about "ease of use" and the form factor is perfect. I hope it doesn't change.

Completely agree. If Surface made just another phone, I would not even look at it. My Galaxy S21 Ultra is extremely capable. The Duo is the right direction Surface is taking. I am no doubt in line for the Duo 2 in addition to my Duo (I 'collect' Surfaces - my Pro 1 is still alive and well. Just installed latest Win 10 update on it yesterday!).
Even with the few issues the Duo has, it is clear to see that it's brought something new and fresh to the table, similar to the original Surface Pro. Can't wait for the Duo 2 and 3.

I own the Duo as well and yes it is great for productivity, but also still somewhat heavy and bulky. I got it because I am an enthusiast so no benefit for me as a work device. The tent modes and single screen experience need lots of work still, but it's a good gen 1 device. I think MS should have a full Android based Surface portfolio, especially now that 10x is dead. That portfolio would necessarily include a single screen device as well as a folding screen product

Thankfully it sounds like they addressed the blanking issue from the last update, now I just have to see if that is true. I still have to say that the Duo is the most useful phone I have had. Panos was spot on about "flow"

Surface Duo has been the most interesting, troublesome, awesome, unstable, useful, lacking finish, cool, featureless, inspiring, annoying, lovely, frustrating, attention getting, non recommendable, fun device I've ever had. 🤔🤦🏾‍♂️🤷🏽‍♂️🥳 Fix all the "problems" and it would literally be the best device ever. What a ride it's been so far.

How am I going to afford Surface Duo V2? I just ordered my new Trek (which won't ship until December because of the long waiting list caused by the shortage) and at that time I will have to pay mucho... I think I deserve a test unit. 🤔🤷🏽‍♂️

December? Dude, it's May... Get your money back! Guarantee they didn't discount you for a SIX month wait!

Nobody has to pay until they deliver. I also did the 12 month no interest deal that also is delayed until delivery. It's the same as getting in line for a car like the C8 Corvette.

Surface Book 3 rocks. Still as unique as Duo. Hope DUO 2 also runs Windows.

Duo 2 won't run Windows. When/If they have such a pocketable device, they'll call it something else. Such a device would have run Win10x ...and now even that has been shelved.

There's no chance in hell SDV2 will run Windows. There isn't even a version of windows that would be ready in time for such a device. Some type of exclusive cloud based windows app would be cool, though. A virtual desktop app. Really would be a novelty at most. A fun project would be if Garage toyed around with a Windows desktop styled launcher. I think that's the closest thing to Windows SD would get besides the seriously not likely event future versions of Surface Duo were dual boot WOA devices. Or, simultaneous boot, with WOA on one screen and Android on the other. That would be cool. I don't if anything like that would happen anytime soon, though. But, anything is possible. 🤷🏽‍♂️

The May update as left Navigation holes. There are a number of apps where the bottom left facing arrow is still unreliable. and invariably when I open Edge with the Fidelity website. However it works fine with a log of others but I spend a lot of time in Fidelity
Roger Stenson

*fingers crossed* The screen blanking issue seems to be fixed.

Thought so too. It's less, but I had it twice today...

I have increased unresponsive screen. Can have like youtube, Instagram or a Twitter video going or when just a website on edge and I find the screens will become unresponsive. It seems like it tries to do something like go back but nothing changes. Have up press and hold the power button and reset

it is still a big pile of ****, that's what happens when you take a no-name android developer and give them the reins on your new genre-defining product. Guess Android 11 was too difficult amid all the bugs that keep needing to be fixed with each regression they put out every month.

This update made things worse for me in terms of the device knowing when it's folder back, or open fully.

Wait, out of complete ignorance on the subject, are Duos updated on a per-carrier basis??? Again like Windows Phone??? Isn't there other way for MS to do this? One would think they've learned from their past mistakes.
Windows Central Newsletter
Thank you for signing up to Windows Central. You will receive a verification email shortly.
There was a problem. Please refresh the page and try again.