In Surface Duo, Microsoft teases a handheld Project xCloud gaming experience
Today, Microsoft unveiled it's re-entering the mobile phone market with the Android-powered Surface Duo. For Xbox gamers, it also briefly teased something quite exciting.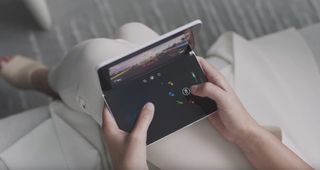 (Image credit: Microsoft)
For years, we've been talking about folding Surface devices and the possibilities therein, and today, Microsoft finally delivered on all of those rumors. We now have the Surface Neo tablet, powered by Windows 10X, and the Surface Duo phone, powered by Android.
During the event, Microsoft showcased various ways you could use these devices in a productivity context, explaining that they're announcing them a year ahead of their Holiday 2020 launch window to bring developers along for the ride. Office, side-by-side browsing and typing, and multi-app multitasking were demonstrated on stage, but the Surface team snuck a little bit of Xbox in there as well.
During the Neo/Duo teaser trailer, we saw Project xCloud Xbox game streaming running on the dual-screen display, showcasing Microsoft's upcoming APIs that allow developers to make bespoke touch experiences for their games. Today, you need an Xbox Bluetooth controller and a janky aftermarket clip to play xCloud on your phone effectively. In the future, developers will be able to leverage special APIs that detect when a game is streaming to a small-screen device and bring up the necessary controls to make it work. That also includes folding devices.
Related: Xbox Game Streaming app is available now on Google Play Store
When folded out, as we've previously speculated, the Surface Duo would gain touch commands for Project xCloud on the lower portion of the screen, creating an experience remarkably similar to that of a Nintendo 3DS of yesteryear.
The possibilities here are enormous for both Microsoft and developers, as it will bring high-fidelity console gaming to small-screen, low-power mobile devices, streamed over the cloud, rather than requiring the use of a local computer. You won't even need an Xbox controller either, in the future, simply unfold your device, and play. It might not be the best experience for a twitchy shooter like Call of Duty, but as we've seen from Fortnite on mobile and the popularity of the Nintendo 3DS, many games can be played this way effectively.
Hopefully, we'll hear more about the Surface Neo/Duo gaming possibilities shortly.
Related: Everything Microsoft announced at the Oct 2 Surface Event
Jez Corden is the Managing Editor for Windows Central, focusing primarily on all things Xbox and gaming. Jez is known for breaking exclusive news and analysis as relates to the Microsoft ecosystem while being powered by caffeine. Follow on Twitter @JezCorden and listen to his Xbox Two podcast, all about, you guessed it, Xbox!
Tactus integration would make and take the duo to another dimension of awesomness,

You compare gaming on this to the 3DS, bit it's important to note that the 3DS had real controls that were augmented by the touchscreen.

I know. I just meant the pocketable clamshell aspect. Currently playing Monster Hunter Stories :P

I believe MS is releasing a portable gamepad. Or you can buy those docking-type gamepad from Amazon.

Please let's not compare the touch screen from the 3 DS with touch screens today.

3rd party hardware with magnets. Just like the keyboard of the neo. Gamepad for duo. Someone already thought about it. (it's a great idea

A little cross-promotion within Microsoft. But this would be a killer feature, especially if Microsoft manages to optimize the device for xCloud. It would set it apart from other foldables on the market.

All they have to do is make an Xbox controller accessory for this device that attaches to the lower half of the device and it becomes a damn good handheld that plays AAA games over xCloud.

Im guessing they will have a magnetic controller accessory that can go on the screen in the same way the keyboard does

While that idea would be pretty cool (and a great option for people who want it) I'd probably still just get a phone mount for my Xbox controller, mainly because the cost of this thing would be ludicrous, yeah it'd be cool to watch movies/TV while browsing the internet on the train with a little more real estate than split screen on a phone provides, but not enough to pay an extra $1000 Australian.

And since Oct 2nd we also know why. :)
Windows Central Newsletter
Thank you for signing up to Windows Central. You will receive a verification email shortly.
There was a problem. Please refresh the page and try again.