Surface Duo not working on Verizon? Here's the fix.
Surface Duo users on Verizon are running into issues with SMS messaging, though there's a fix.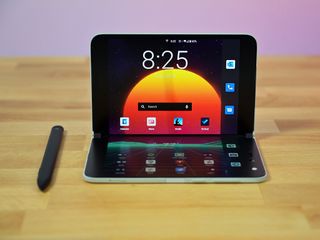 (Image credit: Daniel Rubino / Windows Central)
What you need to know
The Surface Duo is having issues with SMS messaging on Verizon.
Several people have experienced issues with SMS messaging, even though voice and data work well.
The solution is to ask Verizon to turn on CDMA-less for your account.
Microsoft's Surface Duo launched this week, and people trying to use the device on Verizon's network are running into issues with SMS messaging. According to several people in a thread on the Surface Duo subreddit, the Surface Duo fails to register a phone number for RCS messaging and cannot receive SMS messages. Luckily, there is a simple solution to this issue, switching to CDMA-less for your Surface Duo.
To switch your account to CDMA-less, you need to contact Verizon support. According to people in the thread, you can do this by either calling Verizon or using the company's online chat tool. Once switched, the fix works immediately. Multiple people within the thread said that they were up and running within minutes.
Verizon has a handy page (opens in new tab) with three ways to contact the company. You can chat with someone online, call Verizon, or schedule a callback from the company.
It's unfortunate that people on Verizon need to do anything extra to get the Surface Duo to work with their carrier, but at least there's a simple fix for the issue.
As the Surface Duo moves further from its launch day, more accessories for it become available. Make sure to check out the best Surface Duo cases to keep your device protected.
Order today
(opens in new tab)
Two screens are better than one

Microsoft delves into the future of foldables with an ambitious dual-screen device, featuring two ultra-thin 5.6-inch AMOLED displays bound by a 360-degree hinge. This pocketable inking-enabled Android smartphone marks the latest in the Surface lineup, geared for mobile productivity.
Main
News Writer and apps editor
Sean Endicott brings nearly a decade of experience covering Microsoft and Windows news to Windows Central. He joined our team in 2017 as an app reviewer and now heads up our day-to-day news coverage. If you have a news tip or an app to review, hit him up at sean.endicott@futurenet.com (opens in new tab).
I've heard that VoLTE and WiFi Calling doesn't work with Verizon either. Does this fix that issue as well?

VoLTE is the only way this phone works on VZW. It's not that you can't switch it on, but that you can't switch it off.

yes, and the advantage of VoLTE is it's basically VOIP. which means it's purely Internet and thus you can finally do a phone call and data at the same time because it's all data. Previously on Verizon phones, you could only do one or the other. It frustrated me how I couldn't web browse or search something when I was on the call. So I would have to tell the other person that I needed to hang up to get their document or something.

Curious how this was missed during internal QA and carrier certification. Must be the same people testing Windows 10 builds...

Likely has to do with Verizon delaying their CDMA shutdown to the end of the year. Once that happens it shouldn't be an issue anymore.

This. This is on VZW's end and is required for any pure VoLTE setups.

How was this not tested before launch?

I didn't have to contact anyone to request CDMA less but went through the "Active device on existing line" process in my Verizon Wireless account. Required the IMEI number from the Surface Duo and 2FA account verification on the old device. Then swap the SIM card to the new phone and 5-10 minutes later it was connected to the Verizon network.

Are you receiving text messages though? Is RCS messaging enabled and working?

Regular SMS and MMS (pictures and group messages) come and through no problem. RCS appears to be enabled too (under Chat Features it says "Status: Connected") but I'm not sure how to really test it...

Then it seems like it is working for you. For me and I think others who were having the RCS issue, the Chat Features would say "Trying to verify your number..." with a "Status: Setting up"

i had that but after i hit the retry button, it then connected. and once it's set up, it sticks.

Ahhh, I'm running into this too. I wasn't receiving any messages at all, so I went to Verizon Wireless and they gave me a new SIM. That allowed me to start receiving messages, but RCS still doesn't work. I'll try contacting support about going CDMA-less.

Can't even connect on a phone call for more than 10 Seconds before call drops, let alone receive a text message. I've been through the same thing with another device and thought that was all handled on my Verizon account. One more weird thing, when I signed in to my Google account for the first time on my Duo I got an email alert stating someone just attempted to login to my account from a Nexus 5. Same time and ip address so I know wasn't compromised but the Nexus 5 thing through me.

I'm having the same issue with calls dropping. Curiously, I called Verizon support a couple of times and stayed connected for 20-30 minutes, no problem, but calls are occasionally dropping when talking to family. Your Nexus 5 issue may be if you're using your old SIM card on the Surface Duo? Verizon recommended that I use a new SIM card.

Verizon reps at my local store struggled hard with this problem. They told me to call customer service. While waiting on hold for 20+ minutes in the parking lot of a second store, found this article. Went into the store, the rep hadn't heard of CDMA-less, but found it within a few minutes and it was almost instantly fixed for me.

Reps aren't tech support. I went to the store and the first rep I met said all I had to do was move my SIM from my Galaxy S20 to my new Surface Duo. I tried that. Data worked but couldn't make or take calls and couldn't do text messaging. I go back and talked to a different guy. And all that guy did was gush at the design and asked me what phone it was. He then went through the menus and then gave me the phone number to call tech support. When I contacted tech support (very very late night, around 2 AM pacific time), it took them a long time to get it to work. My guess is they had no idea what to do with a Surface Duo. We set it to CDMA less and it still took reboots, shutdowns, etc. before it finally work. It's such a new device so Verizon techs will need time to know about this phone. It's not an official BYOD phone. But it does work wonderfully on Verizon now that it's set up properly.

Some stores know to do this and some don't. Any phones they sell with this requirement will auto-add the feature. A duo activated by a sim swap not necessarily.

I needed to do this and it worked immediately (other than 2 minutes they told me to turn off my phone). Just contacted them via web chat. Then a bunch of pending text messages suddenly appeared on my phone. Thanks, Windows Central!

latest news... If you try to buy the Surface Duo now at the Microsoft Store, they now offer the choice to get a Verizon SIM. before, you had 2 choices: 1) unlocked with no SIM or 2) AT&T SIM. so I guess this will smooth out the Verizon process. Another reason why early adoption hurts.

I enabled CDMALess on day one but nearly a week in I can't receive not a single MMS message. Verizon "tech" support tells me per Microsoft that MMS messages can't be received on their network using a duo :-/

Almost October 2020, and I just got my Surface Duo working on Verizon. I had to call customer support and have them enable "CDMA-less" on the line, as well as remove something called "HD-Block". Once those 2 things were done on my account, it came right up and online. Hope this helps someone out there get theirs working.
Windows Central Newsletter
Thank you for signing up to Windows Central. You will receive a verification email shortly.
There was a problem. Please refresh the page and try again.