Surface Duo will likely ship outside of US, based on new certification
An international launch for the Surface Duo seems more likely following a recent certification.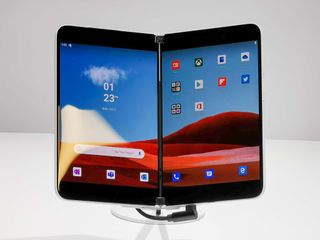 (Image credit: Windows Central)
What you need to know
A device that is likely the Surface Duo appeared in UL certifications recently.
The certification means that the Surface Duo will likely ship to countries other than the United States.
Concerns have grown over time that the Surface Duo could be a US-exclusive at launch.
Microsoft's Surface Duo continues to get certifications that indicate it's close to launch. First, we saw the Surface Duo in an FCC filing. Next, the device passed Bluetooth SIG certification. Now, the Surface Duo has appeared in UL LLC certifications, which indicate that the dual-screen device will likely ship outside of the United States.
As pointed out by Windows Latest, UL LLC is a global certification company. The Surface Duo appeared in Canada-based UL certifications, meaning there's a good chance the device won't be exclusive to the United States.
Windows Latest highlights that the model number in the UL certification is 1930, which matches the model number in Microsoft's filings for the Surface Duo with the FCC and its Bluetooth SIG certification.
Some have expressed concern regarding which countries the Surface Duo will launch in. Microsoft has never stated which countries the device will launch in and reports indicate that the launch will be limited and controlled. Additionally, the current global pandemic could affect Microsoft's inventory or affect the shipment process in other ways. Making phones work internationally also requires adding and supporting more bands.
While this UL certification does not confirm that the Surface Duo will launch in countries other than the United States, it makes an international launch seem more likely.
Windows Central Newsletter
Get the best of Windows Central in in your inbox, every day!
News Writer and apps editor
Sean Endicott brings nearly a decade of experience covering Microsoft and Windows news to Windows Central. He joined our team in 2017 as an app reviewer and now heads up our day-to-day news coverage. If you have a news tip or an app to review, hit him up at sean.endicott@futurenet.com (opens in new tab).
I hope there will be a dual-sim version. Otherwise, have no choice but to stick with Samsung.

I am hoping for this as well.

If it's going through the international validation process I would assume it would have dual sim capability.

Sooooo, it's this thing going to be available on all 4 major US carriers at launch or not???

Three carriers, we now have three. It's unlocked, so it'll run on all the carriers. If you're really asking will carriers offer it in stores/with subsidy, I'm doubtful.

Yes, you know what I was really asking. 😑😑😑

'Available ON all major carriers' Was what he was REALLY asking. Simple, really...

I'm confused ya'll killing the guy for answering a question that was misspoken to begin with 😂. He could have just left it at wouldn't it being an unlocked device mean it is "available on all major carriers".

No, we're "killing the guy" for being needlessly (and in this case baselessly) snarky, which is probably an inadvertent but nevertheless bad mannered trademark of his...

Daniel - care to give a guess on unsubsidized price points - particularly important to those of us who routinely get offered $600 by Samsung to switch from latest gen or 2 of iPhone to latest Galaxy Note or Fold?

Isn't a worldwide launch supposed to be by default?

I'd say it should be, but with the pandemic and other stuff going on some people thought it'd be limited to the US.

"Isn't a worldwide launch supposed to be by default?"

No Surface device has ever launched "worldwide", it's always been select markets with an initial early batch, and the rest usually coming weeks/months later.

You mean like the "World Series" is world-wide? ;-)

Or how NBA champions are "World Champions" haha

Hey - doesn't Canada count - well, I guess not this year since they won't allow any MLB home games on Canadian soil...

Glad other countries will get it. I'm bemoaning my recent switch to visible mobile, though my 3XL says it's Verizon ... So perhaps this phone will work anyway. Probably wishful thinking

My guess is it will start around $1200. If it is more than that i may wait for v2 with slimmer bezels.

I think $1200 might be a little high. Still I believe it'll all be dependent on who MSFT is going to frame this device. Is it a phone or is it a micro computing device? If it's going to be coined as a phone, a $1200 price point would position it with the other high end phones and therefore would be accessed by the device specifications. This is where I believe MSFT would be putting themselves in a bad place if they posted a $1200 price tag on it. If they labeled it as something other than a phone, then I think that price wouldn't be as scrutinized. I would expect something more around $750-$900.

I'd be very, very excited to see it release in Chile. It would be the first Surface product to ever arrive in my country!

That's fine. Software needs a lot of ironing out, a lot more fit and finish. I think I'll wait till gen 5 and then see if the software is where it should be.

And you really believe there would be a fifth generation?
Lol

By Gen 5 folding screens will have taken over the market. Dual screens will be budget only or unavailable.

Good luck on even getting Gen 2!

probably still pick up a Duo, and just carry my wallet around like a peasant! lol

Is that a Duo in your pocket, or are you just happy to see me? :) Been saving up Microsoft Rewards points since this was announced. Might have $500 worth by the time this is launched. Thought I gave up on early adopter syndrome but, this, this is different...

https://www.tomsguide.com/news/microsoft-surface-duo-caught-on-video-see... Looks like his wearing 🍎 watch 😆, maybe it will work with the Duo 😂

He probably has his iPhone sitting nearby and only uses the Duo when marketing needs him to.

Seems so silly to advertise the Duo, and try and get some hype for a upcoming Microsoft product, with a apple watch on your wrist... I know Microsoft is all like ,it doesn't matter what operating system is, on the Duo, it's all about the apps you want to use with Android, and that is fair enough, and all, but that was a mistake in my honest opinion, showing the watch what the team does and uses in its away from work, and public time, is all good and dandy, but why Market another brands product, this really is a new Microsoft! 😂 or I'm I just reading to much into it 😆.

I have a friend who works for MS and I remember the day I saw him with an apple watch rather than his MS band 2, I was shocked. He told me they actively encouraged staff to use the competition. I sell clothes for a living and I guess its no different than me going to a competor to check out what they are selling. In answer to actually article. I really hope its arriving in the UK as I've been waiting since February when my contract ran out. Using my very tired s9

I suppose it could be a learning experience, and sort of making Microsoft employees use competitors products and see why customers want to use them and like to use them but somehow I don't think he's wearing it for that purpose 😂

Zac, please find out if there will be a Verizon version. unlocked doesn't mean anything.

I just keep imaging a beast of phone like the Galaxy Fold 2 with the dimensions/thinness of the Duo, now that would have been an incredible phone. Oh well, like the Surface RT the Duo will be an interesting throwback in a couple of years.
Windows Central Newsletter
Thank you for signing up to Windows Central. You will receive a verification email shortly.
There was a problem. Please refresh the page and try again.