Surface lands in Taiwan; Microsoft set on global tablet expansion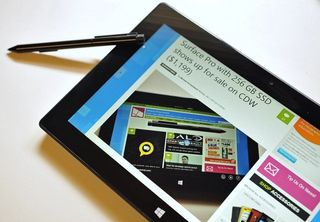 Many of us have been enjoying Microsoft's latest tablets – the Surface RT and Surface Pro, but today's announcement that the tablet has just launched in Taiwan reminds us that the product isn't exactly global. Just earlier this year, the Surface RT became available in 13 additional including Austria, Belgium, Denmark, Finland, Ireland, Italy, Luxembourg, the Netherlands, Norway, Portugal, Spain, Sweden and Switzerland
Taiwanese fans of the Microsoft product can now pick up the device at local electronic chains, Tsann Kuen Enterprise Co. and Fayaque Co. The Surface RT 32 GB and 64 GB will be priced at NT$10,888 (US $364) and NT $13,888, respectively. Microsoft's Surface Pro will start at NT$24,888 for the 64 GB version and NT$27,888 for the 128 GB version.
The device is currently struggling to make its mark in current countries and as Microsoft continues price cuts and its global expansion of the tablet, we hope to see good things.
Are any of our Taiwanese fans excited to purchase a Surface device now?
Source: Focus Taiwan
Windows Central Newsletter
Get the best of Windows Central in in your inbox, every day!
Brazil next please!!
I already have a Surface 32gb RT, but I want more Touch Covers. :P

India. Please please pretty please.

Why now? just wait for the Haswell version and then import it, there is slim chance of them launching it in India anyways, then they wonder how Google with Nexus4 and Nexus 7 and Apple with the ipads capture the market, its bacause they launch their products and support them with music, vdeo services unlike Microsoft.

It is pretty embarrasing that they couldn't roll their flagship products out globally like every other manufacturer. I love my surface pro, it is a great device, but why couldn't they get this into the UK, India, Taiwain, HK, Japan, etc. on launchy day? They couldn't even do a US only launch without cocking it up, I had to wait a month for something I was prepared to pre-order. First world problems and all, but how do they expect to take market share without delivering products to consumers?

Its sad that Microsoft not released Surface tablets in one of the largest markets in the world, India.
Google on the other hand, has all its services (Books, movies etc..) in India. They are also setting up android stores later this year.
Apple also had itunes Music, movies in India.

I hope they release second generation in India quickly. Don't dump the year old stock here please.

and this is the sole reason Microsoft had to take an inventory write down, cause their sales channels are complete and utter rubbish.

I'm from Taiwan, and yes, I did see both Surface tablets finally officially available in stores near my home, but it's too late for me, I bought a Surface RT from eBay this February, since no one in MS Taiwan had any idea when Surface tablets would be sold, I simply couldn't wait any longer, and of couse I had to pay the full price.

And from some news source in Taiwan, both Surface tablets sold out like hot cakes in Taipei Computer Application Show yesterday afternoon........

I heard a lot of critics from many Taiwanese users complaining that they would not buy Surface tablets, yet still many consumers loved Surface tablet and bought them.

hi there... may I know where exactly I could buy the ms 3? im here in Kaohsiung... thanks

Meanwhile Surface Pro is still not out in Russia, even though MS said it'd be out in June. Oh well, The one I ordered from Ebay is coming, so who cares...

So Microsoft had to cut the price since it was not selling well? Even when it was not launched on a global scale. And the award for the best sales team goes to ...

At this rate, Surface will reach Indian shores by 2015. I always wanted a fancy device that is outdated, the moment I buy it. 2015 is my lucky year. HURRAY!!!

yeah, it's mind-boggling to me that they've literally been sitting on milliions of Surfaces for months but have only launched in a handful of countries. If they had done a better job of launching the Surface globally (more countries, at a faster rollout rate) and domestically (more stores, not just the MIcrosoft store at launch), then they'd have sold through their entire inventory by now.
Windows Central Newsletter
Thank you for signing up to Windows Central. You will receive a verification email shortly.
There was a problem. Please refresh the page and try again.