Surface Mouse vs. Surface Arc Mouse: Which should you get?
Torn between Microsoft's Surface Mouse and new Surface Arc Mouse? We've got you covered with our complete comparison.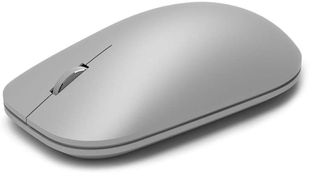 Microsoft makes many mice, and sometimes it's difficult to choose between them. Right now, Microsoft is selling two flagship mice, the Surface Mouse, and the Surface Arc Mouse. They're both great mice but are two very different kinds of mice. So which one should you choose?
Surface mice specs
Surface Mouse
Swipe to scroll horizontally
Category
Specification
Interface
Bluetooth 4.1
Wireless frequency
2.4 GHz
Buttons
Two buttons: right and left click
Design
Universal, traditional
Scrolling
Vertical scroll wheel
Compatibility
Windows 10 / 8.1 / 8.0
PC must support Bluetooth 4.0 or higher
Weight
3.21 ounces (90.9 grams) including batteries
Battery
Two AAA alkaline batteries (included)
Available colors
Light gray
Surface Arc Mouse
Swipe to scroll horizontally
Category
Specification
Interface
Bluetooth 4.1
Wireless frequency
2.4 GHz
Buttons
Touchpad: right and left click
Design
Bendable tail
Scrolling
Full scroll plane, horizontal and vertical scrolling
Compatibility
Windows 10 / 8.1 / 8.0
PC must support Bluetooth 4.0 or higher
Weight
2.91 ounces (82.49 grams) including batteries
Battery
Two AAA alkaline batteries (included)
Available colors
Burgundy, light gray, cobalt
Design
Both Surface mice are beautifully designed, with the Surface Mouse sporting a more traditional mouse-like shape and size. It has both right and left click buttons at the front, along with a metal scroll wheel in the middle that's cold to the touch and has small grating on it which makes it less slippery when you're scrolling.
The scroll wheel itself is quiet, which is significant for those who may be using it in a quiet environment. The mouse itself is built out of plastic, which I think feels a little cheap compared to other similarly priced mice that use more premium materials. On the flipside, the mouse is incredibly comfortable to hold thanks to its universal shape that fits in the hands of anyone.
The Surface Arc Mouse, on the other hand, is a very uniquely designed mouse. It features Microsoft's patented Arch design, which makes it incredibly thin which is good for travel. The Surface Arc Touch Mouse uses a single plastic touchpad at the front of the device rather than dedicated right and left click buttons, which also means it doesn't have a physical scroll wheel.
To scroll on the Surface Arc Mouse, you can use either one or two fingers like on a normal touch pad to scroll web pages. The touch pad itself is a click surface, so if you want to right or left click, just press down on either the right or left side of the touch pad, and the click will activate. I'd say the Arc Touch mouse is a more futuristic, elegant mouse compared to the Surface Mouse.
The mouse itself is available in multiple colors and is built out of plastic for the touchpad and a rubber-like material for the rest of the body. That's because the rest of the body actually folds flat, which enables easy carrying around in a pocket or a thin bag. Folding the mouse flat also disables Bluetooth, saving battery while you travel around. The Surface Mouse doesn't do this, making the Surface Arc Mouse better for travel.
Usage
I've used both the Surface Mouse and Surface Arc Mouse for a considerable amount of time now, and I have mixed feelings about both. I love how comfortable the Surface Mouse is, with its universal design that fits perfectly in my hand. I am a claw-gripper when it comes to mice, meaning when I use a mouse, my fingers are arched up over the mouse rather than directly against it.
As a result, the Surface Mouse is a much more comfortable mouse during daily use compared to the Surface Arc Mouse. Due to the Arc Mouse's unique design, there's nothing under the top of the mouse to keep my fingers evenly spaced out, and as a result, I end up gripping the underside of the bottom of the mouse with my ring and pinky finger, which can cause cramps.
At the same time, I still prefer the Arc Mouse over the Surface Mouse. The Surface Mouse is a great, simple mouse, but the Arc Mouse; with its crazy futuristic design and elegant touch pad on the front, makes for an overall more functional peripheral. For example, the Arc Mouse has a whole bunch of configurable options via Microsoft's Keyboard and Mouse Center app, where the Surface Mouse doesn't.
When it comes to behavior, both mice operate the same when it comes to tracking. I find the scrolling mechanic on the Surface Mouse to be a lot more reliable, however, with the Surface Arc Mouse sometimes not catching my swiping as a scroll. I can program the Surface Arc Mouse to do different things when I left, right or middle click with three fingers. I can also easily change the direction of scrolling, horizontally or vertically. The Surface Mouse cannot do vertical scrolling.
Price
The Surface Mouse and Surface Arc Mouse are priced differently. The Surface Mouse is $49.99, which is relatively affordable for a premium, standard mouse. The Surface Arc Mouse is $30 more, priced at $79.99. The Arc Mouse does more and is using more expensive tech such as a touch pad and flexible design that allows it to fold flat. As a result, it's slightly more expensive.
That $30 is a big different, and whether you should spend the extra cash depends on what you need from your mouse.
Which should you get?
Are you looking for a straightforward, simple yet sleek mouse that features traditional physical right, left and scroll wheel and a universal design that will fit great and comfortably in your hand? Then you are going to want to opt for the Surface Mouse. If on the other hand, you're looking for something a bit different, that's super easy to carry around and doesn't feature physical right, left and scroll wheel buttons, then the Surface Arc Mouse is for you.
I must say, I have enjoyed my time with the Surface Arc Mouse far more than I have with the standard Surface Mouse, likely because I prefer the unique design that grabs people's attention. While the Surface Mouse is more comfortable, the Surface Arc Mouse feels more premium in my hand, and I much prefer the touchpad over traditional physical buttons.
Being able to quickly power off the mouse by folding it out flat is also a nice addition. On the Surface Mouse, the only way to do that is to turn the mouse over and press the small Bluetooth button once. On the Surface Arc Mouse, I have that option in addition to being able to simply fold it flat. Neat.
All-in-all, no matter which mouse you go for, you're going to be getting a great experience, along with that beautiful Surface design, either way. Let us know which mouse you decide to go for below!
Get the Windows Central Newsletter
All the latest news, reviews, and guides for Windows and Xbox diehards.
Zac Bowden is a Senior Editor at Windows Central. Bringing you exclusive coverage into the world of Windows on PCs, tablets, phones, and more. Also an avid collector of rare Microsoft prototype devices! Keep in touch on Twitter: @zacbowden.
"Surface Mouse vs. Surface Arc Mouse: Which should you get?" How about neither, both have an uninspired boring look to them and are overpriced for what you are getting.

Both would probably work for me but I'm a bit jaded by mice like the Arc. I had a not so wonderful experience with a Logitech touch mouse. I'm accustomed to the wheel mild clicking and to me that is more normal for a mouse.

I own the Surface Mouse and enjoy it a lot, but I do wish I had the Arc Mouse as I'm usually keeping my Pro 4 in my bag (thanks for the Brenthavens recommendation by the way) and the Mouse leaves a small but noticeable bump and can be a little annoying to get out.

which mouse have "precision pad" gesture support?

I'm trying to get rid of most wires in my house. I recently bought the Microsoft keyboard with touch ID and have wireless headphones on the way, I have yet to buy a wireless mouse and have been looking at the surface arc mouse. For some reason I can't get myself to buy it and I think it's mostly because of the missed opportunity with not having touch gestures. I might buy the new razer wireless mouse but I want the grey minimalist setup that the surface line provides.

The new Arc mouse sucks big time. The older models were pretty darn good, but this one is awful. The scrolling is inconsistent, the shape is less tapered than the others so it's not as comfortable, and the right click is finnicky because you have to pick up your index finger. I got one as part of the bundle, tried to like it and ultimately gave up. The potential is there - would be really great to be able to use gestures the same as on the trackpad, but it's just such a flawed product as it is.

I think the Surface mouse feels cheap and doesn't deserve the Surface title because of it. If it were slight bit bigger and made of light weight metal, that would be a good start . I think the arc mouse feels more Surface like though and I prefer it for that reason. Both could and should be improved to meey Surface standards

I picked up a Designer Mouse (the Surface Mouse's previous black incarnation) for $20 and it is a great BT mouse. While it doesn't have all the bells and whistles of the Arc series, those are features I don't use. The best thing I like about the Designer series are the subtle build notes like the magnetic battery door and the retractable pins (vs. exposed springs) for the batteries.

I would go with the surface mouse, but it has no back button of my current logitech anywhere MX.

it's odd that arm mouse top isn't full trackpad with gesture support

Portability is key, so the Arc Mouse was a no-brainer for use with my Surface Pro. Works very well and uber portable, folding flat for storage.

Both mice serve very different purposes... I have the Surface Arc Tough Mouse, and before that I had the original with USB dongle.... The original certainly felt sturdier and it last me 6 full years of use... however the newer, bluetooth enabled version feels a lot cheaper, the gray coating is peeling off and the buttons have dark stains from my fingers... and being bluetooth sometimes is finicky to pair after waking up my Surface Book.... and from time to time the touch scroll fails to respond, something that was never an issue with the first iteration. I would definitely buy it again, but black, however I wonder how can I perform a "Middle Click" with these new model... because I need that function above all for handling my 3D designs and models. Regarding the Surface Mouse, it is a really nice device... they bought it for my office and the look good and perform very good... however the key with the Arc is portability, so I would recommend that one for people on the go, and I would get the other one for being stationary on a desk

I can't use the Arc very well for the reason stated in this article. I hold my mouse by the base and there is no base to hold on the Arc. The Surface mouse though isn't that much better because the base is thin. I'm using the Surface Mouse now, but my favorite and most comfortable mouse for me is still the Microsoft 3600.

Meanwhile I got myself a Logitech G903 with a PowerPlay Mousepad - Costs about an arm and a leg but whatever... The freedom to go truly wireless and for like forever never again having to either swap batteries ( not possible anyways ) or go corded when the batteries go down sure is a godsent. My only complaint is the ambidextrous shape of the G903 itself compared to the previous G700 it replaced which is kinda meh in comparison.
If they ever release an updated G703 ( the xx3 probably going to be their PowerPlay compatibility thing ) I'd probably swap again in a heartbeat :°

I wonder why Microsoft didn't equip the Surface Mouse (non-arc) with tilt wheel for horizontal scrolling.
Some of their major apps like OneNote and Excel use horizontal layout of its contents and horizontal scroll helps a lot in navigating in those apps.