Surface Arc Mouse review: A beautiful peripheral that's ultimately underwhelming
Is the new Surface Arc Mouse an improvement or step back for Microsoft?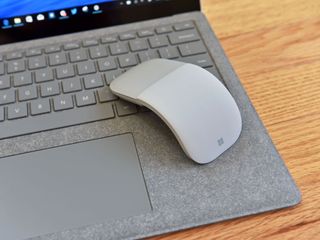 Microsoft has been making computer mice for many years and is considered one of the top peripheral manufacturers. The Arc Mouse series has seen many revisions, which I pointed out in a recent article highlighting Microsoft's convoluted naming scheme.
The new Surface Arc Mouse is part of the Surface Laptop and Surface Pro (2017) wave and brings a hardware redesign, some new colors, and a few changes. I spent the last month with it, and this is what I think.
What is the Surface Arc Mouse?
The new Surface Arc Mouse ($79.99) is the latest revision to the Microsoft Arc Touch Mouse Surface Edition (SE) ($69.99), which is still available from Microsoft. I'm a huge fan of the Microsoft Arc Touch Mouse SE, so the new Arc Mouse has a high bar to cross to win me over.
The main feature of the Arc Mouse remains unchanged: the mouse lays completely flat when not in use, which also disables the Bluetooth. Folding the mouse into the arc position enables Bluetooth and gives it an ergonomic grip that fits perfectly in the palm of your hand. It's a brilliant design.
Arc Mouse is best thought of as a travel mouse, hence the co-branding with Surface Laptop and Surface Pro. Of course, you could just as easily use it with the Surface Studio or any Windows 10 PC desktop or laptop that has Bluetooth 4.0.
At just 14 mm thin at its thickest point, the flat Arc Mouse easily slips into a bag making it the best travel mouse around, because there is no rounded bulge. The ability to bend it to an arc is bizarre yet awesome since no other mouse does this trick.
See Surface Arc Mouse at Microsoft (opens in new tab)
Surface Arc Mouse design
Coming in three colors – cobalt, burgundy, and light gray – the Arc Mouse is just as stylish as the Surface PC lineup. There is also a Microsoft Arc Mouse ($79.99), which is the same hardware, but in matte black and without the Surface branding.
See Microsoft Arc Mouse at Microsoft (opens in new tab)
The Arc Mouse is very minimalist. The top button area is just a large, single surfce that resembles a trackpad. There are right- and left-click abilities as expected, but there is unfortunately no gesture support, which would have been a killer feature.
Surface Arc Mouse technical specifications
Swipe to scroll horizontally
Category
Specification
Interface
Bluetooth 4.1
Wireless frequency
2.4 GHz
Buttons
Two buttons: right and left click
Design
Bendable tail
Scrolling
Full scroll plane, horizontal and vertical scrolling
Compatibility
Windows 10 / 8.1 / 8.0
PC must support Bluetooth 4.0 or higher
Weight
2.91 ounces (82.49 grams) including batteries
Battery
Two AAA alkaline batteries (included)
Available colors
Burgundy, light gray, cobalt
Warranty
One-year limited hardware warranty
Powered by two AAA batteries, the Arc Mouse should last up to six months depending on usage. There is a small door with a latch in the head of the mouse for the batteries on the underside.
Also on the bottom is the Bluetooth pairing button. You simply hold the button for about 10 seconds, and the Bluetooth light will blink rapidly. Just pair the Arc Mouse to Windows 10 using Settings > Devices > Add Bluetooth or other device > Bluetooth. The system downloads a small driver from Windows Update.Then the mouse is all set, with no OS restart required. The mouse can be paired to only one PC at a time.
The Arc Mouse is smooth and lacks the tackier grip of the all-black Microsoft Arc Touch Mouse SE. There is still the soft-touch rubber in the bendable tail, but it is more muted this time with a silkier feel.
The Surface Arc Mouse looks fantastic, has no creaks, and feels substantial, but it is also extremely light and portable. It accurately matches the look and feel of the Surface PC line.
Surface Arc Mouse: What's different?
Microsoft ditched the scroll strip from the Microsoft Arc Touch Mouse SE. That strip is used for navigation and acted as a particular point on the mouse head for that function. There was an ingenious haptic feedback system where that scrolling activated a tiny speaker and motor to simulate a physical scroll wheel. It's a weird but satisfying experience.
The design of the new Surface Arc Mouse has more rounded corners than the Microsoft Arc Touch Mouse SE. Additionally, the Surface Arc Mouse is symmetrical whereas the previous version was larger at the top compared to the tail. These changes make the Surface Arc Mouse slightly wider in the tail where the palm of your hand is placed. The arch is also a smidge higher compared to the older version. Both changes make it feel significantly different compared to the Microsoft Arc Touch Mouse SE.
Finally, on the bottom, Microsoft hid the ribbed nature of the bendable tail. That was an excellent choice as there was something kind of creepy and reptilian about the ribbed tail with the Microsoft Arc Touch Mouse SE.
Surface Arc Mouse: Mixed feelings
For design, the Surface Arc Mouse looks fantastic. However, compared to the Microsoft Arc Touch Mouse SE I don't care for the performance. The original Microsoft Arc Touch Mouse SE fits better in my hand, and I was a huge fan of the haptic scroll strip. The right and left click buttons are also more discernable on the original, whereas the Surface Arc Mouse is one big button with left and right pressure points.
To be fair, you can get used to the new Surface Arc Mouse. Also, by removing that haptic strip, Microsoft can now include horizontal scrolling, which is significant. Nonetheless, that horizontal scrolling gets mixed reviews due to some responsiveness issues.
Vertical scrolling is neat. You can use one, two, or even three fingers anywhere in the top half for scrolling and it works well. The action is smooth and responsive. Users can adjust the settings for scrolling under Windows 10 settings.
My biggest issue with the Surface Arc Mouse is that I just didn't immediately love when I started using it. I did, however, have that reaction to the original Microsoft Arc Touch Mouse SE. From that perspective, I have a tough time recommending the Surface Arc Mouse as an "upgrade" if you are enjoying the older version. If, however, the haptic scroll strip and lack of horizontal scrolling drove you nuts, it could be worth the investment.
There are also the usual potential issues with Bluetooth. Some people detest Bluetooth mice and keyboards due to signal interference that can cause noticeable lag on some PCs. I did not notice that issue with the Surface Pro or Surface Laptop, but I am sympathetic to the complaint. Still, the convenience of "click and go" and no wires using the Surface Arc Mouse is desirable.
The Surface Arc Mouse also feels less precise than a wired mouse, and sometimes I felt I had to re-click to enable an action.
Surface Arc Mouse review: Concluding thoughts
The Surface Arc Mouse is likely the best travel mouse you can get if you want the most compact, no-fuss setup. The design and colors are outstanding, the build quality is fantastic, and it's just a very cool device. The design is an improvement over the original Arc Touch Mouse SE - it's smoother, cleaner looking, and more elegant.
I think the overall experience is above average, but I'm not ready to give up my Microsoft Arc Touch Mouse SE. I find its performance and ergonomics are just better. The good news is that mouse is still available, and I may pick up another since mine is getting long in the tooth.
Microsoft played it safe with the Surface Arc Mouse and missed an opportunity to try something new. It's very minimal and conservative. Had the top of the Arc Mouse acted as a Precision touchpad with gesture support, I would have been more intrigued.
Pros:
Brilliant design.
Super portable and convenient.
Comfortable to use with smooth navigation.
Matches new Surface Pro and Surface Laptop.
Cons:
Not as good as Microsoft Arc Touch Mouse SE.
Accuracy seems off at times.
Right and left click buttons take time to get used to.
Related tip – Microsoft Mouse and Keyboard Center
Windows 10 lets you do some basic configurations for the Surface Arc Mouse and other Microsoft Arc mice, but there is a separate Win32 application you can download for free from Microsoft that enables even more features.
The Microsoft Mouse and Keyboard Center provides advanced settings that many users will want, including:
Reverse scrolling option for vertical and horizontal scrolling.
Three-finger click (new Surface Arc Mouse).
Scroll sensitivity.
Disable smooth scroll mode.
Touch Strip – turn down or disable vibration/sound (Microsoft Arc Touch Mouse SE).
I consider the app a must-download if you want to tweak your Arc mouse. Ironically, those on the Surface Laptop who are using Windows 10 S cannot install this application unless they switch to Windows 10 Pro.
Download Microsoft Mouse and Keyboard Center (opens in new tab)
Windows Central Newsletter
Get the best of Windows Central in in your inbox, every day!
Daniel Rubino is the Editor-in-chief of Windows Central, head reviewer, podcast co-host, and analyst. He has been covering Microsoft since 2007 when this site was called WMExperts (and later Windows Phone Central). His interests include Windows, laptops, next-gen computing, and for some reason, watches. Before all this tech stuff, he worked on a Ph.D. in linguistics, watched people sleep (for medical purposes!), and ran the projectors at movie theaters because it was fun.
I have one -- I was fortunate in that I was at the Microsoft store when they stocked them (they have been out of stock). I think it is beautiful and looks fantastic. Maybe it is because I didn't have the prior edition that I don't mind the way that it works. However, it is no replacement for a "real" mouse. The ergonomics just aren't there. As a travel mouse? I like it much better than my trackpad. I also think that Microsoft really missed out on making it do more gestures like a precision trackpad. I should be able to do three finger gestures. There's enough room on the glass button IMO. Overall it is a bit pricey -- but the fact that it can fit into many sleeves with a Surface Pro makes it a killer combination for doing work on the go. I'm keeping it. Good and balanced review Daniel.

Thanks and agree. It's really outstanding looking and is high quality, but it just lacks something. Re: three-finger gestures, try the MS Mouse and KB Center app. There is an option for three-finger tap, which can be assigned to things like Task View or Show Desktop. Not quite the same as win 10 gestures, but it's a great "bonus" of this mouse.

I am willing to wager that if it can do horizontal scrolling then gesture support is probably just a software patch away. Maybe it was just too buggy in it's current form and they are still getting it to work better. (At least that is my hope)

I just bought a Logitech mx anywhere mouse that has horizontal and vertical scrolling, plus it can connect to three computers. It is also ergonomic. $70 bucks on Amazon.

It's a nice mouse, but still causes a bulge in a bag :/

I was on the fence about which mouse to get. I made the purchase a week ago. I got the Logitech MX Master mouse. The anywhere mouse was the one I replaced. I had my models mixed up. Still makes a bulge though.

So there's also no middle button click anymore, or is there by tapping with 2 fingers or so?

No middle click. You can assign a three-finger tap via MS Mouse and KB app I link to.

Good question. Also, I think the scroll strip is kinda a must for me. I will stick with the older Surface mouse. And yes Daniel, the speaker created sound is like the newer Bimmer M5s that produce engine noise inside the car through recorded playback just for that feel and satisfaction (aka feedback).

Dan has the haptic feedback changed at from the first edition? That was the most noticable thing i had to get used to. It's almost a bit too harsh Similar example when i went from a Samsung Focus to the Lumia 920...

There is no haptic feedback at all. It's gone. You can adjust the feedback in the older SE version, see the software tip at the end.

Hoo boy, did not expect this. I also own both, and I find the new Surface Arc Mouse to be more elegant and satisfying to use. I disliked the scroll strip and its noisy feedback. I also found the older mouse to be less precise and more "jumpy" than the new one. I mention this because I usually find myself on the same page as you Daniel. But in this case I disagree. I hope others will at least try this mouse out for themselves, since as with most things, the experience can be subjective.

Hah, well I DO mention that if you disliked the older version, you may very well see this a worthy upgrade ;) I like the design of the new mouse, it's cleaner, better quality, but the older one feels better to use for me.

I have the SE and love it. This was disappointing to read. Haptic is a big deal for me.

I bought the SE and also love the dedicated area for scrolling and scroll 'clicking' - it works brilliantly for gaming on my Book. Everyone I show it to either wants one or is impressed. An entire touch surface doesn't appeal because I'd rather make use of gestures on a large touchpad.

Looks beautiful, but at that price I expect the ability to be able to pair it with three devices like the Logitech MX Master.

looks fantastic! but sadly I definitely need a middle click... I am so used to open links in new tabs or close tabs with middle click etc. could not live without it ;)

Oh my gosh. THANK YOU!! 25+ years on computers and just realized the middle click opens a new tab. I'm not being sarcastic. This is a frickin game changer!!

I haven't tried the new Surface Arc Mouse but I do have the original Arc mouse. Unless, somehow, the ergonomics has changed (not sure how), I can't see myself getting one. I liked the design of the Arc mouse to flatten it, However, It's just not comfortable. I have been using Logitech MX (first and now second gen) mouse on my desktop and when I tried to use the Arc mouse when using my laptop, it was a terrible experience. So now, I use the Logitech MX Anywhere (v2) mouse. Just my experience.

they put a trackpad but no Win 10 gesture support? no buy

I had the one from the last series and will not be buying another one. It almost felt like a Sony or Bang & Olufson product where you pay for the design more than functionality. I loved the design but not much else and frankly it didn't last long - the usual button stopped working, the bluetooth reception was ANNOYINGLY spotty even though my PC case is placed directly below the keyboard tray and the receiver placed to a USB slot as close as possible, and despite being a compulsive hand-washer and having dry palms the rubbery material looked brushed/smeared all over after a short while. Also another minus was that it wasn't compatible with receivers for other Microsoft products

I wanted it to be better than this. I'll still use my Logitech Ultrathin Touch Mouse T630. My favorite on the go mouse ever. Here's hoping for the next iteration.

Wish these would work with Macs. I'm using their Sculpt Ergonomic Keyboard because it just looks so unique and people are always like "wth is that" when they see it. This would just add more bang to it. I've had the 2nd Arc Mouse and the SE Arc Mouse and people are always like can I see those, but I hated them because no horizontal scroll. The best scrolling experience really is Apple's magic mouse, I wish Microsoft would do that with this one too.

Alas they put their faith in science... 😜🧙‍♂️

Definitely great for travel. Waiting for the new one to arrive, got it mostly for the color. I used the SE edition, and not a big fan of hepatic feedback.

I find the color and general design awful, but I guess that's because I've never taken to touch-based mice. I just don't like the experience, scrolling never feels as good. I'd much prefer going with a traditional mouse, especially when the cost of this thing is so high. At $30-40, I coiuld maybe talk myself into it as a travel option, but for $80, my G700s isn't that hard to pack and carry with me.

Recently replaced a G700s with a G900. I liked the mouse in general use but I had issues with some of the extra buttons sticking and it didn't last long enough on a charge. the G900 has fewer buttons but is a more satisfying experience for me.

My only issue with the G700s is that the laser doesn't play well with my mousepad, so I use it directly on my desk. I thought about the G900 instead, but between the $150 price tag and ambidextrous design (which isn't as comfortable as the right hand-specific design of the G700s), I didn't see it as a sensible upgrade. Now, they've done something cool with the wireless chraging of the G903, but that runs $200 with the charging pad. If that ever hits the 50% off bin at Best Buy, I'd probably go for it. If the G900 hits $75 or so, I might go for it instead, but it's still over $100.

Disappointing that this mouse doesn't have gesture support. I think that would have turned a cool mouse into a must have.

I would forgive it if there could be an update that changed the behavior later...maybe they still could..? 😅

Nice review. I would have bought this mouse if Microsoft made the to into a gesture pad on top. In fact I'm looking for a mouse that don't have physical tact switch in the arc family so I can use the mouse at night without waking up my missus. 😉

I'll get one anyway but it is my hope that that will be addressed with a firmware/software update.

Nice review. Have never tried a Surface Arc Mouse but would be interested to know if it is silent given it uses a trackpad. As I've always gone for a noiseless mouse to lessen the loud clicking sound most mice generate when clicked. Or does it make a clicking sound?

And does anyone know if it will be available in black?

>No, but in blue and red (The same as the colors of the new TypeCovers)

Oh, I was wrong: 4 colors (with black :D)
https://www.amazon.com/Microsoft-ELG-00001-Arc-Mouse-Black/dp/B072FG8LBV...

It's the same device but the black one is named Microsoft Arc Mouse rather than Surface Arc Mouse.

Stupidly underwhelming for the price tag, just another overpriced joke like the wedge mouse. Could get a Logitech MX Master for the same price and it'll do a whole lot more. Or if you care so much about portability, there's the Logitech Ultrathin Touch Mouse, which also offers many more functions despite it also being a touch mouse. Microsoft's mouse accessories tend to be overpriced jokes.

I generally use Logitech mice and have always found them very good but I have to say that I like the Arc Mouse I've been using with my Surface 3. An MX Master or even an MX Anywhere is far less portable and the Ultrathin Touch Mouse is less satisfying to actually use because it remains ultrathin. The good thing about the Arc Mouse is that is is ultrathin while being transported but not when in use. I agree that it's expensive but the dual shape functionality is worth something to many.

I have the older Bluetooth Arc Mouse but nit the Surface edition. The funny thing is, the colour of the one I have is actually more similar to the colour of the body of a Surface device than the Surface edition, which is much darker. I recently bought a Surface Pro with the burgundy Type Cover and I intend to get the burgundy Arc Mouse too. It's not actually listed on the Australian Microsoft Store site though, although the grey one is and says that it is available in multiple colours. It currently says out of stock and available on July 20 so hopefully all colours become available then too.

Does this work with Macs? The previous model had this weird randomization issue where you had to unpaid and re-pair the mouse every time you wanted to use it on a Mac.

They have a great app in the store for the Arc Touch BT mouse, that does a majority of the MS K&M Center Win32 app...so for the Surface laptop, it could be of glorious benefit! 😄 Arc Touch Bluetooth Mouse https://www.windowscentral.com/e?link=https2F%2Fclick.linksynergy.co...

If only it had a middle button.
Three fingers is a terrible compromise.
Windows Central Newsletter
Thank you for signing up to Windows Central. You will receive a verification email shortly.
There was a problem. Please refresh the page and try again.