Surface Neo appears in new movie 'Red Notice,' but don't get your hopes up
Surface Neo is popping up in movies, but it's still not coming soon.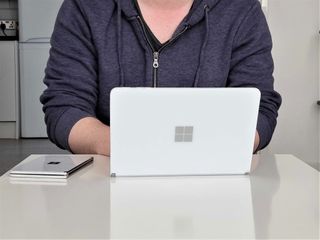 (Image credit: Windows Central)
What you need to know
Surface Neo made a cameo appearance in a new movie on Netflix.
The movie, called "Red Notice," features Ryan Reynolds playing with a Neo.
This doesn't mean the Surface Neo is coming soon, unfortunately.
Surface fans this week have spotted a new Surface Neo cameo in Netflix's just released "Red Notice" movie (opens in new tab) starring The Rock, Gal Gadot, and Ryan Reynolds. The movie, which has been in development since 2019, is the second piece of entertainment media to feature the now "postponed indefinitely" Surface Neo, after WandaVision featured the product earlier this year.
Now, before you get your hopes up, the appearance of Surface Neo in a newly released movie does not mean that Microsoft is ready to release Surface Neo again. Microsoft's official stance on the Surface Neo is that it will arrive when the time is right, but Windows Central understands that nothing has changed internally, and that there are still no plans to release Surface Neo anytime soon.
So, why has Surface Neo appeared in a new movie if it's not something Microsoft intends to ship? Simply put, the movie has been in development since 2019. Principle photography (the part where most of the movie is filmed) began in January 2020, during a time where the Surface Neo was "on track" to ship in the fall of that year. Microsoft had likely already made product placement deals with movie studios, which included the Neo at this time.
This means that the scenes where the Surface Neo are featured were filmed before COVID-19 hit, and before Microsoft ultimately decided to cancel the Surface Neo indefinitely. So that's why the Surface Neo is showing up in a new movie released this year; because the movie was filmed back when the Surface Neo was a real product that Microsoft intended to ship.
Well, WandaVision was filmed before the Surface Neo was delayed. I suspect Marvel / Microsoft has some kind of product placement deal in place, one that included the Neo before it was postponed indefinitely lol https://t.co/dWbwNEeWDgWell, WandaVision was filmed before the Surface Neo was delayed. I suspect Marvel / Microsoft has some kind of product placement deal in place, one that included the Neo before it was postponed indefinitely lol https://t.co/dWbwNEeWDg— Zac Bowden (@zacbowden) January 29, 2021January 29, 2021
Unfortunately, there appears to be no sign of Surface Neo showing up any time soon. Surface Neo was hit with a one-two punch quite early on after it was announced, with the cancelation of Windows 10X not long followed by the cancelation of Intel's Lakefield chipset, which powered Surface Neo. So not only was Surface Neo left without an OS, but it was also left without a SoC to power everything. So it was back to the drawing board for Microsoft.
If Surface Neo ever does ship, I very much doubt it'll be the same product that was announced in 2019. I would suspect Microsoft will give it a new chipset and update the design to match the latest Surface Duo at least, and that assumes Microsoft still deems there to be a market for very pricey dual-screen PCs. People have scoffed at the pricing of Surface Duo, and the Surface Neo was only going to be even more expensive.
Windows Central Newsletter
Get the best of Windows Central in your inbox, every day!
Zac Bowden is a Senior Editor at Windows Central. Bringing you exclusive coverage into the world of Windows on PCs, tablets, phones, and more. Also an avid collector of rare Microsoft prototype devices! Keep in touch on Twitter: @zacbowden.
They showed the Neo quite a bit in the movie too. He was using it in the airplane, used it in another scene on the go, and even another scene on a tripod showing how the camera works but they put a custom UX on it lol. It really shows how neat and useful the form factor is, but if it ever does get released the design will definitely need to be updated to include all the Duo 2 (and upcoming Duo 3) design enhancements.

Red Notice started filming when the Neo was introduced, but sadly delayed so much because of well Covid, and then delayed again as Netflix bought the film before it was to debut in theaters and delayed again. So this doesn't surprise me one bit.

Considering the typical production process of movie and shows, this is not surprising. But interesting that at least Microsoft really tried to push and promote it early on as it was originally planned for release. Now we got an advertisement that nobody can buy. At least not any time soon. Now it looks more like a sci-fi prop, but a realistic one.

Imagine paying million dollars for ad and then don't release product.
Sadge

I thought something similar. All that product placement, to generate excitement for a product you throw on a back shelf of things to maybe get back to later, possibly if the mood hits you.
Maybe this will actually create some sort of steam to get them back on track.

Didn't win10x just become win 11? So if MS source a new chip all the blockers would be resolved?

Windows 11 is basically a skin on Windows 10. It doesn't go that deep.

Windows 11 looks like Windows 10X but 10X was built from the ground up, while 11 still contains loads of legacy code from 10 and earlier. Each version of Windows has been built on top of the previous version, which was built on top of the previous version. If someone tells you that Windows 11 is basically a skin on Windows 10 then they are just propagandising, because if that is the case then every version of Windows is basically a skin on top of the previous version. 10X was different though. It didn't carry all the bloat required for backward compatibility with decades of Win32 apps. That has its pros and cons but Microsoft decided that pros didn't outweigh the cons by enough to make it viable at the current time. Windows 11 is better for the experiment though.

You explained how Windows 11 is basically a skin on Windows 10. It is a bit more than that, but not much. It is still full Windows.

I want one for no other reason than it's so damned cool looking. Makes the Lenovo Thinkpad Fold look like a laptop from 1998.

I was going to replace my Surface Pro with one. Unfortunate.

Awww, looks like a bigger version of my Duo... Hope Microsoft are still looking to innovative with products like the Neo...

well it was nice while it lasted!

I still want one. I think it will see the light of day eventually. I was in awe of it when they revealed it and was planning on buying one along with the Duo. I just hope they don't add a camera bump on the back.

Haha, just waiting for someone to photoshot that on

With matrix coming out in dec you'd think that would be the perfect time for a surprise reveal

Probably release it with android on it like they did with the duo

I wanted to buy one as soon as I saw them demo this. This was more interesting to me than the Duo was. I felt the same way when I saw the original Surface reveal in 2012, that this form factor was going to be the future of mobile computing. I really wish they would release the Neo. I would love to use this as my main computer full time.

I hope this comes out, but wow that means how many surface devices are out there????? Pro Duo Go laptop, laptop go, laptop studio, laptop SE, I think that the neo should replace the surface go, so they can really focus on quality not quantity.

Don't let the size fool you. Go is specifically budget while Neo is high-end hardware with a high-end price.

There is no high end hardware for Windows form factors like this. Neither Qualcomm, AMD, or Intel have anything worth putting in a high end Windows tablet. They even struggle with mid range range chips at this point.

This movie is embarrassingly bad. I am so sick of movies where 120 pound women beat up 220 pound men. The reality is, the man would punch her once and she would be out. End of fight scene. That a nonexistent "tablet" shows up in an absurdly bad film is nothing to brag about.

Because other than that, movies are always completely realistic, right? I'm sorry that your delicate man feelings got hurt.

There is a huge difference between realistic and comically silly. Nothing to do with "delicate man feelings". This movie is just stupid.

Maybe your issue is the opposite: watching too many movies: the true reality is that a 120-pound woman, or man, can definitely defeat a 220-pound opponents.

No, they can't. Tell you what. You bring your 120 pound sister to a boxing match. I'll bring Dwayne Johnson. Who is going to win?

I would like to bring your attention to your original post in which you were speaking about average people, not athletes. Quite different scenario...

No, my original post IS about a 120 pound girl beating up on Dwayne Johnson. Try to keep up.

Quote
" 120 pound women beat up 220 pound men."
Unquote
You may want to check what you wrote...

To be fair the movie was really bad, even the jokes fell flat.

Yes. It is just all around stupid and bad.

The lakefield cpu was not good enough anyway according to the leaks. And personally I think this would make more sense if the screens were bigger. Even for a tablet a single screen of the Neo at 9" would be noticeably smaller than that of the Go/Go2/Ipad regular which I see as the optimal screen size for a tablet device. As a laptop the Neo would still 'just' be a ~13" screen (so almost the same as Surface Pro 8). A bigger Neo with 2 10.5-11" screens would make a lot more sense I think.