Surface Pro 2 and 3 firmware updates improve graphics performance on Windows 10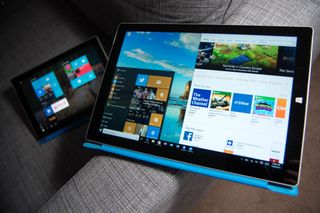 (Image credit: Dan Rubino / Windows Central)
If you're using a Surface Pro 2 or Surface Pro 3, you should have a new update waiting for you. Microsoft has pushed a firmware update to both tablets aimed at improving graphical performance on Windows 10. Here are the details of the update from the Surface update page (opens in new tab):
This one looks to be only hitting the Surface Pro 2 and Surface Pro 3, and isn't listed for any other Surface models. You should be able to pull the update down from Windows Update now, and feel free to let us know if you notice any smoother graphical performance on Windows 10!
Thanks to Richard for the tip!
Source: Surface Update History (Surface Pro 2 (opens in new tab), Surface Pro 3 (opens in new tab)
Dan Thorp-Lancaster is the Editor in Chief for Windows Central. He began working with Windows Central as a news writer in 2014 and is obsessed with tech of all sorts. You can follow Dan on Twitter @DthorpL and Instagram @heyitsdtl. Got a hot tip? Send it to daniel.thorp-lancaster@futurenet.com.
I am just waiting for surface pro 4

Thanks for the riveting feedback

Have a SP2 and cannot wait for the SP4

Waiting for battery fix. Less than 2 hours on surface pro 3

You probably didn't have the earlier firmware installed properly if your on Win10, I'm getting 6-8, or you should take it in to a Microsoft Store.

same. I'm in the 6-8 range for battery life on an i5. doing that ad block thing helped a lot becuase edge browser was using a lot of resources before that.

Me too. Less than 2 hours on Surface Pro 2. Not happy.

Turn off show windows hints in settings. improves battery drastically as the process that runs that uses 20% at all times. Fixed my battery issues

Where do you find this? Just curious.

Dx12 certainly knows about this.. :) Posted via the Windows Central App for Android

I see snappier performance,
definitely

So I was clicking my start button before the update and after it updated I noticed transition to start screen is not as smooth and some animations stopped. Maybe I need to reboot after the update...

I would and clean out your files

How would cleaning out your files have any effect on this at all?

it improved on a restart, it is as fast or faster.

Waiting to see a fix for "Powering on the device takes 25 minutes if the Type Cover is folded back during boot."

I'm getting this and teh screen still appears to be powering on even if the type cover is closed. I have been shutting of the device to prevent this. The battery drain also seem to be a lot higher.

Seems like the SP3 has worse problems than the S3 on Win 10.

Well, it hasn't fixed 'sleep' on my SP3 yet. Hibernate only, it is.

I would suggest doing a refresh of Windows. The sleep and "quick wakeup" thing on the Pro 3 is honestly one of it's best features. You need it back!!! don't settle for hibernate only :)

agreed ... hibernate is still quite fast (10ish seconds maybe?) and it works great (it's as I left it before hibernate) but I do miss the sleep mode. I'll try a clean reinstall in a few weeks when I get to the other side of work project.

I doubt that a graphics update would fix that, though.

This is a common problem if you've installed Visual Studio with Windows Phone emulator. If that is the case, search for "Surface Pro 3 disable Hyper-v".

Windows 10 actually brought improvements. Since an early ish preview build Hyper-V has worked fine with connected standby. It's one of the great reasons to upgrade

I'll test it out with StarCraft 2 when I get home, see if I can wrangle up a few more frames.

I still cant even play Ory and the blind forest on my sp3 with a decent framerate

What about the damn Surface Pro 1??? Seems like Microsoft sucks at driver support just like HP, rather sad... if this continues not buying a newer Surface any time soon.

They want new money from you, just like any for-profit business.

And non-profits would supply the dude with the newest surface for life? interesting

That's why they'd be non-profits :)

That's 3yr old hardware. How long do you expect hardware to be supported?

Man, are you kidding? The least one can expect from Microsoft is to make Windows 10 run flawlessly on their Surface products. As of today there's a myriad of problems out there (check the corresponding support forums) so they better start addressing these issues.

nvidia still support GT400 and 500 series

I expect driver support for as long as new versions of Windows can technically run on it. 3 years is nothing, an extended warranty is longer than that on most hardware. And these are Microsoft products, which should run flawlesly at all times since Microsoft is also the software maker, not to mention that they were pushed onto business users as well and businesses don't change hardwar every couple of years, but more like every 5+ years, at least. This just shows other OEM's that they can sell Windows products and completely disregard driver support, since not even Microsoft is providing proper support.

You do know that the video driver is by Intel, not MS, right?

Yeah, I just Binged this, and have at least one suggestion: https://communities.intel.com/thread/77891?start=0&tstart=0 Driver at the bottom for Windows 10.

On hero devices like the SP1, I think it's reasonable to expect 5 years.

Surface Pro 2 and 3 run on a Haswell chipset while the original Surface Pro runs on Ivy Bridge, so that's why its just for those two devices. I don't even know if Intel is still releasing firmware for Ivy Bridge, but if they're not, there's nothing Microsoft can do.
Edit: Now that I think about it, what are you even talking about? There have been plenty of firmware updates for the original Surface Pro.

Been running fine on my Surface Pro 1 for some time.

Correct me if I'm wrong, but wouldn't this fall under Intel? They should be the ones to write the drivers, right?

Usually with devices like this intel will build a reference driver / kit, and the manufacturer will modify this to suit their needs.

I don't know about you but MY Surface Pro 1 got a firmware update today.

t's not Microsoft's fault, it's Intel who builds the driver and then, Microsoft makes it available to the user.

How about restoring the battery life I had on the SP2 when I was running 8.1?

Same, mine gets hot and the fan kicks in a few minutes after booting up...even when I have Power Saver and Airplane Mode on...

Mine lasts just as much if not more than when I had 8.1, though I had to make a few adjustments like preventing Windows Update from using my connection to send updates to other people, disabling Windows Search and Indexing and being vigilant about CPU usage (e.g restarting Edge if it's using too much, and ending the Windows Driver Foundation task everytime I disconnect my cover).

It's not a firmware update, it's just a plain regular driver update. On a related note, does anyone else have issues with bluescreens on the SP3 during sleep? It usually happens when I put my SP3 to sleep after a Windows Update that has required me to restart and doesn't happen again (or just one more time) before the next update. Since I've got my SP3 hooked to an external screen most of the time I don't actually see the bluescreen itself but I do see the screen suddenly lighting up and I also need to sign in again so I know it's restarted forcefully. There is also a corresponding event in the Event Viewer.

Hi, no. I haven't experienced any such issues with BSOD or any crash for that matter. I do, however, OCCASSIONALLY notice laggy wake from sleep, but not often anymore. Still, even if 100 of us responded in the negative, there are many owners out there who may not read WC and are experiencing the issue. Just when I think I'm alone, I check out Feedback or forums and !!! Everyone has the problem. LOL. It's a great product, I'm sure they'll address these odd W10 issues soon enough.

Do you experience video lag and sound output not working on external screens when Hyper-V is enabled?

I have also never experienced a BSOD on my Surface, but I do notice some lag (as in, takes a few seconds to respond) when waking up from sleep.

Do you experience video lag and sound output not working on external screens when Hyper-V is enabled as well?

I don't experience video lag, but sometimes I'll hear a pop sound when trying to play audio.

And you do have Hyper-V enabled?

On my laptop I get a periodic bug check caused by the Intel HD driver. I think the one from the Intel website is this or newer and it helped but still has issues. Perhaps this will help you though as it seems the Intel drivers are a little flaky.

Seems....fas no I'm not going to do it...faster! Dammit!

does this fix Miracast instability issues on sp3 on win 10?

I have 2 Miracast devices from 2 different manufacturers, and up until the last firmware update to one of them had differing experiences with them leading me to think it's the Miracast device not the Pro 3 doing it. I have the Actiontec Screenblast (been rock steady) and a MS Display Adapter (was flaky - sometimes great, sometimes random dropouts or laggy) until the last firmware update).

Hopefully this fixes external audio on display port :-/

That always worked fine for me. Once plugged in, you had to reselect the default playback device (right-click the Speaker tray icon) AND then run the speaker Configuration -3.1, 5.1, or 7.1 etc. Next, next, finish and then it works. HOWEVER this update has now broken things (for me -SP3) with the speaker config sending the test sounds to the wrong speakers and then the settings not sticking and there now being no sound. Had to roll back the Intel Audio driver in Device Manager and recalibrate, and now it works again.

This messed up my SP2...now there is a black boarder (about 1/2" thick) all around the screen and i cant undo the update. Everything looks messed up now.

Just to be on the safe side, please try checking your resolution, as it may have been changed. My SP2 does not have this, you could also consider using a restore point from before the update.

I have a similar problem on my SP2 But my bar is about 1/8" around the whole screen

Hope this fixes my stability issues. Was driving 3 displays off of my SP2 running Win10 Pro with two daisy-chained docking stations. Sometimes I lose display settings, which screen was what, can't enable a screen, etc. When it runs its beautiful, but it's inconsistent. Hard to report as a bug, not sure if I'm just pushing the hardware past its limits.

Very sad. I was expecting firmware for my SP 1. Looks like the will be no upgrade.

I have a Surface Pro 2. Recently upgraded to Windows 10. After doing this it just wouldn't sleep. When I see in the recent updates, it shows me that "Surface Integration Driver" update was failed. This update supposedly fixes this "no sleep" issue. But, it failed in my case. When I check for new update, it doesn't show me anything. What can I do? Completely shutting down everytime is so annoying. How do I force update these "surface itegration drivers"?

If you know the upgrades number (e.g. KB followed by numbers), there's a chance you might be able to find an installer online.

Waiting for surface mobile and surface pro 4. Sp4 should have graphic cards then xD.

This driver must have shipped built into Insider build 10525. I already have the version of the display adapter driver that is listed on the Microsoft page in the source link for the SP3 (the August 2015 update).

My performance initially degraded during the installation (Duh), but a quick restart and things seem fine. I notice Task View animations jitter a little less, but otherwise pretty much the same. Hopefully battery life improves, as well, as it's degraded since 8.1.

Some say disable windows hints and enable ad block makes a difference to battery life.

Sound via the DisplayPort via an HDMI adapter now doesn't work. Sound is directed to the wrong 5.1 speakers. Video in Chrome crashed and hung my Surface Pro 3, like it always has done in Edge. Rolled Back the audio driver, so that at least works better again! Disappointed there are still problems with MS's flagship device. I want it to 'just work'!

My SP3 is running cool if i'm browsing simple web pages with Edge. Spreadsheets on google drive makes the cpu run around 20% average. Aside from the chrome 64bits bug ( no sandbox "fixed" ), the 10525/SP3 firmware update are both okayish. batery life is around 7H as i edit this post

my Fan Kicks in, even when I'm just browsing with edge...normal?

Still can't upgrade my surface pro 3 from 8.1. Fails on install and rolls back. Have tried bout 20 times now

Surface 3 (not pro) here and while windows 10 made it usable (I was about to give it back to the shop when I bought it,before update it to w10,) it feel still like is running a beta version of Windows 10. I am glad it is a holiday period as if I was working I'd be very upset...

Am I the only one with battery drain problem in standby with sp3...? An iPad can be in standby for a week or more, my sp3 a couple of day only :(

My Surface Pro 2 never get suspended, even if I push the on/off/lock button and my OneNote app needs a Office365 subscription to sync. Both cases happend after Windows 10 upgrade.
Windows Central Newsletter
Get the best of Windows Central in in your inbox, every day!
Thank you for signing up to Windows Central. You will receive a verification email shortly.
There was a problem. Please refresh the page and try again.