Switching to Xbox Live provided a huge boost for Wordament, can help other games too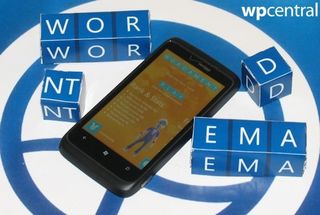 Microsoft themselves didn't have as much of a presence at Casual Connect Seattle this year as we would've liked, but they did stage a fascinating presentation on the effects that switching to Xbox Live has had on popular free word game Wordament. We all know Xbox Live has helped Wordament become more popular, but the specific benefits and results of the switch are extremely encouraging and could have wide-ranging effects on future Windows Phone games.
Windows Phone Central has the full presentation video to share, plus a detailed summary and anaylsis. Check it out after the break.
About the speaker
Alex Tarrand, Senior Product Planner at Microsoft delivered the presentation entitled 'Live Enable Your Game: Wordament Case Study.' Alex is a mobile advertising specialist, who has worked for Disney Interactive, Electronic Arts, and Microsoft on casual and freemium games.
Starting the presentation
Now we'll run down the key points delivered during the panel, which naturally started off with an explanation of Wordament itself. Alex summed it up nicely as "a worldwide tournament that's hosted again and again every three minutes." We'll leave it at that for now; check out our review for a more detailed analysis. Tarrand then goes on to describe DiscoPigeon, the young overachiever, I mean winner, of the Wordament tournament that took place in the Bellevue, WA Microsoft store back in April.
Xbox Live
Alex proceeds to introduce Xbox Live to the audience. He touts the total number of hours spent on Live by users worldwide as increasing by 30 percent per year. Subscribers spend 70 hours per month on average (2.5 hours a day), making Xbox Live the most highly engaged gaming community in the world. It's also very social – millions of users instant message and chat with each other daily.
Wordament
The magnitude of Xbox Live established, Tarrand moves on to Wordament specifics. It should come as no surprise that Wordament is the number one free puzzle game on Windows Phone. Even more impressive, it's the highest-rated Xbox Live game ever across any platform. Three free Xbox Live games occupied the top five rated slots on Windows Phone at the time of the presentation, though the other two freebies go undisclosed.
Wordament's raw statistics are quite interesting too. First, the player base skews towards males of ages 12-34. I've encountered some very enthusiastic female players, so (in the absence of actual hard data) I chalk the gender ratio up to more males owning Windows Phones than females.
As for player nationality, US players account for fifty percent of the worldwide player base. That percentage could easily change as Wordament introduces more playable languages over time of course. Overall, the game has been downloaded more than 580,000 times, and play sessions average out to 13 minutes – a very high number for mobile games.
Benefits of Live-enabling a game
Alex runs down the list of benefits to Xbox Live-enabled games on Windows Phone, most of which should be familiar to avid gamers.
Association with a Gamer brand: Xbox Live is one of the strongest brands in gaming.
Access to Gamers: Live games sell to the more passionate gamers on Windows Phone, and are advertised directly to them through the Games hub.
Placement in exclusive list of Xbox Live games in the Windows Phone store, which Alex compares to being 'Featured' on iOS. Visibility can make a huge impact on downloads and sales.
Attracts Achievement gamers (including yours truly and many of our readers)
Friends socialize a game for free (since other friends can see users playing it)
The effects of Live enabling Wordament
Upgrading Wordament to Xbox Live status was clearly an experiment by Microsoft. If things went well, the big MS could then use that success to promote the idea of Live-enabling games to other developers. And it did succeed: just one week after Wordament went Live, the number of players quadrupled. Not only that, but game session length increased dramatically compared to pre-Live status. In turn, ad impressions multiplied by a factor of between two and three, a number that doesn't quite match the overall number of users. Still, it means significant revenue for Microsoft as the game's publisher.
Joining Xbox Live
At times Tarrand refers to the Xbox Live lineup as both a "curated portfolio" and "a relatively closed portfolio." But he claims that Microsoft is starting to open things up, meaning that it should become easier for games to gain Live status. (In the past, we've covered the frustrations of indie developer Karios, whose games have consistently failed to gain approval from the Live team. There may be good reasons for that, which I'll explore in my upcoming MonsterUp Adventures review.)
More encouraging than simply promising the platform will open up to a degree, Alex Tarrand has offered to personally answer questions and offer advice to Xbox Live hopefuls. Developers can email him directly or contact the team at the email addresses in the image above.
Questions and Answers
After the core presentation wrapped up, Alex engaged in a Q and A session with audience members. The questions provide some insight into what the average mobile developer wants to or needs to know about Xbox Live, while the occasionally reticent response might reveal a thing or two as well.
Q: "When integrating a mobile game with Xbox Live, is that a Windows-only solution?"
A: "It is right now, but it won't be for very long."

My interpretation is that since Windows Phone 8 is moving away from XNA development, WP8 games will be programmable on other computer platforms like Mac now as well. Anyone get something different from this?
Q: "You're bringing functionality [from] the Xbox to mobile?"
A: "Absolutely. The same people who engage on the console are the same users who have the Live account who engage on the mobile titles. We find there's a great deal of migration between the separate screens."

This is why we cover a smattering of Xbox 360 games and news, dear readers.
Q: "What [is the] number of games you're looking for right now [for Xbox Live on Windows Phone]?"
A: "Again, it's a relatively curated portfolio. We're interested in all phenomenal IP, but specifically things that would be debuting on the Windows platform. [So being exclusive to Windows Phone] is a plus."
Q: "What are the device sales numbers for Windows [Phone] right now?"
A: "High. Very high. I can [elaborate] more when contacted directly."

Uh oh! The elephant in the room: Windows Phone device sales numbers aren't as high as anyone would like. Otherwise, he'd have shared some kind of figures.
Q: "You just said that [Xbox Live on mobile phones] is Windows Phone-only now but it won't be for long. Do we have a [time table for when] you'll be opening up to other mobile platforms?"
A: "Yes. Our slate is in the process of expanding; we're moving a couple of titles over to both iOS and Android… With the release of Windows 8, it'll be opening up to Windows 8, web, Windows Phone, and eventually iOS and Android. As for timelines, Windows 8… later on in the year."
That last response might just be Tarrand trying to keep the iOS and Android developers in the crowd enthused about Xbox Live with vague promises of full support for their platforms someday. Or it could be a sign that Microsoft actually does plan to take Live to competing mobile devices. (In the past, a handful of games like Kinectimals have shown up on iOS but without actual Xbox Live support.)
Should the latter prove correct, Windows Phone may one day lose a key selling point to the 'gamer' crowd touted during the presentation. After all, if gamers could unlock Xbox Live Achievements on the iPhones they already own, there would be much less incentive to adopt Microsoft's underdog smartphone platform.
Update: Just to be clear, this is by no means an official announcement of full Xbox Live support coming to non-Microsoft platforms. Some of our commenters seem to be slightly confused by the admittedly confusing answers the presenter gave. I'd wait for a real announcement to that effect from Microsoft (which may never come) before getting worried.
Slides created by Microsoft and edited here for size and readability.
Get the Windows Central Newsletter
All the latest news, reviews, and guides for Windows and Xbox diehards.
Paul Acevedo is the Games Editor at Windows Central. A lifelong gamer, he has written about videogames for over 15 years and reviewed over 350 games for our site. Follow him on Twitter @PaulRAcevedo. Don't hate. Appreciate!