Switching to Xbox Live provided a huge boost for Wordament, can help other games too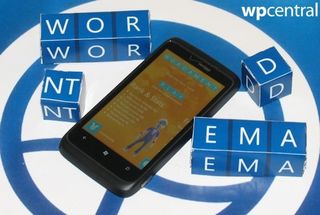 Microsoft themselves didn't have as much of a presence at Casual Connect Seattle this year as we would've liked, but they did stage a fascinating presentation on the effects that switching to Xbox Live has had on popular free word game Wordament. We all know Xbox Live has helped Wordament become more popular, but the specific benefits and results of the switch are extremely encouraging and could have wide-ranging effects on future Windows Phone games.
Windows Phone Central has the full presentation video to share, plus a detailed summary and anaylsis. Check it out after the break.
About the speaker
Alex Tarrand, Senior Product Planner at Microsoft delivered the presentation entitled 'Live Enable Your Game: Wordament Case Study.' Alex is a mobile advertising specialist, who has worked for Disney Interactive, Electronic Arts, and Microsoft on casual and freemium games.
Starting the presentation
Now we'll run down the key points delivered during the panel, which naturally started off with an explanation of Wordament itself. Alex summed it up nicely as "a worldwide tournament that's hosted again and again every three minutes." We'll leave it at that for now; check out our review for a more detailed analysis. Tarrand then goes on to describe DiscoPigeon, the young overachiever, I mean winner, of the Wordament tournament that took place in the Bellevue, WA Microsoft store back in April.
Xbox Live
Alex proceeds to introduce Xbox Live to the audience. He touts the total number of hours spent on Live by users worldwide as increasing by 30 percent per year. Subscribers spend 70 hours per month on average (2.5 hours a day), making Xbox Live the most highly engaged gaming community in the world. It's also very social – millions of users instant message and chat with each other daily.
Wordament
The magnitude of Xbox Live established, Tarrand moves on to Wordament specifics. It should come as no surprise that Wordament is the number one free puzzle game on Windows Phone. Even more impressive, it's the highest-rated Xbox Live game ever across any platform. Three free Xbox Live games occupied the top five rated slots on Windows Phone at the time of the presentation, though the other two freebies go undisclosed.
Wordament's raw statistics are quite interesting too. First, the player base skews towards males of ages 12-34. I've encountered some very enthusiastic female players, so (in the absence of actual hard data) I chalk the gender ratio up to more males owning Windows Phones than females.
As for player nationality, US players account for fifty percent of the worldwide player base. That percentage could easily change as Wordament introduces more playable languages over time of course. Overall, the game has been downloaded more than 580,000 times, and play sessions average out to 13 minutes – a very high number for mobile games.
Benefits of Live-enabling a game
Alex runs down the list of benefits to Xbox Live-enabled games on Windows Phone, most of which should be familiar to avid gamers.
Association with a Gamer brand: Xbox Live is one of the strongest brands in gaming.
Access to Gamers: Live games sell to the more passionate gamers on Windows Phone, and are advertised directly to them through the Games hub.
Placement in exclusive list of Xbox Live games in the Windows Phone store, which Alex compares to being 'Featured' on iOS. Visibility can make a huge impact on downloads and sales.
Attracts Achievement gamers (including yours truly and many of our readers)
Friends socialize a game for free (since other friends can see users playing it)
The effects of Live enabling Wordament
Upgrading Wordament to Xbox Live status was clearly an experiment by Microsoft. If things went well, the big MS could then use that success to promote the idea of Live-enabling games to other developers. And it did succeed: just one week after Wordament went Live, the number of players quadrupled. Not only that, but game session length increased dramatically compared to pre-Live status. In turn, ad impressions multiplied by a factor of between two and three, a number that doesn't quite match the overall number of users. Still, it means significant revenue for Microsoft as the game's publisher.
Joining Xbox Live
At times Tarrand refers to the Xbox Live lineup as both a "curated portfolio" and "a relatively closed portfolio." But he claims that Microsoft is starting to open things up, meaning that it should become easier for games to gain Live status. (In the past, we've covered the frustrations of indie developer Karios, whose games have consistently failed to gain approval from the Live team. There may be good reasons for that, which I'll explore in my upcoming MonsterUp Adventures review.)
More encouraging than simply promising the platform will open up to a degree, Alex Tarrand has offered to personally answer questions and offer advice to Xbox Live hopefuls. Developers can email him directly or contact the team at the email addresses in the image above.
Questions and Answers
After the core presentation wrapped up, Alex engaged in a Q and A session with audience members. The questions provide some insight into what the average mobile developer wants to or needs to know about Xbox Live, while the occasionally reticent response might reveal a thing or two as well.
Q: "When integrating a mobile game with Xbox Live, is that a Windows-only solution?"
A: "It is right now, but it won't be for very long."

My interpretation is that since Windows Phone 8 is moving away from XNA development, WP8 games will be programmable on other computer platforms like Mac now as well. Anyone get something different from this?
Q: "You're bringing functionality [from] the Xbox to mobile?"
A: "Absolutely. The same people who engage on the console are the same users who have the Live account who engage on the mobile titles. We find there's a great deal of migration between the separate screens."

This is why we cover a smattering of Xbox 360 games and news, dear readers.
Q: "What [is the] number of games you're looking for right now [for Xbox Live on Windows Phone]?"
A: "Again, it's a relatively curated portfolio. We're interested in all phenomenal IP, but specifically things that would be debuting on the Windows platform. [So being exclusive to Windows Phone] is a plus."
Q: "What are the device sales numbers for Windows [Phone] right now?"
A: "High. Very high. I can [elaborate] more when contacted directly."

Uh oh! The elephant in the room: Windows Phone device sales numbers aren't as high as anyone would like. Otherwise, he'd have shared some kind of figures.
Q: "You just said that [Xbox Live on mobile phones] is Windows Phone-only now but it won't be for long. Do we have a [time table for when] you'll be opening up to other mobile platforms?"
A: "Yes. Our slate is in the process of expanding; we're moving a couple of titles over to both iOS and Android… With the release of Windows 8, it'll be opening up to Windows 8, web, Windows Phone, and eventually iOS and Android. As for timelines, Windows 8… later on in the year."
That last response might just be Tarrand trying to keep the iOS and Android developers in the crowd enthused about Xbox Live with vague promises of full support for their platforms someday. Or it could be a sign that Microsoft actually does plan to take Live to competing mobile devices. (In the past, a handful of games like Kinectimals have shown up on iOS but without actual Xbox Live support.)
Should the latter prove correct, Windows Phone may one day lose a key selling point to the 'gamer' crowd touted during the presentation. After all, if gamers could unlock Xbox Live Achievements on the iPhones they already own, there would be much less incentive to adopt Microsoft's underdog smartphone platform.
Update: Just to be clear, this is by no means an official announcement of full Xbox Live support coming to non-Microsoft platforms. Some of our commenters seem to be slightly confused by the admittedly confusing answers the presenter gave. I'd wait for a real announcement to that effect from Microsoft (which may never come) before getting worried.
Slides created by Microsoft and edited here for size and readability.
Paul Acevedo is the Games Editor at Windows Central. A lifelong gamer, he has written about videogames for over 15 years and reviewed over 350 games for our site. Follow him on Twitter @PaulRAcevedo. Don't hate. Appreciate!
How about those who cant access it ? This adds another reason not to buy WP until 8. A whole 2 years of beta test :D

What do you mean by Can't access it?

Ever heard that WP was originally in a few selected countries and then spread slowly. And ever heard that MSFT is planning to have a big bag for almost world wide availability during WP8 launch ? Not every country enjoys it. Not trying anything, but MSFT can introduce the Xbox Live now instead during the launch and give its "current customers" proper service. MSFT chooses to have big promotion and give disservice to its "current" customers.

Unfortunately, Xbox Live is still not available in my country, the Philippines.

Wow surely live status on ios and android is a really stupid idea. Won't help Windows Phone at all...

Agreed. That would be like publishing Halo: Combat Evolved on PlayStation 2. When you're trying establish a new brand, Xbox or Windows Phone, don't give away one of your few exclusives.

Agreed, I can't see any benefit that this may bring.

I too agree. The reason I wanted a wp to begin with was the live enabled titles. I saw friends with fruit ninja and achievements on their gamertag and wanted a wp. I like the os but I would be less dedicated if live went to ios and android. Seriously, that is a huge mistake, horrible idea. The shortcomings are made up, a little, with live titles. What better way to keep someone upgrading wp if they continue to offer things you cannot get from the competitors.
Now, a game here and there to give a taste to ios and show users what they are missing is ok, but an Xbox live hub, fail.

They can't get achievements though.

Would love if Words By Post went Xbox LIVE too.

They should take a hint from the success they are actually promoting here, people want xbox live games. Giving that advantage away doesn't help the WP platform one bit.

Live is famous and have a strong sense of community because MS nurtured the brand and has a following of core gamers from, some of them, 9 years (almost 7 myself). No matter how financially tempting it might be I hope MS doesn't open the gates.

Sorry but for 99.999% of devs you have no chance of getting live certification. Before you even start (i.e. anyone from live will even email you) you need to fill in a 40 (yes FORTY) page document describing your game. That I could even cope with except for the disclaimer that basically says "If we think your game is a really good idea and even that you have signed a NDA WE ARE ALLOWED TO TAKE YOU IDEA and make our own game instead". Its that last bit that kills it for me.

I've never heard the bit about developers signing away their intellectual rights. If that is true and standard, I don't see why anyone would agree to it.

Pretty sure Marvel Comics, SpongeBob, Ninja Turtles and others never signed away their IP and they have Xbox LIVE games. You're making stuff up.

Also check out Indie Game: The Movie. All little guys. All publishing Xbox LIVE games. All retaining rights. So once again, you're making stuff up.

This is definitely a load of crap. Gmotagi sounds like the people claiming that the Fez developers had to pay to be an Xbox exclusive.

Isn't Disco Pidgeon closer 12? Article says 5...

Yes, sorry. The speaker was confusing ClydeHillKid (5) an up and comer with DiscoPidgeon (13). DiscoPidgeon is our reigning champ.

Don't forget that exposure is key in mobile. Sooooo many smartphone users don't know a thing about Xbox, WP, Zune/Music Pass,etc. Keeping things exclusive to WP doesn't help with the people who are devoted users, it doesn't help with those who are clueless, and the number in the middle is too small to warrant the risk. If they open up the brand they will get more "ohh I know what that is" and therefore get more consideration from the consumer. MS, for better or worse, has always had a "if you build it, they will come" type of approach. With the mobile space so crowded (and devoted) exposure of the "field" is key. Consider Zune pass, clearly the best subscription service out there, yet it flounders because its exclusive and lives in obscurity.

They've already built it (WP), almost no one has come. Making a key feature like xbox live available elsewhere won't help that.

But Xbox Live is orders of magnitude more successful and widely recognized than Zune Pass. It's already a big deal (to many) and that's why it works as a selling point. Microsoft (like any platform holder) has to balance their interests across platforms with the need to provide exclusive content and features for their own platform.

lit has been mentioned, live is a selling point. If wp did not have live out of the gate, I would probably have a different phone. I am not alone with this and the thought of having Xbox live titles on other os's will hurt wp significantly. Each os needs something the others lack to bring in buyers.

MS would make a zilliion more dollars selling Xbox games on IOS and Android than retaining them to WP where (let's be honest) no one plays them because A) small user base and B) the games are sucky and overpriced.

MS is out to make money, like any smart company. That's why there's ads on my Xbox dashboard right now. They will most certainly put Xbox on IOS, they'd be stupid not to go after that cashmoney. Yes, it kills WP a little more, but how much worse could it get really? Xbox exclusivity on WP did not draw herds of people to the platform before, so why not ditch it? Makes sense to me. I don't have to like it to understand it.

How do you figure? Scroll down for my full set of numbers...but MS would make a fraction of a dollar for every app they sell but make 100x that for every phone they sell. We are talking about PORTING games from WP to iOS, so saying the games suck is just stupid, because that "sucky" game is what you are saying would make them zillions of dollars.
And I DO think that Xbox Exclusivity DID draw people. Go to an Achievement website and there will be 100,000 people there that bought a phone for JUST the achievements. MS would have to sell 100,000,000 games or more on iOS to make up for just those 100k people.

If we have not even 2% of the smartphone market then achievements and WP exclusivity is NOT working to bring people in. So why would they continue to use that as a draw to bring in more users? You and I may care about achievements but few others do enough to break away from iPhone. Most people want iPhone and do not care enough about achievements to buy a phone for them.

And yes those games would make tons of cash because people with existing iPhones (everyone in the world) would only have to pay a few bucks to get achievements, rather than buy a whole damn phone for hundreds of dollars.

The small adoption rate of Windows Phone is due more to lack of advertising presence and a relatively smaller selection of apps and games compared to the other mobile platforms. I believe Achievements are still a selling point, but without more advertising and a better selection of games, they can only do so much.

I sitll feel most people don't care enough, I mean Xbox is the top console in the world so one would assume that everyone is hooked on achievements so much that they would want them everywhere. Games for Windows Live and WP7 adoption rate has proven otherwise. Most people have negative views of those services despite them having achievements.

I can't really tell if it's a bad idea to let iPhone users get Xbox achievements, or what it would do to WP7. All I know is that it would make tons of cash for MS and that is the business they are in. Remember they make money off of every Android phone, even if each one kills WP7 a little more. They don't care. Android is a cash cow for MS now. It's only about making money, and I don't fault them for that. :)


And sorry, but the majority of users are NOT devoted in the slightest...Yes, there are the 20-30% of techies that actually know what phone they have, and the precursor and the successor, but that is about it. Most of the population goes in and tells the AT&T dude what they have and what they want and how much they want to spend. WP needs to get the rest of that crowd that already has Xbox LIVE but thinks their Android/iPhone works "OK". Granted there is still the old people crowd but they are going to get them with the "this is the same experience as your desktop and maybe your tablet".

Microsoft may add platform detection and advertise WP, W8, and Xbox to persuade adoption of their mobile, desktop, and entertainment platforms to iOS, Android, etc., consumers and developers.

Didn't wordament get live status around the Lumia 900 launch as well? Not saying that would bring 4x the amount of players, but it may have helped also.

I believe Wordament came to Live 3 or 4 weeks after the Lumia 900, so yeah, the increased userbase may have played some part.

Now for the developers of ARMED! to take note of this.

Armed does not need to be Xbox Live. That would just hold the game back from its full potential.

I've seen it... it still does not seem like something that would work for us. MS needs removes the requirement to have a "publisher" (which takes a cut of sales) and eliminate the complexity and costs of submitting patches (in particular on mobile). - Tom

Wordament = my current addiction

Why is MS always making ziggy decisions? Xbox on Android and iOS? Then why bother buy a WP? Xbox Live is an advantage to WP and keeps on attracting fans to the OS and we are just gonna make it all available, WP is dead for sure. These mobile OSs don't create anything for WP so why all these support to them. I always ask and gonna ask again, which people make decisions at Microsoft? Would like to meet them one day....damn

I use and love WP for many more reasons than Xbox. If you had a WP, you'd already know that our gaming selection isn't the greatest. Although I admit that Xbox was a draw for me to use this platform, the games pretty much suck on it. I'm sticking around due to WP being an awesome UI and mobile experience.
Xbox on IOS and Android is an inevitability. There's waaaaayyy too much money to be made on those platforms and MS would be stupid to ignore it just to make a few WP users happy with their exclusivity.

You can say that to iOS and Android too. Who has more exclusivity than iOS? Can you name or give me a number of official Google apps on WP? Sometimes it pays to be exclusive, iOS is just successful becuase of their selfishness.

iOS has never paid anyone to be exclusive to iPhone, as far as I know. They don't need to.

Put it to numbers...
Say Microsoft ports Xbox LIVE to iOS and gets the next "Rave Game" to have Achievements on the iPhone. They will get...say 30%...of the $0.99 they charge. So, they sell the game to EVERY iPhone owner, say 200 Million and make $60 Mil. Now, say they keep it exclusive and as a result convert just 200,000 people from iPhone to WP (1/1000th of the people that actually WANT the game). At $30 a phone (guess at their cut of the OS)...they will make the same $60 Mil.
What do you think is easier? Selling 200k Smartphones or getting 200 MILLION people to buy your game.

There is an extremely small amount of people being converted to WP7 due to achievements. I suppose that's where you and I will differ on opinion. Does it happen? Sure.. But most people don't care about them that much to switch from iPhone which rules their waking lives.

MS will make huge amounts of bling for putting Xbox Live on all smartphones, rather than just a piddly 2-3% of the smartphone market, which is nothing. They know it, I know it. It will happen. You and I gain nothing from having those crappy overpriced games just to ourselves. If you love it, set it free.

advertisements, advertisements, advertisements! advertisements, advertisements, advertisements!
advertisements, advertisements, advertisements! advertisements, advertisements, advertisements!
advertisements, advertisements, advertisements! advertisements, advertisements, advertisements!

WP platform has nothing as compared to Android and iOS, and we trying to give away the gold we have to these other platforms...are we slaves?

Microsoft did not officially announce full Xbox Live support for iOS - please reread the article and check out the update I added to reduce confusion.

Ahahah Paul, make no mistake, from now on people will say Xbox Live ecosystem is fully available on iOS and Android (and probably PS3 as well) !!!!

Paul, I understand but there is a hint that it will be made official.

I'm really getting Fired up! Microsoft is starting to give out a little to much. They are looking to much at the Xbox system selling points and not thinking about Windows Phone Progress...

Wow that's a lot of good information. I'd love to see Xbox Live integration on more and more games, but that means they have to go through Microsoft certification and then receive and inflated price tag...

It's only fair to pay for q&a (ok, debatable when it comes to WP, but on Xbox it's nearly perfect), and a curated portfolio.

@Paul: thanks for the nice piece! Sorry we didn't get to meet you at casual connect, but the Wordament team was on vacation that week. Re: gender skew: I would say Wordament is slightly skewed male, but we are extremely proud of how many female players we have. The bulk of our comments, suggestions, and feedback, both on Facebook and in support mail come from ladies. So, I think ultimately, your guess is right: the skew may be tied to a few more guys have windows phones than gals.

For what it's worth, my wife plays Wordament on my phone all the time, possibly more than I do. I would imagine there are probably a lot more couples sharing in the same manner.

I know he may have slipped on his wording but if live with achievements came out on ios and android I think that would be microsofts biggest error I know personally about 20-30 people who bought phones just for that reason. so if they could keep ios and get some of those games they would never have switched.

I hope he is referring to programmablitity or just smart glass kinda stuff like the xbox app

I think it's shocking that anyone would know 20-30 people personally with WP7. Shocking. And to say that those 20-30 people you personally know bought it just for achievements, that's a hard pill to swallow. I don't know a single person who has WP7 but me, discounting those people I know online. Actual real life people = zero adoption rate.

You're a terrible evangelist for this platform!

lol it's true! I love WP7 but I can't help but stay grounded in reality as well. :)

He surely means that he knows 20-30 people online with Windows Phones. I do too! IRL, it's more like 10.

I'll be DEAD honest here, I only grabbed Wordament due to free Xbox achievements, I like word games but, not as much as other types of games.

I got addicted to it and told my sister about it and she's always on it (another HTC Trophy user, due to my suggestion and loves it)....

If it was not for Xbox Live achievements on it, I would of never even looked at it.

I do think being a Xbox Live game does make a lot more people take notice, I did and a bunch of WP7 users I knew did too.
Windows Central Newsletter
Get the best of Windows Central in in your inbox, every day!
Thank you for signing up to Windows Central. You will receive a verification email shortly.
There was a problem. Please refresh the page and try again.