Sync Kinoma Play to iTunes with Salling Media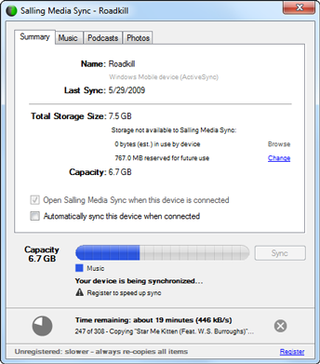 On my computer, you will find nary a sign of any Apple software as iTunes stopped being a "neat" app about, I dunno, 4 years ago.
But for those of you who still load that behemoth and want to sync with your trusty Kinoma Play on WinMo (see update), looks like your dream is now a reality due to some third-party freeware by Salling Software.
According to Kinoma, which is officially supporting this method, Salling Media Sync "...automatically identifies phones running Kinoma Play and syncs all the audio formats that Kinoma Play supports."
The app is "free" for basic use but will cost ya' $22 beans for you heavy sync'ers and those wanting faster sync times (I'd imagine that would be everyone?). Hey, if the Pre can do it, so can WinMo. Hmph!
Update: Looks like Kinoma has rolled out a small update from previous v5.1.46 to v5.1.48.
Mostly looks like a "cleaning up" update after the big one just recently, as this tidies up some naming conventions, UI interaction, G-sensor adjustments and just general patches. It also seems to be a bit speedier, though I still have to wait 2-4 seconds to go back to the launcher on my Treo Pro. Hmm.
Other changes include:
More Home shortcuts — The last released introduced a super-convenient shortcut that lets you go Home just by holding the Center key on your 5-way. Now, you can press-and-hold the Back button as well.
Live365 — The "More" now works correctly for stations listings and presets, and we fixed an issue where audio scrobbling didn't work for everyone.
Facebook Media — We updated the terminology to match the current Facebook style (i.e. "What are you thinking?").
Get Apps — We improved the way screen shots appear on screen to make your eyes happier.
Improved press-and-hold feedback — Now when you press-and-hold on lists and grids to bring up the menu pod, a nifty icon appears to show when you've pressed long enough. Didn't mean to do that? Just drag the screen to continue doing what you were doing.
Get the update now via
Menu --> Player --> Check for Updates!
Phil is the father of two beautiful girls and is the Dad behind Modern Dad. Before that he spent seven years at the helm of Android Central. Before that he spent a decade in a newsroom of a two-time Pulitzer Prize-finalist newspaper. Before that — well, we don't talk much about those days. Subscribe to the Modern Dad newsletter!
Don't forget Twitter! Kinoma Play's Twitter app is now faster, more reliable under slow network conditions, and adds Retweet to boot. (Thanks, Malatesta!) -- Charles Wiltgen

lol, knew I missed something! Thanks for the clarification.

You can do mostly the same this Salling app does with a freeware app called iTunes Agent: http://ita.sourceforge.net/index.html. The only catch is that it can only sync one playlist, so for a large collection with multiple playlists you need to re-generate those. I have softick card expo II for USB mass storage mode. I have these two apps running and works nicely. It does have a slow transfer rate though...

"Free" as in crippled. Yes it will sync, but it purposefully re-copies EVERYTHING on every sync - which basically not only means the free version is slow - but it is actually useless. There's no way in hell I'll pay for software that cripples things in this way. Extra features is one thing, crippling is another. It's like saying, oh you got the value menu, so I spit in your food, you should've spent more!... seriously... I have paid for software I used for 10+ years and now that I have a decent paying job I'm going back and paying for many of those apps. But that won't ever happen if it's crippled so much that people never use it.

Digital photo frames are common in 7 inch (17.8 cm) to 20 inch (50.8 cm) sizes.Digital Photo Frame Some digital photo frames can only display JPEG pictures. Most digital photo frames display the photos as a slideshow and usually with an adjustable time interval.Hiphone They may also be able send photos to a printer. Digital photo frames typically display the pictures directly from a camera's memory card, though certain frames also provide internal memory storage. Some allow users to upload pictures to the frame's memory via a USB connection, wirelessly via bluetooth technology. Few are able to send photos with cellular connectivity.car monitor Some frames allow photos to be shared from a frame to another.
Windows Central Newsletter
Thank you for signing up to Windows Central. You will receive a verification email shortly.
There was a problem. Please refresh the page and try again.