Synchronise full resolution Windows Phone photos with SkyDrive through Zune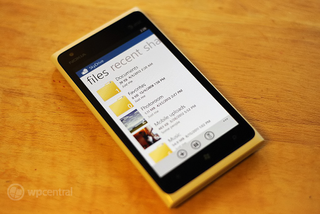 Uploading photos from your Windows Phone to SkyDrive can be a pain, especially since full resolution photos are resized when sent to the cloud. This is presumably due to Microsoft taking measures to optimise transfer for those on tight data plans who may not be connected to a WiFi network. While perfectly understandable, it would make sense to have this option in the Windows Phone settings for the user to configure how they'd like their photos uploaded to their SkyDrive account.
For now there's a workaround of sorts. Unfortunately a Windows PC is required with Zune installed, sporting an active Internet connection, and of course the native SkyDrive client for Windows. Luckily, Microsoft has developed sturdy software enabling Windows users to access and synchronise their SkyDrive storage locally with a smart folder set on their machine. This is what we'll be using through Zune to automatically upload photos from the Windows Phone to the cloud.
Matt Stein got in touch with us and we were alerted to a simple feature of Zune, which would allow us to automatically save our photos from the device to a designated SkyDrive folder. Instead of allowing Zune to save imported photos to default library locations (User/Pictures) we were able to configure the software suite to use our local SkyDrive smart folder and select the destination. When the Windows Phone is plugged in and new photos are detected, Zune will automatically import them to the SkyDrive folder at full resolution, where Microsoft's cloud service would then take care of the rest.
Step 1 - Launch Zune and head on over to the settings. Scroll down and select "Pictures & Videos" from the navigation list and we'll now have some options to configure. Before we continue, you can alter the 'image quality' to original should you so desire. We're here to change the location where Zune saves imported photos from connected devices. Hit "manage" and a pop-up window will appear.
Step 2 - You'll now be able to see the window below where we can change the location to our designated SkyDrive folder. Should you be seeing this window for the first time, you may have multiple default options already present. Be sure to choose between (or remove should they not be required) to achieve the desired result. By the end we'll want to have our pictures library location to be defaulted to our SkyDrive folder.
Now plugging in your Windows Phone will see Zune import photos from the device to your SkyDrive folder, which will then be synchronised with the cloud. Visiting the account on the web (or on another device) will show full quality photos captured and uploaded from your Windows Phone. All that's required is a quick sync every now and then (or whenever is required to extract media).
Let us know if you have attempted to configure Zune this way and whether you were able to achieve the same result. Be sure to check out other tips and tricks for SkyDrive on your Windows Phone.
Thankls, @mattjstein, for the tip!
Rich Edmonds is Senior Editor of PC hardware at Windows Central, covering everything related to PC components and NAS. He's been involved in technology for more than a decade and knows a thing or two about the magic inside a PC chassis. You can follow him over on Twitter at @RichEdmonds.
I've been transferring my photos at full resolution to my computer pretty much since I've had my phone, but I honestly never thought to upload them directly to the SkyDrive folder. Not that I quite see the point as I've always seen SkyDrive as a on-the-fly backup so this kind of defeats the point!

But then importing photos from a digital camera or other devices that uses the pictures library will also be affected, as this is changing the default save location for all pictures.

Isn't this just defaulting the photo sync folder for Zune and you don't have to use your Photo gallery folder anyway?

Well this is affecting the pictures library as a whole in Windows, so it will have SkyDrive set as default to all programs using the pictures library.

You can separate the libraries Zune uses by ticking a box somewhere in settings.

Yep, have been using this method a couple of days right after I've installed the Skydrive local client/folder. My question - is there a way to manually (or at least set a desired sync refresh interval) sync the local Skydrive folder to the cloud?

It should be doing it all the time. It is a live folder.
I also have been doing this forever. Have my pictures wiped from my phone very night. My SkyDrive is basically sd/pics & sd/movies & sd/ documents and so on. It angers me so that in windows though you can turn off some auto folders but I got it handled by taking those of my start menu and going to SkyDrive root. Works great.

I use photo2cloud. It works great

I came up with this 2 months ago. Slightly different but better method. Even posted a thread on XDA forums explaining how to do it rather easily http://forum.xda-developers.com/showthread.php?t=1726704

I use Fhotoroom. That seems to upload to Skydrive in full resolution.

There should be an option to sync "as soon as connected to a wifi"... Being as it is now is a useless feature

How is it useless? For almost a year I haven't had any problems syncing my photos over Wi Fi so not sure how you can say it's useless. Just wondering what I am missing. Maybe it's not ideal in your mind but I don't understand how it is useless.
P.S I am not talking about full resolution I am just talking about syncing. And all this is about to change very soon because windows 8 and windows phone 8 will be almost the same thing so you can even use drag and drop from phone to computer or computer to phone in windows explorer

Have to be careful in case an innocent picture is deemed inappropriate by MS and you lose access. Much rather have them local under my control.

Someone likes taking pictures of their little chap ;)

I have been using this method for several months. Never wrote anywhere about it because I thought everyone interested had figured it out themselves. Damn I'm smart, I suppose :-D No offence

Been doing this since the SkyDrive became available for PCs. Never thought of sharing it though. ... Didn't think people needed something like this.

It's possible to sync IE Favorites between computers using this and hard links, sadly, WPs don't know how to open these files.... woulda been a great way to sync favorites.

ADD the step of Wireless Sync. Then it is doing it while charging. That is what I do and it works perfectly.

I am not too bothered about syncing to SkyDrive through Zune, mine automatically upload as soon as the Photo has been taken. Its mainly my Music and Videos that get sync with Zune. I am not one to use WiFi to sync, I prefer plugging it into the computer to do.

My phone automatically downloads my pictures to SkyDrive with zero loss in quality. I thought Zune was going away and to be replace with Xbox music.

I've been doing this with Live Mesh, and then SkyDrive when the new client became available. The only problem I have with it is that now I store two copies on SkyDrive: the original crappy version uploaded from the phone, then the good one when I plug my phone in at the end of the day. I really just wish they'd have provided an option to enable the full-quality uploads.

As far as I know there is no Skydrive client for XP, while there is a perfect one for Dropbox. Please correct me if I am wrong.

XP is retired as of next year. No longer supported. By a new PC.

I will, when WP8 is available. Meanwhile my way to the cloud is elsewhere.

1. Just save them to your myuser/pictues .... 2. then install sky drive. 3. then go to any windows 8 PC. launch photos app. Access any pc with SkyDrive installed "folder fetch" is amazing!!!! So if im at a cafe on my windows 8 tab. I can access all my photos from my home server without changing any locations and don't need redundant copy's on every computer I use. Just use pictures!!!!!
Windows Central Newsletter
Thank you for signing up to Windows Central. You will receive a verification email shortly.
There was a problem. Please refresh the page and try again.