Microsoft to offer SkyDrive paid tier upgrades and native clients for PC and Mac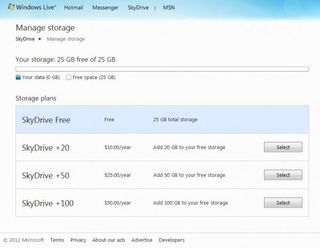 Microsoft has been pouring resources into the SkyDrive service with a recent update that introduced a fresh batch of features and functionality. While 25GB is offered for absolutely nothing (and is more than enough for most users), the software giant is looking to introduce paid upgrade plans according to a report by the Brazilian site Gemind.
The prices for storage upgrades that allow up to a cumulative total of 125GB (25GB standard + an extra 100GB) available cloud storage space, are set to look like the following:
+20GB for $11/yr
+50GB for $27/yr
+100GB for $54/yr
Not only that but there's evidence of native clients for both Windows and Mac (see below), which will please many for more convenient access to their stored files.
The news of a Mac client will definitely impress users as iCloud upgrades can prove costly. In fact, Microsoft could really work wonders with SkyDrive on Apple's platform with the iOS app and now for the desktop OS. It's not known when this rollout will cover the rest of the world.
Source: Gemind.br, via: TNW, thanks to everyone who tipped us!
Windows Central Newsletter
Get the best of Windows Central in your inbox, every day!
Rich Edmonds was formerly a Senior Editor of PC hardware at Windows Central, covering everything related to PC components and NAS. He's been involved in technology for more than a decade and knows a thing or two about the magic inside a PC chassis. You can follow him on Twitter at @RichEdmonds.
A half-cent/gigabyte for the 100GB option?! Holy crap that's cheap!! Sign me up!

Haha, it's actually 50 cents per Gb.

Haha, put the decimal in the wrong place... I always do that... always mess up some mundane detail!

Its about time, they need to incorporate the features you find with Flickr, YouTube and Dropbox/Box.net and it would be a one-stop shop.

Now Mesh needs to work with SkyDrive and not be in separate places online.

Also, offering more than 5 GB to synchronize would be a god-sent!

Yeah the whole 25gb, pointless segregation to the end user.

According to http://blogs.msdn.com/b/b8/archive/2012/02/20/connecting-your-apps_2c00_-files_2c00_-pcs-and-devices-to-the-cloud-with-skydrive-and-windows-8.aspx , apparently now the whole SkyDrive acts as your Live Mesh. Under SkyDrive on the desktop, "your entire SkyDrive will start syncing into the folder you choose (the default location is in a SkyDrive folder under your user folder: \SkyDrive\)." Later, "SkyDrive for the desktop will also provide the ability to sync up to your available quota of storage (and the ability to unlock more), along with unmatched performance on your PC. Oh, and we will also have support for uploading large files (up to 2GB) through Explorer, another big request from SkyDrive.com users over the years."

I may have just jizzed in my pants

we really didn't need to know that....

I'll be buying that 100GB add-on as soon as they release a good desktop tool. They should just take Live Mesh and make it sync to the main SkyDrive instead of a secondary 5GB storage.

I do trust MS over Google so this is great news

An aditional 20 gigs is more than enough for me. I still don't trust all my stuff in the cloud. Plus make it so that I can stream my music and video right on my windows 8 tablet and windows phone.

Right! I think this is just what we are going to be seeing..It's all about tablet and mobile. Straming music and video. I'm really excited about Microsoft upcoming new Os for PC/Tablet and Mobile devices.I think we are going to see sales of Microsoft OS for Tablets and Mobile devices surging by this time next year

Yea I agree 100% if they make it so I can stream most of my music & videos instead of syncing them on my phone to conserve space I would definitely sign up for an addition 20gb.

If they better integrate it with WP I may use it more. I just use SkyDrive for course files (my anywhere flash drive!) but they take up a couple MB. Nothing I'm using it for is even close to 1GB.

IMHO: All in preparation for W8/WP8 release later this year. Mesh, or something like it, will also be introduced for online backup/sync of pc/tablet/WP8 to the 'reimagined' Skydrive. This will also help enable live streaming of music from Skydrive. I want in on the beta test of this mashup! +100gb for me; when you have it available, you'll find a need. Go Microsoft!

Now if they could also include options to raise the single file size limit, I would be doing backflips!

Unlimited filesize, filetype and mesh-sync. Then I won't have to buy a NAS. Also... I could use more than 100GB. Seamless wp8 is a requirement

If there is native client access, does that mean I can attached office documents from the email client on WP& phones? Now it only does pictures. I think I saw someone on the forums say you can attach office documents now but I have never been able to do so.

You can send office documents via WP7 phone directly from Office hub. Open the document you want to send and click on email icon at the applicationbar....


Thanks. This is the same advice everyone else was giving and I could not get it to work. However, based on your guidance I played around with it and discovered the following. For documents save on "Phone Location", I can click on Share and then get a choice of "Hotmail" or "SkyDrive". Once I make a selection, the document shows up as an email attachment. This is exactly what I wanted to see.

My problem was I had no documents saved in the "Phone Location". Everything was on Skydrive. So when I selected Share, it was pointing to documents on Skydrive and the document would show up as a hyperlink in the email. I did not want this.

This leads to two questions:
1. Will the native access allow me to attach documents from Skydrive and have them show up at email attachments and not hyperlinks.
2. Does the Office Hub visually look different depending on device. More than one person has recommended that I click on the email icon, which I have never seen. Only thing I have is a "Share" option.

Thanks for the insight.

This needs to happen and happen soon. I'm in love with Microsoft.