Tips and tricks for using SkyDrive on Windows Phone
In our latest how-to guide, we show you how to make the most of your Windows Phone and SkyDrive cloud storage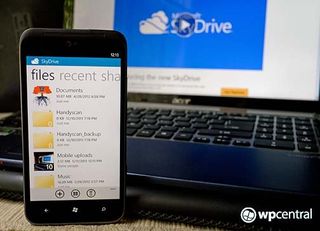 We've touched on the basics with Microsoft's SkyDrive services and the SkyDrive App for your Windows Phone. But how does all that translate into every day use?
The obvious every day use for SkyDrive and your Windows Phone is to free up storage space and make content easily available. Why bog down your Windows Phone with documents, pictures, and music files when you can store them in the Cloud and access them at your leisure? But did you know that several quality apps utilize SkyDrive? Of course you did... and we'll try to cover a few along the way as we look at every day uses for your SkyDrive account.
Keep in mind that there are several ways to upload files to your SkyDrive account. There is the internal feature that you can find under the share options in your Pictures Hub, the upload feature in the SkyDrive App, and upload features through various third party apps.
Documents
SkyDrive will let you keep your documents in the Cloud and access them from your Windows Phone while on the run. Whether it's a Word Document, Powerpoint, Excel, OneNote, or .PDF file you can store these documents in the Cloud and download them to your Windows Phone as you need them.
Edit, compose, save and upload these documents on your PC (keyboard has more elbow room) and upload it to your SkyDrive Account via the SkyDrive Desktop app. The document is now easily accessible from your Windows Phone.
Now what if you run across a document you need to copy and use for, say, a research project? Or a recipe from your Great Grandmother? Or an article in the local paper that you want to preserve?
HandyScan will upload any document scanned to your SkyDrive account. Instead of wasting time and money finding a zerox machine, use HandyScan to copy the material you're researching or need and upload it to SkyDrive for future use. When you get home, you can access the scanned documents from your desktop computer. It would have been nice to have had this when I was doing all my college research papers.
Music
One of the more prominent complaints we hear on new Windows Phones is that there isn't enough on-board memory for Windows Phone users' music collection. With SkyDrive, you can store your music files in the Cloud and, with Windows Phones updated to Mango, stream the files to your phone.
Yes...the interface sucks. You can only play one song at a time and you can't download the music files to your Windows Phone. Enter the third party apps.
Apps such as Sky Music, Sky Player and Cloud Music taps into your SkyDrive account to play music files stored in the Cloud. While you still can't download the music files to your Windows Phone, you can create playlists, artist/album folders, and other song lists to play tunes continuously.
Photos
As with music files, SkyDrive is a nice resource to free up storage space. As with the music files, there is room for improvement. For starters, SkyDrive resizes images uploaded from your Windows Phone when you upload images from the Pictures Hub. I should say significantly resizes your images.
From the HTC Titan II a 4640x3480 image is reduced to 719x539 when uploaded to SkyDrive directly from the Windows Phone (using the share option in the Pictures Hub). I also found that the compression and resizing changed the perspective slightly. Notice the crayon images that were uploaded and resized don't share the same angle as the copy that was downloaded straight from the Windows Phone via Zune. Most of the time the change is so slight you won't notice it but other times it's a little more noticeable.
This resolution change may not be a big issue if your images will be viewed from your Windows Phone or a computer screen. It will be a big issue is you want to print the reduced images. The resizing is basically an issue of bandwidth when using the internal upload feature. To minimize the amount of data used to transfer images from your Windows Phone to your SkyDrive account, someone decided to place the reduction in place.
Luckily, there are a couple of work arounds.
The easiest way is to upload images through the SkyDrive App. The recent v2.1 update has changed how image uploads are done through the app. Images are no longer resized and are renamed with the date of upload followed by the number of the upload for the day. For example, your second image on 5/12/2012 will be named WP_20120512 2.
You can download your photos to your desktop computer through Zune and then sync your image folder to SkyDrive with the SkyDrive Desktop App. It may be the long way around but the images will be uploaded at full resolution.
Another option is to use the third party app SkyManager. SkyManager (free version and paid version) is a decent little SkyDrive app that will let you upload to a maximum resolution of 2048x2048. It's not perfect and with the updates to the SkyDrive app, may SkyManager will be able to upload photos at full resolution with its next update.
As our Windows Phone cameras improve and become capable of capturing higher resolution images, Microsoft really needs to reconsider how dramatic SkyDrive reduces images that are uploaded from the phone. Fortunately, the SkyDrive app is slowly keeping pace with this progress. Now we just need the internal uploads to catch up.
A few more everyday uses for SkyDrive.
When surfing the web on your desktop computer, ever run across an image that would make a neat Windows Phone lockscreen wallpaper? Save it to a SkyDrive folder in your SkyDrive Desktop app that automatically syncs with your Windows Phone. Before you know it, you will have a healthy wallpaper library on your Windows Phone.
Speaking of which, with the SkyDrive Desktop app you have the capability to automatically sync folders from your computer to your Windows Phone. Just move the folder to the SkyDrive Folder in Windows Explorer and any changes to that folder will sync with your SkyDrive account and will be readily available from your Windows Phone.
Videos are a strange animal with regards to SkyDrive. Videos captured by your Windows Phone can be uploaded to SkyDrive (doesn't appear to be resized) from the internal share feature but they can't be uploaded through the SkyDrive app. Videos stored on your SkyDrive may or may not be streamed back to your Windows Phone. On the one hand, I was able to stream a music video rather nicely to my Windows Phone. On the other hand, a smaller video wouldn't stream. Still a few kinks to iron out in this area and for now, Youtube may be the best way to store videos off-device and have them accessible when on the go.
So while SkyDrive does have room for improvement we think it's heading in the right direction. However, as our Windows Phones grow so should its connection to SkyDrive. Streaming videos, uploading images at full resolution and even scanning documents directly from SkyDrive should be what's around the corner.
As is, SkyDrive, the SkyDrive apps and the third party apps that tap into SkyDrive help free up storage space, make documents and files easily accessible and makes life on the go a little easier.
We've touched on a few broad areas where SkyDrive is used in every day use. Sound off in the comments if you've found a use for SkyDrive that we may have overlooked.
You can download the SkyDrive Desktop App here from the Skydrive website. You can also find the SkyDrive Windows Phone app here at the Marketplace.
Get the Windows Central Newsletter
All the latest news, reviews, and guides for Windows and Xbox diehards.
George is the Reviews Editor at Windows Central, concentrating on Windows 10 PC and Mobile apps. He's been a supporter of the platform since the days of Windows CE and uses his current Windows 10 Mobile phone daily to keep up with life and enjoy a game during down time.