T-Mo Radar and HD7 getting update tomorrow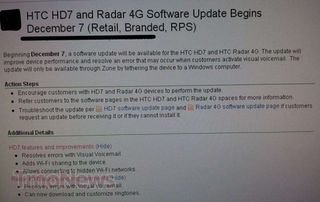 Beginning tomorrow, T-Mobile will be pushing out an update for their HTC Radar and HD7 phones. The update adds a boost in performance and will resolve an error that occurs when some users try to activate Visual Voicemail. While the Radar will also get the ability to download and customize ringtones, the real winner is the HD7, which will now connect to hidden WiFi networks and gain WiFi tethering. Some folks, however, claim that they were able to tether after the previous update.
The patch will start making its way out into the ether tomorrow and must be installed via the Zune software to a USB-connected handset.
Source: TMoNews
Windows Central Newsletter
Get the best of Windows Central in in your inbox, every day!
Finally!!!! I got tired of trying to get my visual voicemail working, so I just quit trying to fox it.. My tethering was working after the last update..

Tethering worked for me after last update too. HD7!

I guess I'll be looking forward to the boost in performance. Not having any problems with tethering and visual voicemail.

To get visual vm working right now send at text to 122 with Activate:dt=6 in the body and visual vm will work. You welcome in advance.

thats why i did a while back

Yeap, this update dosen't seem to be offering anything new. We'll see how it goes.

Lol...I just got my Radar Friday and already getting update love. I love prepaid, but it sucks I can't get Visual Voicemail...
I do wish, however, this was the fix that would cure the keyboard bug and accuracy. That is the only thing stopping me from fulling enjoying my Radar.

Forum support + T-Mobile support finally got the visual vm working, but there are some small issues with the Radar, especially when using the Spotify app. I'm still trying to figure out if it's Spotify or the Radar.
This morning, an update was released for the Spotify app, but Spotify cs told me that they don't have any release notes on it. Performance has improved, so let's hope there's some included performance with this Radar update.
I thought I'd miss my HD7, but the Radar's screen is amazing, and it is very fast. I was hoping to use Spotify to make up for only having about 6GB of storage. Tethering is also very, very awesome.



May i ask what you had to do? My girl is using my Focus on Tmobile and would like to have visual voicemail working.

Hmm another update,hopefully this fixes the reception issues I sometimes have on my HD7 and that it doesn't block out the internet sharing feature to prepaid customers.

Well, hopefully this update won't STOP people from tethering if they don't have it on their plan. I can do it now w/out it on my plan. It uses the cellular data instead

I've had tethering (aka internet sharing) since the last update, along with visual voice mail.
I *really* hope this fixes the visual voice mail problem where all VVM audio is cranked out through the speakerphone, with no way to toggle to the private speaker.
I'd also welcome a fix to the background processes causing the virtual keyboard to disappear.

I hope it fixes the "dynamic" MAC address problem since the tethering update.

So, hypothetically speaking, who would a Canadian HD7 owner on Bell have to letterbomb to get WiFi sharing?

Is Visual Voicemail free?

Internet sharing since the last update but no visual voicemail. Hope T-Mobile doesn't charge for the internet sharing after this update.

Visual Voicemail is free.

I've just got an notification for an update im on UK o2 wonder what it is as already had an update like 2 weeks ago im on 7.10.7720.68 atm which added WiFi tethering hmm..

well im stupid it says thats mango... wtf no wonder it took so long to update.. but like i already had mango on my phone is it because i forced the update like 2 months ago?


and also is that like saying i would have still been waiting for mango until like 2 weeks ago?

I dialed that code someone above mentioned, but I had to get with T-Mobile to have the feature turned on. I never knew about that before.

I'm sorry i forgot to mention you need to have the option turned on by tmobile or go to the website and turn visual vm on through your account. I hope it worked for you. I'm sure the update today fixed the issue as well

My visual Voicemail was working from Day one of Mango Update. I love it. Only thing that does not work in there is ability to disable speaker for visual voicemail. I always have to hear it on Speaker. There is speaker button to turn it off I guess but that does not work. No big deal but Visual voicemail is cool service.
I also have internet sharing enabled with last update.
Hidden Wifi will be cool.
All I want from T-Mo is two things now.
1) Wi-fi Calling. I love this feature and works great on my wife's G2
2) Updated T-Mo 'My account' app.

well i did this update and i lost the ability to scan barcodes with bing and my amazon app. since the last update gave me tethering and i use youmail for visual voice mail i'm going back.

The A to Z mobile information is a one stop solution for all kinds of mobile which offers information about various types of handsets of various companies, connections of various service providers, accessories, repairs, VAS and many more. A to Z Mobile Information handsets
Windows Central Newsletter
Thank you for signing up to Windows Central. You will receive a verification email shortly.
There was a problem. Please refresh the page and try again.