T-Mobile US rolls out new Simply Prepaid plans starting at $40 per month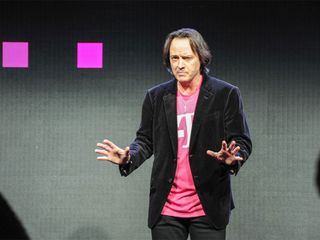 Update: Clarified the post to indicate that speeds are throttled back to 128kbps (about 2G speeds) when you hit your data allotment, not 3G. Also added additional information on plan restrictions.
Original story: T-Mobile today announced a new wave of prepaid plans under the Simple Choice branding. Unlimited data, calls, SMS and limited 4G LTE will be offered on T-Mobile's network from $40 a month. Opting for higher LTE allowances will increase the price depending on how much data you believe you'll chew through.
The company is marketing the new plans as a cheaper alternative to its Simple Choice solutions, while still offering enough to get customers through each month. The value of the new plans is being cut back with the pricing as well, though, as data speeds are now capped at 8mbps and further features like tethering and Music Freedom are nowhere to be seen. Here's how the pricing stacks up with LTE allowances:
$40 - Unlimited data, minutes, SMS, and up to 1GB of 4G LTE (throttled to 128kbps thereafter)
$50 - Unlimited data, minutes, SMS, and up to 3GB of 4G LTE (throttled to 128kbps thereafter)
$60 - Unlimited data, minutes, SMS, and up to 5GB of 4G LTE (throttled to 128kbps thereafter)
It isn't clear right now which of its current plans will be going away to make room for the Simply Prepaid set. The new plans will be available both online and at T-Mobile stores from January 25th.
T-Mobile Introduces Simply Prepaid, Expands Choices for Prepaid Customers
Bellevue, Washington — January 15, 2015 — T-Mobile [NYSE: TMUS] today took a bold step to bolster its No.1 position in prepaid wireless introducing Simply Prepaid™. The Un-carrier's™ new monthly prepaid plan delivers unlimited data, talk and text with 4G LTE data buckets starting as low as $40 a month − all on T-Mobile's Data Strong™ nationwide 4G LTE network.
Simply Prepaid is the perfect complement to T-Mobile's wildly popular Simple Choice plan – and is designed with the same focus on simplicity, fairness and value. While Simply Prepaid has fewer bells and whistles, it comes with lower prices and everything else prepaid customers want, including the nationwide 4G LTE network designed Data Strong.
"There's a reason the Un-carrier continues to be #1 in prepaid, and it starts with our willingness to break the rules and give customers better choices," said John Legere, president and CEO for T-Mobile. "We will never stop eliminating customer pain points. The 1.2 million net new prepaid customers who joined T-Mobile last year already see that value, and we have no plans to stop there."
In 2014 alone, T-Mobile won more than 1.2 million net customers to its prepaid business widening its lead in the category over the other major national providers, who continued to ignore and lose prepaid customers right and left.
Simply Prepaid is as straightforward as it is affordable:
$40 / month for unlimited data, talk and text + up to 1GB of 4G LTE
$50 / month for unlimited data, talk and text + up to 3GB of 4G LTE
$60 / month for unlimited data, talk and text + up to 5GB of 4G LTE
Simply Prepaid customers will also enjoy unique benefits of being a T-Mobile customer like Wi-Fi calling at no extra charge, and with 8 Mbps speeds, they can download a song in under 10 seconds or a 30 min HD TV show in just eight minutes.
The new plan will be available online at t-mobile.com and in T-Mobile retail stores, Simply Prepaid dealer locations and all other authorized retailers starting January 25th.
Windows Central Newsletter
Get the best of Windows Central in your inbox, every day!
Rich Edmonds was formerly a Senior Editor of PC hardware at Windows Central, covering everything related to PC components and NAS. He's been involved in technology for more than a decade and knows a thing or two about the magic inside a PC chassis. You can follow him on Twitter at @RichEdmonds.
What the heck I get faster speeds with my old T-Mobile monthly 4g plan for 70$ everything unlimited at 4g speeds with lte use

I can get up to 9 Gb per second on my 3G connection. Up to 8 Gb on a 4G LTE is pathetic

This is meant to compete with Cricket, I believe, which also throttles LTE speeds significantly.

Only wat it could compete with Cricket is if it was flat fee--taxes and other junk included in price.

Cricket is pretty bad. I'm on GoPhone much better coverage. Although Cricket does offer 10 GB LTE for $60, if you can get reception.

Cricket is owned by AT&T and has (with very few exceptions, which all involve roaming agreements with tiny regional carriers) exactly the same coverage.

no you can't get 9Gb per second on 3G... the fastest 3G connection (or 4G as it is coined) is HSPA+ which TMO supports a dual carrier configuration with 42.2Mbps... The LTE theoretical (for category 3) is 150Mbps. i can understand that maybe you get a faster connection on 3G than LTE due to maybe distance from towers etc, but not to the numbers you stated

He must be confusing MB with GB. Even at that, 9mb on 3G is a stretch. Possible, but you have to be in a very limited use 3G area.

9gb? Who built your phone Stephen Hawking?

Sorry all, my mistake. I did indeed confuse Gb with Mb. How embarrassing. I am a true Muppet.

Also, I have regularly got up to 9 Mb/s with my network which does support DC HSPA.

I've hit 30 mb/s a few times in Orlando. I'm usually around 19 mb/s

Is it unlimted 3G data? Up till now, you always get throttled down to 2G once you run out of your LTE bucket. Changing that to 3G would be a game changer in my opinion. Edit: Checked their site and looks like LTE is capped at 8Mbps and unlimted data is 128Kbps. So I think this article needs to be updated. You don't get unlimted 3G. From their site: http://explore.t-mobile.com/unlimited-prepaid-plans?icid=WMD_TM_Q115CYRN_1UFSBRX6QWH1525
*Rate plan max speed of 8 Mbps; upon reaching data limits, speeds slowed to up to 128 Kbps.

Agreed. I was going to post the same thing.

That's hilarious! At&t does it and they are the devil. Tmob does it and they are the saviors. Hilarious!

AT&T has prepaid plans that match these?

I really dont know. I am referencing the "Unlimited" throttling.

The downvote and nobody stating why I was incorrect just further proves my point. AT&T does it and they are the worst company ever, TMob does it and they are saving our souls from the devils.

I think that is because ATT throttles data when you buy a contract. T-Mobile states that you only have 1GB of 4G and the rest is 2G. I don't think that AT&T states explicitly that your data will be throttled. T-Mobile is a little cheaper also so when you pay less you don't worry about them throttling data.

Cricket aka AT&T plans are actualy better than these.

I agree I get 10 gigs LTE for 60$ a month on cricket.. Using my 1520

AT&T has prepaid plans that beat these.

Just correcting your "Edit". It says slowed to up to 128 Kbps. Meaning you'll get throttled towards that threshold, not necessarily operating at the slow speed all the time.

Nice plans for such a price....

Meh, Cricket has them beat.

I'm on Cricket. $55/month AFTER tax for unlimited talk/text and 10GB of data. Beat that.

with Tmobile, if you are unfortunate and in somewhere in the middle of US say NE, IA...., you have to always find a tall tree and climb that tree just to get 2G if you need to call ! AT&T is not great,,,,but tmobile is almost non-existent ! who cares, right ?

Populated part of Nebraska here. I really enjoy my AT&T service. I do live in a downtown area. But, always pleased with it. West of Lincoln, needs some work. Seems to be slowly getting better though. Had decent service on 80 into Colorado a few months ago.

I'll take that $40 plan. 3G has been fast enough for me. Edit: I take that back. They're still throttling to 2G.

My 30$ prepaid is still better. :v
100 minutes
Unlimited international SMS
5 gigs of 4G lte data

Yeah, I hope they don't get rid of the $30 prepaid plan.

That's only better if you only need 100 minutes or less each month. I know a lot of period are taking on their phones less, but only 100 minutes? Overage costs would make that plan unappealing to a lot of people. What's your overage rate?

I have that plan as well, and very rarely go over my minutes. I use SMS and email a lot more than phone, and have told everyone that I talk to that I have limited minutes, which keeps conversations short.

Not everyone wants to stress out period who call them to keep everything short. :-) I think its a great plan for a limited segment of the market, though.

It's​ $0.10 / minute if you go over. It has worked well for me. I'd jump to the $40/month plan but not of they throttle to 2G.

Never gone past 30 calls in a month. :v

But how long were each of those calls? It's a factor of the two together. :) Anyway, the OP said that the $30 plan is better. I would argue that it's better, or not better, depending on your needs. To say it's better, full stop, is to ignore the fact that it's not unqualifiedly better, not better for everyone, etc.

I've never been able to sign up for that. I went to a nearby store and they looked at me like crazy. I asked about it when activating my phone and they thought I was crazy. And i never found an option to sign up for it online.

I believe that plan is only available through Wal-Mart. Silly, I know.

It's one of the options when you activate a phone online or using a WalMart tmo sim kit.

Indeed. I fill the 100 minute void with using my voip minutes from voip.ms. Been saving tons of money for almost two years now.

I just live in a garbage bag behind the library and use their Wi-Fi. I'm savin a ton.... Can't figure out why no one wants to visit me though.

This doesn't sound like an improvement over the $30 5GB data plan with 100 mins talk. I really do hope TMO continues to offer this plan and doesn't replace it with this Simply Prepaid plan, 'cause if they do, it pretty much puts their prepaid offerings on the same level of crap-iness of all other wireless carriers.

I agree. If they get rid of the $30 plan I'll be jumping ship to Cricket.

Yeah it's a good price, but their coverage still isn't close to AT&T or Verizon. If you live and never leave a big city T-Mobile is fantastic though.

Wait until they finish their MBS (700MHz) rollout. That'll substantially improved coverage.

MetroPCS still has better plans with unlimited talk, text, and 4G LTE data for $60 a month (that's the one I have). And since T-Mobile and MetroPCS run on the same network, any GSM T-Mobile phone is compatible with their network without the need to unlock the device (HTC One M8 for Windows everyone?).

I agree. I think T-Mobile should promote MetroPCS more and stop trying to compete with them. I have a T-Mobile locked Lumia 925 on Metro

Is this plan throttled or capped? Reading the article again in the meantime.

I use a T-mobile mifi and when I hit my limit and they throttle down to 2G it unusable.

Will this work with any unlocked GSM phone? Seems like a good deal especially with the WiFi calling being available.

Yes, this will work on any unlocked GSM phone that has the proper specs for T-Mobile's network. The wifi calling will not necessarily work on any phone. As an example, my Nexus 5 is unlocked and I have a T-Mo SIM in it, but it cannot use T-Mo's wifi calling, it has to be in the firmware. I have a locked Lumia 635 that is a T-Mo locked device, and there I have wifi calling as it was part of the firmware.

Doesn't make a whole lot of sense when they have MetroPCS. The only thing it's missing is WiFi calling, and I believe they aren't limited to 8mbps. In fact the throttling makes them as bad as AT&T with Cricket.

MetroPCS has wifi calling.

Except for 60 bucks a month on Cricket I get 10GB of data, plus with automatic payments they reduce the price 5 bucks... so it is $55 for 10GB

If you're going to be capped at 8mbit, might as well go with Cricket. They'll even give you a $100 credit to switch.

And vastly superior coverage.

How about giving the people with actual plans some more data. 3gb should be minimum

Sweet! If I didn't have a four-line plan with my mom (paying for her line and my own), my best friend and my boyfriend, I would definitely move to the $40 prepaid plan. I barely get through 200MB of data each month, so 1GB is perfectly fine for me.

Paying more to get less, because T-Mobile. /smdh

Cricket Wireless is still better, they are owned by AT&T w/ better coverage, and have this exact same $40 plan, but if you autopay then the plan is only $35/month.

i have that plan. my gf has tmobile, and im always lending her the phone because at college she usually doesnt get any service,while i allways have either LTE or HSPA. Had Ultra mobile before that but i couldnt deal with tmobile's sucky signal

We on Cricket also get more data... while TMO gets 'unlimited' it is unlimited 2G... at least I get 10GB at 8Mbps which is fast enough to stream video, and I have way better coverage than when I had TMO.

Not only this, but while Tmobile has the Lumia 635 "on sale" for a $99, you can get it on Cricket for FREE, + $100 account credit for switching (this month).

Sprint still has better plans. Especially considering that T-mobile's 3G is noticeably trailing behind the others.

Trailing how? Not for speed (before being capped).

Oh so expensive.. How about 7€/month?

This sounded tempting until I read the details "LTE" (pfffff) capped at 8mbps and "3G" capped at 128 kbps. Allow me to laugh. My prepaid AT&T is superior and I am paying $40 a month.

So this is basically the same setup as Cricket, except with worse coverage. Since they cap the speeds just like Cricket, I see no reason to choose this over Cricket, unless you are fine with T-Mobile's coverage and already have a T-Mobile phone you want to use. Cricket also has a $5/mo discount on auto-pay accounts, and if you add lines, you save $10/mo per line (though you lose the auto-pay discount). For this style plan, Cricket still wins.

only reason why i'd choose tmobile over cricket is because 1: its more popular, meaning more support 2: wifi calling would work and thats a handy feature (but my nexus 5 does not support it soo i moved to cricket)

Cricket also offers 10GB on the top tier plan.

What do you've there? Will we get to watch live webcam where you shove your own ass with a large baton?

Wow! USA gets all the exclusives from Microsoft that makes me jealous, but damn, these price plans for prepaid plans - so don't make me jealous. £26/month? I can get unlimited 4G, unlimited minutes, unlimited texts, 4GB tethering, free roaming minutes and texts in 16 other European nations, free 0800 and 0300 numbers and 5p calls to every other chargeable numbers with Three, UK. I feel sorry for you lot.

Seems like for every data battle we (the customers) win, the overall war is never within our grasp. I'm still amazed that 1GB plans still exist. It's not even an issue of network capacity. While network capacity is still a potential problem, carriers don't sell plans based on network capacity. AT&T will deliver the same speed whether you're on the 300MB plan on the 30GB one. Networks are not afraid of us using data, they're afraid of us having data. Even the mighty un-carrier can't seem to offer an overall better deal. The name of the plans keep changing but the data scam stays the same.

Hey HeyCori! Can't agree more. Good to see you around :)

I'm always lurking. ;) Staying strong with my 1520!

So....
Less data than cricket. Less coverage than cricket. More money than cricket.
Huh.

This. Ledgere is running out of gimmicks.

I though US carriers tried to eradicate 3G networks and replace with 4G.

Blame T-Mobile for changing 3G HSPA+ to mean 4G. When the other 3 major were installing LTE and WIMAX, T-Mobile was upgrading they 3G towers. It's funny now how when the 4G LTE data is used up, y'all limited to 2G speed which they call 3G.

TIM Italy, 1000 minutes, 1000 sms, 2Gb Lte= 10€ (8$). Why are mobile plans so expensive in the US?

People always ask this question, my comeback is "How big is your country compare to the U.S.?" Can you travel to other countries (Puerto Rico, USVI, Guam, American Somoa) and still have service?

Still, you have sim locked phones which are illegal in Italy. Here, you can buy a Vodafone 1020 and use it with another carrier's sim. This ensures competition.

Someone please tell me I can buy 930 unlocked and use it with TMobile. If so Im seriously waving Verizon goodbye. Edit: even if I can't I'm buying a TMobile HTC One. Tired of getting robbed by Verizon.

All GSM phones work on all networks for talking, data is the only problem. You would need to find the 930 with the 17000/2100 and 1900Mhz for 3G and 1700/2100 band for LTE. T-Mobile uses 1900Mhz for GSM, 1700/2100 or 1900Mhz for HSPA, and 1700/2100 (700Mhz near future) for LTE.

I really want to switch to T-Mobile. Now that we're off contract on both lines with AT&T, I think it's going to happen sooner than later.

I realize this is a little late to tell you, but T-Mobile would have paid your ETF for breaking your contract, this going back about a year now. I moved 4 lines off of Sprint (under contract). They paid me $1,400 to cover the 4 $350 ETF's I had. It's nice knowing that I can walk away from t-mobile any time I feel like with no penalty now, but I just don't see it happening anytime soon. And being a gsm carrier, unlock my phone, and I can choose from any number of prepaid services that could offer better prices.

For all the whiners that are saying the article is wrong because they are still throttling to 2G speeds and not 3G, read it again. It's not available until January 25th! That means it is still under 2G, and new plans don't start implementing until January 25th. Several things T-Mobile has done lately has been implemented in some way by AT&T. Like roll-over data. I'm honestly hoping that their advertising of this will cause AT&T to start a simple "down to 3G throttle" for all of their data plans instead of charging overages. I would love to keep going after 15GB each month, just at a lower speed. I could watch and/or download movies in the first part of the month, and general browsing in the 2nd half of the month. Should have an option to "purchase extra 4G/LTE" for a single month if you run out early and still want unthrottled speeds, instead of automatically sticking you with an exhorbitant charge when you'd rather settle for slower speeds.

You sound like someone who has never used T-Mobile's 2G service... They say it is "up to" 128k/s, however if you actually use it on most phones that data speed is unusable. Servers cannot be contacted or time out and webpages can't load or time out. Their 'throttled' internet basically means you won't be doing anything on your phone over their service until the pay period rolls over.

You sound like someone who didn't bother to read me entire post. I wasn't talking about the T-Mobile 2G service. I was talking about the new plans that start on January 25 promising 3G fallback instead of 2G fallback. 2G is terrible, 3G is actually bearable and useful.

I get 10 gigs of LTE for 60$ with cricket

I like my $30 100 min 5gb plan ... i will stick with it. I usually use between 1.5 to 3.5 gb per month so it's perfect ... i dont need unlimited talk ... i don't talk to people ... they scare me

After three years I left T-Mobile for cricket wireless a few days ago. If T-Mobile new plans offered hotspot tethering maybe I would go back

T mobile does offer hotspot. Not sure about prepaid but it does post paid

I'm confused about this, because in my country the difference between prepaid and plans is very straight. Or you have a prepaid phone or a plan phone, (or update the prepaid phone to plan), but the idea of prepaid phone is not to pay any monthly fee, just one time, the service ends, and you buy another time, and so on...

In the US everyone gets unlimited data but the speed changes from 4G to 2G based on how much you've paid. Some operators, GoPhone, Verizon, T-Mobile, etc let you purchase additional 4G for a fee.

I see. In any case, here you can get unlimited data for one month, when you buy a new prepaid sim card, and when the time ends, you just buy another sim card that costs like 5 U.S. dollars. The number changes, but who cares.

No hotspot on Cricket without violating terms of service. Other than that Cricket is better, when reception is good.

I'm currently grandfathered on the tmobile prepaid $70 per month unlimited 4g LTE simple choice plan, which includes 3 GB tethering. I wonder if I will still be able to keep this? Has anyone heard for sure if the old prepaid plans are still going to be in effect? Thanks.