Now Available: T-Mobile starts to directly sell the Nokia Lumia 521 for just $149.99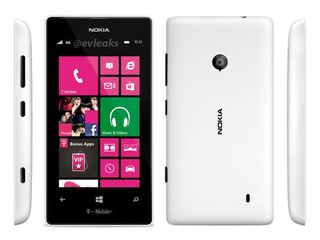 The wait is over: you can now order up a brand new Nokia Lumia 521 direct from T-Mobile. The cost of the device is of course exceptionally low, coming in at just $29 down payment and just $5 a month for your two-year…errr…non-contract with T-Mobile. Feeling lavish? Then you can just buy the phone outright for a mere $150, which last we checked is damn low for a brand new smartphone in 2013.
The Lumia 521 from Nokia is a custom variant of the Lumia 520, comes in white and sports a dual-core 1GHz CPU, 4" LCD display, 512MB of RAM and a 5MP rear shooter. While you give up things like NFC, wireless charging, a front-facing camera and the ability to play a handful of games, you do get a solid smartphone running Windows Phone 8 and Nokia's excellent navigation software and app selection.
Nokia told us that devices like the Lumia 505 (South America) and the Lumia 520 are selling exceptionally well and we've seen the Lumia 521 sell out on HSN and Walmart in their exclusive pre-sale deal,, which evidently ends today. Will the trend continue? We think so.
And yes, our Lumia 521 is due today or tomorrow, so if you want a quick video tour of the device, stay tuned. In the meantime, who's picking one up?
Source: T-Mobile; Thanks, corepc, for the tip!
Windows Central Newsletter
Get the best of Windows Central in your inbox, every day!
Daniel Rubino is the Editor-in-chief of Windows Central, head reviewer, podcast co-host, and analyst. He has been covering Microsoft since 2007 when this site was called WMExperts (and later Windows Phone Central). His interests include Windows, laptops, next-gen computing, and for some reason, watches. Before all this tech stuff, he worked on a Ph.D. in linguistics, watched people sleep (for medical purposes!), and ran the projectors at movie theaters because it was fun.
Though I'd probably would never use this as a daily driver, I'm seriously considering picking one up to use as a developer phone. At such a low price, it's hard to resisit. I can never have too many developer phones. :)

I was looking for this phone everywhere. I ended up finding it at the Glendale Microsoft kiosk/store. They priced matched it also.

Great Phone had mine for about 2 weeks now. Very Happy with it.
Looking foward to WPCentral Review of this phone.

When does 925 come out for t-mobile?

My thought exactly!! I can't wait!

Hands on with T-Mobile's 925:
http://youtu.be/k7e3wlYglZI

Did you notice at 1:21, there's another phone in the back (actually looks like the 925 but with a yellow charging case) with the Windows logo flashing.
Wonder if that's the camera's fault or there's another feature that everybody is missing.

It must have been the way the light hits the phone and its refelctive surface.
They really need to add that feature though. The windows logo or the the flash should alert you to notifications like the iphone. It really is a great feature.

Almost feel like grabbing one of these to hold me over until the Lumia 925. But I must resist and save my money...

I plan on grabbing one to use as an mp3 player.

This is an excellent, "Oh crap! I just broke my phone!" replacment phone.

We would also accept: "My screen shattered from a three inch drop" "I dropped it in the toilet"
"I lost it at the party"
"My kid used it like a hammer"
"I can't get new apps or play games on my WP 7.x"

I just got an early upgrade for my wife, she wanted the 920 like I have and I used the "I can't get apps because its not wp8 excuse" and it worked lol

You do know you're still gonna have the last item you mentioned. There's more and more games this phone can't handle. Just know that going in. I see a lot of people complaining about not being able to play certain games. That's the consequences of buying a budget phone.

from what I comprehended, he got another 920. The reason for his comment is to reply to
Walter1832: [reasons to replace phone] "I can't get new apps or play games on my WP 7.x"
If your reason is this, you can get an even better phone by using the exuse to get an early upgrade.

How hard is it to make this work on art?

I'd say that if you can catch him in a good mood, your chances are much higher.

Forehead smack, the evil autocorrect gremlin strikes again.

IS the Walmart price going up to $149.99 also? My 2 weeks are up and I am undecided so I am returning it. I just want to be able to come back snd rebuy it if I change my mind

I don't think so. My local Wal-Mart is selling them for $129.99 right now.

Odd. This is listed twice on T-Mobile website. One listing is as described in this article. The other is for $199 outright.

That is stupid on t-mobile. It looks like they are selling it for $200 instead of the $130 or $150. Do you know if they price match. This wouldn't matter if walmart was selling it at that price for only a month or two.

It rings out at $180 unless you have a regular plan, or if your refilling at least a $50 coupon on prepaid. All the phones are like that. It's $30 down and $5/mth for well qualified customers, $90 down and $2.50/mth unwell qualified (ie deposit customers unless they have been with us more than 2 yrs). Add $10 for SIM starter if activating.

199 includes a 50 refill card
150 requires a plan

What if I just wanted to buy the phone not attached to anything? No contract no prepaid?

Now my 521 I bought over the weekend actually shows up correctly on my account now!

Will it work on att? Looking to replace y original focus

I would also like to know

Yes it has the correct bands for AT&T 3g/4g but not LTE. The phone has to be SIM Unlocked to use of course.
Here is t-Mobile SIM Unlock Rules


if you buy it outright from a microsoft store they might be able to unlock it for you.

This...is a gorgeous phone. Can't wait to see one in person, when I checked last had stellar reviews on WalMart.com

so wait.. whats the batt life

It is decent.
Battery capacity: 1430 mAh Li-Ion
Usage time: 7.5 hours
Standby time: 12.5 days

It's 150 with a plan, and 199 without a plan direct from T-Mobile's website. You can get it (if you can find it) for 129 from Walmart, or as low as 105 from the Microsoft store if you take the Bing it on Challenge, and get them to price match Walmart (though it seems price matching is very YMMV.) It also looks like Best Buy is soon going to stock it, and they'll for sure match the 129 Walmart price. So there's better pricing to be had on this by a lot.

the 199 version on T-Mobile Site Comes with 50 refill Card. So that is price difference, you are paying for one month of service has well.


Microsoft doesn't stack up the discounts unless you get lucky. Does tmobile price match?

Got mine from HSN no refill card,
not sure if T-Mobile will price match Walmart's price, but Best Buy may.

Either way, if you get the $25 bingiton reward in store, or get them to price match, it still is cheaper than T-Mobile directly.

You can get $10 discount right away by signing up for notification for pre-order of Xbox one (see yesterday's article). That would make it $139. $10 more than Walmart but seems sold out in most places.

This is a nice looking phone! Looks even better than the 925. Might pick one up in a couple weeks.

I got a white one from WalMart last week and I must say, it is absolutely gorgeous. I had been holding on to my HD7, waiting for T-Mobile to get their "flagship" but the poor thing finally gave out. Battery life is great for me. I usually have about 50% left at night after a normal day of browsing the web and playing a few games (probably 30-60 minutes total). My HD7 would be dead after that. I will definitely keep this as a backup for my wife and I once we get our 925s.

This phone is going to sell like hot cakes. I should say it is selling.......wifi calling is the coolest feature. My reception with at&t is no good in my condo. Plus I'll save about $50 per month.

I am probably going to pick up two of them for each of my children - great little time-wasters for them on long trips and they'll have access to my Xbox Live games.
I will wait for the review before purchasing, however.

Review: Amazing phone for the price. Anyway, there are reviews everywhere in the internet.

Exactly!! That's what I was planning on doing. Does anyone know if there is a current list for games that don't work because of the 512 limit?

How are the pictures in low light indoors without the flash?

YMMV. Depends on how "low light" we are talking, and also depends on what you have your ISO and exposure set too (HINT: Changing those can effect light intake, but ISO can also add grain in image)

Ordered mine from Walmart a few days back. Should be picking it up in store soon.

PSA: Walmart offers a 2 year warrenty for a pretty reasonable $15. Also, does the phone come with anything extra from T-Mobile to justify the extra $20 over Walmarts price?

how did you order one. It was sold out for ever in walmart.

Yeah, I just kept checking the website like twice a day. I think it was on Monday, that I finally saw it available, so I ordered it quick for store pickup. I see it must have sold out again already. I sure hope this means the 521 is a sleeper hit and not just low production stock from Nokia.

Got mine (Ahem.. for my mom ;) ) from HSN on May 10th... Have been using it on and off since then... It's an awesome phone...great for the price and with NOKia music, Here transit and all, it's a great bang for the price you pay....And the camera is not bad either (takes good pics on a sunny day and average ones on cloudy ones). It's a 5 megapixel cam -minus flash.. come on! for $150 with Windowsphone8....it's a great phone

Because there are currently no alternate shells in different colors. But hey, white is a fashionable color. I like it.

Aperture Science, "bay-bay"! =P

it shows 200 off contract on their website

Thats the one with a $50 Refill card. They have 2 listings on their site. the other shows $150 and is just the phone itself.

An option for Canadians, Virgin Mobile sells the HTC 8S for $149 outright (no contract). 4GB memory, Micro SD expandable, Windows 8, Beats Audio, 5MP camera.
Awesome good looking phone with quality build!
But it is carrier locked and no front face camera.
http://www.virginmobile.ca/en/phones/phone-details.html?model=windowsphone8x&colour=Blue&contractTerm=SP1

Maybe the phone's malfunctioning? It happens a couple of times, and both times it looks like the WP logo is flashing. Curious

$129 at Walmart(if you can find them)

I gots mine, what'chu wanna know? =P

How's the audio with decent headphones/earphones?

The audio is pretty good...I don't buy "fancy" headphones, I have a $15 Auvio ones and they sound great IMHO.

Pros-
Great Daylight pictures
Great sound. I was playing music and it could be heard across the room with no problem.
Looks good
Very good price(especially considering T Mobile's new pricing strategy)
Nice screen
good battery life
easy connectivity to my computer(Windows 7) through USB cord(included in box).

Cons
Lock screen takes several tries before getting out of the way.
I don't like the way email is displayed.
I kept having problems with having to reenter passwords for email accounts.
lack of good apps: Would have liked a good stock quote app(like CNBC)no local news apps at all for a major city(Atlanta), No American Express, No Yahoo Mail(yeah I know that it can be configured in the Email section, But it didn't look or work great),
Sharing Photos should be easier
I realize that these are minor cons, but I guess that I am used to my Android.
Funny thing--the only thing that I did not test my phone for was.......being a phone. To make calls I would have had to switch my Premium Android plan to one of the new ones. I was not ready tto loose my unlimited data unless I was sure. I still may go back to the 521. I will give it a weeks or 2 and see what happens. Also waiting to see what the 925 sells for.


I know Bloomberg is available, not sure if it displays stock tickers, try Web Apps for American Express, a temporary solution but it works

In Germany you can now get the Ativ S for 250€ unlocked. Price includes 19% VAT. The HTC 8X is now about 280€.