T-Mobile USA to start pushing out Windows Phone Refresh (Tango) for Lumia 710 on June 20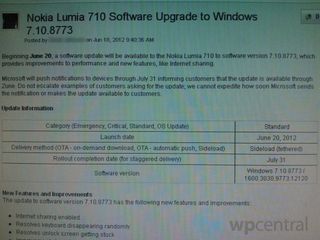 A leaked internal T-Mobile memo shows that the carrier will begin pushing out the Windows Phone Refresh (Tango) update for the Nokia Lumia 710 in two short days. Windows Phone update 7.10.8773 will begin rolling out on June 20 and will continue in a staggered fashion through July 31.
Users will be notified over the air and through Zune that an update is available. The memo describes the following fixes and improvements:
Enables tethering hotspot
Resolved keyboard disappearing
Resolved unlock screen getting stuck
Improvements to uplink speed
Improvements to camera quality
Improvements to proximity sensor
Improvements to software stability
The memo itself also states that Microsoft is responsible for pushing the update and that T-Mobile has no control over who gets notified when. So even if you are feeling antsy and try to call them, T-Mobile customer service will not be able to help you out.
Source: T-Mobile; Thanks, Jacinta, for the tip!
Windows Central Newsletter
Get the best of Windows Central in your inbox, every day!
If only they would start pushing out high end Windows Phones...

Hasn't been 2 years since the HD7 was released yet and besides once they refarm their network,whether or not they get a phone won't matter.

Do you know when the "refarm" will be completed?

Don't you give me any of your guff, mister. It's not like the HD7 came out 6 months ago, I got it day one. (11.8.10 I believe) My camera is so full of dust that it's almost useless. I have asked for a replacement, but it's so old, they don't even have refurbished HD7s in stock. They have offered me the Radar, but with half the memory, a smaller screen, and an unattractive design, meh. That is why I would like a newer, high end phone.

It's not guff the HD7 users are still under contract and by the time for upgrades there will be a better option. If not then you can just buy an unlocked GSM version to use on the refarmed network.

I'm currently under contract and I've been getting upgrade offers for a few months now, but they don't have a phone worth upgrading to. Also, paying $500+ on an unlocked phone doesn't seem worth it. If they don't have something by the end of my contract, I'll have to go where the tech winds blow me. I really don't want to go to AT&T, but if they are the only ones getting the newer, high end phones, so be it.

Of course it's worth it, you're actually saving more money.

What exactly will work when they refarm? 3G? or 4G? Both? I have a Nokia 900 now that I can't use ( unable to be unlocked at this time ) and a Titan 2 that only gets edge and my MMS doesn't work ( HTC's fault for not updating the connection set up app ). Well my live tiles went dead on my Titan 2 after working great for a week and a half. So I'm back to my HD7. I do a lot of pic texts and I want tango bad.

Both 3G and 4G will work since they're both based off of HSPA. Can't believe many on this site are still clueless about this.

Amen to that, I so need a better WP I might get the Lumia 900 and loose my 3g .

Doubt that Canada would get this

Rogers has been very good with updates, Lumia owners should be fine.

What about Europe? Anytime soon?

What about Europe? Anytime soon?

I sent my daughters Radar in for a warranty exchange and my new Radar came back a month ago with it. So it's definitely coming.

Any word on if the HD7 will get this? Or are day one users about to start feeling a loss of support?

Call T-Mobile every other day and ask when Tango is being released for the HD7. This will take up reps time. Time cost money. If enough people bug them and take up reps time it will be cheaper for them to release it. When you call the reps will be lost and tell you it's up to Microsoft. B.S. Just keep calling them.

ties with the June 20th WP event http://www.wpcentral.com/microsoft-promises-sneak-peek-future-windows-phone

ATT should start pushing this out in 6-12 months lol

Does anyone know if the Radar 4G will receive it as well?

I did a warranty exchange a month ago and my new Radar had it. So I'd say yes it's coming.

The HD7 and Radar 4G will receive this update as they have with every update so far.

TMo is making a s strong case for who my next carrier should be.

does anybody know what this update at ATT is about? http://www.att.com/esupport/article.jsp?sid=KB117823&cv=820#fbid=gFYJpl6r5bi
cos it says...

AT&T and Microsoft have released software updates for the following Windows Phone devices: HTC HD7S HTC Surround LG Quantum Nokia Lumia 900 Samsung Focus
Its for all the WP devices with ATT..never knew about such an update..and if this was an old one how come Lumia is on the list

Other phone probably won't be updated.

How are these new updates? My HD7 already has tethering so what about the new things mentioned in the previous article before this? Will they be in this update?

When you send a picture text you can put multiple pics in one text. Currently you have to send one picture at a time. Also you can text videos and voice notes. That's the only difference I could tell between my Radar that had it and my HD7. The settings looked all the same. It probably tunes up some other behind the seen items.

Holy moly! Finally! Thank you T-mobile, thank you, thank you, thank you!!

Hope it's coming to Rogers soon

Doubt that. For the old Belle update on Symbian every county in the world got it except Canada

Mango came to Rogers fast, same with keyboard update

Hope the one for the 900 has camera improvements too. The last update didn't resolve much from what I can tell.

Here's a link that will help improve your camera picture taking.
http://www.everythingwm.com/settings-to-take-better-low-light-pictures-o...

You are most welcome!!! I can't wait till Wednesday... This is such a must needed update for the lumia 710

C'mon T-mo, show my DVP some love!!!

Wishful thinking. You know Tmo never released the last update (keyboard fix). I really like my Dell to. Maybe since it was just highlighted on HBO's Veep show the other day Tmo will show some love. Oh no now you got me wishful thinking.

Just use CAB Sender to manually update your phone. I did that to AT&T Samsung Focus and Focus Flash. Works fine.

Ordered my DVP on the day it was release .The Mango update was the last update I received and nothing sense.Im waiting for WP8 in three months not really worried about not getting the Tango update.

"The memo describes the following fixes and improvements: Enables tethering hotspot Resolved keyboard disappearing Resolved unlock screen getting stuck Improvements to uplink speed Improvements to camera quality Improvements to proximity sensor Improvements to software stability" so the tango update will fix my titan from being unresponsive when i have a pin code lock enabled and im trying to unlock it? thats the one reason i dont lock my phone, it would become unresponsive and id have to power cycle my phone...

My HD7 has 1 problem. When I have cellular data on and WiFi it kills my data of one of the signals gets week. In my house I have great WiFi and great signal strength. If I have both on sometimes my internet goes dead if one of the signals goes weak. Therefore I always have to turn one off and one on depending on where I'm at. I hope this update has a HTC update that comes with it. Hopefully it detect the strongest signal and jump back and forth on its on.

Make an Hardreset and don't use Tethering in the Future.

Gonna miss the kickstand on the hd7

...and, yet again the DVP get's ignored... F!$*& t-mo and F!$*& dell.


what do you expect Dell does really support the SVP and dosnt sll it anymore there not foing to do nything and Tmo not going to doing anything for a beached whale.

A T-Mobile rep just shot this rumor down, saying that this leaked date is incorrect...

So don't get your hopes up......

This update needs to happen.. Im starting to dislike this phone and my carrier as well... (aggravated)

Just browsing Google and came accross this blog.....OMG people, get a life! Its a freakin phone!!!! Do you all just sit in your skivies all night waiting for an update and posting how terrible your phone is, how bad your carrier is and how awful the MS operating system is?!?
1) It's a phone, make calls? yes. text? yes. have tons of apps to play with? yes. Did you research your 710 before you bought it? then you knew it didnt have internet sharing yet, you knew it had 8 g memory, you knew it had a 5mp camera...if you didnt know this before you bought it, your an idiot....Dont blame everyone else around you for YOUR shortcomings and MISTAKES....
2) I have NEVER had a professional photo taken by someone with a camera phone....Never seen an NFL game with a sports photagrpher sporting a HD7 or a 710....The camera is for spur of the moment, want that photo to share! Go buy a Cannon Mark 5 and quit crying...
3) Windows is a closed OS...and you cry? Andriod has proven how crappy open source os can be, heck, there are currently 6 versions out there....and most phones cant even update to Ice cream sandwich, so they are stuck with what they have....If your android cant run the latest app, sorry, go buy another...Windows is VERY FREAKING STABLE, and one of the easiest os system to use along with apple(which is also not open source, hmmmmm)
4) You whine about updates? come on, you would whine just as much if they sent out updates weekly....you seem to think they are just letting a little out at a time to keep you waiting? That serves them no purpose, just as sending out updates too soon and finding out they create more problems would...
5) Iphone continuously sends out updates....to improve the phone? NO, to attempt to stop jailbreaking and software unlocking....They dont care about their customers....they want money, first a 3G, then a 3gS....basically same phone, more money....then a iphone 4 and in a year, iphone 4S same phone, but with siri, and siri wont work on previous version....Thats a company that wants money, not happy customers....
6) Windows 7 is only a few years old and is the most stable, most user friendly and integrated (facebook, twitter, messageing) system out there.... quit whining about what you deserve and get a life, dont like it? go buy a crappy android or a gold brick Iphone and see how happy you are....

If I offended you, sorry... but I don't care....If I made you think, then you are a smart person after all, quit whining and enjoy your phone.....