Tagram updated to version 2.0 with new themes and hashtags for Instagram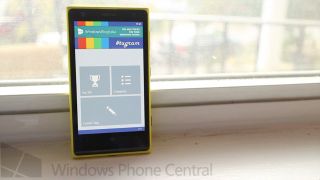 Tagram is an app that helps you with hashtag ideas for your photos or videos on Instagram. Today, it received a 2.0 update. We recently mentioned this app in our 5 tips to use Instagram like a pro and we highly recommend it if you want you to get more views and likes for your content.
Head past the break to see what's new in version 2.0 and watch our walkthrough video.
Tagram 2.0 adds several new features, but one of the things that stand out is the option to update the database for categories and top 100 hashtags. You can find this in the settings page. It also now includes search in the categories page so you don't have to scroll through the long list.
Another great addition is the ability to change themes. In addition to the default Instagram theme, Tagram 2.0 now lets you choose Facebook or Twitter colors. The Facebook theme looks great.
Here's the full change log for Tagram 2.0:
Added an option to download the most recent updated database.
Find your favorite tags using the search box in the Categories page.
Fixed the Custom Tags editing.
Pin to your Start screen also the Custom Tags page.
Added two more skins: Facebook and Twitter (you can change the theme in the settings).
18 categories of tags.
210 groups of tags.
As a reminder, do not include your hashtags in the caption of your photo. This will annoy your friends on Twitter or Facebook #if #the #caption #is #full #of #hashtags. We recommend inserting your hashtags in the comments section instead. Your videos or photos will still be searchable that way. Also note that Instagram allows a maximum of 30 hashtags per photo.
Tagram will help you get more views, likes, and even followers on Instagram if used properly. Version 2.0 makes it even better. It's a free app from the Windows Phone store, so go download if you haven't tried it yet. It is available for both Windows Phone 8 and 7.x devices.
So is that whole "hashtag not working and, by design, not viewable by others users" issue still a thing, or am I the only one who is facing that problem still (I haven't seen anyone lately express similar concerns)?

Try going to your Instagram account settings and "Manage Applications." Remove old apps. Hashtags didn't work for me for a couple of months. Worked after removing old apps in the settings. Might work for you too.

Doesn't seem to have any effect. I have both 6tag and Instance, I wonder if there is some app conflict there. Or maybe the apps have to be reinstalled.

My IG account back to normal after waiting for 18 days,i fully logged out from all 3rd party apps and revoke access from 3rd party apps via loging to IG website....after waiting i logged in using official IG Android app for make sure its safe tested it.. hash-tag working perfectly.. now i am using 6tag in my WP.. i hope 6tag is safe and wont get Hash-tag issue in future

Never heard of Tagram before.

It's sad how long it's taking the official instagram client to hit the WP store.

i wonder what happened to instance. there was talk of v2 with new features and fix for proper logout then all the sudden the dev is MIA

i paid for that app.. no support from developer.. and marked my IG account as suspecious account,, any way it back to normal after waiting few weeks.. now i'm using 6tag

What happens with all the Instagram 3rd party apps when the official one launches? (I mean, all beside 6sec and 6tag)
Windows Central Newsletter
Thank you for signing up to Windows Central. You will receive a verification email shortly.
There was a problem. Please refresh the page and try again.