5 Windows Phone tips to use Instagram like a pro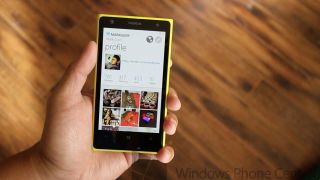 While we wait for the official Instagram app to come to Windows Phone, we're happy using third-party apps like 6tag or Instance. If you're new to the social network, we've gathered 5 tips for you to use Instagram like a pro.
Head past the break to see our video tutorial and get links to all the must-have apps for Instagram on your Windows Phone.
1. Turn on the square grid
Instagram displays photos and videos in square aspect, so keep that in mind when using the camera. If you're using Nokia Camera, turn on the square grid. Go to settings > framing grids > square. This will help you see which objects in front of you will fit when uploaded to Instagram.
2. Use photo editing apps
People love filters on Instagram. Apps like 6tag and Instance have built-in filters you can use to spice up your photos, but you don't have to limit yourself. There are plenty of photo editing apps at the Windows Phone store. One of our favorites is Fhotoroom. In addition to the usual image editing controls, there are several styles to choose from in addition to textures, light effects, and vignettes. Go ahead and get creative, but try not to overdo it.
3. Use hashtags
Your photos may look beautiful, but you won't get 'likes' if no one sees them. Use relevant hashtags to gain exposure. Have a photo of your dog? Go add #instadog, #dogsitting, #dogstagram, etc. Instagram allows you to have up to 30 hashtags per photo. If you need help with hashtag ideas, there's a great app from the Windows Phone store called Tagram. DO NOT put the hashtags in your photo caption. #It #will #annoy #your #friends #on #Twitter #or #Facebook. Insert the hashtags as a comment instead. It's just as effective.
4. Add location
Add your Foursquare account and share the locations of the photos you want. This automatically checks you in so you don't have to open the Foursquare app separately. This also adds your photo to that location's Instagram page, so more views for your photo.
5. Reply the right way
When responding to comments, don't forget to include the usernames. If you don't include their username, they won't get a notification and they probably won't see your comment. To respond in 6tag, just press and hold on a comment. It will automatically insert the name for you.
Instagram is not all about filters. It's a popular social network with over 100 million active users. These 5 tips should hopefully get you better at using it even before the official app hits the Windows Phone store. Have any more tips? Let us know in the comments!
How do you pay 6tag? I can't find the paid version.

I can't wait for new levels. Boss's are hard.

I like all the explosion's at the end

The in-app purchases appear for remove ads, and on your second video upload.

I believe its an in-app payment once you have used up your free uploads =)

Does someone here pay apps with their phone bill? I just got offered the service by Movistar, I have a contract of two years with them. Does it also work for in-app purchases?

Yes it does work on IAPs,unless its an Xbox Live game.

If you pay by phone bills and ever need a refund, you are out of luck. Avoid this and pay by MSFT account if you can.

Yes, via T-mobile. On my Surface with Paypal.

Actually just press the x on an ad.

Find "remove advertising" or something like that, right in your version of 6tag

Cool, didn't know about hash tags in comments. Thanks.

Same here! Learn something new everyday...

what did u learn yesterday ?

Can we have more "how to do it like a pro" write ups? I really want to thank Mark and the WPcentral team for this one :) Please consider this as a humble request? Thanks :)

Lol. New writer showing us how it is done.

I see people do this, but they only have 1 or 2 hashtags. Is it OK then? I usually have < 3.[edit... follow @bartdog66 ! ]

It's near isn't it Daniel and crew........... and add me if you want @Rikster81

Hope you don't mind if I hit you up with a follow. Watch out for @bawboh86 ;)

Itching for the official app. Can't wait!

Isn't this fad almost done?

Sorry but I don't see the big deal of instagram! You can do that in Facebook or twitter!

Do we really need to have this discussion again?

Never thought Instagram and Pro is used in same sentence.

Thanks for tagram, my photos have just exploded and now I can add tags to the comments section too!

But we want asphalt 8 !!!! :D not only russian non-official version...

Doesnt Instance flag your account still since its the same version since 5/13?

Probably so. My original instagram account I made with instance just finally got unflagged. I would use 6tag for now.

How do I unflag my account??

My account was flagged for about 2 months. Glad my hashtags started working again.

I thought I was an expert already but found some useful tips in this article. Thanks.

I don't want to share my photos with People I don't know and find out that Instagram own's my photos like Youtube own's other People's uploads

http://i.imgur.com/uzOo1Ku.gif

Why wouldn't you put hashtags in the caption? Isn't that the point of hashtags?

I have a friend that puts all of her hashtags in the caption. Annoys me. There are literally 20+ per photo.

How to use Instagram like a boss in two easy steps.. 1. Download 6tag.
2. Use it. Done.

Great tips! Thank you very much!

Does anyone know if an official Target app is coming?

So, when is the official one coming? It already has been weeks..... Not another empty promises I hope....

Official app coming for wp7.x ?

hahaha im chaning to htc one because no instagram fuck phones with no apps

What I hate about instagram is that it can't stretch a full size picture to a square.

Hi how do I upload pictures stretching the original picture into square crop. I do not like cropping my pictures into square.
Windows Central Newsletter
Thank you for signing up to Windows Central. You will receive a verification email shortly.
There was a problem. Please refresh the page and try again.