Tap Titans Review, finger tapping fun from your Windows Phone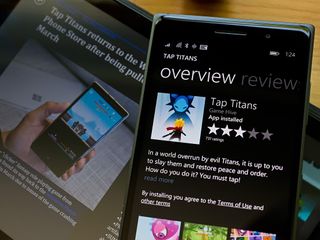 Tap Titans hit the Windows Phone Store earlier this year and was eventually pulled from Store shelves, presumably due to issue with the game's support for low memory Windows Phones. We had originally planned on reviewing the Windows Phone game when it first became available but those plans were put on hold up until last week when Tap Titans re-surfaced on Store shelves.
The game sends you to a world overrun by evil Titans that have need to be dispatched. You play the role of the young hero who must slay them and restore order to the world. The game mechanics cannot get simpler, graphics are well drawn up and game play has its fair share of challenges. While we are a little disappointed that the re-release of Tap Titans lacks support for low memory Windows Phones, we are glad to see it back on Store shelves. It is a fun game to pass short bits of time with or for those times you are looking to spend a little more time gaming. Just be warned, you may develop finger cramps from all the tapping.
Tap Titans is somewhat unique in its design in that when you launch the game, you will be taken directly to the gaming screen. While there isn't a proper main menu for Tap Titans, you will be carried through a brief tutorial when the game is first launch.
The layout of the gaming screen has not changed much from the original release. The re-release has a gear button for accessing the game's settings, your level stats, a link to your gaming achievements (non-Xbox) and your gold count lined up across the top of the screen. The health meter for the Titan you are currently battling is also at the top of the screen. The previous release had the achievements lined up next to the settings gear along with a few cosmetic differences..
Settings cover the customary sound/music levels, notification settings, gaming statistics, a gaming store for purchasing gems via in-app purchase, cloud backup options, a calculator, language options and access to the game's update history.
In the center of the gaming screen is where you can find all the battle action. At the bottom of the screen is your current DPS stats (damage) and below that are four menu buttons to pull up, from left to right, the following:
Player Skills: This panel will allow you to upgrade your player (the blonde hero) damage ratings and to unlock special attack skills (active skills). It will cost you gold to do either and there are limits on upgrades/unlocking skills that are based on your hero's experience level. Attack skills that become available will appear as round icons that sit just above the menu row.
Hired Heroes: As you move up in experience, Tap Titans will make available thirty heroes you can hire who will assist you in your battles.
Artifacts: Once you reach stage 80, artifacts will become available to give your player special abilities. There are 30 artifacts available.
Perks: Here you can purchase four premium game perks, which will also give you an advantage in, battle such as Make it Rain that unleashes 35 million in gold for you to collect. Here you will also find the in-app purchase opportunities for diamonds that can be used reduce cool down periods, revive characters, salvage relics and purchase perks.
You can customize your hero by tapping on the player's icon that is displayed in the Player Skill's menu (where you upgrade the attack skills). As you move up in prestige levels, you can purchase new swords, scarfs, shirts and other items to help your hero stand out a little. These items will also give him a little more pep in his attacks.
Tap Titans spans ten environments from jungle settings to the frozen tundra. Again, when you launch Tap Titans you are immediately taken to the gaming screen where you can start the battles.
Combat is very simple. You tap the screen to inflict damage on the Titan and eventually destroy it. Titans range from the obscure blob to a mutated Santa Clause. Game play is done in levels with each level having a number of routine Titans and one boss. An indicator sits in the upper right corner of the screen to show your progress in tapping out the Titans.
Routine Titan battles are done at somewhat of a casual pace but the boss battles are timed. You will have thirty seconds or so to defeat the boss Titan and those thirty seconds can go by quick.
As you defeat your enemies, gold coins will fall that will help pay for upgrades and hire heroes. You can tap to collect the coins or they will be scooped up automatically every few seconds. You also have fairies that will float around the gaming screen and when you tap them, they will drop treasure chests of bonus coins.
Game play does have a rather zippy pace and to keep pace with the Titans, my advice is constantly upgrade or level up your character to increase the damage you inflict. Also, hire a hero or two or three and unlock your skills (and remember to use them) as they become available.
It is worth noting that the lesser Titans you battle are somewhat docile. You can take the time during these battles to upgrade your player, hire heroes, unlock artifacts and other housekeeping duties without penalty. Boss battles are not as flexible and you will need to devote all your time to wiping the Boss Titans out.
Overall Impression
Tap Titans is a fantastic Windows Phone game for passing short bits of time. It can also hold water when you are looking for a game to spend a little more time with.
The graphics are nicely drawn up and game play, while easy to pick up, can be challenging. The addictive quality to the game may cause you to tap a worn spot in your Windows Phone screen or create callouses on your fingertips.
There is really not much to complain about with Tap Titans and hopefully low-memory support will become available soon. There is mention of daily challenges and social features with Tap Titans. I'm guessing that these are features available on the iOS and Android versions of the game and may be in the works for the Windows Phone version. While Tap Titans is a fun game as is, adding such features will only add to the game's appeal.
Overall, if you are looking for a fun, uncomplicated Windows Phone game to pass the time with take a look at Tap Titans. It is a free Windows Phone game with a few in-app purchase opportunities.
Download Tap Titans for Windows Phone (Free)
Windows Central Newsletter
Get the best of Windows Central in in your inbox, every day!
George is the Reviews Editor at Windows Central, concentrating on Windows 10 PC and Mobile apps. He's been a supporter of the platform since the days of Windows CE and uses his current Windows 10 Mobile phone daily to keep up with life and enjoy a game during down time.
Saw this a few months ago on iOS and I said to myself... "hmm... another game I couldn't play on my windows phone."

Someone did. My conscience.

I can't find it in the store, what's wrong?

Sorry... extra character snuck into the link to the game. Also, I did have problems finding the game by keyword. Not sure what is going on but the link should be working now.

Still nope...Maybe just a Store error?

maybe. I checked the URL again and it's sending me to the game.

Yeah, it's fixed now. Thanks a lot!

Download link in the app not working

It doesn't go straight to game screen when launched.

Well... I don't count the splash screens that flash while the game loads.

http://www.windowsphone.com/s?appid=8b8f0fed-47b2-44cb-a0ef-bda2138c9b4d

Thanks WC, Since you published article about it, I am addicted to this game lol.

Parsing error! ... I like this concept, I'll download it.

I can't believe that the 520 is the most popular/bought windows phone

Play it for a week now. Using w10. Reset once. Cloud save and restore not working.

"not available for your device" (l830/germany)

Ok, that's awful. I can't believe that this app isn't available for all regions.

I played it for a reasonable amount of time. While it kills time I feel it gets repetitive very quickly.

I played it for 2 weeks++ [can't stop myself from tapping the phone every minutes :) ]
prestige for couple time..
But it really get boring after spending all the money, and feeling like being cheated for upgrading hero to 1k lv (better leave it to provide passive aura )...
Tap...upgrade..tap..upgrade
UNINSTALLED the game after 2 weeks of playing (getting boring)
But, overall the graphic is nicely drawn and minimal effort to play

731 reviews and only 3 stars. Sounds like a winner...

Why can't I find this game in the store? I have a Lumia 1020.

Just played this and a good time waster. What i like about it is you can still earn coins even if you exit out of the games since your hired heroes will attack for you.

The values for things like Make It Rain actually adjust as you play, so it gives more gold later on in the game

Hope they release Evolution: Heroes of Utopia for WP soon. Most of my friends are playing now and I've liked the graphics alot!
Windows Central Newsletter
Thank you for signing up to Windows Central. You will receive a verification email shortly.
There was a problem. Please refresh the page and try again.