Tapatalk launches an all-new Windows Phone app that's also a universal app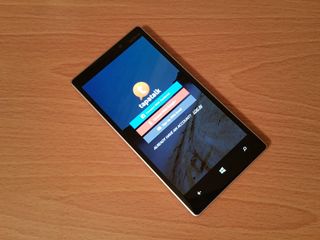 In 2013, the popular forum community app Tapatalk launched a version for Windows Phone 8. While that app is still available for download, Taptalk quietly launched an all new version of the app for the Windows Phone platform this weekend that also serves as a universal app as well with its Windows 8.1 counterpart.
Unfortunately, there's no change log to describe what's new with this Tapatalk revamp for Windows Phone users, other than the universal app support. There are reports that this new version offers much better performances that the older Tapatalk app. Just in case you are not familiar with Tapatalk, here's its official description:
Remember, the older version of Tapatalk for Windows Phone is still available in the Windows Phone Store, at least for now. This is an all new version of the app that, as of this writing, has no reviews in the Store.
Via: MicrosoftInsider.es
Download Tapatalk (new version) from the Windows Phone Store (Free)
Download Tapatalk from the Windows Store (opens in new tab) (Free)
Considering how buggy it is, I suspect it wasn't meant to be released just yet. I rather think it has been leaked before it was planned to go officially live.

I think launch was the wrong word for the title.

Sucks you can't download it on the W10 preview. Just keeps looking in the beta store and retiring out.

It says page not found.. Having the same prob?

Try to search for apps from the apps list. Type the app you want, and press "search app store". That way the old app store will appear with your search

Fingers crossed.. I hate the old app
Edit: It's a WinRT app, the dark theme is missing but overall, pretty good. :)

"hate" is a strong word, but yeah, it's not a good app. :D

Ugh. I didn't live the old app but it worked. This is really buggy.

Why are you calling it "all new" and then that it's the same as before?

It's not the same.. It's now a WinRT app

Ok that's a difference, but it's not mentioned in the article so it's not clear at all.

The title literally says that it became an universal app. But if you don't understand that winrt means univeral, well -- can't blame you :)

I am a developer. And what you say is not true. Universal means that an app is available on both Windows and Windows Phone Store. That doesn't imply Windows Runtime. https://msdn.microsoft.com/en-us/library/windows/apps/dn646927.aspx?f=25... But if you don't understand... EDIT: the link is for saying that often the "universal" term is often misunderstood. Users call an app universal when they see that icon, but it doesn't automatically imply that the app is written using WinRT. In this case, it is.

Actually that icon means Unified (shared purchase, shared settings, etc). There is no icon that indicates Universal. Most people call Unified apps Universal, but that's obviously incorrect. A Universal app is usually WinRT, possibly WinJS. A unified app could be a WinRT/WinJS on Desktop/Tablet and WinRT/WinJS/Silverlight on Phone.

Windows Central itself calls everything that's on more than one platform universal, so the title is not really helpful when it comes to understand how the app was made

Sure, but I was describing the official names given by Microsoft.

There is no way to download this on Windows 10 Mobile? I always see error on Store Beta

Installed,
launched,
crashed,
uninstalled.

Installed, launched, crashed, launched, used. Works now well. :)

Facebook login doesn't work

Not letting me download it

Any useful community except WC?

Vauxhall forum apps and gulp... MacRumours (ok I used to be an apple Fan!) and I logged into WC as well.

Works fine for me but still way behind Android version. I'm not sure if it's better than the old one. Oh well, already uninstalled older one :)

It's buggy !! And doesn't work great at the min!!! Wait until a couple of updates !!!

Looks like I'll actually have to log in with an account or create a Tapatalk one to actually use it this time. Can no longer skip this process as far as I can see...

Seems to be rather unresponsive at times.

tptalk, please add dark theme.
it crashes at times too.

Thanks Devs. That universal concept is really catching on for me.

So far no problems on my end. Seems to be similar in looks and feel to the old one.

I installed it. I notice pictures attachments in my old post does not appear at all... uninstalled and went back to the old version

UI is good..but quite buggy and slow...

Won't let me log in. keeps telling me the account doesn't exist.

I wonder, does this mean that the devs will ditch the old app regarding updates in favour of the new one?

This "universal" version does not seem ready for universal use, and is quite a few giant leaps backward in functionality. Just a subset of settings from the previous version, no dark theme, no indication of subscribed subforums within a forum, random crashes, etc. What the....?

When in India? Oops.. Been a habit to ask this in every post!

Poor app in comparison to the older version. Less options and it works slow.
Windows Central Newsletter
Thank you for signing up to Windows Central. You will receive a verification email shortly.
There was a problem. Please refresh the page and try again.