Tapatalk for Windows Phone updated with numerous fixes and new features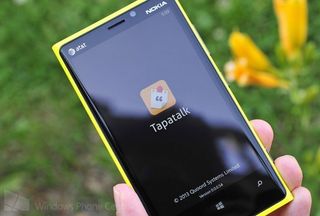 Tapatalk has updated its official client for Windows Phone. Bumped to version 1.0.4.0, the team has added some new features and fixed numerous bugs and issues. If you're not familiar with the name, Tapatalk enables you to access multiple forum software installations around the web. It's a neat concept that makes it super easy to enjoy discussions on multiple websites. Best of all, it's completely free.
So what's new in version 1.0.4.0? As well as some of the code being rewritten (you'll notice some increase in speed), here are some features to get you started:
Automatically refreshing UI after like, thanks, edit.
Settings screen - Configuration of number of post/topic per request. Notice that if you normally browse long threads or with lot of pictures, it is better to configure to 10 per page.
Settings screen - Configuration to go to last unread post. If you wish you can now disable this feature.
Settings screen - Light theme, you can choose dark or light independent of phone theme configuration. By default light theme is selected.
New update check. After this release, you will be notified by the app about new updates.
Here is the list of fixes in the latest update:
Forum unsusbcribe throw exception and exit app to desktop.
Thread refresh on new post.
Post with incorrect bbcode does not show. Now these post show as plain text.
App resume from tombstone crash when navigating from join view.
Error in some cases that replies does not load correctly. Sometimes the post are wrong, sometimes the page shows "no posts". Now it will works as expected.
App crash when launching from web smartbanner
Some error on app initialization.
Issues with WP7 users browsing forums with gzip compression
Wrong pagination, this is the cause of some missing post/topics in some screens
That's it, folks. Version 1.0.4.0 is quite the release and we're pleased to see so many bugs and issues addressed, as well as the new features. You can download Tapatalk from the Windows Phone Store for free (available for Windows Phone 7 and 8). Thanks, Nik Neiman, for the info!
Rich Edmonds is Senior Editor of PC hardware at Windows Central, covering everything related to PC components and NAS. He's been involved in technology for more than a decade and knows a thing or two about the magic inside a PC chassis. You can follow him over on Twitter at @RichEdmonds.
Very nice and welcomed update. The only thing I want is the ability to pin specific forums/threads to my start screen. :)

Been using this app since the day it previewed and it is slowly but surely marching towards parity with Tapatalk on iOS and Android. Two areas of improvement I would love to see are - viewing pictures in some forums and also improved battery performance.

Thanks for keeping the updates coming!

is there a way to add a forum not listed in the tapatalk directory? Specifically muffwiggler.com analog synth forum.

That would be nice since almost every forum I want to follow isn't listed.

Great app, using from the day one.
Thanks also for the foroplex guy who joined the tapatalk team

Mm, taptalk, don't get me started. Not about taptalk but about the forum moderator's. Can you say god complex with the banning button! I'm so lovable. Just ask my mom

You were banned because you violated the rules. Its that simple.

Probably worth mentioning that it wipes your settings when you update, isn't it?

I use,tapatalk on my android I just dint see the use of this on WP

Yeah no custom ROM threads to subscribe to anymore. Totally understand this ;)

It actually works now. Can read forums, threads and replies. It even posts! Actually does what it's supposed to :O!

Please KEEP IT UP Tapatalk!!!

seems now work proper via data connection....
but i hate white background :D edit: can change to dark theme in settings...

The dark theme makes everything unreadable because the fonts stay black with the background

is ok for me with dark theme

Gotta give credit to Moledj for putting this app out there. One of the more active devs that really cares about user feedback

This is the smoothest forums app, it was a bit buggy till now, hope all bugs are fixed in this update.

Is there a way to add forums? Or request them?

ask this on forum which you want... administrator of that forum must do this

Keep in mind that if you dont have a Tapatalk ID it removes your settings when you update.

After the update, the dark theme has black text on a black background. Did nobody try the dark theme even once before releasing this? Come on, guys.

Only faintly heard about this app in the past but have never looked into this app until now. I must say it sounds very intriguing! Going to download and give it a spin.

1.0.4.1 update comming soon :)
Windows Central Newsletter
Get the best of Windows Central in in your inbox, every day!
Thank you for signing up to Windows Central. You will receive a verification email shortly.
There was a problem. Please refresh the page and try again.