Tawkable Chinese for Windows Phone 8 updated with bug fixes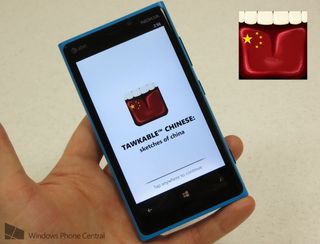 Remember Tawkable Chinese, the game that helps players learn the Chinese mandarin language? Hey, it's not like any platform is overflowing with games dedicated to language learning. Tawkable Chinese happens to be a timed exclusive for Windows Phone 8, not to mention a Nokia AppCampus winner. Oh, and it's free.
Shanghai-based developer MNE Creations recently updated Tawkable Chinese, but the Store description doesn't have room for release notes. Luckily Windows Phone Central has snagged the complete release notes to share with you now. Head past the break to learn more about the game and what this update has changed.
First things first
When we posted in-depth impressions about Tawkable Chinese last month, my main complaints were the sometimes awkward user interface and the relative lack of content contained within the game's single In-App Purchase. The first update unfortunately doesn't address those concerns, though MNE has plans to do so in the future. Instead, the focus of this update is bug fixes and making the game available in a new territory.
Tawkable Chinese version 1.02 release notes
Trying to address a random hang/crash that people might experience (it's rare, but seems to happen with enough people)
Fixed bug where ratings pop-up would still come up, even after you've rated the game
Released in Russia
The bug fixes are nothing to write home about, but still appreciated. Think of all the Xbox games for Windows Phone that never receive a single update or fix!
As for releasing in Russia, MNE published the game there at the request of a fan. The game itself hasn't actually been localized in Russian, but at least English speaking users in the country have access to it now.
The developer would like as much user feedback as possible in order to prioritize changes in future updates. You can find their support email address by heading to Settings & Info/About Us/The App from within the game.
Ten rings, one learning game
Tawkable Chinese consists primarily of an adventure mode that is completely free to all users. The adventure mode contains 82 short stages, all tied together by a text-based story. You'll play as someone who has woken up in the city of Shanghai, suffering from amnesia. As you learn more words and phrases, you'll piece together what happened beforehand.
Each level contains a number of orbs that players must interact with in order to proceed. Blue orbs teach the player a Mandarin phrase by speaking it aloud. The player must then repeat the phrase. Yellow orbs ask a question which the player must then answer.
To repeat a phrase or answer a question, press the microphone button at bottom and have at it. If the software thinks you said it well enough, you're free to move on to the next orb or level. Otherwise, you can try again until you get it right.
Tawkable Chinese also offers a single In-App Purchase for $4.99 that contains a drill mode and the ability to add words and phrases to a favorites list for later practice. If you're serious about learning the language, you might find those features useful.
Note that you must install the Windows Phone Mandarin language speech recognition pack in order to play the game. Check this article for download instructions.
Tawkable Chinese – Windows Phone 8 – 46 MB (85 with language pack) – Free – Store Link
Paul Acevedo is the Games Editor at Windows Central. A lifelong gamer, he has written about videogames for over 15 years and reviewed over 350 games for our site. Follow him on Twitter @PaulRAcevedo. Don't hate. Appreciate!
Oh, herrow tawkable chinese

I know, it's only available for Windows Phone 8.
Someone make this app (and the Twitter app) available for WP7!!

And make it for 2001 Windows Mobile while you are at it!

Is there anything like this for Russian or Spanish?

It's not story driven, but Babbel offers a wide variety of free language apps.

So I'm confused, in order to use/play this, I have to change my entire phone to the Chinese language first, not just download the language pack?? Please correct me if I'm wrong.

No you only need to download the language pack

I can't seem to download the language pack. It sits and "downloading" for like 5 minutes, then says "Cannot download. Tap to retry." I've tried on wifi, I've tried over 4g, and I've restarted the phone. Any ideas?

Keep trying and also go to phone updates and check

Takes awhile for the download buts its a fun program. Learned 4 words before it asked for $4.99 to continue.

You are wrong; all you need is included in program; on a redimentary scale at this point.


Who are you talking to?
Are you experiencing bloggers dementia...

Easy to use i have paid the cheap $4.99 price and have used it a lot since room for more improvement but great app/game keeps me learning...nothing changes on your phone once you have the speech/language pack installed
Windows Central Newsletter
Thank you for signing up to Windows Central. You will receive a verification email shortly.
There was a problem. Please refresh the page and try again.