Advertisement Feature
Teaching and learning at home can be a little easier with these accessories from SanDisk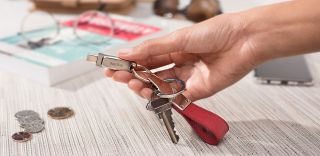 (Image credit: SanDisk)
With children suddenly out of school before the summer has even officially started, you might be one of the many parents who's had to begin finding ways to keep your child learning while their normal school schedule falls by the wayside. Luckily, having the right office accessories at home can make both teaching and learning at home just a bit easier for everyone involved.
Kids are notoriously bad at putting their toys and other belongings back where they belong, and if you let it, your computer desktop and folders will become just as messy as their room. A USB flash drive can be your child's digital locker for homework and other school assignments that might otherwise be hard to locate if saved to just any random folder on your PC. These USB drives become even more useful when it's time to return to school with what you've worked on.
SanDisk Ultra Luxe™ USB 3.1 Flash Drive
Get sturdy storage that can fit in your pocket with the SanDisk Ultra Luxe flash drive.
The SanDisk Ultra Luxe™ USB 3.1 Flash Drive is one great pick for children as it's both durable and affordable. With read speeds up to 150MB/s*, you won't have to wait long at all to access and transfer files between devices. Plus, it comes with a 5-year limited warranty and is compatible with both Windows and Mac computers.
For children who don't yet have an email account, flash drives make it much simpler to move files between different devices, your computer and theirs for instance, and to bring work to school when needed. SanDisk even has a USB drive that's been designed to be plugged into your iPhone and iPad devices. The iXpand™ Flash Drive Go has a USB-A connector on one side and a Lightning connector on the other both in a simple, swivel design so you can move files from your phone or tablet to your computer with ease.
There are a ton of different flash drives out there, and you'll want to be sure you buy the right one depending on if you're looking to plug it into a USB-C port or a USB-A port. SanDisk has one model that's perfect for either: the Ultra Dual Drive Luxe USB Type-C™. This sleek, metal drive is easily one of the most versatile flash drives out there as one end features a USB 3.0 connector while the other is equipped with a USB-C connector. That means you'll be able to plug it into computers, tablets, and various smartphones to transfer and back up files.
Even when you're transferring files, speed is important. The Ultra Dual Drive Luxe USB Type-C offers high-speed performance with read speeds up to 150MB/s* to ensure your child doesn't get too bored and wander off to social media sites while files are being moved. Then again, if your child is still too young to be using a flash drive on their own, you may want to look into the SanDisk Ultra Fit™ USB 3.1 Flash Drive. This version is tiny enough where you won't risk it accidentally being knocked out or unplugged by tiny hands, and it works pretty quickly too with read speeds up to 130MB/s*.
SanDisk Ultra Fit™ USB 3.1 Flash Drive
Add extra storage to your computer with a flash drive you can leave plugged in.
*Up to stated speed; write speeds lower. Based on internal testing; performance may be lower depending upon host device, usage conditions, and other factors. 1MB = 1,000,000 bytes.
Product specifications subject to change without notice. Pictures shown may vary from actual products. Western Digital Technologies, Inc. is the seller of record and licensee in the Americas of SanDisk products.
Get the Windows Central Newsletter
All the latest news, reviews, and guides for Windows and Xbox diehards.